Hundreds of enterprises have implemented the "three on-site" model over the past few months, each of which faces its own problems and is finding ways to best exploit the model. Tan Hiep Phat has found itself a "green source" of energy to calm more than 1000 employees applying the model in its different factories.

"Three on-site" involves eating, sleeping, and working without leaving the factory. To implement the model, employees volunteer to stay at the company, trying to keep production going while strictly implementing the 5K message. While implementing the "three on-site" model, hundreds of puzzles arise, from maintaining the production line to ensuring physical and mental health for thousands of employees.
Regarding Tan Hiep Phat's "three on-site" implementation, Phuong Uyen Tran, the group's deputy CEO said: "As soon as we implemented the model in mid-July, we worked hard to find partners to provide nutritious and on-time meals for more than 1,000 people at the factories. However, none are qualified. We need three main meals and a snack time per day to ensure our staff receives enough nutrition.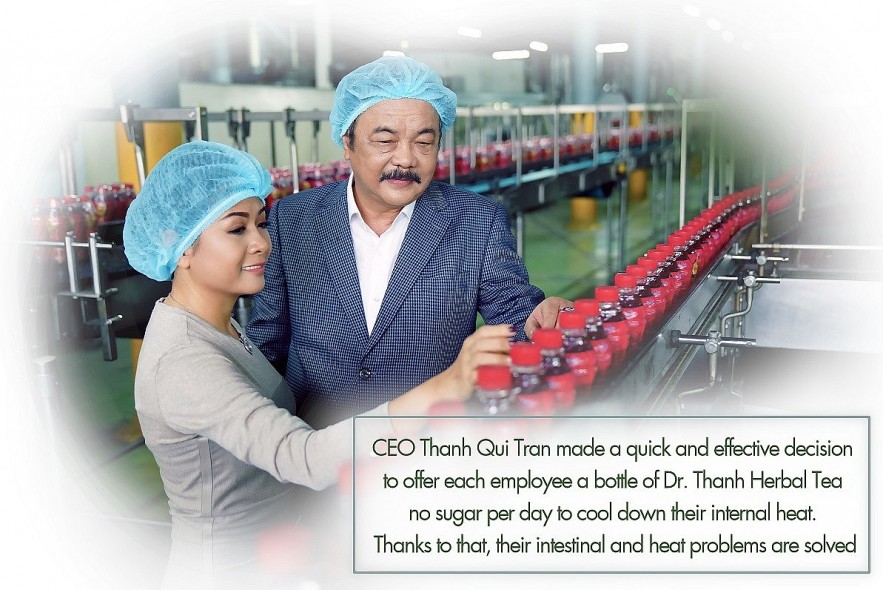 As a result, after one week of applying the model, some employees show signs of health problems. Some got acnes, some suffered from recurrent intestinal diseases due to internal heat, which was triggered by the new lifestyle and psychological pressure relating to the pandemic. According to the group's regulations, employees cannot receive supplies sent from outside to avoid the virus from spreading. The company bought them medicine, but we could not meet the demand.
At that time, CEO Thanh Qui Tran made a quick and effective decision to offer each employee a bottle of Dr. Thanh Herbal Tea no sugar per day to cool down their internal heat. Thanks to that, their intestinal and heat problems are solved," Phuong said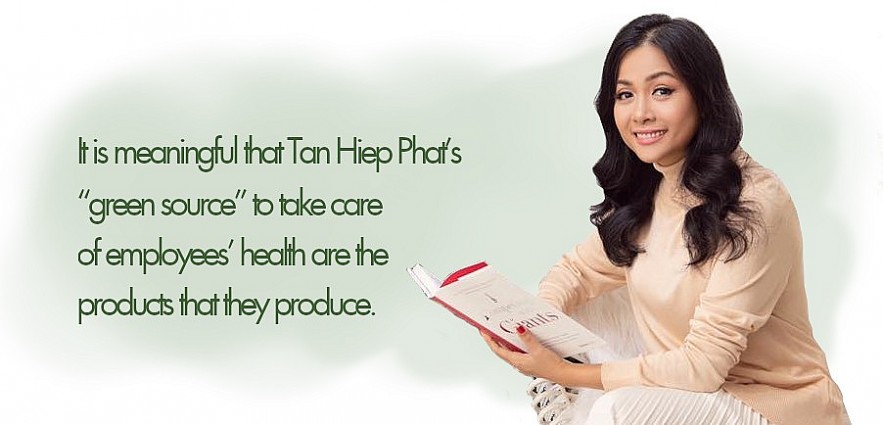 According to the deputy CEO, Tan Hiep Phat set up its own kitchen and tried to develop day by day to provide tasty, nutritious and on-time meals for the staff. Many among 1000 employees staying at the factories are vegetarian or on diets, yet the kitchen can still meet their requirements.
Not to mention the pandemic's danger, while applying the "three on-site", companies must solve common health problems of employees such as skin and intestinal diseases. Otherwise, internal heat would create an atmosphere of anxiety and stress for employees.
It is meaningful that Tan Hiep Phat's "green source" to take care of employees' health are the products that they produce. The green source encourages employees to determine to implement the "three on-site" model and contribute to society by creating healthy products such as Dr. Thanh herbal tea.

Over the past 100 days, Tan Hiep Phat has maintained production in a "wartime-like" state with the strictest pandemic preventive regulations. While ensuring the physical and mental health of its employees, the company continuously improves its adaption of the 5K message to maintain production and ensure product quality.
Tan Hiep Phat's secret is to encourage its employees with the "green source" every day to detoxify their bodies from internal heat. The source contributes to stabilizing production and business activities to supply millions of healthy drink products to the market, helping to support consumers' health during the difficult period.
Translation & Graphics: Hong Anh