THE SECOND GENERATION OF FRIENDSHIP
Andrew Wells-Dang, a senior expert at the United States Institute for Peace (USIP) said that the American veterans/peace envoys are getting older and fewer. The next generation to develop of friendly relations is none other than the Vietnamese and American young people.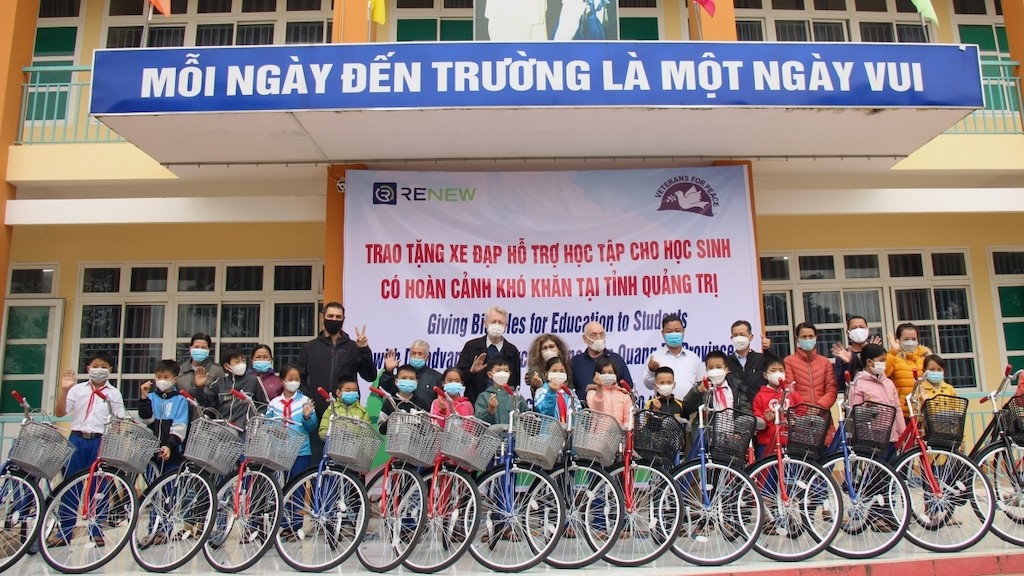 100 elementary and middle school students from disadvantaged families in Quang Tri province received bicycles from Project RENEW, funded by Veterans for Peace Chapter 160 and donors, January 2022.
Policy-makers' viewpoint meets people's sentiment
Over the years, the leaders of the United States and Vietnam engaged in productive dialogues, summits, and economic agreements for the mutual benefit of both countries. During these meetings, each nation reminisces on how friendship blossomed from the ashes of a painful past.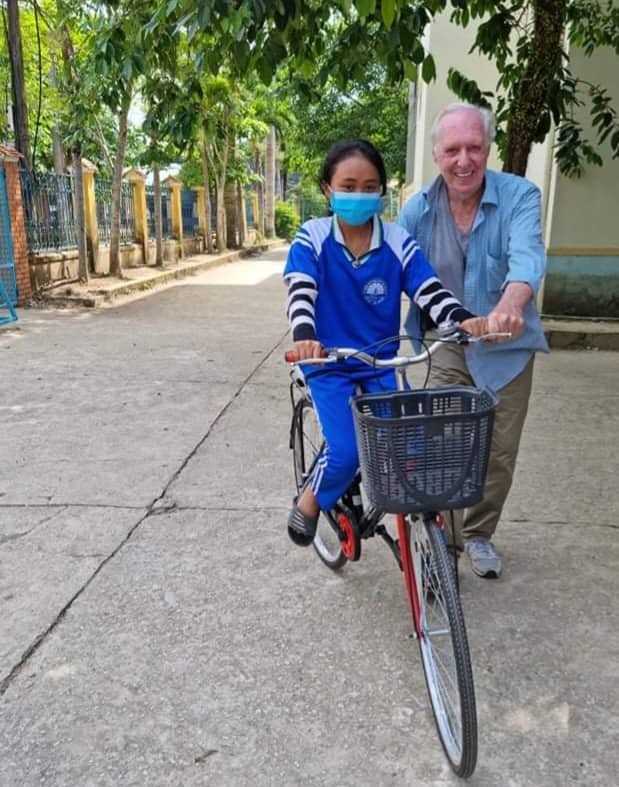 Matthew Keenan guides a Vietnamese girl to ride a bike, 2022 (Photo courtesy of Matthew Keenan).
For example, in November of 2000, President Bill Clinton arrived in Hanoi, making him the first U.S. official to visit the Vietnamese capital. He gave a televised speech at the Vietnam National University, stating, "a shared suffering has given our countries a relationship unlike any other" - a sentiment attested by thousands of veterans on both sides of the conflict.
In 2015, coinciding with the 20th anniversary of US-Vietnam postwar relations, General Secretary Nguyen Phu Trong spoke at the White House, "In the history of the relations between our two countries, there are sad chapters, but with the spirit of putting aside the past, overcoming differences, promoting similarities, and looking to the future, our countries have built comprehensive and cooperative relations as seen today."
The postwar relationship is "an inspiring story," according to Andrew Wells-Dang, a senior expert at the United States Institute for Peace (USIP). Andrew credits individuals like Chuck, Mark, Matthew, and organizations in both countries who took risks to normalize relations between the United States and Vietnam.
"There is no guarantee that the two countries that have been enemies will be friends in the future," said Andrew. "There are not many positive examples in the world."
Andrew Wells-Dang, a senior expert at the United States Institute for Peace (USIP).
Through his work with the USIP, Andrew has been involved in several successful dialogues between Vietnamese and Americans, with a mix of government and non-government participants. During these meetings, the international colleagues discuss productive ways to tackle the lasting issues of war such as Agent Orange, demining, and MIA search and recovery. Recently, there were talks about a veterans exchange, bringing the two countries even closer.
"[During these meetings,] people can't stop talking," said Andrew. "There is an eagerness to share those stories and to listen to other stories. And from that, to make sense of what's happened over decades and give meaning to a war that seemed meaningless for many people at the time.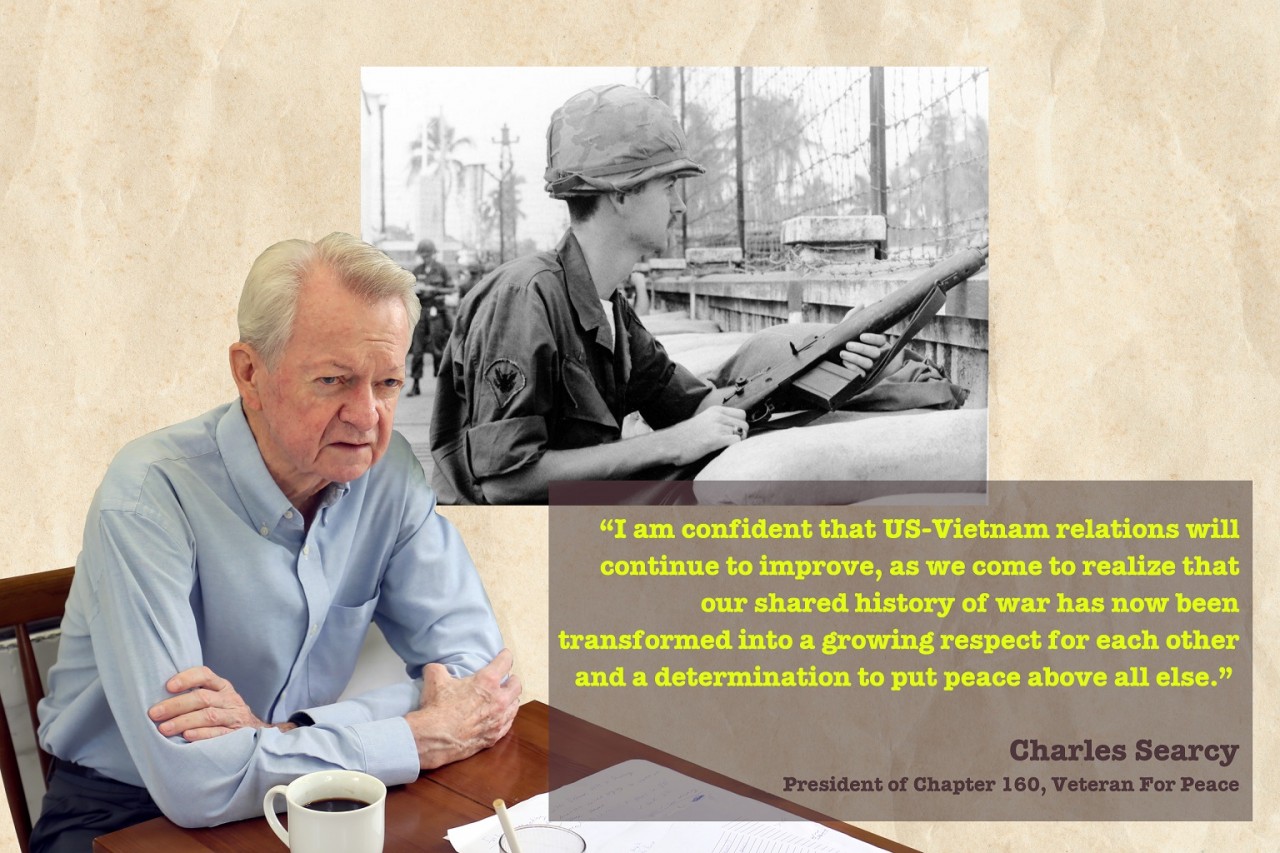 Left photo: Chuck working in Hanoi, 2022
Right photo: Chuck at the perimeter of the American compound during the Tet Offensive in 1968.
The future is in good hands
Further than concerning with the past, Vietnamese and American peacemakers also discuss the future.
"We are at a transition point," said Andrew. "The veterans generation, which has contributed many great leaders of the United States and Vietnam, is retired and passing on. There aren't any more veterans in the United States Congress. Senator Patrick Leahy from Vermont, who has been the greatest champion of supporting war legacies work, is retiring at the end of the year."
Vietnam is also going through similar changes. The younger generation who is replacing older Vietnamese leadership is more familiar with a postwar, friendly United States, giving young Vietnamese a better understanding of American culture and values. However, Andrew wonders how future Vietnamese and American generations will continue to interact, as the war becomes a distant memory.
"I often ask myself, 'can we maintain support for war legacy work?'" said Andrew. "I just visited the Agent Orange cleanup site at the Bien Hoa air base. There is great work being done there but it's going to take another five to ten years to complete that. The United States needs to continue its commitment to fund that and complete it."
While the ghosts of war continue to haunt the battlefields and jungles of Southeast Asia, the world can always look to Vietnam for lessons on forgiveness and peace. Chuck, who has learned a lot from the Vietnamese way of life over his career, came across a profound Vietnamese sentiment, "If the veterans can make peace, why can't everybody?"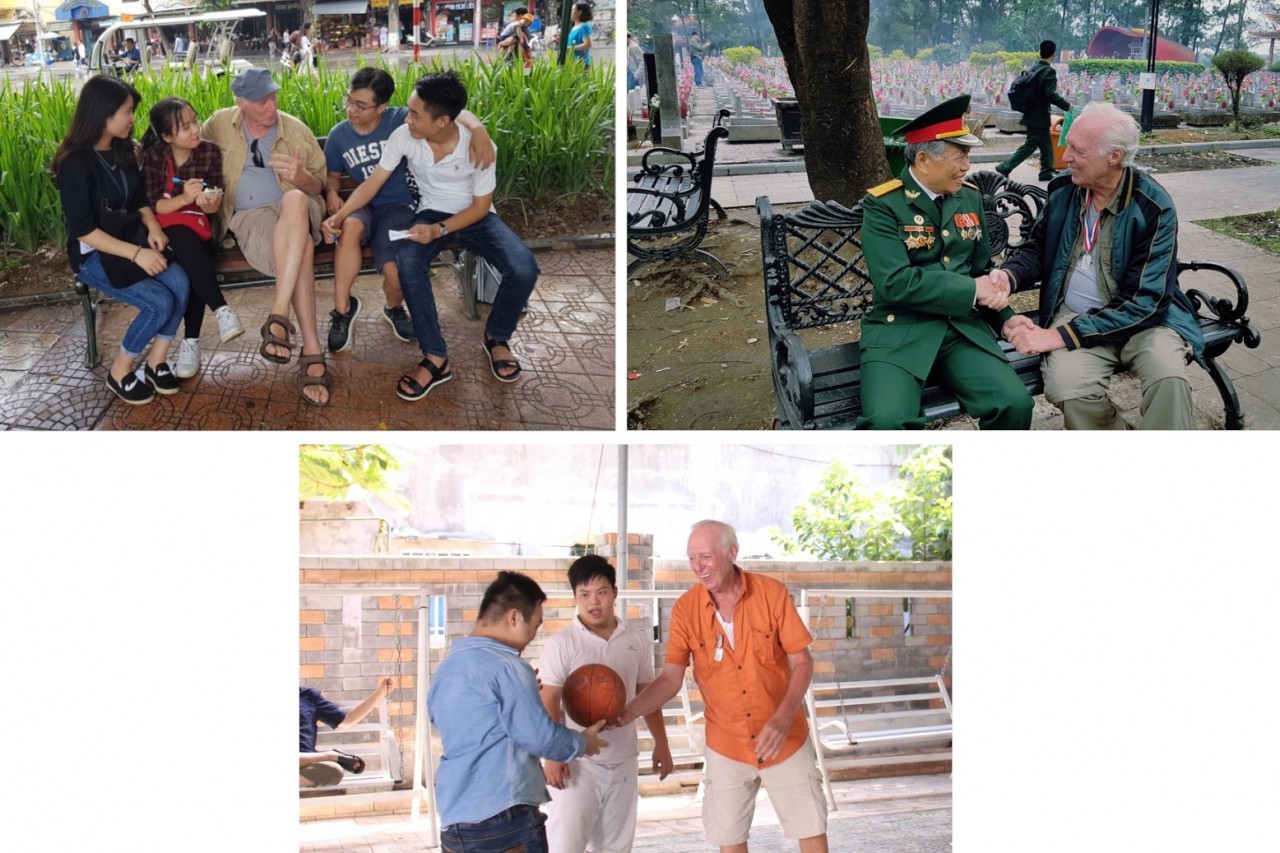 Matthew Keenan making friends with young and old people in Vietnam, 2018 (Photo courtesy of Matthew Keenan).
As the veterans pass on, Chuck looks forward to new generations carrying on the postwar tradition of self-reflection, reconciliation, and international solidarity.
"I am confident that US-Vietnam relations will continue to improve, as we come to realize that our shared history of war has now been transformed into a growing respect for each other and a determination to put peace above all else," said Chuck. "We need to work together, to talk together as brothers and sisters, and to listen and learn from each other. We still have many mutual benefits that we can experience together."
I planned on making a trip to Da Nang. This time is not only for leisure but for visiting places in the stories of veterans, which I very much look forward to. I told my Vietnamese friends about this experience while grabbing coffee in Hanoi or getting together on the weekend. Like me, they want to continue writing the story of postwar US - Vietnam relations and to help Americans and Vietnamese people who are still suffering from the wounds of a war that they have never been in.
Writer: Glen MacDonald
Graphics: Valerie Mai