ADB lifts Vietnam's economic growth forecast to 2.3% this year
The Asian Development Bank (ADB) has raised its forecast for Vietnam's economic growth from 1.8% to 2.3% in 2020, thanks to the promotion of public investment, the revival of domestic consumption, the increase in trade exchanges, and the rapid recovery of neighboring countries.
Vietnam's economy grew rapidly from the rate of 0.4% in the second quarter of 2020 to 2.6% in the third quarter, expanding the average growth rate in the January to September period to 2.1%. Hence, ADB adjusted its forecast for Vietnam's economic growth from 1.8% to 2.3% in 2020, Nhan Dan Newspaper reported.
Meanwhile, Vietnam's economic growth in 2021 is predicted to decline to 6.1%.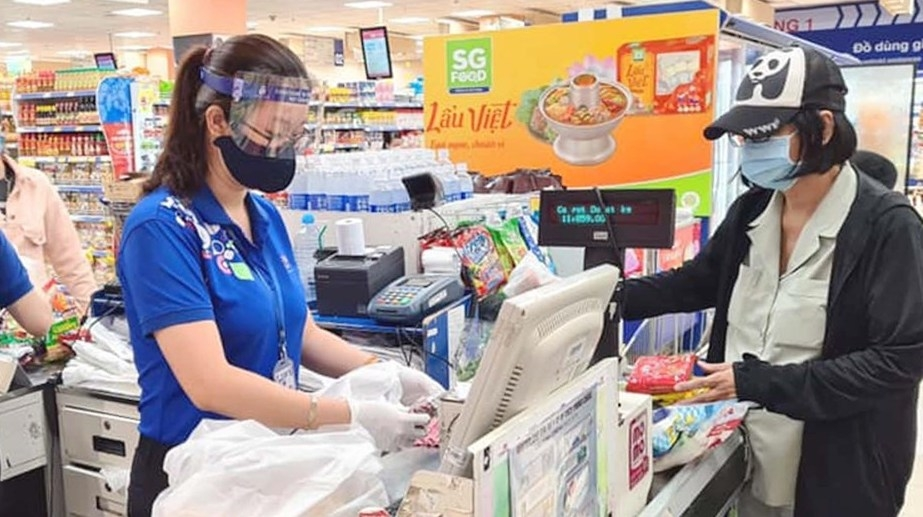 The recovery of domestic consumption is forecast to increase Vietnam's economic growth. Photo: Nhan Dan
In terms of Southeast Asia, economic growth remains challenging due to continued novel coronavirus (COVID-19) outbreaks and containment measures, particularly those occurring in Indonesia, Malaysia, and the Philippines.
The subregion's growth forecast for 2020 is revised down to -4.4% from -3.8% in September, while its outlook for 2021 is also downgraded, with Southeast Asia now expected to grow 5.2% next year compared to the 5.5% growth forecast in September, noted the ADB, HanoiTimes reported.
Overall, economic activity in developing Asia is forecast to contract by 0.4% this year, before picking up to 6.8% in 2021 as the region moves toward recovery from the effects of the Covid-19 pandemic.
The new growth forecast is an improvement from the -0.7% GDP growth forecast in September, while the outlook for 2021 remains unchanged.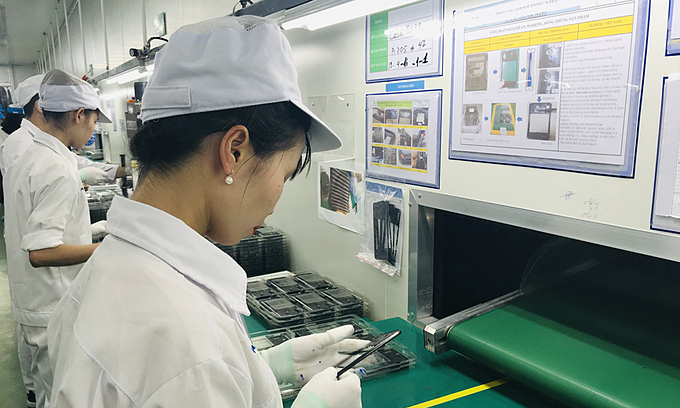 Workers examine smartphone components at a factory in the northern province of Hai Duong.
Photo: VnExpress/Thu Nguyen.
"The outlook for developing Asia is showing improvement. Growth projections have been upgraded for China and India, the region's two largest economies," said ADB Chief Economist Yasuyuki Sawada. "A prolonged pandemic remains the primary risk, but recent developments on the vaccine front are tempering this. Safe, effective, and timely vaccine delivery in developing economies will be critical to support the reopening of economies and the recovery of growth in the region", he added.
Pandemic-induced lockdowns and restrictions have been eased in varying levels in the region, with merchandise exports rebounding quickly from substantial declines in the second quarter. Mobility is also returning to pre-Covid-19 levels in East Asia and the Pacific, where the spread of Covid-19 has largely been contained or prevented in recent months. A recovery in tourism, however, is likely to be delayed.
With the pandemic stifling economic activity, Vietnam has set a revised GDP growth target of 2-3 percent this year, down from the 7.02 percent it achieved last year.
In November, The International Monetary Fund (IMF) revised upward its forecast for Vietnam's 2020 GDP growth by 0.8 percentage points to 2.4 percent, VNExpress reported.
Vietnam's growth would be among the highest in the world, thanks to its successful containment of the Covid-19 pandemic, Era Dabla Norris, mission chief to Vietnam and division chief in the IMF's Asia and Pacific department, said at the end of her team's virtual mission to Vietnam from October 15 to November 13.
Vietnam has benefited from prudent fiscal policies, largely geared toward supporting vulnerable households and firms, Norris said.
Monetary policy easing and financial relief provided by the State Bank of Vietnam (SBV) have alleviated liquidity pressures, lowered the cost of funding, and facilitated the continued flow of credit, she said.
She expected strong economic recovery in 2021, with GDP projected to grow by 6.5 percent and inflation contained at 4 percent.
In Mid-October, World Bank (WB) released a report on Vietnam's macroeconomic situation in October 2020 which said that Vietnam's GDP could grow at 2.5-3.0% in 2020.
Despite the second outbreak of COVID-19 in Vietnam, in the third quarter, Vietnam's economy showed signs of recovery with a growth rate of 2.62% year-on-year and 0.39% higher than the growth rate in the previous quarter thanks to the double increase in the industrial production index and retail sales in September compared to August.
"Vietnam economy rose 2.1% in the first nine months of 2020. This is much lower than the growth rate of 7% in the same period in 2019, but it is still considered a spotlight in the context of COVID-19 pandemic globally ", said the report.
Vietnam's trade surplus reached US$ 16.8 billion in nine months, partly due to the trade surplus of US$ 2.8 billion in September. FDI inflows into Vietnam in September increased nearly double August's.
Focus
Brazil is Vietnam's largest trading partner in Latin America and in the top three of Vietnam's largest markets in the Americas.
June 07, 2023 | 14:29
Economy
The deputy chief minister praised the literary contributions of Dai and stressed the importance of promoting literature and education in the state. He also highlighted the achievements of individuals from various sectors, including sports, education, and business, who brought laurels to the state.
June 07, 2023 | 07:00