Alec Baldwin Causes Fatal Shooting on 'Rust' Set, Another Prop Gun Accident
Alec Baldwin is the main subject and now cooperating with the police for an investigation after accidentally shooting and killing his director of photography with a prop firearm on the set of a movie in New Mexico. The actor has contacted Hutchins' family to express his condolences, has not been charged.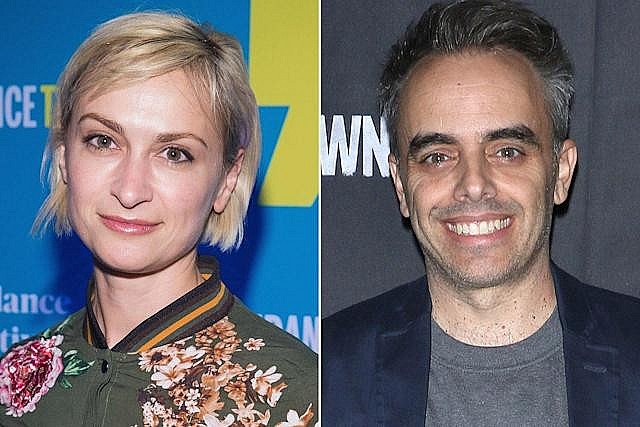 Cinematographer Halyna Hutchins (left) dead and Director Joel Souza (right) injured. Alec Baldwin accidentally misfired a prop gun on the New Mexico set. Photo: Getty Image
Alec Baldwin is cooperating with police after his prop gun was discharged on Rust movie set, killing cinematographer Halyna Hutchins and wounding director Joel Souza while filming the movie Rust.
"Rust" is a Western film set in the 1880s that stars Baldwin, Travis Fimmel, and Jensen Ackles. The story is about a 13-year-old boy "who goes on the run with his long-estranged grandfather after he's sentenced to hang for the accidental killing of a local rancher," according to a description of the film on IMDB.
The Tragic Event
A statement from the Santa Fe sheriff's office said Baldwin, who is acting in and producing the film Rust, had fired the prop gun in an incident. Baldwin's prop firearm discharged on the set resulted in the death of Halyna Hutchins, 42, the film's director of photography, according to New Mexico's investigators.
Deputies were dispatched to the set of the Western at about 2 pm in Bonanza Creek Ranch when a 911 caller reported a shooting, the statement added. "We need some help a director and a camerawoman have been shot," a woman tells the 911 operator.
The woman also explains what had occurred before the prop firearm went off. "I was sitting, we were rehearsing and it went off, and I ran out, we all ran out," the woman told the emergency operator.
"The sheriff's office confirms that two individuals were shot on the set of Rust. Halyna Hutchins, 42, director of photography, and Joel Souza, 48, director, were shot when a prop firearm was discharged by Alec Baldwin, 68, producer and actor," it said.
"Ms. Hutchins was transported, via helicopter, to University of New Mexico hospital where she was pronounced dead by medical personnel. MrbSouza was transported by ambulance to Christus St Vincent regional medical center where he is undergoing treatment for his injuries."
"This investigation remains open and active. No charges have been filed in regard to this incident."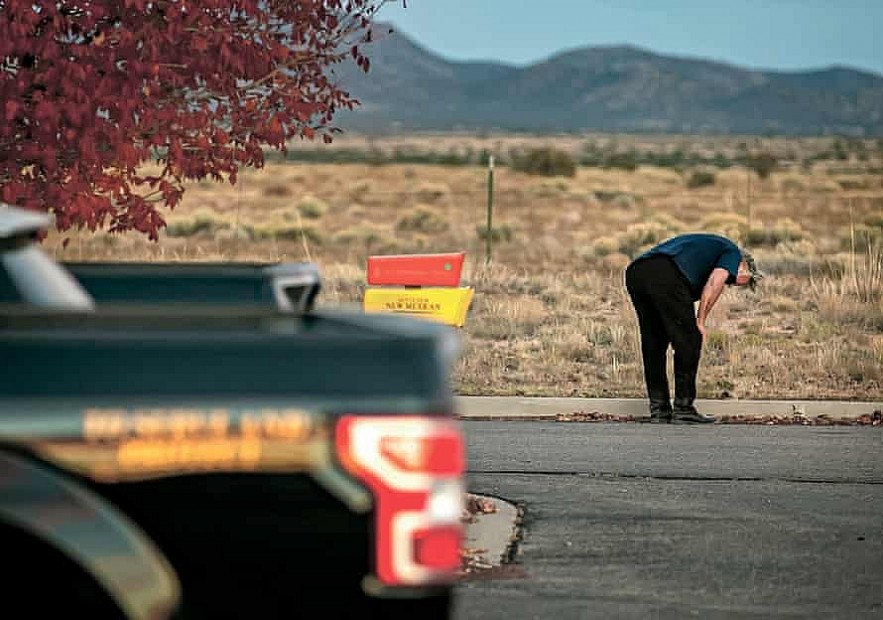 A distraught Alec Baldwin outside the Santa Fe County sheriff's office after being questioned on Wednesday. Photograph: Jim Weber
Juan Rios, from the sheriff's office, said, "Mr Baldwin came involuntarily to speak with investigators and after speaking with them he left."
A spokesperson for Baldwin said there was an accident on the set involving the misfire of a prop gun with blanks.
Baldwin was seen on Thursday outside the sheriff's office in tears, but attempts to get a comment from him were unsuccessful, the Santa Fe New Mexican newspaper reported.
Firearm Violation Concerned
Reportedly, the prop gun on Rust misfired right before the day of the tragic accident.
Several crew members left the project owing to concerns about working conditions and safety issues, including gun safety procedures and the failure to follow Covid standards prior to the shoot, according to the Los Angeles Times and other media outlets.
The situation is seen as people on the set violating basics of the golden rules for handling guns from the NRA, such as: keep the gun unloaded until you have to use it, treat all guns as though they are loaded,...
According to Greg Gutfeld, Fox News shows remorse for Alec Balwin and the casualties but yet expresses that people are either have "pro-gun control or evil".
In this specific case - Balwin's situation, "if you have actually had NRA training this would not have happened," Greg said on Fox News.
Kenedy from Fox News shares Greg's remorse for the situation, for the tragic death of the female director. She posed a huge question, said "Who killed this woman? Did the gun kill this woman or did Alec Balwin kill this woman?"
"Did the mistake just happen?", the question raised with the concern of gun safety protocol, mentioned in Fox News.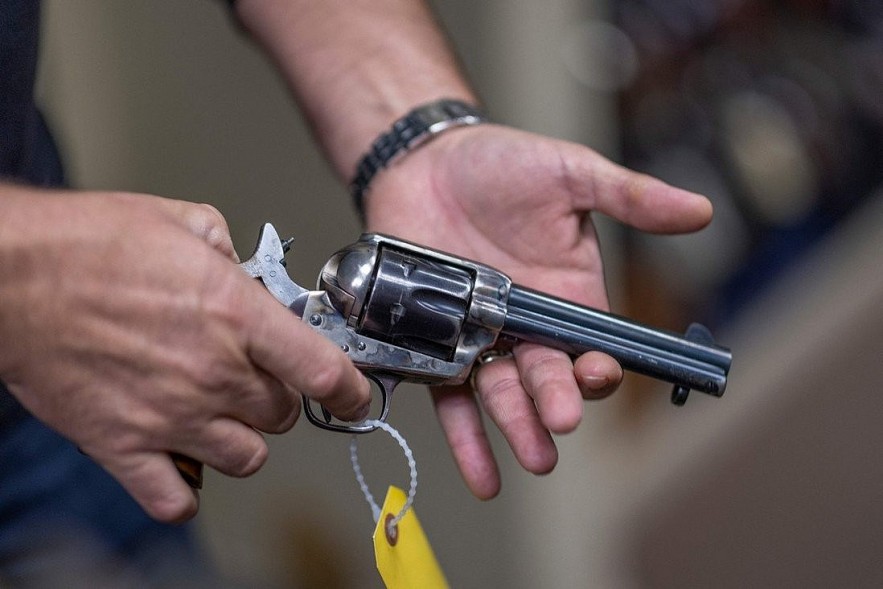 Props expert Guillaume Delouche holds a prop gun while talking about them in Sunland-Tujunga, Los Angeles, on Friday. Photo: AFP
Ben Simmons, Bare Arms, a company in the UK that works with firearms on set, said: "It doesn't mean the blank rounds are safe because if you were to get in the way of that or get too close to it, lots of dirt and debris can get thrown out the end of the gun, and that can cause harm. It's extremely rare for it to happen and it's even rarer for it to cause death."
"The safety of our cast and crew is the top priority of Rust Productions and everyone associated with the company," Rust Movie Productions said in a statement obtained by Deadline.
"Though we were not made aware of any official complaints concerning weapon or prop safety on set, we will be conducting an internal review of our procedures while production is shut down. We will continue to cooperate with the Santa Fe authorities in their investigation and offer mental health services to the cast and crew during this tragic time," Rust Movie Productions added.
Another Prop Firearm Accident
Alec Balwin incident was not the first tragedy related to misfired prop in the movie industry.
Brandon Lee, Bruce Lee's son, was killed by a bullet from a rifle that was meant to carry only blanks but had a round lodged in the barrel during filming the movie "The Crow" in 1993.
Even blanks can be deadly if fired at very close range. In 1984, actor John-Eric Hexum was playing around with a gun on the set of "Cover Up: Golden Opportunity" and died after putting the gun to his head and pulling the trigger.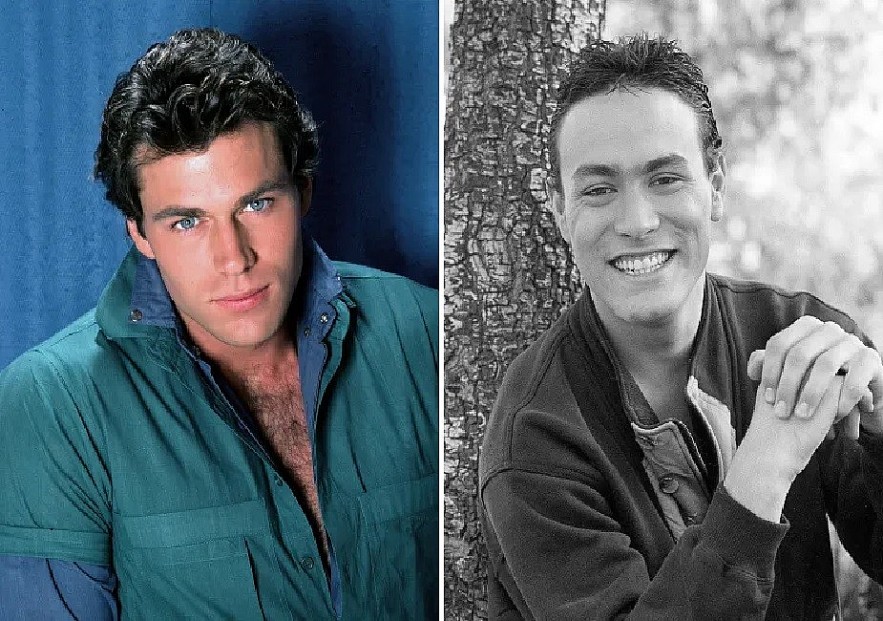 Jon-Erik Hexum (left) and Brandon Lee (right) were both killed by prop guns while working on Hollywood productions. Because of these accidents, Hollywood now adheres to Safety Bulletins -- a union document for standards on weapon and prop safety. Photo: Getty Images
"They all contain a charge, a powder that creates the noise and the explosive, the visual blast, and usually it's some kind of wire or something that explodes out of the weapon when it's fired," Daniel Oates, former police chief of Miami Beach and Aurora, Colorado.
"These weapons can be very, very dangerous," Oates told CNN's "New Day".
Ben Simmons told CNN a variety of "prop guns" can be used in TV and film productions. He acknowledges that they range from "a completely fake firearm that's been constructed" from materials such as rubber or wood to an actual working gun or a formerly working gun that has been rendered inoperable.
Simmons explained that the type of gun used depends on the production, but often guns that fire blanks are used on sets.
In a regular gun, a charge fires the projectile which is a bullet. "Blanks" refer to a blank cartridge which usually consists of a shell or casing, gunpowder, but no bullet. Instead, there is a tip that has been "crimped" by wadding or wax, according to the Handbook of Firearms and Ballistics.
Unveiling the Social Media Dilemma

Ex-Big tech owners are taking advantage of this social media transition time as a unique opportunity by spreading the word, unveiling a message of the ...