China to build second hospital to treat cases of nCoV, Asia ramps up defence
China's Wuhan city - the epicentre of novel coronavirus (2019-nCoV) virus outbreak - is building a second hospital "within half a month" to treat cases, state media reported Saturday (Jan 25).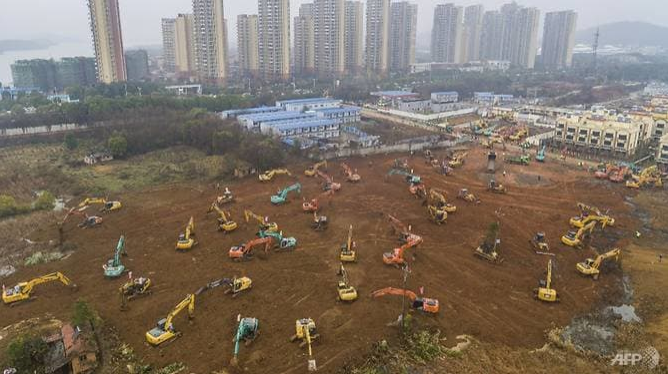 This aerial photo on Jan 24, 2020 shows excavators and trucks at the construction site of a new hospital being built to treat patients from a deadly virus outbreak in Wuhan in China's central Hubei province. (Photo: STR/AFP)
According to the People's Daily, the new hospital will add 1,300 hospital beds, in addition to another new facility which is being built in Wuhan to deal with the outbreak - reportedly within 10 days.
The first new hospital will be built around a holiday complex originally intended for local workers, set in gardens by a lake on the outskirts of the city, Changjiang Daily reported on Friday. Prefabricated buildings with 1,000 beds will be put up.
Building machinery, including 35 diggers and 10 bulldozers, arrived at the site on Thursday night, with the aim of getting the new facility ready by Monday, the paper added.
"The construction of this project is to solve the shortage of existing medical resources," the report said. "Because it will be prefabricated buildings, it will not only be built fast but it also won't cost much."
The hospital aims to copy the experience of Beijing in 2003, when the city battled Severe Acute Respiratory Syndrome (SARS). As many as 774 people died in the SARS epidemic, which reached nearly 30 countries.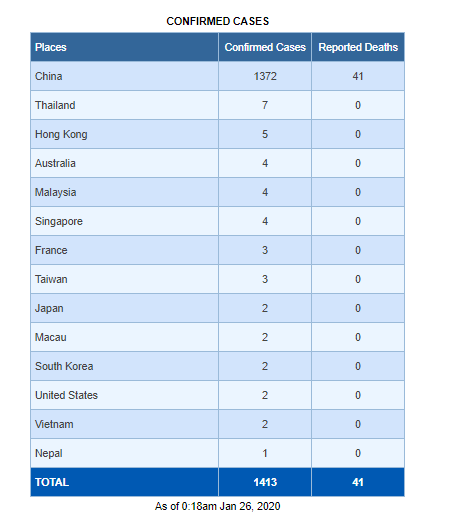 Source: CNA
Asia ramps up defence against Wuhan virus
With more than 800 cases and 26 deaths reported in and around China as of Friday (Jan 24), Asia continues to ramp up its defence against the new coronavirus 2019-nCoV, which originated in China's central city of Wuhan.
In addition to China, confirmed cases of Wuhan virus have been found in Singapore, Hong Kong, Japan, South Korea, Macau, Taiwan, Thailand and Vietnam.
Thailand has seven confirmed cases of Wuhan virus, but its busiest airport on Saturday (Jan 25) said it was awaiting more information from Chinese authorities before deciding whether to expand screening of passengers arriving from China to try to detect the new coronavirus.
Around 41 people have died in China and more than 1,300 have been infected globally, most of them in China.
Bangkok's Suvarnabhumi Airport said it had begun temperature scans on passengers arriving from Guangzhou and Wuhan, but not all Chinese cities. Flights from Wuhan have been cancelled because it is under quarantine.
China is Thailand's biggest source of tourists and had nearly 11 million visitors from there last year.
A fourth confirmed case of Wuhan virus in Malaysia was announced on Saturday (Jan 25) night.
The case is unrelated to the three announced earlier in the day, said Malaysian authorities in a news release.
The fourth patient is a 40-year-old man from Wuhan, China, where the virus originated.
He arrived in Johor Bahru on Jan 22 after travelling by bus from Singapore. The bus carried 17 tourists including the man's wife and child, authorities said.
He developed a fever on Jan 23 and went to a nearby hospital the next day.
The national Crisis Preparedness and Response Centre received a report on Saturday that the man had tested positive for the new coronavirus.
The man still suffered a fever and coughing, but was stable.
An investigation of the man's fellow travellers on the bus found they were asymptomatic. They have been isolated pending further tests.
Singapore, which as of Friday has reported three confirmed cases of Wuhan virus, has rolled out temperature screening not just at Changi Airport but also its land and sea checkpoints.
Health screening stations have been set up at airports in Japan including Tokyo's Narita, with advanced thermo scanners set up.
Japan confirmed its second case of the new coronavirus on Friday.
South Korea also announced its second case of the SARS-like virus on Friday and has begun disinfection of public transport, including in its highly populated capital Seoul.
As of Friday, Indonesia has not reported any cases of the Wuhan virus. Health officials and thermal scanners are, however, in position at several airports.
Vietnam is one of the countries with a high risk of being affected by this disease as it has a long borderline, frequent exchanges and large trading with China, especially during the Lunar New Year holiday when the travel demand surges.
The two cases tested positive for nCoV in the southern region are just initial results since the World Health Organisation (WHO) said this is a new disease for which there hasn't been a standard testing method. Some other suspected cases are being kept under close monitoring, their samples are being tested and results will be announced as soon as they are available, Deputy Prime Minister Vu Duc Dam said at an urgent meeting in Hanoi on January 24 in response to the acute respiratory disease caused by nCoV.
The Deputy PM said the Health Ministry's emergency operations centre has been activated to prevent nCoV from spreading.
The two cases tested positive for nCoV in Vietnam are Chinese citizens who have been quarantined at Ho Chi Minh City-based Cho Ray Hospital.
Kidong Park, a WHO representative in Vietnam, said people should not worry too much about the disease. However, those with coughing and fever symptoms should proactively come to medical establishments to have examinations.
The WHO will coordinate closely with the Government and the Health Ministry of Vietnam to prevent and control the nCoV-caused disease, he added./.