Covid vaccine passport to be accepted in Singapore next month
Singapore's aviation regulator said on Monday that this country will accept Covid vaccine passport that contains digital certificate for Covid-19 tests and vaccines, becoming one of the first countries to adopt the initiative.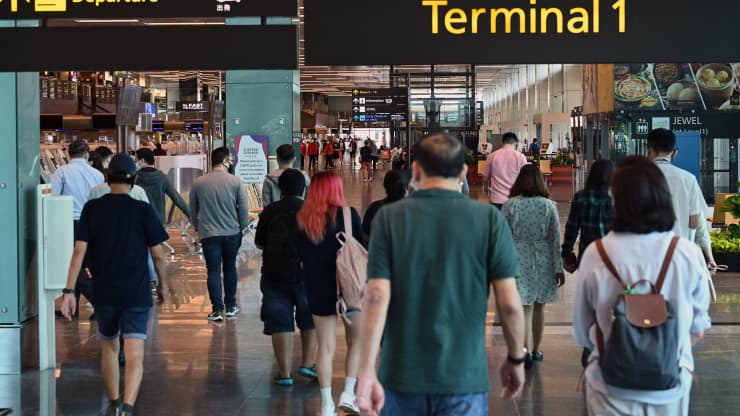 People walk toward the departure hall at Changi International Airport in Singapore on March 15, 2021. Roslan Rahman | AFP | Getty Images
Singapore will accept the International Air Transport Association (IATA) mobile travel pass for pre-departure checks, where travelers can get clearance to fly to and enter Singapore by showing a smartphone application containing their data from accredited laboratories, according to CNBC.
The pass was successfully tested by Singapore Airlines. More than 20 carriers, including Emirates, Qatar Airways and Malaysia Airlines, are also testing the pass.
"The success of our joint efforts will make IATA's partnership with the government of Singapore a model for others to follow," IATA director general Willie Walsh said in a statement.
Asian business hub Singapore, which has had relatively few coronavirus cases this year, has been a leader in developing and using technology during the pandemic and wants to be among the first countries to reopen to host international events, Reuters reported.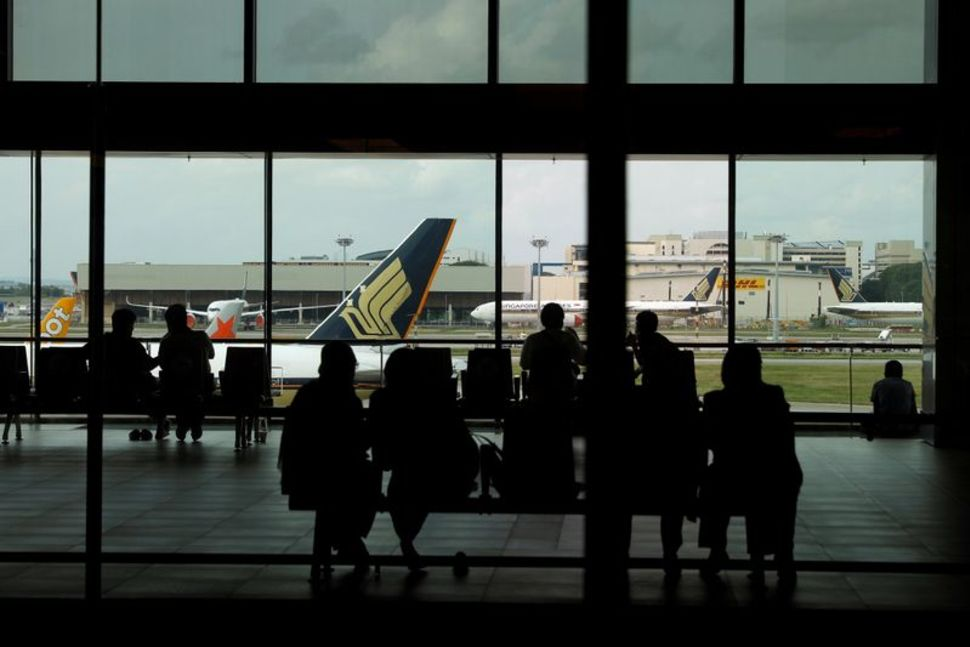 People look at a Singapore Airlines plane, amid the spread of the coronavirus disease (COVID-19), at a viewing gallery of the Changi Airport in Singapore October 12, 2020. REUTERS/Edgar Su
Airlines are hoping more countries will approve digital passes on apps to allow travel to resume faster and avoid complications and delays at airports where multiple checks on documents are required.
Currently, travelers from most countries are required to take pre-departure COVID-19 swab tests within 72 hours of their flights in order to travel to Singapore, with results presented at airport check-in and on arrival.
Covid vaccine passport programs, and countries that accept vaccine passport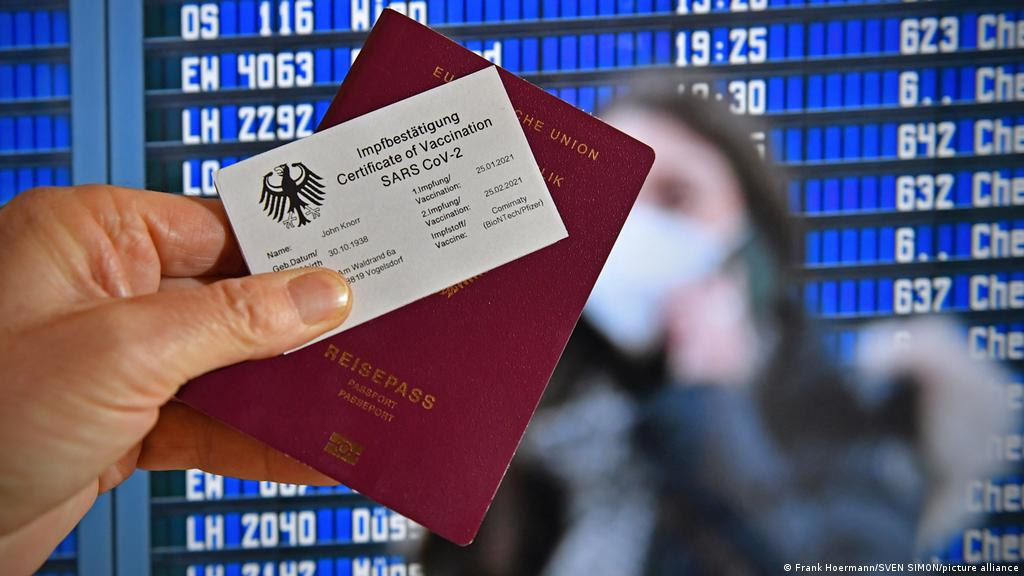 Photo: DW
COVID vaccine passport programs exempting travelers from quarantine and, sometimes, testing, are starting to be adopted by countries around the world. Here are the countries currently which currently have vaccine passport programs in place and information on those that are coming soon.
Vaccine passport country list small but growing
Currently, only a handful of countries have lightened restrictions for those with vaccines. However, we anticipate this list to grow as the European Union and China both indicated that they were developing digital vaccine passports that would allow vaccinated travelers to enter without quarantine for leisure and business.
IATA Travel Pass Initiative
There have been various reports on the progress of IATA's Travel Pass Initiative, set to launch this month. However, as mentioned last week, GA was not considered when putting this program together. We're all over this with IBAC, NBAA, and other GA advocates and will keep you posted.
EU Digital Green Pass
EU officials estimate its "Digital Green Pass" will take three months to implement, just in time for the Mediterranean peak travel season.
EU Nations including Denmark, Greece, Italy and Portugal are not waiting for the EU and are forging ahead more quickly with plans for their own vaccine passport programs. Slovakia already has theirs active. Note several of these are Med hot spots for tourism.
China digital vaccine passport
Chinese officials have announced that they are considering a digital vaccine passport.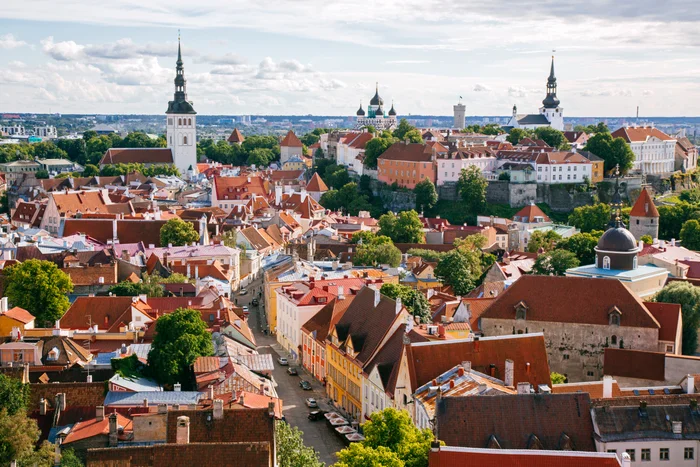 The beautiful city of Tallinn, Estonia (Photo by Alexander Spatari/Getty)
Belize
The first Caribbean nation to welcome vaccinated tourists is Belize.
Travelers wishing to travel to Belize will no longer have to take a pre-departure COVID-19 test so long as they have received both shots of a government-approved vaccine at least two weeks before arrival.
Visitors must also download and fill out the information required in the Belize Health App within 72-hours of arriving in Belize.
Cyprus
Over the summer, when tourism in Europe had a brief rebound, getting into Cyprus was notoriously stressful. Not anymore.
From May 1, 2021, British travelers who can provide proof of vaccination on arrival into Cyprus will no longer have to present a negative COVID-19 PCR test or be subject to quarantine.
But not all countries are welcome to start. It remains dependent on categorization by Cyprus of each nationality based on the risk of transmission. It appears that Americans are still not allowed to visit for now. As the new system rolls out, that could change.
Estonia
The beautiful Baltic country of Estonia has been welcoming vaccinated tourists since Feb. 1.
On arrival, travelers must present a valid vaccination certificate that discloses where the vaccine was made, which vaccine was used, the issuer of the vaccine and the batch number of the vaccine. The certificate will only be accepted in Estonian, Russian or English.
According to the U.S. Embassy in Estonia, U.S. citizens are not currently allowed to enter.
Georgia
As of Feb. 1. 2021, citizens from all countries are permitted to enter Georgia by air on the prerequisite that they can prove they have received the full course of any of the COVID-19 vaccinations.
According to the Georgian government; "Citizens of all countries, traveling by air from any country may enter Georgia if they present the document confirming the full course (two doses) of any COVID-19 vaccination at the border checkpoints of Georgia.
This means vaccinated U.S. citizens are currently permitted to travel to Georgia.
Iceland
As of March 18, 2021, eligible U.S. citizens are welcomed back to Iceland with open arms. Additionally, if you're from a country belonging to the European Economic Area (EEA) or Switzerland and you can prove you've been vaccinated, you will be exempt from testing and quarantine requirements on arrival into Iceland.
Iceland recently updated its requirements, removing the need for nationality and passport number to feature on official vaccine certificates, which means certificates issued by the Centers for Disease Control and Prevention (CDC) are now accepted.
Lebanon
As of Jan. 11, 2021, arrivals into Lebanon who can prove they've received a COVID-19 vaccine will be exempt from having to quarantine. As a precautionary measure, arrivals will still be expected to take a COVID-19 PCR test ($50, paid to the airline).
You will still need to take a PCR test at least 96 hours before you travel to Lebanon. If you cannot prove this at check-in at your departure airport, you will not be allowed to travel.
Americans are allowed to visit Lebanon, according to the United States Embassy in Lebanon.
Lithuania
The Baltic nation of Lithuania has reduced its restrictions on vaccinated travelers.
The relaxed restrictions apply to those arriving in Lithuania with proof that they have completed the full course of one of the coronavirus vaccines. This will mean being exempt from partaking in testing on arrival as well as self-isolation on arrival into the country.
All travelers must fill out this form before traveling to Lithuania.
As it stands, U.S. citizens are currently not allowed to enter Lithuania, according to the U.S. Embassy.
Poland
As of Dec. 28, 2021, Poland introduced a mandatory 10-day self-isolation for all arrivals into the country. However, if you can prove with a certificate that you've been vaccinated against COVID-19, you will be exempt from the quarantine period.
If you haven't been vaccinated, you can still travel to Poland and be exempt from self-isolation so long as you can show proof of a negative COVID-19 test taken within 48 hours of arrival at the border.
According to the U.S. embassy, Americans are still not allowed in Poland.
Romania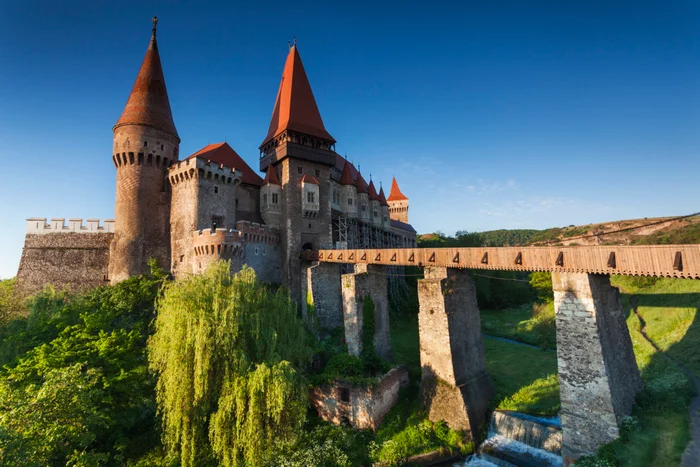 Corvin Castle in Transylvania at dawn (Photo by Walter Bibikow/Getty Images)
Romania decided back in January to allow visitors with proof of vaccination to come without quarantine. Previously there was a mandatory period of self-isolation for all arrivals into the country. That's according to Matador Network — the first to report the news. The quarantine order remains in effect for those without a vaccination.
Romania's National Committee for Emergency Situations (CNSU) decided to lift the required quarantine, but there is a big caveat. You must be able to show that your second dose of the vaccine was at least 10 days prior to arrival.
According to the U.S. Embassy in Romania, "The government of Romania has approved the Pfizer-BioNTech and Moderna COVID-19 vaccines."
Unfortunately, Americans are still not allowed to enter Romania except under certain conditions and not for tourism.
Seychelles
Those wishing to visit the stunning Seychelles archipelago in the Indian Ocean can do so quarantine-free on completion of a full dose of a COVID-19 vaccine.
Travelers must have been fully vaccinated at least two weeks before arriving in Seychelles. If the vaccine requires two doses, both must be completed a minimum of two weeks before travel.
In addition to a certificate showing proof of vaccination, a negative COVID-19 PCR test taken within 72 hours of travel will also be requested on arrival.
The rule even applies to travelers coming from countries that are not on Seychelles' list of permitted countries.
From March 25, all visitors (except those traveling from South Africa) will be allowed to travel to Seychelles even if they haven't been vaccinated. They will, however, be forced to undergo quarantine on arrival.
Slovenia
The stunning Alpine mountain ranges and mystical lakes of Slovenia are once again open to tourists.
Travelers to Slovenia will be exempt from having to quarantine for 10 days on arrival if vaccinated.
Each of the vaccines has a different set of rules. For example, to be exempt from quarantine you must have had either; a second dose of the Pfizer/BioNTech at least seven days before arrival, or; a second does of the Moderna vaccine at least 14 days before arrival, or; a second dose of the Oxford/AstraZeneca vaccine at least 21 days before arrival.
However, according to the U.S. Embassy in Slovenia, U.S. citizens are not permitted to enter the country at this time.
Thailand
Thailand is undoubtedly one of the most popular destinations for travelers.
The Thai government is planning on allowing non-Thai travelers who have been vaccinated into the country. This would mean people arriving with proof of a COVID-19 vaccine will be exempt from the country's current mandatory 16-day quarantine.
Thailand's government has also introduced the option of quarantining on a yacht rather than in a government facility.
Americans are allowed into Thailand, but you must apply for a special visa. You can find more information on obtaining a visa from the Thai Embassy in Washington, D.C.
The United States
In a move that would be a first on U.S. soil, the State of Hawaii is looking to allow vaccinated travelers to skip any mandatory quarantine requirements.
Vaccinated citizens will receive an electronic code that will enable them to travel around the islands.
According to Hawaii News Now, the program is set to start with local essential workers. The next step will then be to allow U.S. citizens from across the mainland to enter with a vaccine passport. This could happen as early as May 1, 2021.
International travelers who received the COVID-19 vaccine would eventually follow.