Da Nang vaccinates bus, taxi drivers against Covid-19
All bus and taxi drivers in the central city will be prioritized for the Covid-19 vaccine jabs.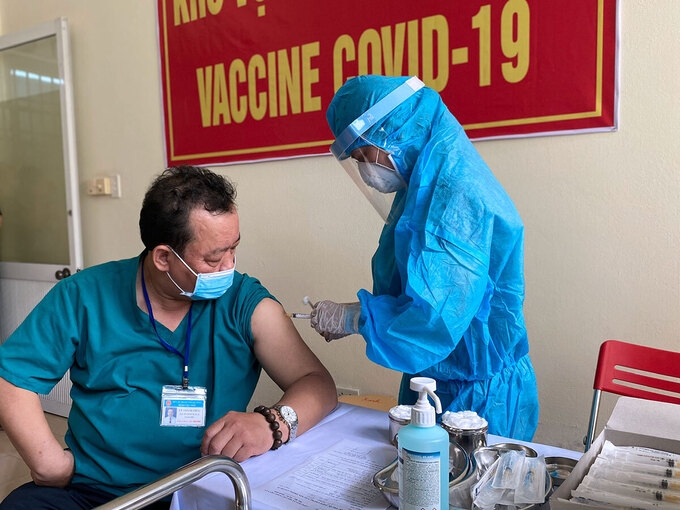 A frontline worker in the Covid-19 fight is vaccinated against Covid-19 in Da Nang. (Photo: VNE)
Da Nang authorities on Thursday agreed to allocate 1,400 doses of AstraZeneca vaccine for taxi and bus drivers as the city resumes mass transport activities starting May 28.
The municipal Steering Committee for Covid-19 Prevention and Control on Thursday requested the Department of Transport to compile a list of bus and taxi drivers for Covid-19 vaccination. The list would then be sent to the Da Nang Center for Disease Control.
The transport department was also assigned to quickly devise plans to resume certain transport services once the pandemic situation is contained.
According to the Covid-19 vaccine rollout issued in early April, Da Nang expects to inoculate 46,000 frontline workers in Quarters 2, 3. Over 10,000 of the recipients are medical workers, 14,200 are Steering Committee for Covid-19 prevention and control members, those working at quarantine areas, volunteers, nearly 22,000 are military and police officers.
Since the onset of the fourth outbreak on April 27, the city recorded 154 cases. It has gone eight days without new community infections. Starting Thursday, the 21-day blockade order has been removed in many clusters.
"During the lockdown time, we all strictly followed anti-pandemic measures to protect ourselves and the community. As the blockade is removed today, we are very happy," 65-year-old Mai, a resident in Thuan Phuoc ward, told VNE.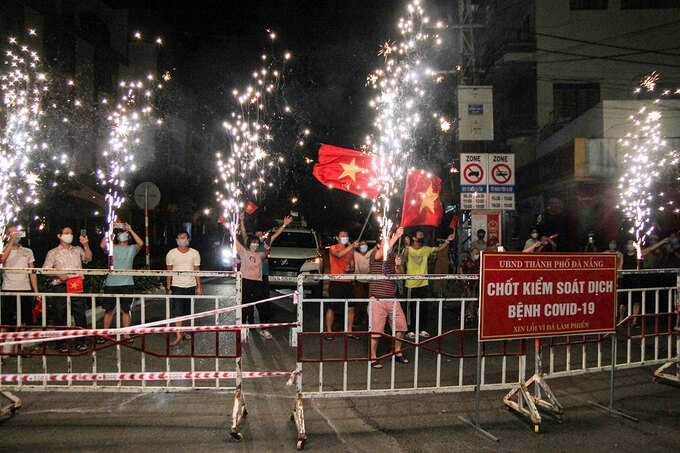 Cheerful atmosphere as blockade order removed in one residential area in Da Nang (Photo: VNE)
Earlier on May 17, the city has suspended all cars and motorbikes from transporting passengers and delivery services following the detection of one infected GrabCar driver. It also ceased operation of discos, bars, massages parlors, swimming pool, among other non-essential activities to better contain the outbreak. Onsite dining and gatherings of over 5 people in public places were also banned.
Vietnam has been seeking 150 million doses to cover 70 percent of its population by next year. So far it has been promised 110 million within this year via AstraZeneca, Pfizer/BioNTech and Covax.
It has been using the AstraZeneca vaccine for its mass vaccination program starting March. Vietnam has received around 2.9 million doses, and immunized over a million people, mainly frontline Covid workers.