Deadly explosion in Beirut shocks the world, Trump said it "looks like a terrible attack"
A large blast rocked the Lebanese capital of Beirut on Tuesday at 6:07 p.m. after a major fire broke out near the city's port, killing at least 78 people and injuring more than 4,000 others
Videos show large smoke billowing from a fire, then a mushroom cloud following the blast at Beirut's port.
Initially, there were conflicting reports on what caused the explosion. It was earlier blamed on a major fire at a warehouse for firecrackers near the port, said CNN.
According to BBC, officials are blaming highly explosive materials stored in a warehouse for six years. President Michel Aoun tweeted it was "unacceptable" that 2,750 tonnes of ammonium nitrate was stored unsafely.
An investigation is under way to find the exact trigger for the explosion. Lebanon's Supreme Defence Council said those responsible would face the "maximum punishment" possible.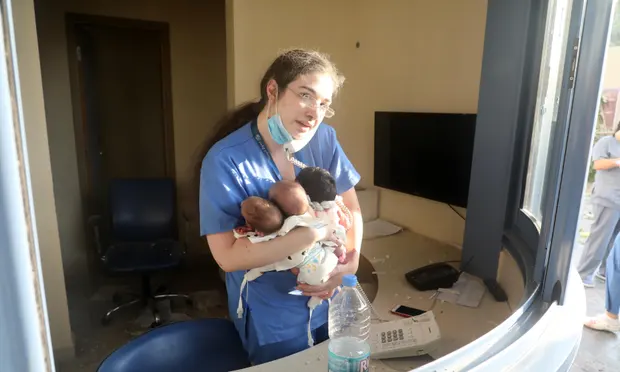 A nurse takes care of three babies in a damaged hospital after the explosion in Beirut, Lebanon, 4 August 2020. Photograph: Xinhua/REX/Shutterstock.
The death toll from a massive explosion in the capital Beirut on Tuesday had reached 78, Lebanon's health minister has told the Reuters news agency, reported CNN.
Health Minister Hamad Hassan told Reuters that nearly 4,000 people have also been injured. "There are many people missing until now. People are asking the emergency department about their loved ones and it is difficult to search at night because there is no electricity. We are facing a real catastrophe and need time to assess the extent of damages," Hassan told Reuters.
Hospitals are said to be overwhelmed and many buildings have been destroyed.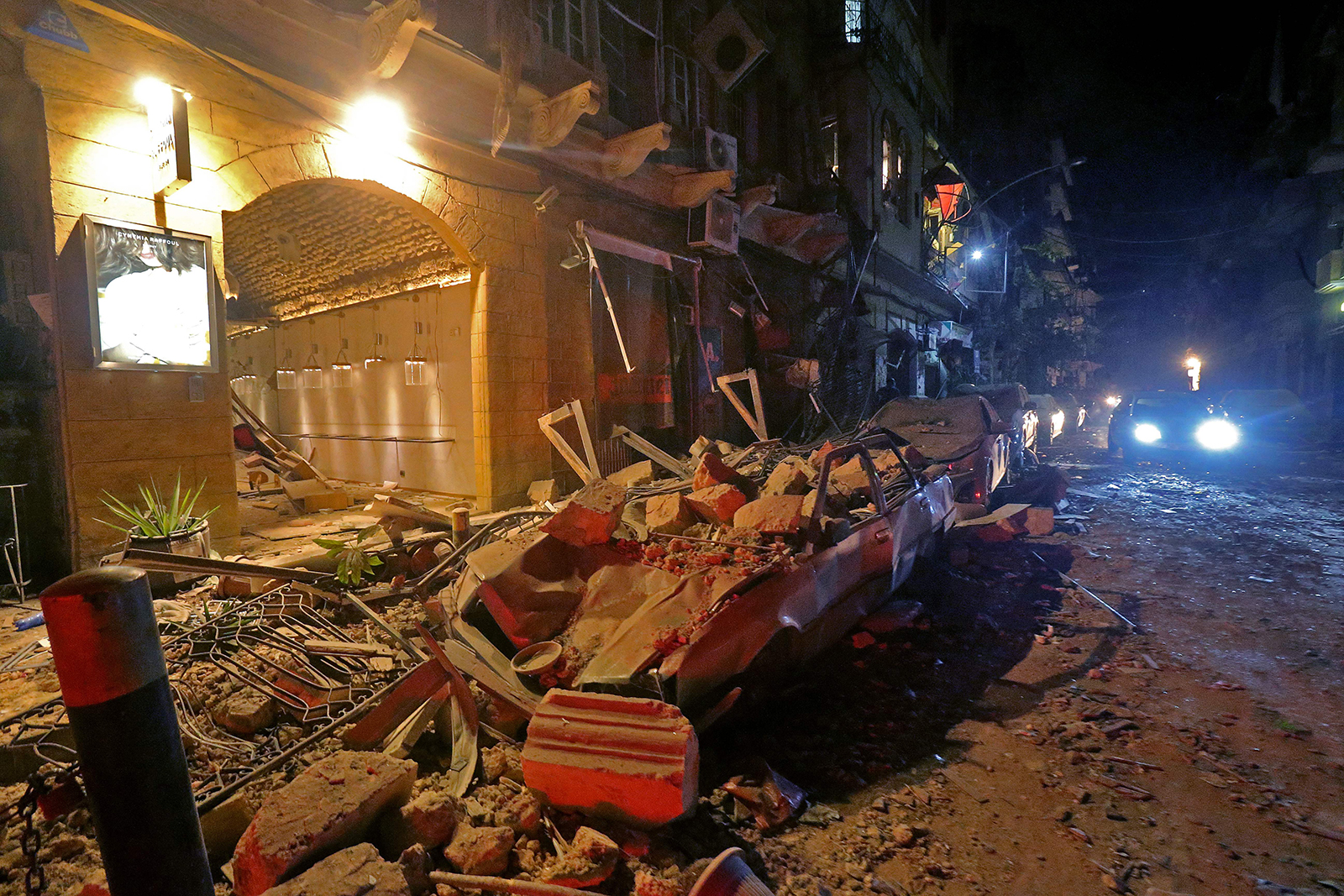 President Aoun declared a three-day mourning period, and said the government would release 100 billion lira (£50.5m; $66m) of emergency funds. Lebanon's Prime Minister Hassan Diab later said in a statement that an estimated 2,750 tons of ammonium nitrate, an explosive, had been stored at a warehouse for the past six years. Lebanon's general security chief said the substance had been confiscated years ago, according to CNN.
Governments worldwide have offered support
A number of leaders sent the condolences to Lebanon's government and people.
Donald Trump has said the deadly explosion in Beirut "looks like a terrible attack", contradicting the information coming from Lebanese officials. Asked whether he was "confident" the Lebanon explosion was "an attack and not an accident", he told reporters: "Well it would seem like it, based on the explosion." The president added he had met US generals and said they "seem to feel that it was", according to The Guardian.
Lebanon's Supreme Defence Council recommended declaring Beirut a disaster-stricken city, declaring a two-week state of emergency in the capital and handing over security responsibilities to military authorities. A council statement, read live on television, said President Michel Aoun has decided to release 100bn Lebanese pounds in emergency allocations from the 2020 budget.
President Vladimir Putin said that "Russia shares the grief of the Lebanese people," according to a Kremlin statement.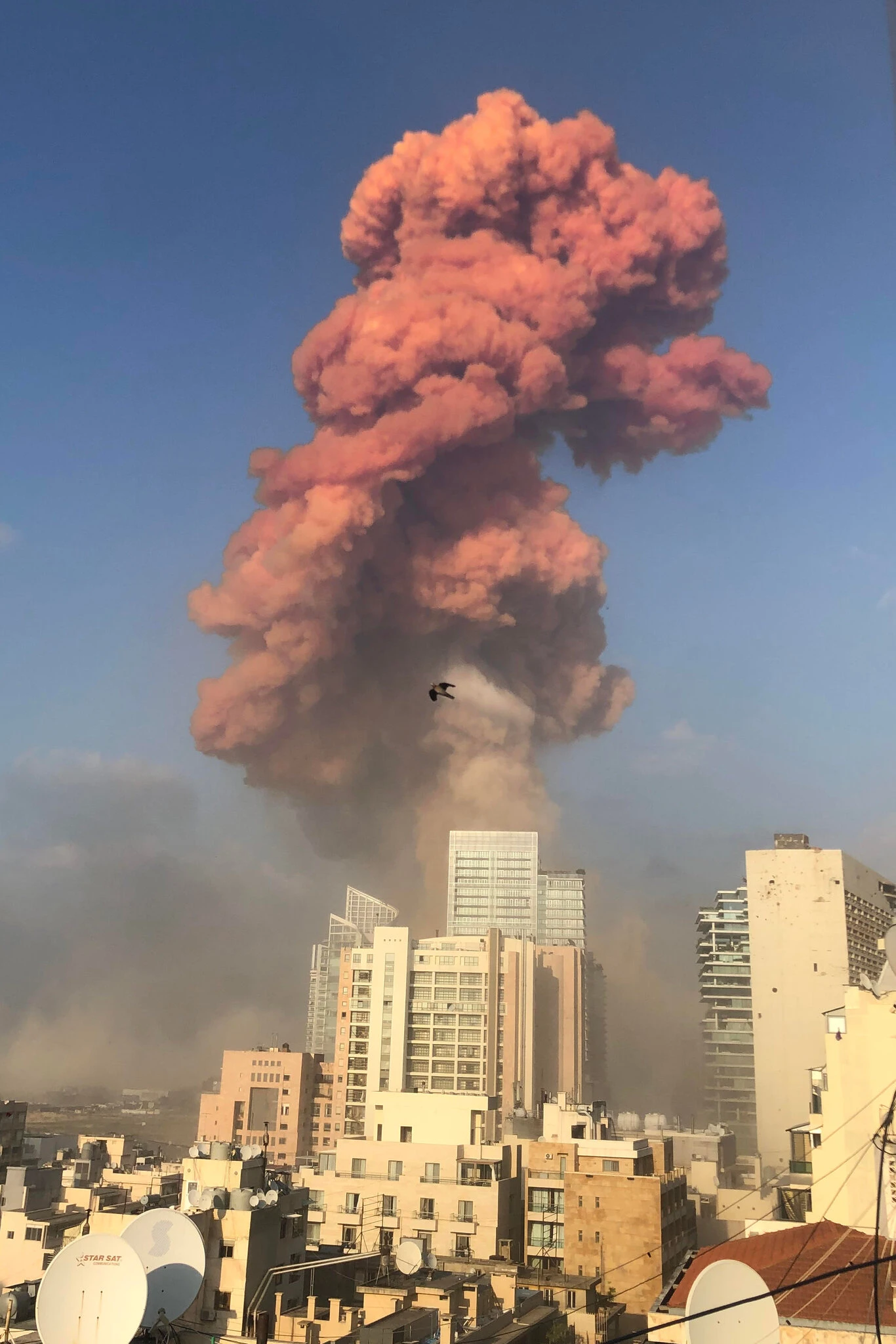 Smoke from the scene of an explosion in Beirut, Lebanon on Tuesday.Credit. Photo: Ben Hubbard/The New York Times
French Foreign Minister Jean-Yves Le Drian said the country was "ready to provide assistance according to the needs expressed by the Lebanese authorities".
Britain's Prime Minister Boris Johnson called the pictures and videos from Beirut "shocking".
"All of my thoughts and prayers are with those caught up in this terrible incident," he wrote on Twitter. "The UK is ready to provide support in any way we can, including to those British nationals affected."
Canadian Prime Minister Justin Trudeau wrote on social media to say "we think of all those who were injured in this tragic explosion, as well as those who are trying to find a friend or family member or who have lost a loved one. We're ready to help you."
An Australian citizen has been confirmed dead. Prime Minister Scott Morrison said: "It's my deep regret to inform you that one Australian has been killed in this horrific blast" but did not reveal further details.
The blast was ignited from an ammonium nitrate warehouse in Beirut. What we know about the chemical compound?
Gabriel da Silva, a senior lecturer in chemical engineering at the University of Melbourne explained that ammonium nitrate is a common industrial chemical used mainly for fertiliser because it is a good source of nitrogen for plants.
It is also one of the main components in mining explosives.
Ammonium nitrate is not explosive on its own, rather it is an oxidiser, drawing oxygen to a fire – and therefore making it much more intense.
However, da Silva explained, it only ignites under the right circumstances, and these are difficult to achieve. "You need extreme circumstances to set off an explosion," he said.
While ammonium nitrate can in fact put out a fire, if the chemical itself is contaminated, for example with oil, it becomes highly explosive.
"I think that's what's happened here," said da Silva.
While the chemicals in the air should dissipate fairly quickly, lingering pollutants can cause problems later, for example if they acidify rain.
"If you look at the smoke that came from the blast it's this kind of blood red colour . That's because of the nitrogen oxide air pollutants in it," he said.