Domestic plastics sector takes up opportunities from EVFTA
The EU-Vietnam Free Trade Agreement (EVFTA) has brought a host of opportunities that the local plastics industry can take advantage of to expand export markets and attract additional foreign investment, according to Insiders.
Statistics compiled by the General Department of Vietnam Customs indicate that plastic export turnover has consistently recorded increases in recent years, with the average growth rate reaching between 14% and 15% annually. Indeed, the EU market accounts for approximately 18.2% of the nation's overall plastic export turnover.
Vietnamese plastic products also have a presence in over 150 markets globally. According to the International Trade Center, the country's plastic packaging products in the EU market now enjoy a competitive advantage compared to that of regional peers such as Thailand and China due to not being subject to anti-dumping duties of between 4% and 30%.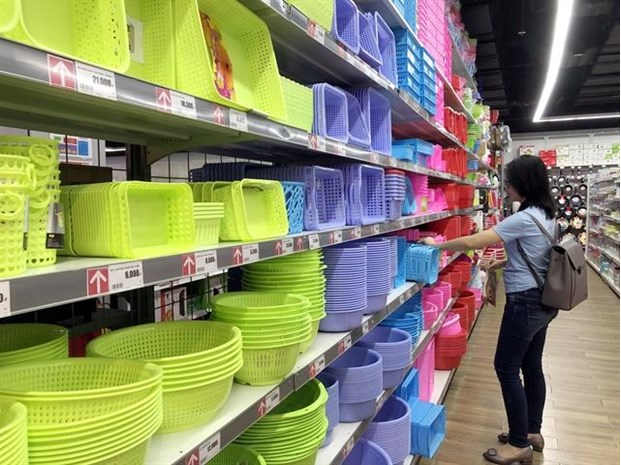 Plastic products at a supermarket in HCM City. Photo: VNA
According to the European-American Market Department under the Ministry of Industry and Trade, the majority of plastic products that have been subject to a basic tax rate of 6.5% have been slashed to 0% immediately after the EVFTA came into effect, with no quotas being applied.
Experts, therefore, believe that the EVFTA has implemented flexible regulations regarding the rule of origin for plastic products. This will serve to create competitive advantages for Vietnamese enterprises as they are largely dependent on imports of raw material sources.
As a means of meeting the demand for both domestic and export markets, the nation's plastic industry is forced to import millions of tonnes of raw materials each year, with domestic capacity only meeting between 15% and 35% of the demand for raw materials.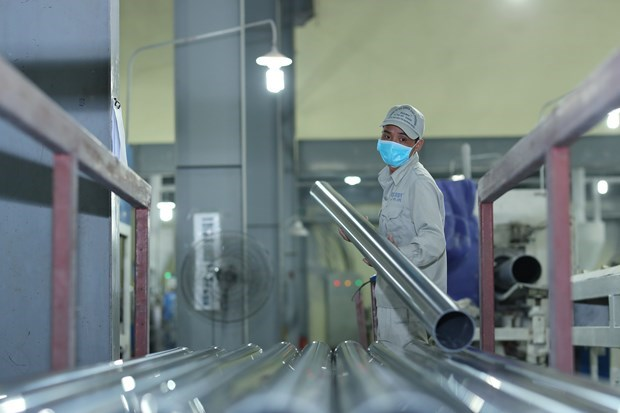 Photo: VOV
Furthermore, experts also note that the trend of switching to use eco-friendly and self-destructing plastic packaging made from polyethylene terephthalate (P.E.T) has become increasingly popular within the EU. This, therefore, poses challenges to the local plastics industry due to traditional packaging products still making up a large proportion.
Economists have stated that a number of firms have actively turned to producing P.E.T materials and exporting to several major markets around the world, including the EU.
Moving forward, there will be bright prospects for the plastics sector providing that Vietnamese enterprises meet the high technical standards set by the fastidious market.
Overview of Vietnam's plastic industry
Although the plastic industry is still at its early age compared to other established industries such as mechanics, electricity - electronics, chemicals, and textiles, it has experienced a strong development in recent years. Between 2010 and 2015, the plastic industry was one of the fastest-growing industries in Vietnam with an annual growth rate of 16% - 18% per year (following telecommunications and textiles). With the rapid growth rate, the plastic industry is considered a dynamic economic sector in the Vietnamese economy. Such growth is resulted from a large market with great potential, and from the fact that Vietnam's plastic industry is only at the beginning of its development compared to the world.
In 2015, the plastic industry produced and consumed nearly 5 million tons of products. The plastic products per capita have increased from 3.8 kg/year in 1990 to 41 kg/year. This increase shows that the demand for using plastic products in Vietnam is on the rise.
So far, there have been more than 2,000 companies operating in Vietnam's plastic industry. Most of these are private companies located in Ho Chi Minh City.
Products from the plastic industry are very diversified and are increasingly used in many fields and many industries. For example, plastic products are used for packaging, household items, stationery, toys, etc. In some industries such as construction and electricity - electronics, plastic has also become a substitute for traditional materials.
Photo: VOV
Domestic production
Despite the strong development in recent years, Vietnam's plastic industry only focuses on plastic processing and is not fully active in the supply of raw materials for production activities. Currently, the plastic industry needs an average of 3.5 million tons of input materials such as PE, PP, PS, etc., not to mention hundreds of different auxiliary chemicals. Domestic resources can only provide about 900,000 tons of raw materials, chemicals, and additives for the needs of the industry.
Therefore, the import of plastic materials has continuously increased in volume and value over the years. It was forecasted that by 2020, Vietnamese plastic enterprises would need about 5 million tons of raw materials to serve their production needs. Therefore, that raw materials cannot be provided domestically will be a big obstacle for plastic enterprises to carry out production as well as increase their competitiveness in the context that Vietnam has participated in many bilateral and multilateral free trade agreements.
In addition, the production cost of the plastic industry has also fluctuated in accordance with the prices of imported raw materials, especially PP and PE, whose prices had an average growth of 11.7% over the past five years.
Exports
In spite of many difficulties in operation, Vietnam's plastic industry is still gradually asserting its position in the economy. Vietnam's plastic products are not only widely consumed in the domestic market but also exported to and gradually dominate many foreign markets, Vietnamcredit reported.
The strong increase in export turnover shows that Vietnam's plastic products are being used by many countries around the world and gradually affirming the important position of the plastic industry in the general economic development.
In foreign markets, Vietnam's plastic products are considered highly competitive because modern production technologies have been applied. Vietnam's plastic products are currently present in more than 150 countries and regions around the world, including Japan, Cambodia, Laos, Thailand, China, India, the Middle East, Africa, the EU, the US, etc. Among these markets, China, India, Russia, Eastern Europe, Africa are of great potential with high demand for packaging, consumer, and construction plastic products.