Enterprise establishment in Vietnam surges 36% in May
According to the General Statistics Office, because Vietnam has effectively controlled the COVID-19 epidemic, the number of newly registered enterprises in May 2020 increased by more than 36%, equivalent to 10,700 businesses.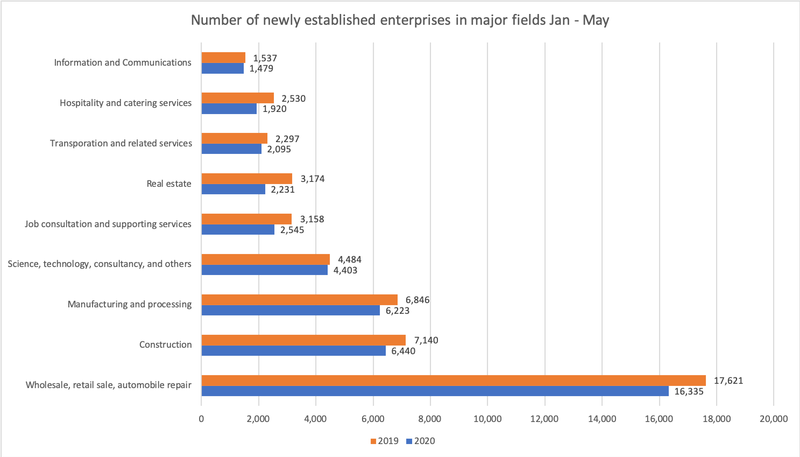 (Data: GSO)
According to Industry and Trade News, after the social extension measures were relaxed, along with the positive impact from the government's business support policies, the number of reviving enterprises had shown signs of rising.
Specifically, only in May 2020, Vietnam had 10,728 newly established enterprises with a registered capital of VND 112.7 trillion (US$ 4.8 billion) and a registered labor of 91.5 thousand employees, up 36.1 % of enterprises, up 20.1% of registered capital, up 27% of the number of employees compared with the previous month. Meanwhile, the number of newly established enterprises in April 2020 reached only 7,900 enterprises.
In May 2020, Vietnam also welcomed 5,056 enterprises returning to operation, up 32.7% over the previous month and up 105.4% over the same period last year; 3,342 enterprises registered to suspend business for a definite time, down 18.9% and increasing by 43.7%; 3,083 enterprises stopped operating and are waiting for dissolution procedures, up 42.3% and 47.6%; 962 enterprises completed dissolution procedures, down 1.8% and 9.8%; 3,473 enterprises were not operating at the registered address, up 21.3% and 44.5% higher than April 2020.
The number of reviving enterprises had shown signs of rising (Photo: VNS)
"The above figures show that the business has been operating again and optimistic with the new recovery signal of the economy as well as from the markets after the COVID-19 epidemic was under control," Department of Statistics stated.
Taking into account VND817.4 trillion (US$35.03 billion) of additional capital pumped by active enterprises, total registered capital injected into the economy in the January-May period was VND1,375.3 trillion (US$58.95 billion), down 17% year-on-year.
Among economic sectors, only electricity, gas and water production and distribution, and the sector of agro-forestry-fishery saw increases in the number of fresh enterprises with 928 and 794, respectively, up 95% and 5.6% year-on-year.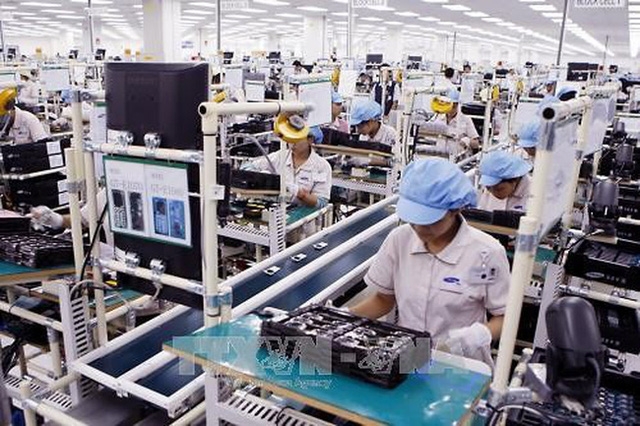 The figures show that the business has been operating again and optimistic (Photo: VNS)
Meanwhile, most of the newly-established enterprises are in the fields of wholesale, retail, automobile repair with 16,335 enterprises, down 7.3% year-on-year. New businesses in the construction sector totaled 6,440, down 9.8%; followed by manufacturing and processing (6,223, down 9.1%); science, technology, consultancy, design, advertising and others (4,403, down 1.8%), among others.
The government-run office informed that 21,700 enterprises resumed operations, an increase of 10.5% against the similar period last year, bringing the total number of newly-registered and reinstated enterprises in the five-month period to 70,000.
The GSO added that the number of laborers of newly-established enterprises between January and May was 407,200, down 24.2% against the same period last year.
During this period, the number of enterprises temporarily ceasing operations surged 36.4% year-on-year to 26,000.
Moreover, the number of enterprises which completed procedures for bankruptcy was down 4.8% to 6,100, of which 5,400 enterprises had a capital base of less than VND10 billion (US$429,700), reported by Hanoi Times.
Economy
(ANI): The Union Public Service Commission (UPSC) witnessed a three percent rise in the number of Muslims candidates who cracked the most competitive exam in the country this year.
June 03, 2023 | 06:00
Focus
The book "Vietnam's Direct Investment Abroad and in Myanmar" - the first in-depth publication on Vietnam's foreign investment lauched on May 31 in Hanoi.
June 02, 2023 | 16:12