Fishermen Aided by Naval Ship after Accidents at Sea
Two fishermen from Ba Ria-Vung Tau province were crushed by anchor lines and nets while fishing at sea. Both were promptly aided by Naval Region 2 ship.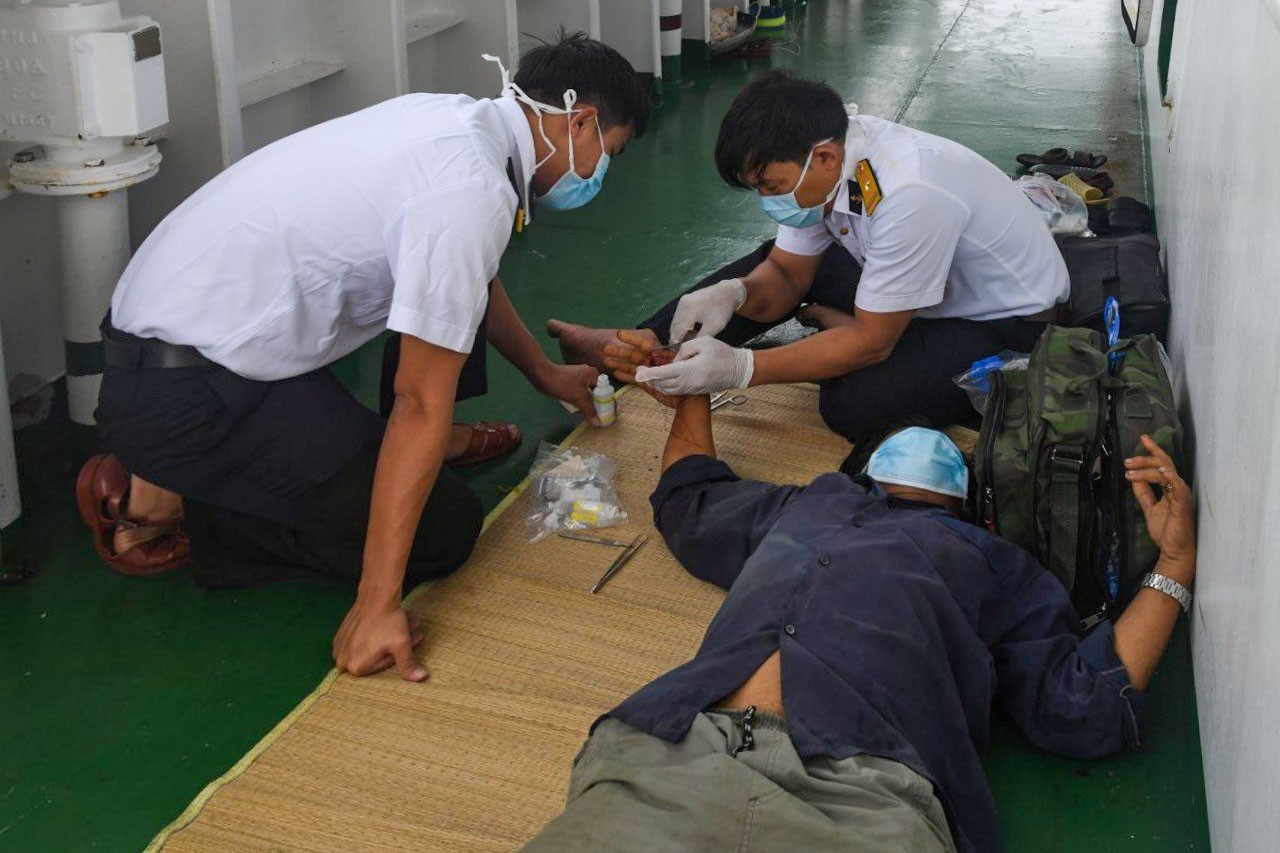 The medical team carried out first aid measures for the fisherman. Source: nguonluc.com.vn
At 10:30 am, on March 5, vessel 269 of the Navy Region 2 was on a mission in the area of ​​Nam Dong Son Sea, and received a message via a fishery intercom from the ship BV 92672TS about a fisherman injured in his hand.
Immediately after receiving the news, vessel 269 quickly maneuvered to approach the fishing boat. The medical team carried out first aid measures for patient Bui Ca, born in 1970, with a bruised thumb on the right hand due to entanglement in the mooring line.
In the afternoon of the same day, ship 263 of the Navy Region 2 received a signal asking for help from a fishing vessel BV 92528TS. After approaching the fishing boat, the medical team conducted first aid measures for patient Ha Quang Phuc, born in 1983, who has a 5cm wound on his right hand due to being caught in the net.
After injecting antibiotics, the medical team of ship 263 instructed the fishing boat to quickly bring the patient back to shore for further treatment.
Earlier, a helicopter operated by the Army Corps 18 under the Ministry of National Defence operated an emergency flight to bring a fisherman suffering a stroke from Song Tu Tay island in the central province of Khanh Hoa's Truong Sa district to Ho Chi Minh City from treatment.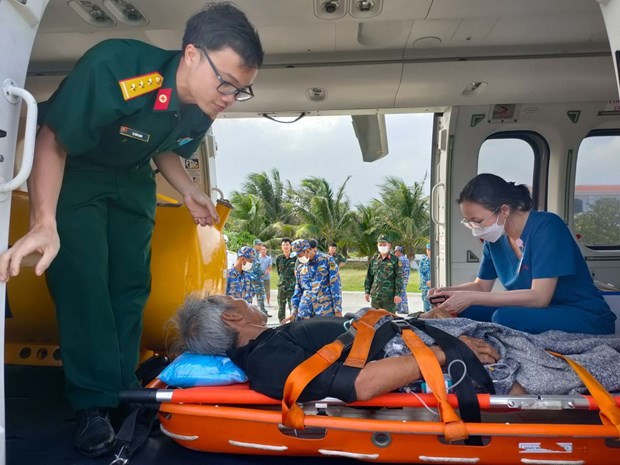 The patient lies inside the helicopter. Source: Khanh Hoa newspaper
While working on a local ship at sea on March 5, the patient, born in 1953, felt dizzy, then fell on the deck and was unable to speak and paralyzed on the right side of the body. Later on the day, he was brought to the island for emergency care.
Initially diagnosed with complete paralysis of the right side of his body and suspected of having a stroke for 17 hours, the man was recommended to be transported to shore for further treatment at the Military Hospital 175 in HCM City.