Foreign Enterprises In Vietnam Strive For Stability Amid Lengthy Pandemic
Representatives of foreign business associations in Vietnam said it was not easy to contain the pandemic and maintain economic growth at the same time. However, Vietnam needs to make efforts to reach these dual targets.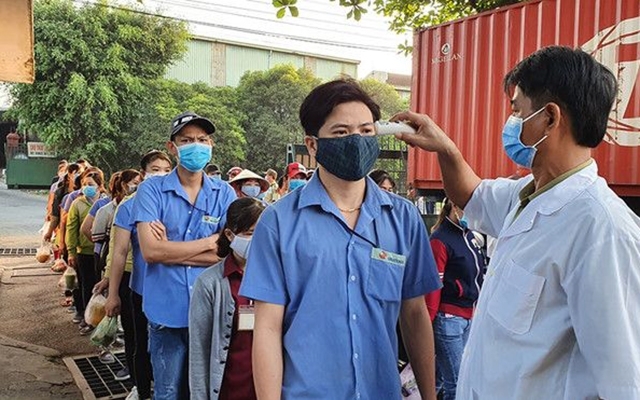 Factory workers have body temperatures checked before entering their workplaces. Photo Nhan Dan
Hong Sun, vice chairman of the Korean Chamber of Business in Vietnam (Korcham Vietnam), who has lived and worked in Vietnam for 27 years, highly appreciated the efforts of the Vietnamese Government in the fight against the pandemic.
However, he said the fight against Covid had lasted longer than expected and might continue in the future. Foreign business associations in Vietnam, including Korcham Vietnam, hope for a new normalcy.
"Besides promoting the vaccination program, Vietnam needs to ensure the health and safety of its people and maintain economic activities," he said.
Vaccination campaigns need to be promoted
Alain Cany, chairman of the European Chamber of Commerce in Vietnam (EuroCham), said that the extent of impacts on the production line largely depends on how long Covid-19 outbreak this time will last, the speed at which the virus is controlled, and the ability to rapidly vaccinate frontline workers in industrial parks, healthcare facilities and other essential sectors.
"The sooner workers are vaccinated, the quicker we can get back to business as usual," Cany told Zing News.
"Of course, the longer the outbreak lasts, the greater the negative impact on production chains, supply chains and livelihoods will be," he said.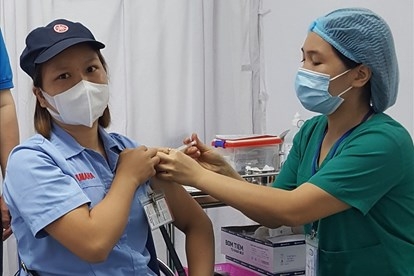 A factory worker in Hanoi gets vaccinated. Photo Lao Dong
Adam Sitkoff, executive director of the American Chamber of Commerce in Vietnam (Amcham), emphasized that the best way to return to a normal life is to get vaccinated.
"AmCham has continuously called on US President Joe Biden and his team to donate more vaccines to Vietnam. I am very pleased that the US has provided 5 million doses of Moderna vaccine to Vietnam," the director said.
He said we needed to prepare for a new normal state. The first thing is to increase the rate of Covid-19 vaccination.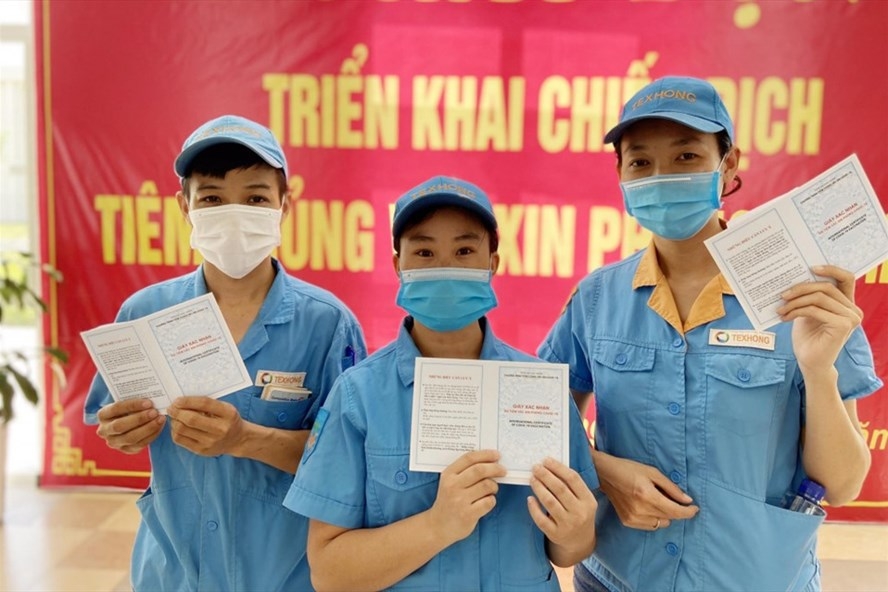 Laborers in Quang Ninh province show vaccination certificates after getting the jabs. Photo Vietnam Labour Federation
Hong Sun from Korcham Vietnam said Korean businesses under Korcham would continue to provide financial support to Vietnam to accelerate the vaccination program for the entire population.
"The US, UK and Israel have been quite successful in mass vaccination and are returning to normal life. Vietnam has done a great job in preventing the pandemic, but fighting it alone will not solve the root of the problem completely," he said.
"Only vaccines can solve long-term problems. Therefore, the most important thing now for Vietnam is to accelerate access to vaccine supplies and implement mass vaccination to bring people's lives back to normal," he said.
Scale down lockdown
Hong Sun proposed Vietnam need to minimize the lockdown. "For example, if a new Covid-19 case is detected, we should focus on one factory instead of the whole industrial park."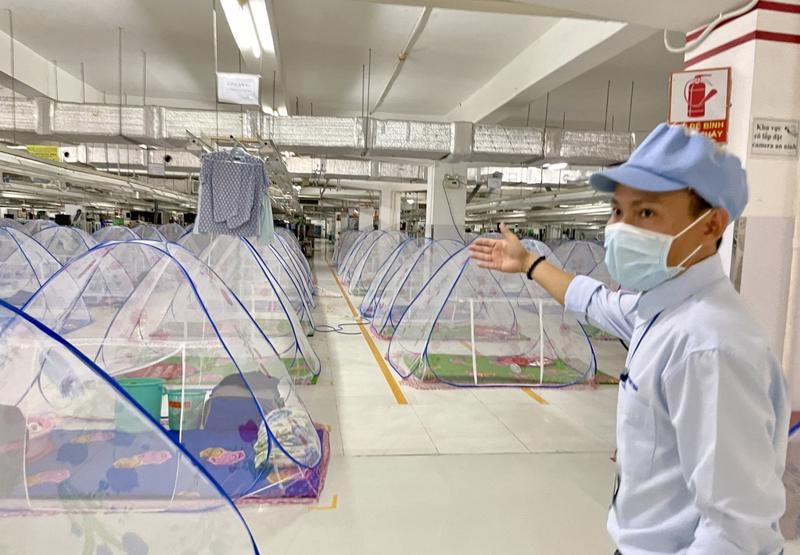 A lot of factory workers in Hai Duong, Bac Giang, Bac Ninh provinces set up tents to stay at their workplaces for self quarantine when positive cases are detected. Photo VnEconomy
The pandemic can affect public health, but if Vietnam's value chain system is disrupted, it will take a longer time to bring everything back to normal, he said.
"It is very difficult to both ensure public health, safety and maintain economic growth. However, both are important. We should not sacrifice the manufacturing and business industries too much," he said.
The Korcham chairman suggested Vietnam should learn and apply tourism bubble between Vietnam and economies that have contained the pandemic well in the region such as South Korea, Taiwan, Singapore.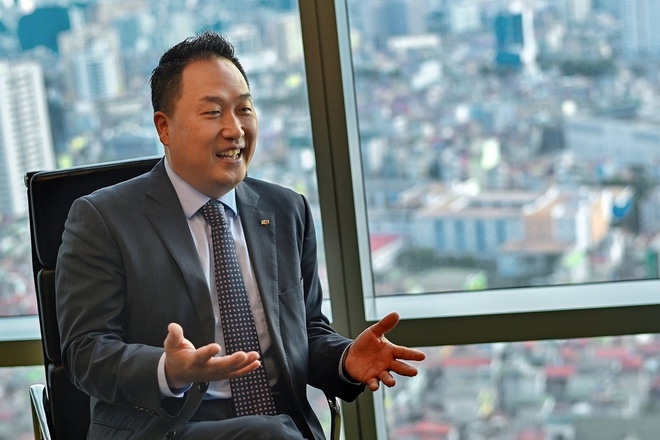 Hong Sun, vice chairman of the Korean Chamber of Business in Vietnam. Photo Zing News
Due to the fourth wave of the pandemic, projects that need foreign experts and managers have been suspended with supply chains being disrupted. The requirements of work permits are tightened.

The quarantine exemption for people entering Vietnam for less than 15 days has been discussed since May, but so far no business representatives have been exempted, Hong Sun said.

"A lot of Korean investors are concerned about the regulation and look forward to the issuance as soon as possible," he said on August 8 while delivering a speech at a meeting with Vietnamese Prime Minister Pham Minh Chinh.
Adam Sitkoff from Amcham said his chamber was in discussions with Vietnamese authorities on a number of issues related to Covid-19, including business operations, vaccine purchase and access as well as some recommendations to loosen restrictions for fully-vaccinated travelers to Vietnam.
American businesses in Vietnam are adjusting their supply chains to minimize disruptions caused by the pandemic.
"The top priority for companies is to keep their employees safe. They have a variety of ways to support their workforce during the pandemic." These include more flexible working policies, safety measures, expanded Covid-19 testing, ensuring access to vaccines, assistance with temporary accommodation and transportation, he explains.
"This is a challenging time for all of us, and business leaders have an obligation to offer whatever assistance they can," he said.
Focus
Brazil is Vietnam's largest trading partner in Latin America and in the top three of Vietnam's largest markets in the Americas.
June 07, 2023 | 14:29
Economy
The deputy chief minister praised the literary contributions of Dai and stressed the importance of promoting literature and education in the state. He also highlighted the achievements of individuals from various sectors, including sports, education, and business, who brought laurels to the state.
June 07, 2023 | 07:00