Foreign representative agencies support COVID-19 fight in Japan, Laos
To assist the Lao Government's efforts to fight the outbreak of the coronavirus disease (COVID-19), the Vietnamese Embassy in Laos has raised VND160 million (USD 6,830) to help the neighboring nation fight the pandemic.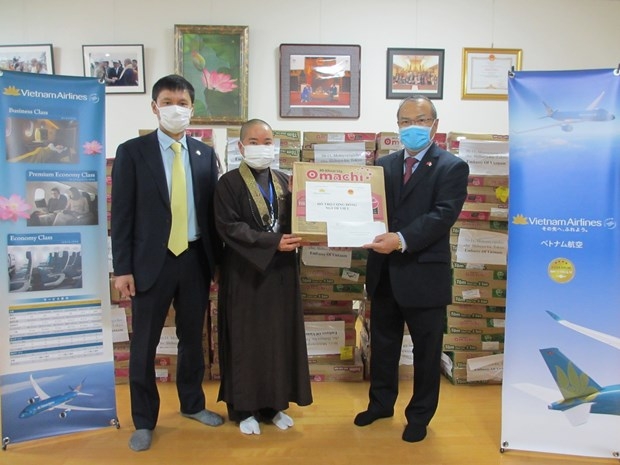 Ambassador Vu Hong Nam (R) presents a box of instant noodles to Buddhist nun Thich Tam Tri, President of the Association of Vietnamese Buddhists in Japan. (Photo: VNA)
According to VOV, the donation was presented to the Lao Steering Committee for COVID-19 Prevention and Control in Vientiane on April 22.
Vietnamese Counsellor Vu Van Hoa said the small sum shows the wholehearted support Vietnamese want to give their Lao counterparts in the hope of helping the Lao Government and people keep a check on the pandemic and recover the economy.
The successful containment of COVID-19 will require countries in the region to work together and help each other out.
Minister of Health and Deputy Head of the Steering Committee Bounkong Syhavong, on behalf of the Lao Government, extended his thanks to the Embassy for the support, saying that despite facing plenty of difficulties, the Vietnamese Government and people are willing to provide great support for Laos.
The country have offered medical supplies and dispatched experts in a bid to share their experience in epidemic control, the Lao official said, while stating his appreciation for Vietnam's readiness to offer support to his nation.
To tackle the COVID-19 situation, many countries have imposed entry restrictions and border closures. Facing that situation, relevant agencies of Vietnam have been actively assisting representative agencies of foreign nations in the country to carry out citizen protection measures amid rapid developments of the COVID-19 pandemic.
The Embassy of Vietnam in Japan and relevant Vietnamese agencies worked with Vietnam Airlines and relevant Japanese agencies on April 22 to arrange a flight taking 298 Vietnamese citizens home.
They also coordinated to transport medical supplies and equipment from the Vietnamese Government and people to Japanese counterparts.
On the same day, the Embassy and the representative office of Vietnam Airlines in the country presented 100 boxes of instant noodles to the Association of Vietnamese Buddhists in Japan to support Vietnamese citizens affected by COVID-19.
According to the immigration and residence management department at Japan's Ministry of Justice, Vietnamese are the third-largest expatriate community in the country, at an estimated 411,968 as of the end of 2019.
Ambassador Vu Hong Nam said many Vietnamese workers in Japan have lost their jobs after local enterprises suspended operations.
The Embassy, therefore, launched a campaign to support the Vietnamese community by presenting them with food and essential goods.
Embassy staff have donated a day's salary to support Vietnamese workers in Fukushima prefecture who lost their jobs to buy food, he said.
He added that the Embassy will continue coordinating with Vietnamese organisations in Japan to boost campaigns./.