Green rice flake cakes, fine treat of Hanoi
Green rice flake cakes (or Bánh cốm in Vietnamese), which has long held a special position in Hanoian's hearts, is an ideal food choice and meaningful gift for Vietnamese and foreigners alike.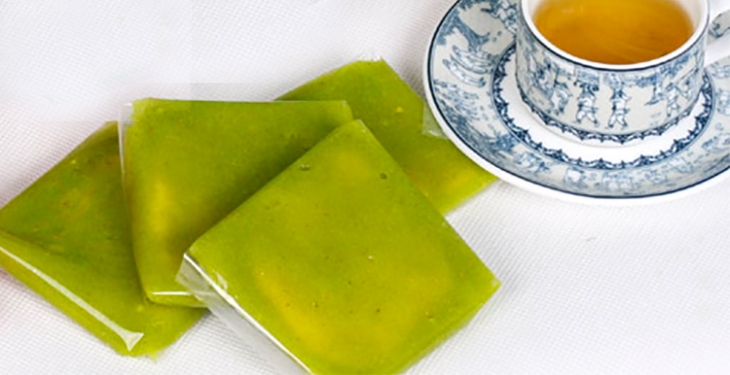 Green rice flake cakes (Photo: Vietnam Tourism)
Ha Noi is famous for its specialty green rice flake cakes which are sold in some culinary streets including Hang Than. The Old Quarter street is just one of more than 20 culinary streets in Hanoi.
Green rice flake cakes are easy to buy in some specialty stores across Hanoi, but Hang Than in Hoan Kiem district is the most notable one to take away delicious ones.
This 300-metre long street is home to more than 30 green rice flake cake shops. The Nguyen Ninh trademark is the oldest and most popular brand for green rice flake cake. The name was established in 1865 by late Tran Thi Luan and adopted it's current name of Nguyen Ninh in 1928
There have been 5 generations of Nguyen Ninh making green rice flake cake so far, said Nguyen Thi Hiep, a fourth-generation family member.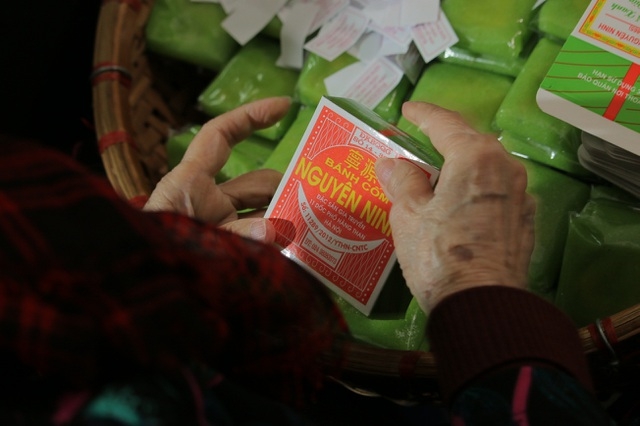 Banh com Nguyen Ninh is hailed as offering the true taste of green rice flake cakes (Photo: Dan Tri)
Nguyen Ninh's secret of making the cake is its pure ingredients without additives and mixture. Green rice flake cake is made of green rice flakes, green peas and sugar. Green rice flakes must be from Vong and Lu villages (in the past) or from rice land of Thai Binh (at present) and green peas are carefully selected in Ha Tay.
As explained, Nguyen means origin, Ninh is called after Yen Ninh village which is now Yen Ninh street, near Hang Than. Therefore, Nguyen Ninh green rice flake cake means the cake originated from Yen Ninh village.
As tasting green rice flake cakes, especially made by Nguyen Ninh, one can experience the full flavour of simple villages, a very different and typical Ha Noi specialty, Vietnam tourism reported.
Green rice flake cakes recipe
Ingredients
Dried green rice flake: 300g
Peeled mung bean: 50g
Sugar: 80g
Glutinous flour making sticky rice cake: 3 tablespoons
Cooking oil: 1 tablespoon
Water: 300ml
Pandan leaf: 3-4 leaves
Grapefruit flower extract
Plastic bag
6 Steps to make a delicious green rice flake cake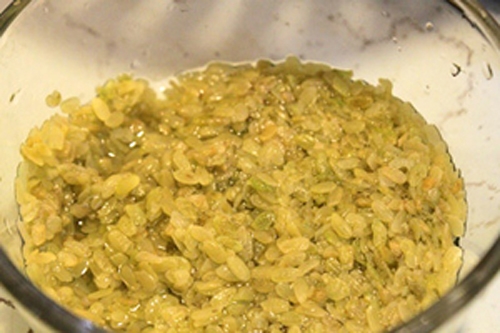 Yummy Vietnam suggests 6 steps below
Step 1: Remove the unqualified green rice flake seeds then wash with cool water. Soaking green rice flake into warm water for 40-45 minutes to make them soften. Make sure the water just covers the surface of green rice flake.
(Photo: Yummy Vietnam)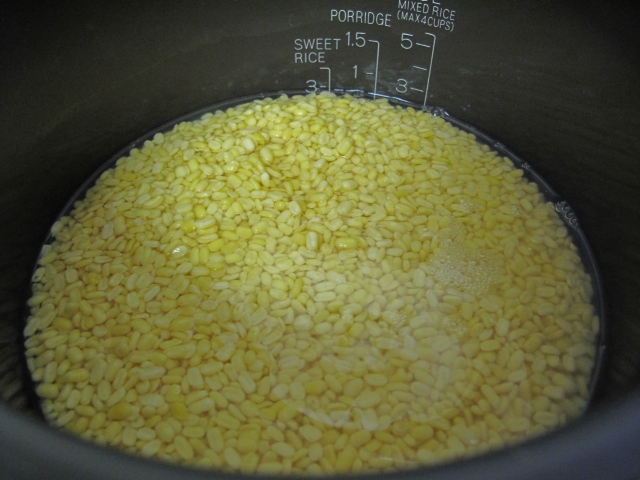 Step 2:
Soak the mung beans for 3 hours to make it tender then steaming.
After the mung beans are cooked, add them with 30g sugar, a little water to blend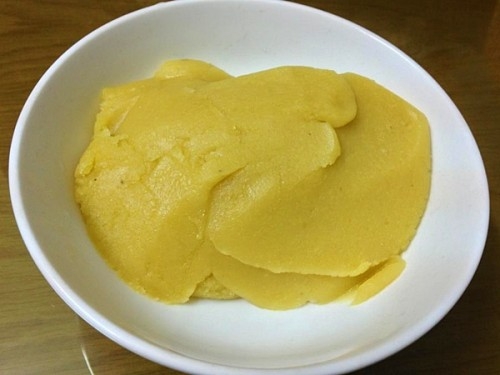 Step 3:
Add blended mung beans, cooking oil and ½ glutinous flour into a non-stick frying pan. Take the low heat to cook the mung beans until they become viscous.
Add some grapefruit flower extract then stir well to get the fragrant scent.
Take the mung beans paste out and cover with cling firm then set aside.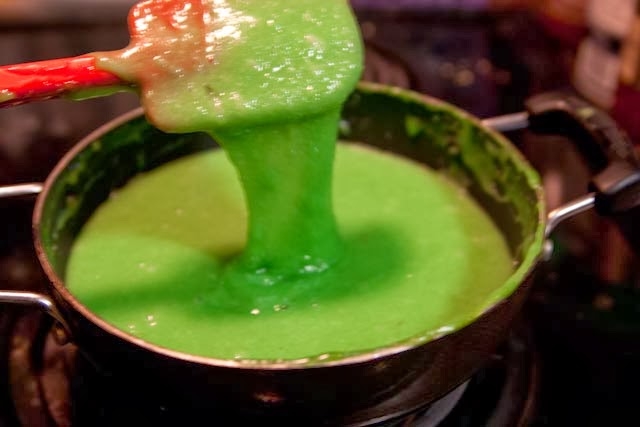 Step 4:
Add 300ml water, 50g sugar and pandan into a pot. Cook to dissolve the sugar then take the pandan leaves out and add green rice flake into the pot.
Stir-fry the green rice flake with low heat, remember to stir well to avoid being curdled. When the green rice flake dissolving and getting elastic, turn off the heat
Note: if you add water too much, leading to green rice flake is diluted, to solve this you can sprinkle with some glutinous flour for draining.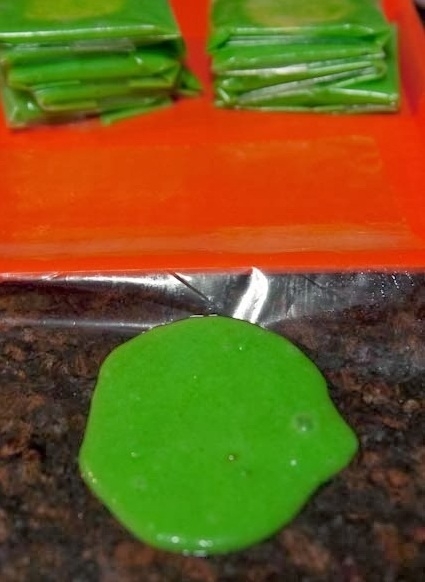 Step 5:
Waiting for green rice flake cool down, you can wrap the cake.
When Green rice flake is still hot, it's difficult to wrap and when pouring green rice flake into plastic film wrapper may harm to your health.
Prepare 1 bowl of cooking oil.
Soaking a spoon into cooking oil then ladle some green rice flake and pour into a plastic bag. Using this spoon to spread a thin layer of green rice layer and shape the cake squared.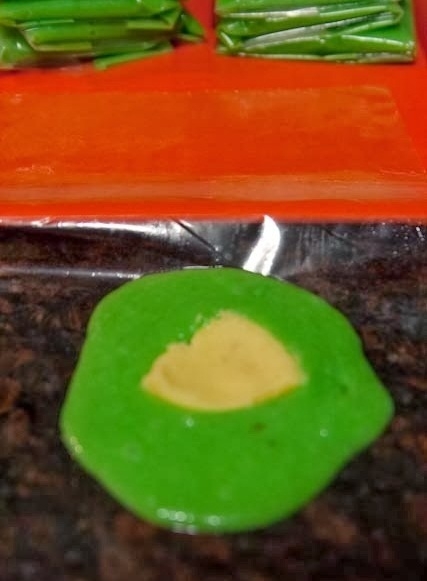 The next is a mung beans layer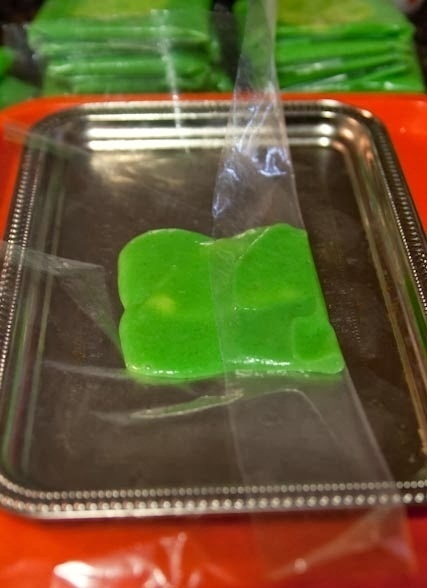 Finally, spread a layer of green rice flake on top to cover the mung beans (using a spoon soaked into cooking oil to avoid stickiness).
Wrap a plastic bag layer and finely shape corners of the cake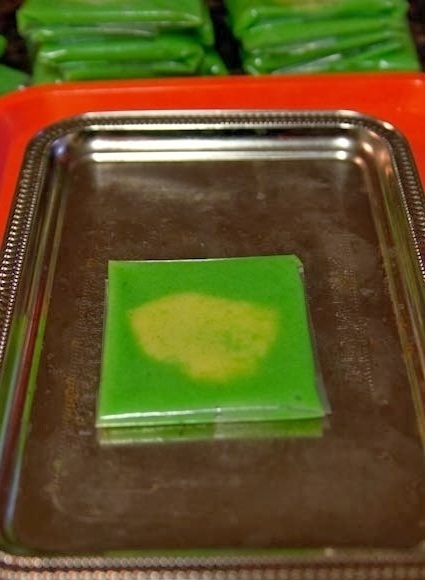 If you are unacquainted with wrapping and want to make a beautiful and smooth cake, you can use a square mold. This cake will be tasty when preserving in a cool place for 2 days.