India daily weather forecast latest, February 5: Temperature remains near normal and mainly dry weather expected
India is forecasted to have dry weather for the next one week from tomorrow while temperature is likely to fall by two to three degree Celsius.
According to Skymet Weather, an active Western Disturbance is over Jammu and Kashmir and its adjoining areas in North India. An induced cyclonic circulation is over Central Pakistan and adjoining areas is presently over North Rajasthan and adjoining areas.
An anti-cyclonic circulation is over North Chhattisgarh, Jharkhand and adjoining areas. A trough is passing from East Rajasthan through Gujarat to the north-eastern parts of the Arabian Sea. Another cyclonic circulation is over Bangladesh and adjoining areas.
During the next 24 hours, light to moderate rain and snowfall are expected in many places over the mountains of North India including Jammu and Kashmir, Himachal Pradesh, Uttarakhand and Ladakh.
In the plains of North India, Punjab, Haryana, Delhi and western Uttar Pradesh may experience a light spell of rain with thundershowers in some places.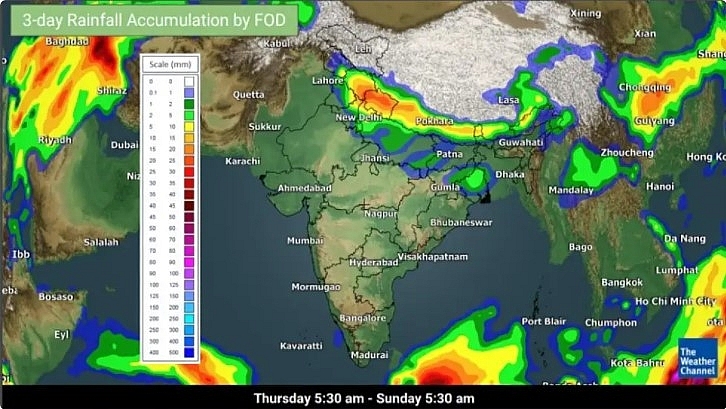 3-day precipitation forecast across India from Thursday to Saturday. (TWC Met Team)
Winds in Bihar will remain from the northern direction due to which the temperature will remain below normal in some places in Bihar and people will have to face the cold.
Winds will start coming again from the north direction in western Rajasthan leading to a sharp drop in minimums temperatures of Ganganagar, Bikaner, Barmer, Jaisalmer, Jodhpur, Jaipur, and adjoining areas.
Light snowfall was reported from different parts of Kashmir, the third spell of snow in the Valley in the month of February. Light to moderate rain and snow occurred at most places of Jammu and Kashmir during the past 24 hours, said regional India Meteorological Department director Sonum Lotus, Hindustan Times reported.
"There could be significant improvement in weather from Thursday afternoon. The temperature remained near normal and mainly dry weather is expected for the next one week from tomorrow," Lotus said, and added that there was a possibility that temperature will fall by two to three degree Celsius from tomorrow.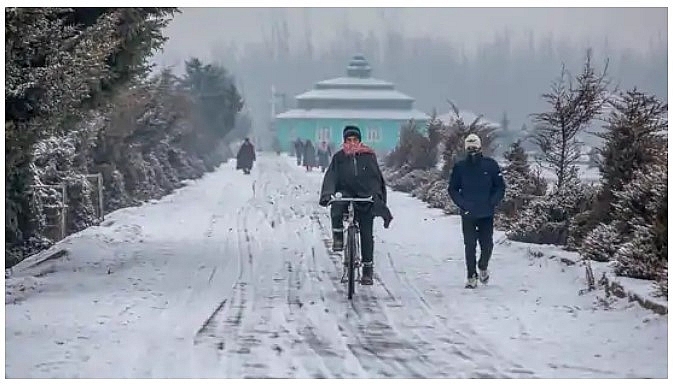 A cyclists rides on a slippery snow covered road after a brief snowfall in Srinagar,(AP)
Srinagar airport tweeted that morning flights were likely to be delayed as the snowfall was still going on. The airport later tweeted to say that it was expecting that movement of flights will start after noon in line with the prediction of 'improved weather' made by the weather department
5-Day Nationwide Weather Forecast
According to Weather.com, the ongoing western disturbance, after bringing rainfall and thunderstorms across the Punjab plains, will progress onto the Gangetic plains on Friday, leaving high humidity behind. Dense fog and the resultant low visibility are likely over Punjab plains on Friday morning. Before dissipating on Saturday, the disturbance will produce isolated snow and a chance of thunderstorms in Northeastern India.
Meanwhile, the India Meteorological Department (IMD) forecast adds that this system will cause scattered to fairly widespread light to moderate rain/snow with isolated thunderstorms, lightning and hail over Himachal Pradesh on February 4 and over Uttarakhand on February 4-5. Isolated thunderstorms and lightning are also very likely over Jammu & Kashmir, Ladakh, Gilgit-Baltistan, and Muzaffarabad Thursday, Feb 4.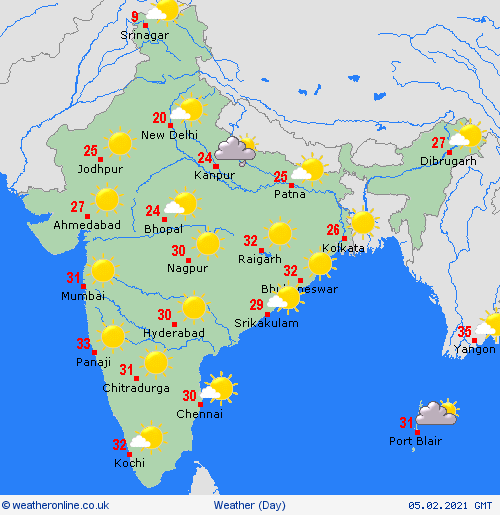 Photo: Weather Online
Further, the interaction between this western disturbance and lower level southeasterlies from the Bay of Bengal is likely to cause isolated to fairly widespread light to moderate thundershowers, along with isolated lightning and hail, over Punjab, Haryana, Chandigarh, Delhi, north Rajasthan, northwest Madhya Pradesh and West Uttar Pradesh on February 4, and over East Madhya Pradesh and north Chhattisgarh on February 5.
Other areas are likely to experience dry conditions during this forecast period. As northwesterly winds gradually get notable across the northern plains and central highland, temperatures both in maximums and minimums over the region will decrease towards this weekend.
No significant change in minimum temperatures is expected during the next 24 hours, after which a fall by 4-6°C is likely over Northwest India from the morning of Saturday, February 6.
Regional Forecast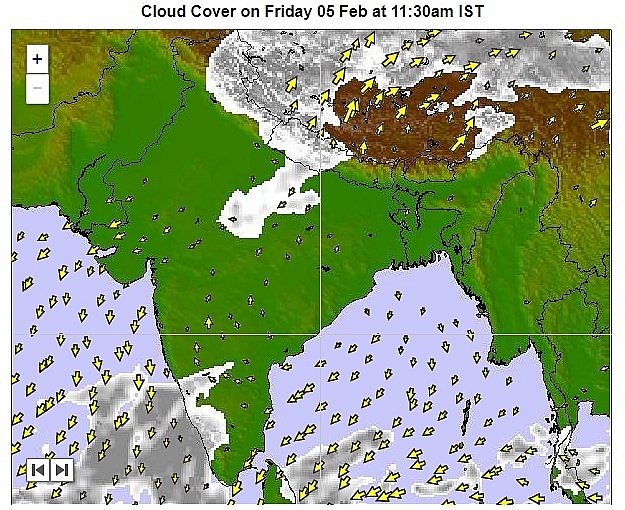 Photo: Weather-Forecast.com
Scattered snow/rain and thunderstorms are likely over Uttarakhand. Isolated snow/rain and thunderstorms are in the forecast over Himachal Pradesh, Sikkim, and Arunachal Pradesh. Isolated rain and thunderstorms are expected over Uttar Pradesh.
Isolated rain is possible over Haryana, Madhya Pradesh, Bihar, and Andaman & Nicobar Islands. Dense fog is likely at isolated places across Northern India.