Int'l Rail Freight Transportation Service Inaugurated in a Vietnamese North Province
The Ministry of Transport on February 18 inaugurated an international freight transportation service at Kep railway station in Bac Giang province, linking Vietnam and China and other countries in Europe.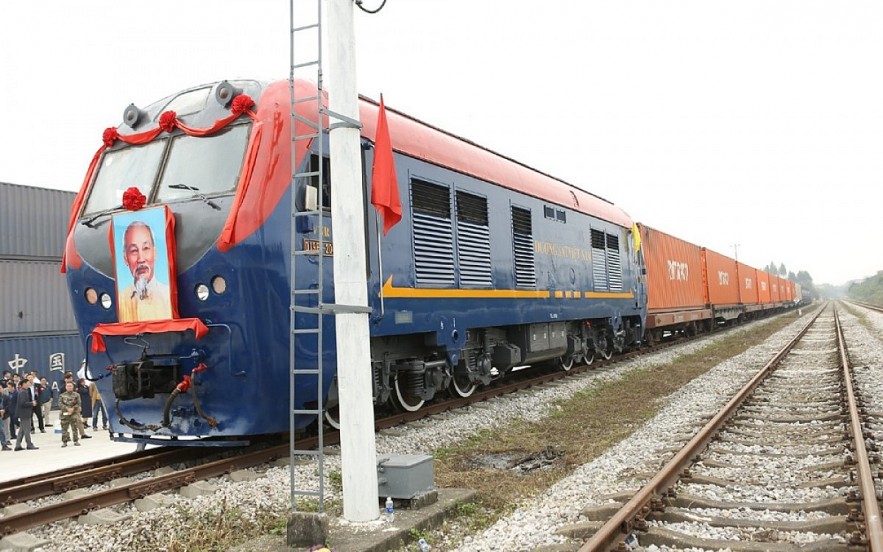 A Vietnam Railway (VNR) train carrying commodities departs from Kep station on February 18 morning en route to China's Pingxiang station. (Photo: baobacgiang.com.vn)
A Vietnam Railway (VNR) train carrying commodities departed at Kep station on February 18 morning en route to Dong Dang station in Lang Son province before reaching China's Pingxiang station.
Present at the inauguration ceremony were Deputy Minister of Transport Nguyen Danh Huy, deputy head of the Bac Giang provincial government Nghiem Xuan Huong, and representatives of relevant ministries, agencies and businesses.
Kep is the second tiered station of Ha Noi – Dong Dang rail route, a starting point of the Kep – Ha Long-Cai Lan route and the Kep – Luu Xa route.
The station has nine rail tracks, two warehouses and a goods handling yard. In 2022, the Vietnam Railways Corporation completed the first phase of the upgrade of the station's warehouses with an area of ​​nearly 28,000 m2, meeting conditions for international freight transportation services, according to the VOV.
The Kep station is designed to handle approximately 80 to 100 carriages or containers per day. In the first phase (2023-2024), two trains will be arranged to run on the Kep - Dong Dang (Lang Son) - Pingxiang (China) route everyday. Freight includes electronics and industrial products, construction materials, industrial wood, and ore.
In the second phase, starting from 2025, a bonded warehouse will be built at the Kep station to support import and export activities of enterprises in Bac Giang, Bac Ninh and neighboring localities. The station yard is designed to receive refrigerated containers transported from Ho Chi Minh City for customs procedures to be executed and from there the commodities will be shipped to China, Russia and Europe.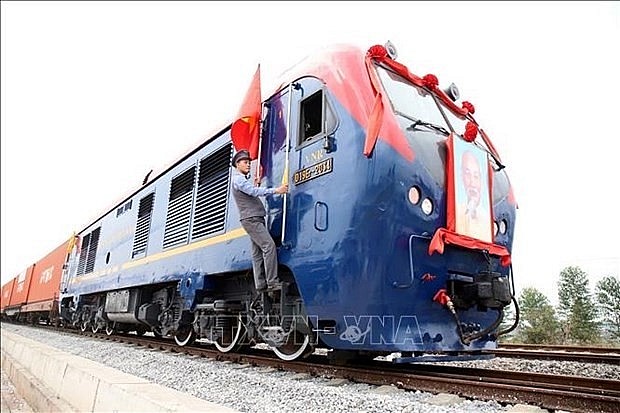 There will be a fleet of trains running from Kep to Dong Dang station in the border province of Lang Son and then to China's Pingxiang station. (Photo: VNA)
Addressing the inauguration ceremony, Deputy Minister of Transport Nguyen Danh Huy noted the new international freight transportation service will help reduce congestion for Yen Vien and Dong Dang railway stations in international transportation.
In the long term, he said it will help form a hub for transshipment of goods for Bac Giang and neighboring provinces, thus reducing logistics costs and facilitating the import and export of goods.
The Kep station has seen its infrastructure upgraded after the ministry decided to turn it into an international one, with all items now ready for the first phase of operation.
Currently, the VNR is managing international freight terminals, namely Lao Cai, Yen Vien, Hai Phong, Dong Dang, Giap Bat, and Song Than.
The demand for international freight railway transportation grows 6% annually. Notably, since 2022, about half of the cargo has been transported in containers./.