Japan: 300-year-old Weeping Cherry Blossom Tree With Acient Forklore
Miharu Takizakura (also called Matabei Sakura); the huge weeping cherry tree, is one of the three giant cherry trees in Japan. Its dreamy and majestic beauty attracted a lot of travellers every year to this country - the land of cherry blossoms.
This iconic, ancient, and massive weeping cherry tree is estimated to be about 300 years old, with a trunk circumference of over 3 meters (10 feet) and a height of 13 meters (42 feet). It is named after Matabei Goto, a military commander during the Sengoku Period (15th-16th century). According to folklore, he escaped to this area, became a monk, and spent the remainder of his life in Uda. The site is very well-known, especially after appearing in an NHK historical drama, and sees over 70,000 visitors each season. It is renowned among photographers, and the visual contrast of the cherry blossom tree against peach blossoms in the background during springtime is truly magnificent.
The Miharu Takizakura (三春滝桜) is considered by many as the single most beautiful cherry tree in Japan. It is located in Miharu, a town in central Fukushima. "Takizakura" literally means "waterfall cherry tree" in Japanese; a fitting name as the 12 meter tall tree's wide drooping branches spread out over 20 meters east-west and 18 meters north-south, making it appear like a cascading waterfall. The tree is estimated to be over a thousand years old and its trunk has a girth of 9.5 meters.
Photo: Enntourism
Around mid to late April every year, the Miharu Takizakura reaches the peak of its flowering season and hundreds of thousands visit to admire its cherry blossoms. Despite the size of the crowds, human traffic is usually well regulated and the process of touring around the tree is thereby kept smooth and pleasant. Visitors are advised to go as early as possible though, as roads leading to the location can get extremely congested.
The ancient Samurai's style, Matabei Sakura, is a beautiful cherry tree with a branch around 3 m around the trunk and 13 m in height. It is said that he had a nickname of "Juno Matabei" and was killed in Osaka summer squad.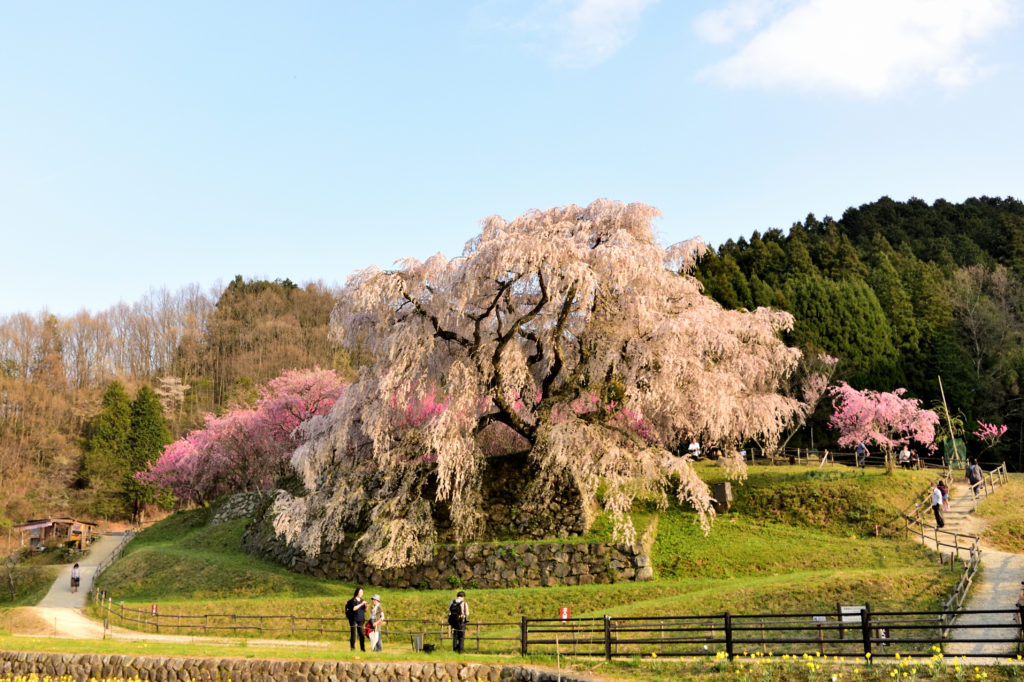 Photo: Japan Dramatic Scene
It is said to be a place where people have spilled out of the great swells of history and have lived dreaming of resurgence. It's also a powerful cherry blossom like the spirit of the soldier is riding. This legend of old wood captures the hearts of visitors. Only one cherry blossom has become famous for being used at the opening of the TV drama, and it is said that it has attracted approximately 60,000 people from all over the country.
In addition, about 100 cherry trees are planted over 500 m along the Houno River, which is a 10-minute drive from "Matabei Sakura". How about going off to see the cherry blossom tunnel? I am fascinated by the world of Uda's cherry blossoms.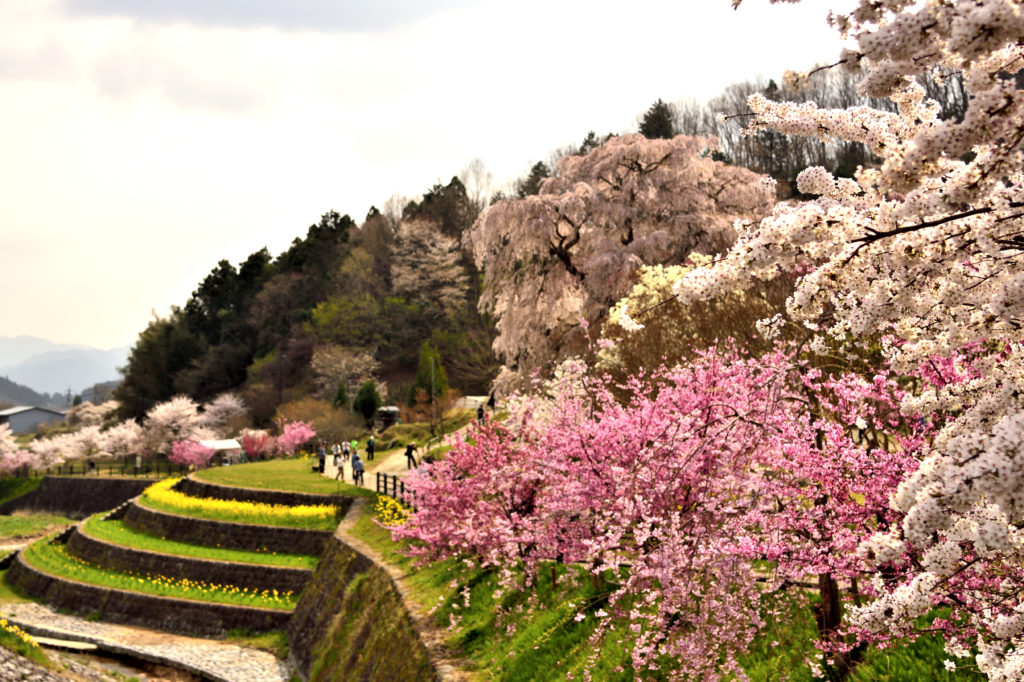 Photo: Japan Dramatic Scene
Getting there and around
The Miharu Takizakura is located at a rural and remote area difficult to access by public transport for most of the year. A temporary bus is operated between Miharu Station and the Miharu Takizakura during the peak of the cherry blossom season (25 minutes, 700 yen for a 1-day pass). In 2021, the bus will operate only on April 3, 4, 10 and 11.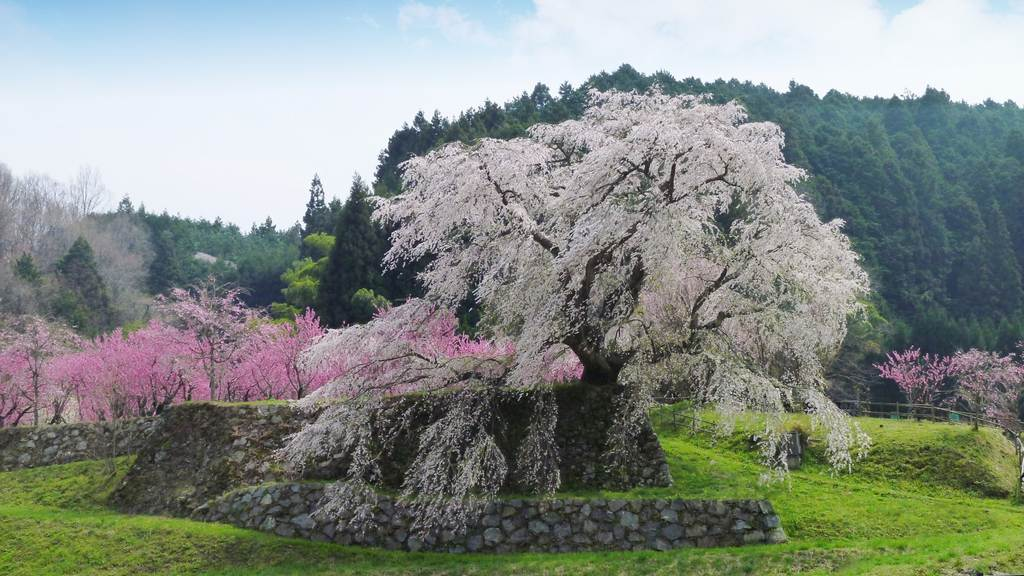 Photo: Kansai Travel Guide
Miharu Station can be reached via the JR Banetsu-to Line from Koriyama Station (12 minutes, 240 yen, one train every 1-2 hours). Tokyo and Koriyama are connected by the JR Tohoku Shinkansen (80 minutes, about 8000 yen, 3-4 trains per hour). The trip from Tokyo to Miharu Station is fully covered by the Japan Rail Pass, JR East Tohoku Area Pass and JR East South Hokkaido Pass.
Other gorgeous cherry blossom trees for you to see in Japan
1. Hanamiyama (Fukushima city)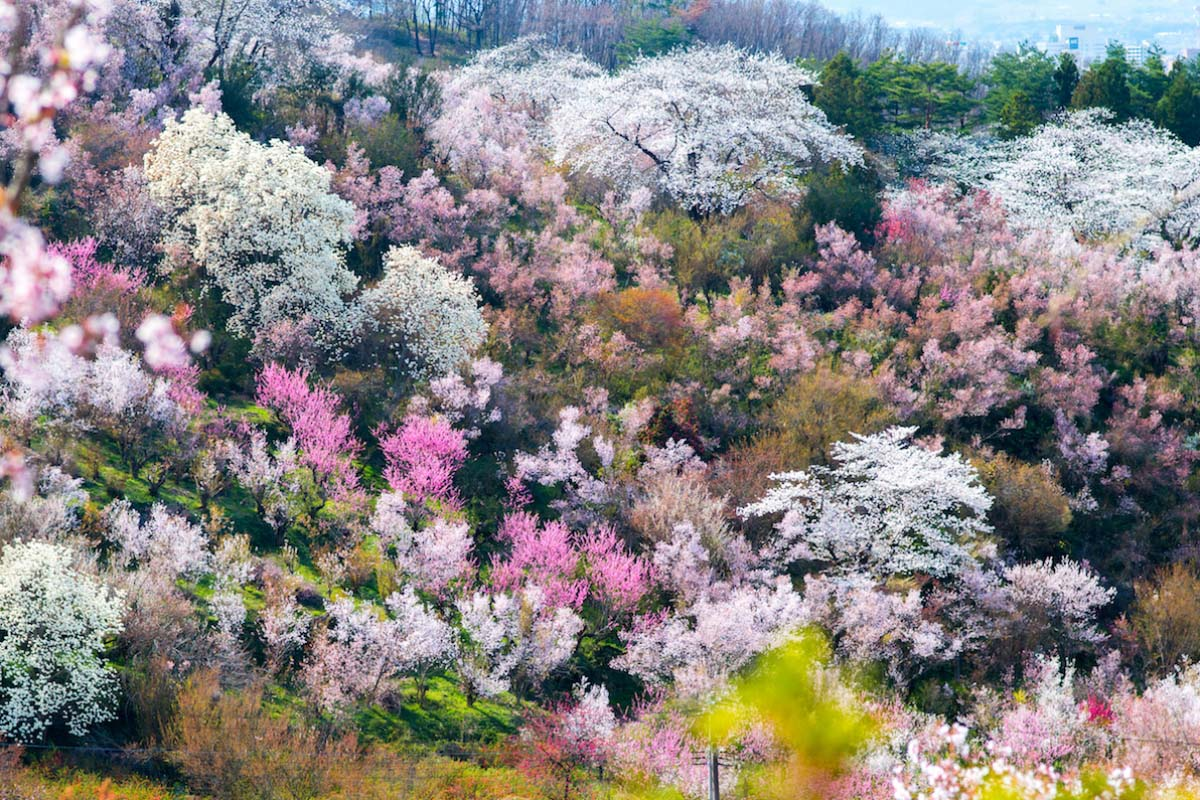 Photo: ZEKKEI Japan
Hanamiyama is a park in Fukushima known for its varieties of flowers, and Hanamiyama is the only park where cherry blossom trees like tokaizakura and higanzakura (early-flowering cherry), plum trees, peach trees, forsythia, magnolia, and Japanese quince bloom all together. The view of these flowers is extremely gorgeous; even late Shotaro Akiyama, one of the best photographers of Japan, described it as a utopia in Fukushima.
You'll see a panoramic view of Fukushima city and Azuma Mountains surrounded by cherry blossom trees if you go to the top of the hill. The best timing to visit this spot is in April and tourists from all over Japan will be visiting the park for the whole month. Expect to see a huge crowd during this season and plan your trip wisely to enjoy your visit to this park!
2. Weeping cherry trees along Nicchu Railway Line Memorial Cycling Pedestrian's Path (Kitakata city)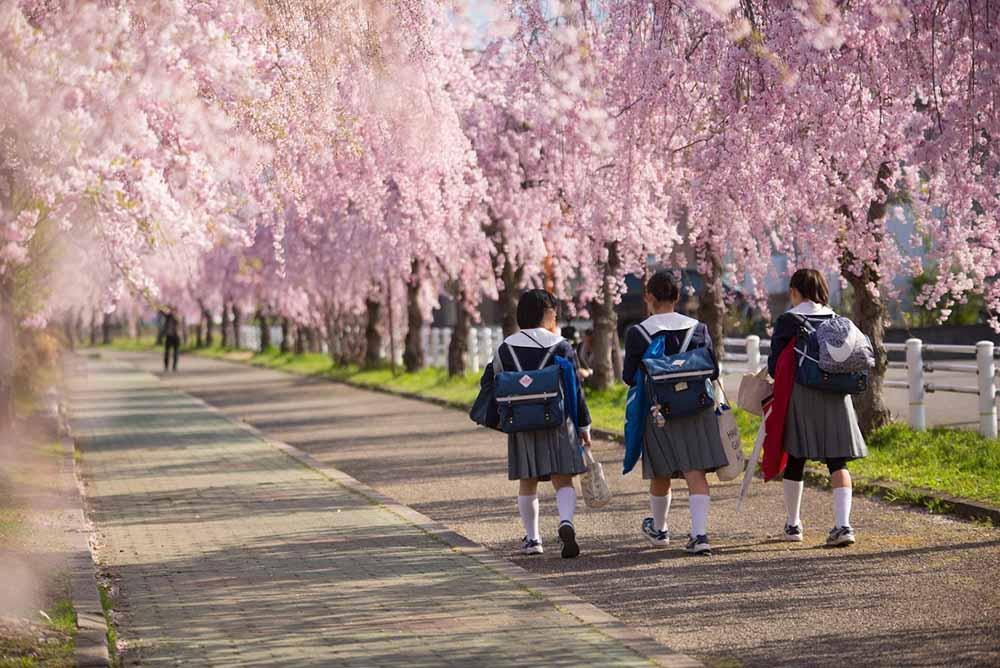 Photo: Ikidane Nippon
Known for its mouthwatering Kitakata noodles, Kitakata city is actually famous for its gorgeous cherry blossom viewing spot: Nicchu Railway Line Memorial Cycling Pedestrian's Path. Built using the remaining of Nicchu line; a former Japanese National Railway discontinued in 1984, this 3 km long road is lined with more than a thousand weeping cherry trees. A vintage steam locomotive is also displayed on the side of this path too.
The contrast between the dainty pale cherry petals and the black steam locomotive is so astounding, and apparently this spot is very popular among tourists, especially those who love railways.
A festival called "Kitakata Sakura Matsuri (Kitakata Cherry Blossom Festival)" will be held from April 10 to April 30 in this area. During this period, this path will be lined with stalls introducing local food and hands-on experiences, allowing you to enjoy both astounding view of cherry blossom and Japanese local festivals altogether.
3. Tsuruga Castle (Aizuwakamatsu city)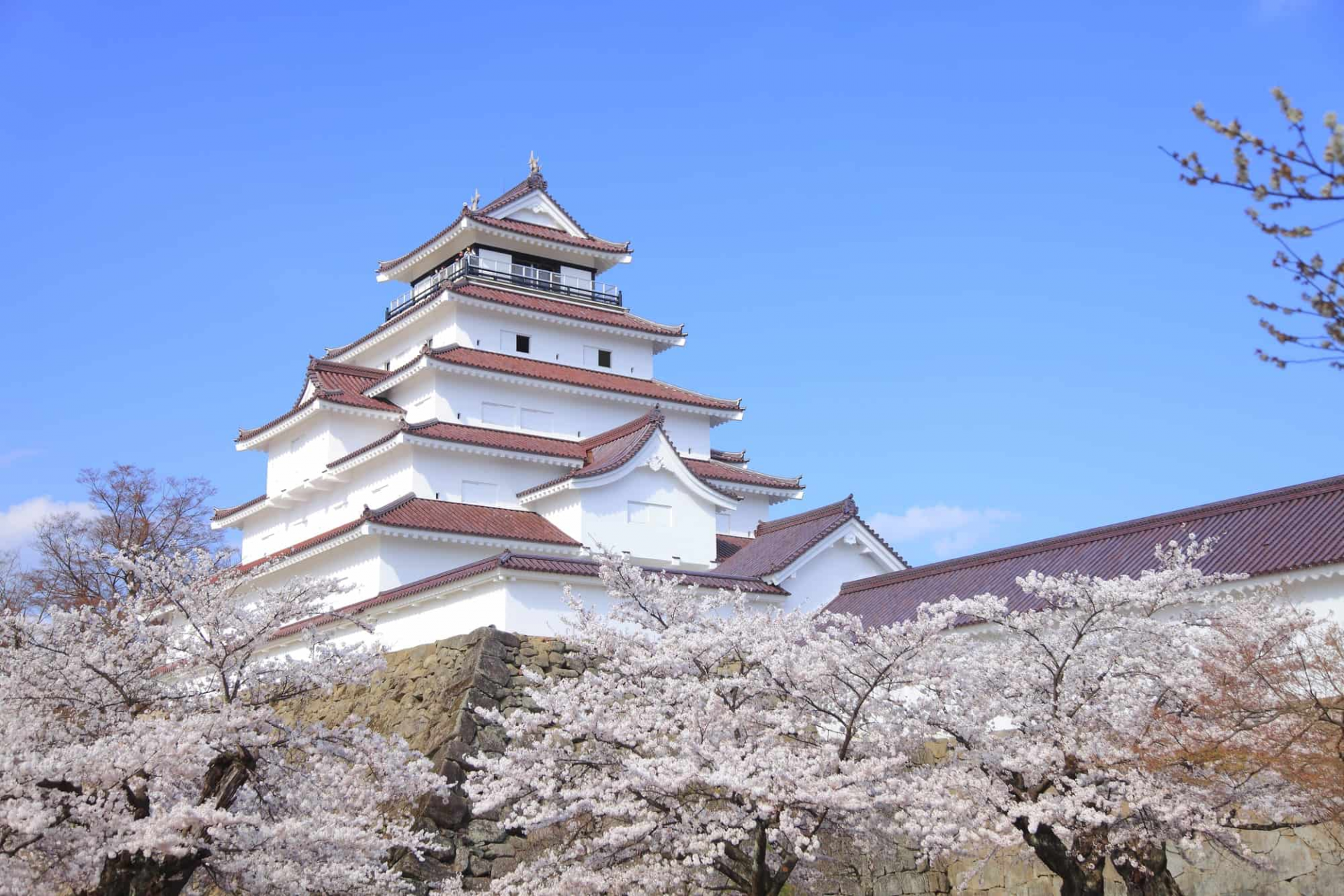 Photo: THE GATE
Tsuruga Castle is known as the most famous castle in Fukushima and one of the best castles in Japan. It is the only existing castle with red tiled roofs in Japan, which also looks very beautiful during its light up at night. The area of the castle is packed with various kinds of cherry trees and there are around 1000 Someiyoshino cherry trees there.
Ranked as one of the 100 great cherry blossoms viewing spots in Japan, the contrast between this historical castle and cherry blossoms is exceptionally beautiful and fantastic, especially during its light up at night.
4. Kassenba Weeping Cherry Trees (Nihonmatsu city)
Photo: Flickr
Kassenba weeping cherry trees are said to be the grandchild of Miharu Takizakura, one of the three giant cherry trees in Japan. The trees are name as Kassenba (battlefield) because of its location, where samurai lord Yoshiie Minamoto battled against Sadato Abe and Muneto Abe.
Though they look like a one giant tree, they are actually two big weeping cherry trees growing strongly side by side, so many people see them as a symbol of a loving couple. There is a field of rape flowers under these trees. Extremely beautiful during its light up at night, special lights are used to enhance the charm of Kassenba weeping cherry trees!