Myanmar civilian militia battle the government's army in northwestern town
2000 people, mostly children and the elderly, trapped in Mindat in the middle of the clash between the government troop and local fighters.
Myanmar's army battled local militia fighters in the northwestern town of Mindat on Saturday, residents said, to try to quell a rebellion that has sprung up to oppose the ruling junta which seized power in the Southeast Asian country in February.
The fighting is some of the heaviest since the coup and underlines the growing chaos as the junta struggles to impose order in the face of daily protests, strikes and sabotage attacks after it overthrew elected leader Aung San Suu Kyi.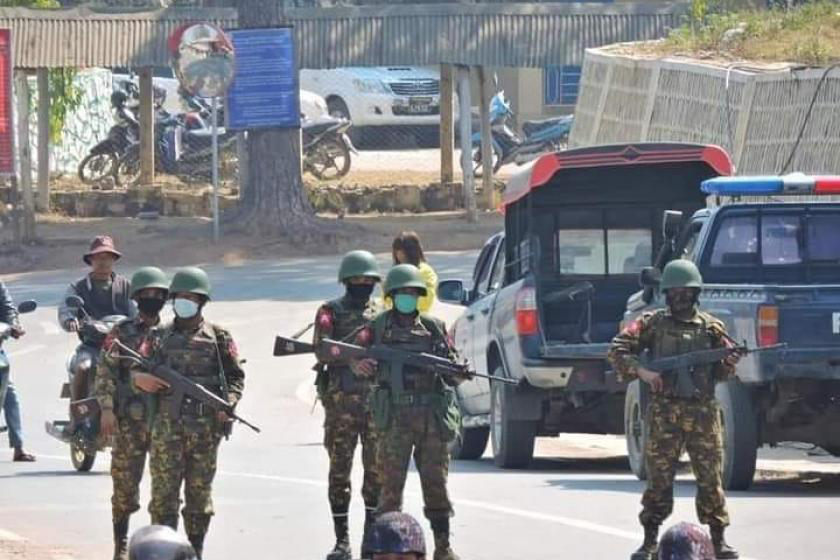 Government soldiers roaming around in Mindat in date unknown. Photograph: Chin Human Rights Organization
"We are running for our lives," one resident told Reuters from Mindat, a hill town just over 100 km (60 miles) from the border with India. "There are around 20,000 people trapped in town, most of them are kids, old people," the resident added. "My friend's three nieces were hit by shrapnel. They are not even teens."
The junta imposed martial law in Mindat on Thursday and then stepped up attacks on what it called "armed terrorists". A junta spokesman did not answer calls requesting comment on the fighting on Saturday.
Army-controlled Myawaddy television said around 1,000 "unscrupulous people" had attacked with small arms and homemade grenades in recent days, and that some members of the security forces were killed and others missing. It said security forces would work day and night to bring order, reported Reuters.
The attacks posed a further challenge to the military as it struggles to restore order in the country amid widespread anger over its coup in February which ousted the elected civilian government of Aung San Suu Kyi.
The newly-formed Chinland Defence Forces on Friday said it was behind the fighting in Mindat town in northwestern Chin State.
"Fighting is still ongoing and Tatmadaw is firing into Mindat town using artillery," said the lawmaker, referring to the military by its local name. He requested that he remain anonymous. "This is the most serious fighting."
The Chin rebels numbered about 400-500, who between them had about 30-40 assault rifles, plus traditional hunting rifles, he said. "But they are not trained well," he said, adding most had only a week-long training session, according to TRT World.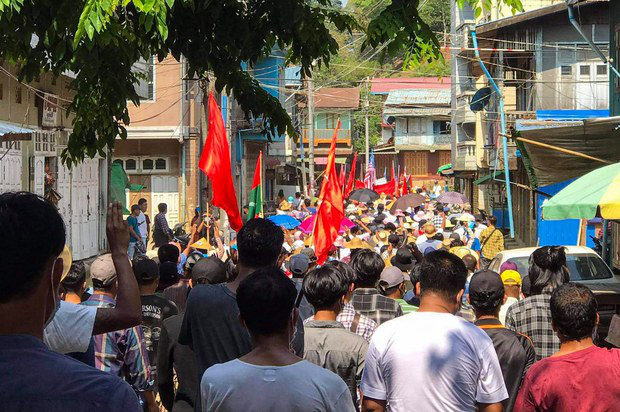 People of Hpakant town in Myanmar protest in support of Mindat, where civillian militia battle the government troup. Photogrpah: Kachinwaves/APF
Three government soldiers were killed on Saturday–when the four-day long battle started–and 17 in two later clashes, said a fighter from the newly formed Chinland Defense Force (CDF), said Myanmar Now.
"A lot of them were killed during the battle yesterday," he told Myanmar Now on Wednesday. "At least 10 of them." No one from the CDF was killed or injured, he added. Myanmar Now was unable to independently verify the figures.
On Tuesday the regime side and Mindat residents negotiated a prisoner swap, the CDF fighter said. His side allowed 20 soldiers who were trapped about 30 miles west of Mindat to leave the area while authorities released seven local residents who had been detained. "A deal was made at around 9pm… The deal was that their people must get out of Mindat and they left Mindat last night," the CDF fighter said, reported Myanmar Now.
The United States and Britain called on the army to avoid civilian casualties and a shadow National Unity Government formed by loyalists of Myanmar's detained elected leader, Aung San Suu Kyi, appealed for international help.
"The military's use of weapons of war against civilians, including this week in Mindat, is a further demonstration of the depths the regime will sink to to hold on to power," the U.S. Embassy in Myanmar said in a statement. "We call on the military to cease violence against civilians.", cited Reuters.
Armed resistance against the coup regime, which has murdered hundreds since seizing power in February, has spread across parts of Chin State and Sagaing Region, where many have access to crude weapons that they usually use to hunt food.
Armed locals have fought back against the military in the Sagaing townships of Kalay, Tamu, Tant Si, Yinmarpin and Kani, according to Myanmar Now.