Palais Bulles: The Attractive And Unusual Architecture Of "The Bubble Palace" In France
Palais Bulles, also known as the "Bubble Palace" located near Cannes, France, was the home of famous fashion designer Pierre Cardin.
Palais Bulles ("Bubble Palace") is a large house in Théoule-sur-Mer, near Cannes, France, that was designed by the Hungarian architect Antti Lovag. It was built for the French industrialist Pierre Bernard and later bought by the fashion designer Pierre Cardin as a holiday home.
The French designer of Italian descent died on December 29, 2020, in the American hospital of Neuilly, in Paris. He was 98 years old. Not only was Cardin a legend as a designer in the fashion world, his taste and sense of aesthetics extended well beyond that. And this was evident in his personal taste in architecture and design. It is therefore not surprising that the most Instagrammable and globally known architectural gem he owned, the iconic, pink Palais Bulles in the south of France, according to L'Officiel.
The history of Palais Bulles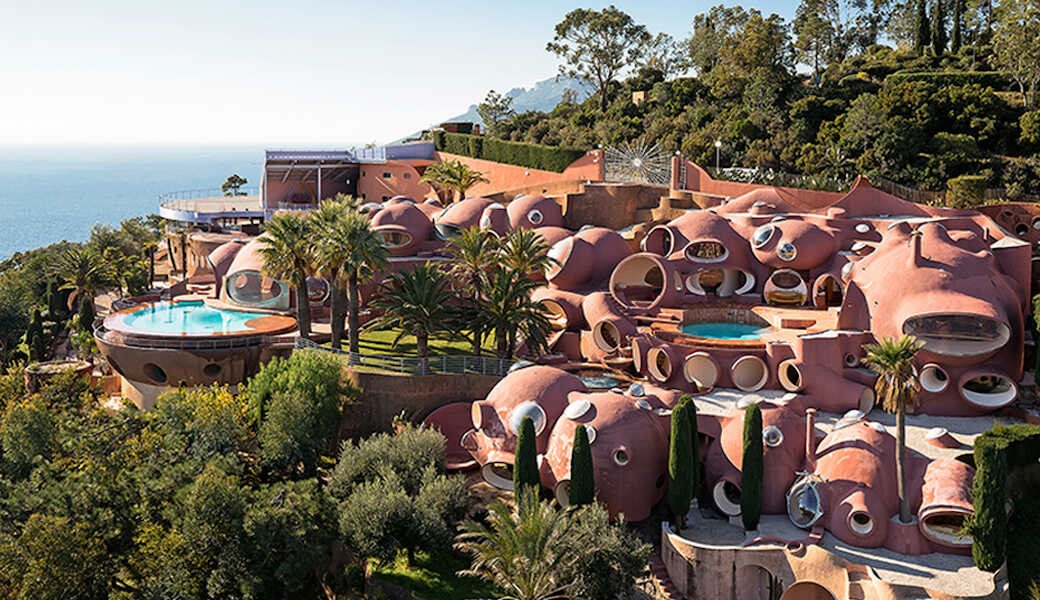 Photo: Le Palais Bulles
The 13,000 square metres house was built between 1975 and 1989 for a French industrialist, Pierre Bernard. Its architect Antti Lovag - who hated straight lines because they are according to him "an aggression against nature" - designed it as a "form of play—spontaneous, joyful, full of surprise".
After Bernard's death in 1991, the house was bought by Pierre Cardin. The fashion designer never actually lived in it but declared "This palace has become my own bit of paradise. Its cellular forms have long reflected the outward manifestations of the image of my creations. It is a museum where I exhibit the works of contemporary designers and artists".
The home is no doubt a work of art. It has round bubble-like forms, which ties into Cardin's own futuristic style of '60 mod-era fashion design. Cardin said of the Palais Bulles, "This palace has become my own bit of paradise. Its cellular forms have long reflected the outward manifestations of the image of my creations. It is a museum where I exhibit the works of contemporary designers and artists."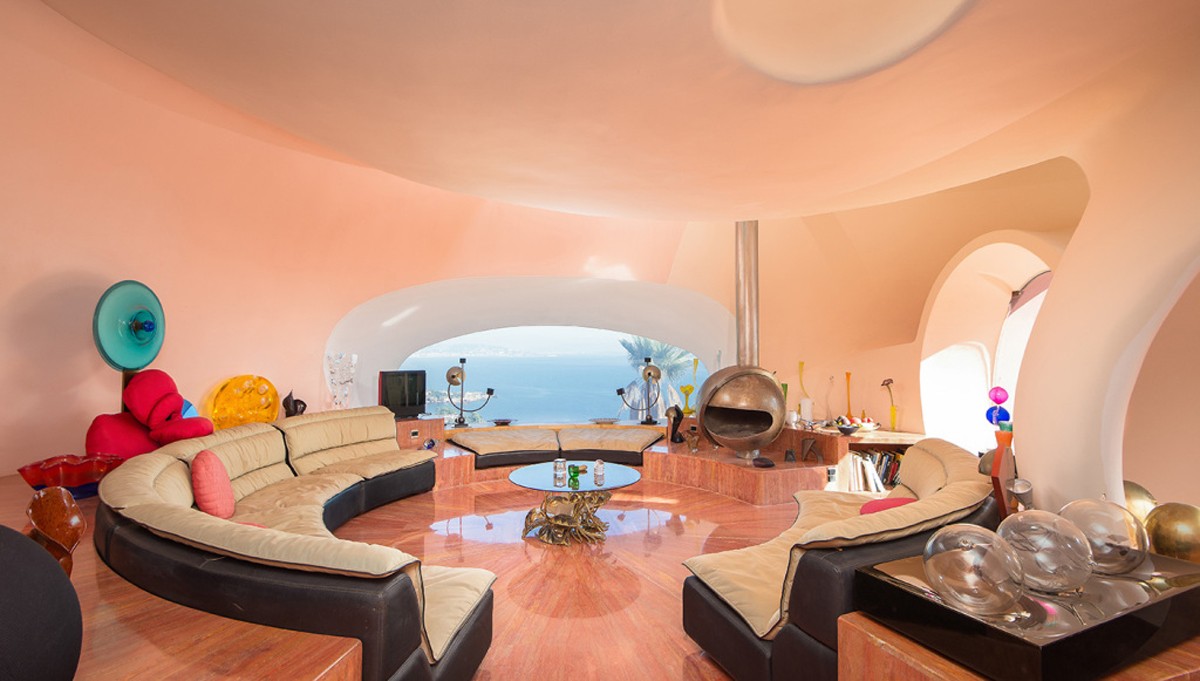 Photo: Belles Demeures : Magazine
Cristiano Raimondi, a Monte Carlo-based independent curator, says that the Palais Bulles is part of a long history of artist homes along the French Riviera. Henri Matisse made nearby Nice his home in the 1930s, while artist Jean Cocteau lived at the Villa Santo Sospir on Cap Ferrat for months (roughly a one-hour drive east of Palais Bulles), even hand-painting the walls.
In 2016, a five-year renovation by the French architect Odile Decq was completed. In March 2017, it was listed for sale with an asking price of €350 million but did not find a buyer. It could be rented to groups for $33,200 a day.
After the death of Pierre Cardin in December 2020, it has been suggested that the building be turned into a public venue for art expos.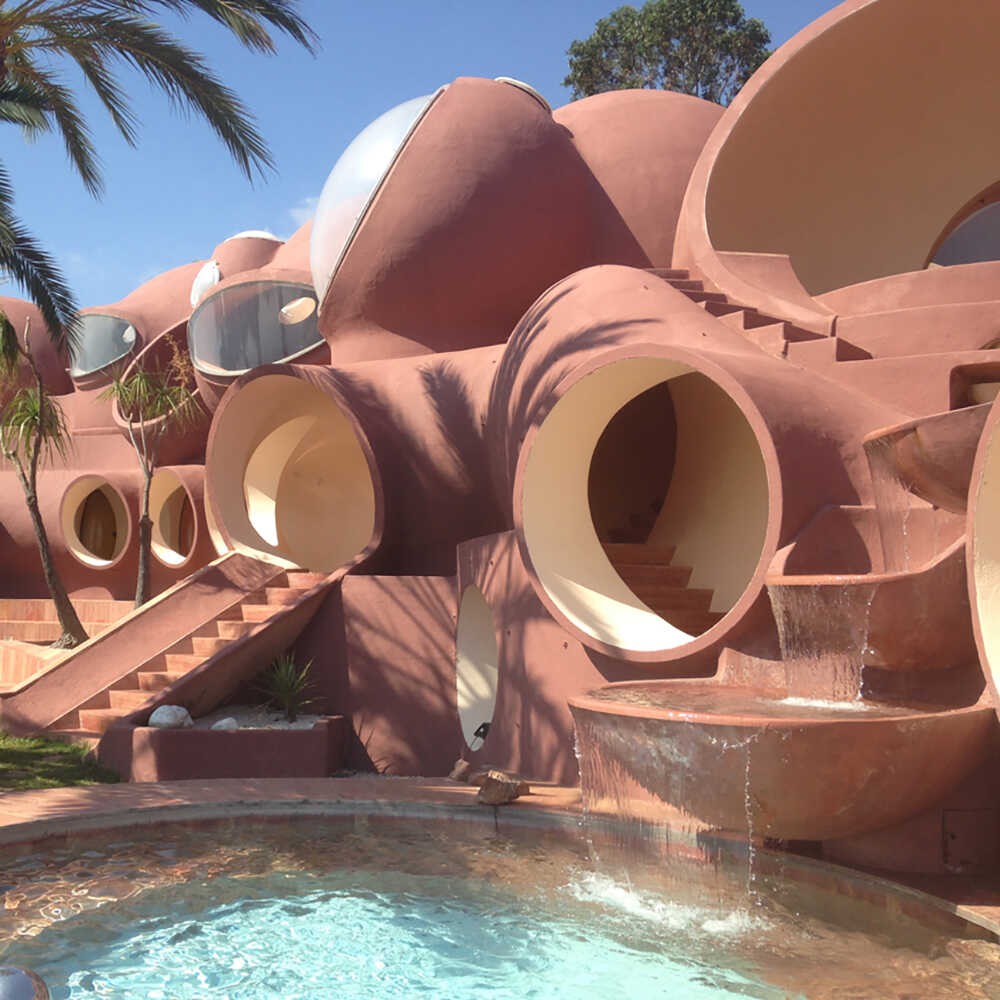 Photo: Trentotto
Palais Bulles – "A Work Of Art"
With stunning views of the Mediterranean from a rocky cliff in the Cote D'Azur, it's a cultural hub, in that it has been rented out for Christian Dior fashion shows, Cannes Film Festival parties, and private galas.
Emma Bunton, the British pop singer and former member of the band Spice Girls shot the artwork for her 2004 album Free Me at the house in the summer of 2003. The house was featured in Absolutely Fabulous: The Movie.
The house comprises a reception hall, panoramic lounge, 500-seat open-air amphitheatre, 10 bedrooms, various swimming pools, and waterfalls in extensive landscaped grounds.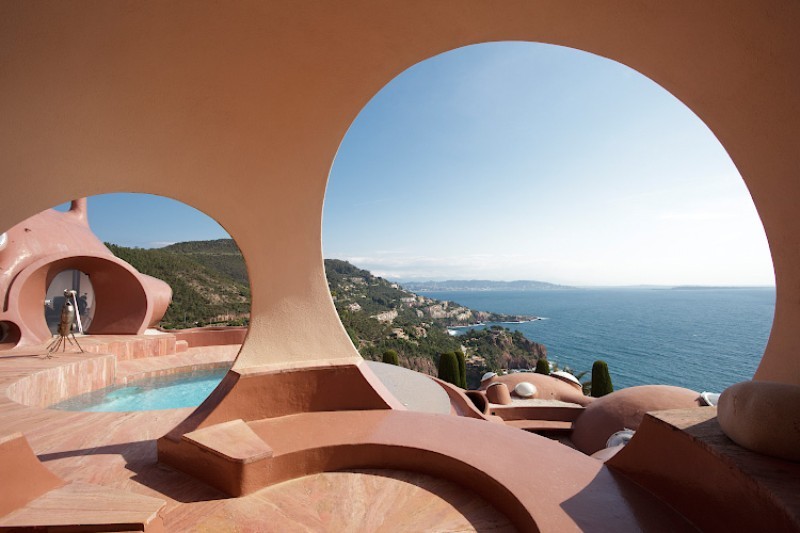 Photo: Boca Do Lobo
The Palais has 29 rooms, 11 bathrooms, and ten bedrooms that have each been decorated by a specific artist, including Patrice Breteau, Jerome Tisserand, Daniel You, François Chauvin, and Gerard Cloarec.
The architect, Lovag, first designed the Palais Bulles as an experiment. He saw architecture as a "form of play—spontaneous, joyful, full of surprise," and hated the straight line. He once called the straight line "an aggression against nature," which was radical for its time, according to Architectural Digest.
Richard Zarzi, an artist who has lived in Cannes for 20 years, has hope for the next owner of Palais Bulles. "I would like the new owner to open it up to the public as a venue to be used for parties and the Cannes Film Festival," said Zarzi. "The building is historic and an architectural beauty so worth showing off.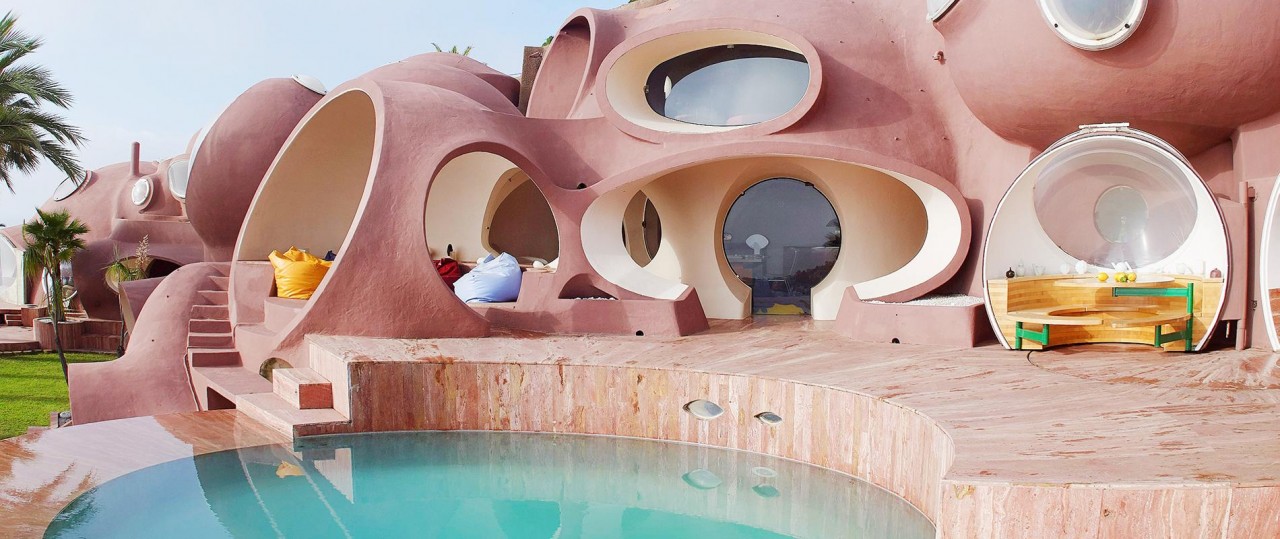 Photo: Madame Figaro
"Pierre Cardin was a great designer; his avant-garde style and spaces were legendary," he adds. "He had a really long and beautiful life."
About Pierre Cardin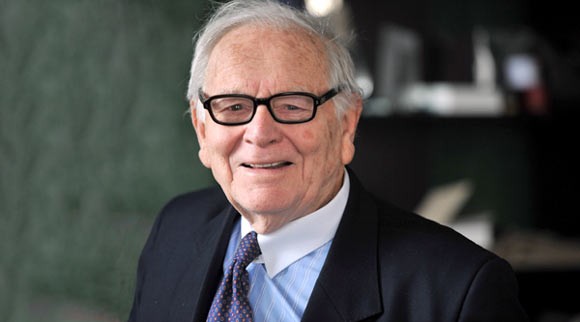 Photo: Famous Fashion Designers
Italian French designer, Pierre Cardin was born on July 2, 1922, in Treviso. He studied in central France and began his career at the age of fourteen when he did an apprenticeship at a clothier in order to learn about making apparel. He left his home in 1939 to work in Vichy under a tailor. From here, Cardin polished his fashion designing skills and eventually became one of the most recognized designers of the 20th century. During the second world war, Cardin became interested in humanity at the time he worked in Red Cross.
In 1945, he moved to Paris to learn about architecture and did a job in a fashion house. He became the head of tailoring at Christian Dior after working with Elsa Schiaparelli. In 1950, he founded his own fashion house and launched his career after completing an order for a masquerade ball in Venice at Palazzo Labia in 1951. Eight years later, he traveled to Japan and found the market of high fashion attractive. In the 1960s, Cardin surprised everybody by launching a collection of clothes with his logo attached to the garments, since this practice was not common then. Between 1953 and 1993, he was one of the members of Chambre Syndicale of Prêt-à-Porter and Haute Couture. In 1994, he limited the showcase of his collections to a small group of journalists and clients but after fifteen years Cardin displayed his new collection in Cannes to more than 100 journalists.
Moving on, since Cardin was spellbound by geometric shapes, in 1975 he applied this obsession to building the Bubble House. It is spread on more than 1,200 square meters with a panoramic lounge and ten contemporary bedrooms. For this project, Cardin took help from Antti Lovag, an architect who measured the practicalities of Cardin's design. With such an avant-garde approach, in 1954 he introduced the bubble dress. His unisex apparel designs were not practical, mostly they were just experimental.
Later in 1981, Pierre Cardin purchased Maxim restaurants and hotels. He spread this business in London, New York, and Beijing within three years. He also licensed various food products by that name.
Then from the 1980s till the 1990s, Cardin supported a press association in France for arts, dance, and circus managed by Jacqueline Cartier with personalities and authors like Jean Pierre Thiollet, Yves Mourousi, Guy des Cars, and Francis Fehr.
In 1991, Cardin became the Goodwill Ambassador of the United Nations Educational, Scientific, and Cultural Organization (UNESCO). His creations have been worn by several celebrities, like Nora Arzeneder and Shirley Maclaine.
In 2001 with much riches in his hand, he bought a castle's ruins in France's town Lacoste that once sheltered the Marquis de Sade. Pierre Cardin has somewhat renovated the location for dance and music carnivals. The designer has spent expansively in acquiring property and land in this area, in order to turn it into a resort. Some villagers condemn his existence and find it detrimental to the reputation and atmosphere of the area. Despite this, the designer is not lagging behind in fulfilling his visions since he is a wealthy and influential person after all.