Philippines: Beijing's 'utter disregard' for law in South China Sea
This week Delfin Lorenzana, the Philippines defense secretary, said that China was showing an "utter disregard " for international law that he described as "appalling".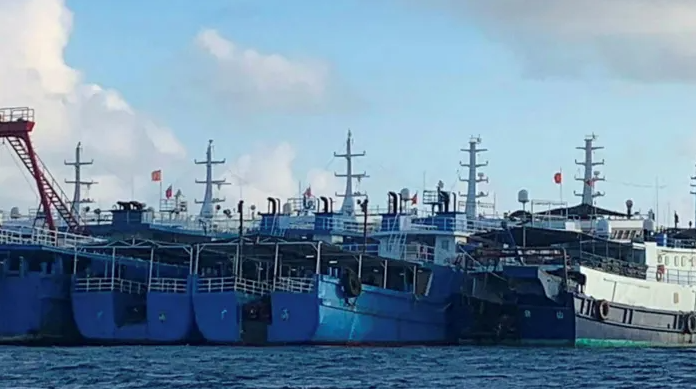 China says the ships at Whitsun Reef were merely seeking protection from the winds. (Photo: Reuters)
Manila and Beijing are locked in an unusually open and sour dispute over what the Philippines calls the "swarming and threatening presence" of more than 200 Chinese fishing vessels around a reef in the South China Sea.
China's foreign ministry has accused the Philippines of "hyping" the issue and claimed that the vessels, thought to be part of its maritime militia, were merely "sheltering from the wind". Rodrigo Duterte's government pointed out that the weather had been fair in recent days while analysts said that similar incidents at sea often preceded China's building of permanent structures on reefs and atolls to reinforce its maritime claims, according to Financial Times.
According to satellite photos and Philippine officials, the Chinese flotilla has been massed since last month around Whitsun Reef, which Filipinos call Julian Felipe Reef. The Philippines claims the area as part of its 200-mile Exclusive Economic Zone, and won a 2016 arbitration case against China that invalidated Beijing's claims of historic rights to most of the sea, which it marks on maps in the illegal "Nine-Dash Line".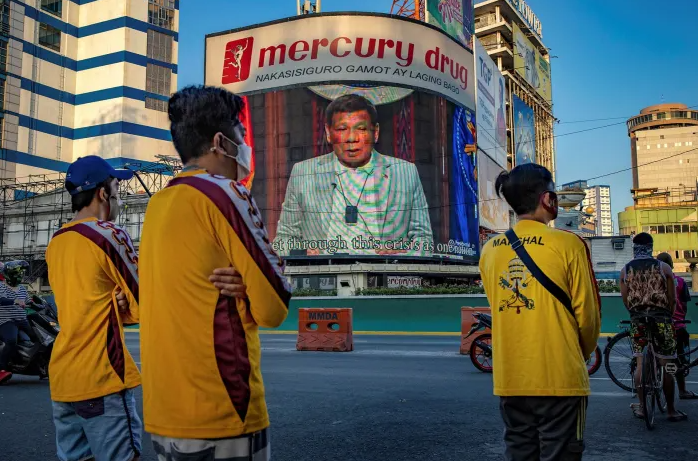 Rodrigo Duterte has moved closer to Beijing but the US has backed the Philippines in the Spratly. (Photo: FT)
US-Philippines Mutual Defense Treaty taken into account
The United States has warned China against what the Philippines and Taiwan see as increasingly aggressive moves, reminding Beijing of Washington's obligations to its partners, as the two rival powers step up their naval activities in the South China Sea.
"As the situation in the West Philippine Sea evolves, we keep all our options open in managing the situation, including leveraging our partnerships with other nations such as the United States," Department of National Defense spokesman Arsenio Andolong said in a statement, using the Philippine name for the Bien Dong Sea, according to Star Tribune.
"We are continuously in talks with the U.S. on the matter of mutual defense," Andolong said. "Both parties are committed to undertake their obligations under the Mutual Defense Treaty so that neither stands alone in these issues involving the two states' inherent right of self-defense."
The United States has said it would stand by the Philippines amid the dispute and accused China of using "maritime militia to intimidate, provoke and threaten other nations." "An armed attack against the Philippines' armed forces, public vessels, or aircraft in the Pacific, including in the South China Sea, will trigger our obligations under the US-Philippines Mutual Defense Treaty," State Department spokesman Ned Price told reporters on Wednesday.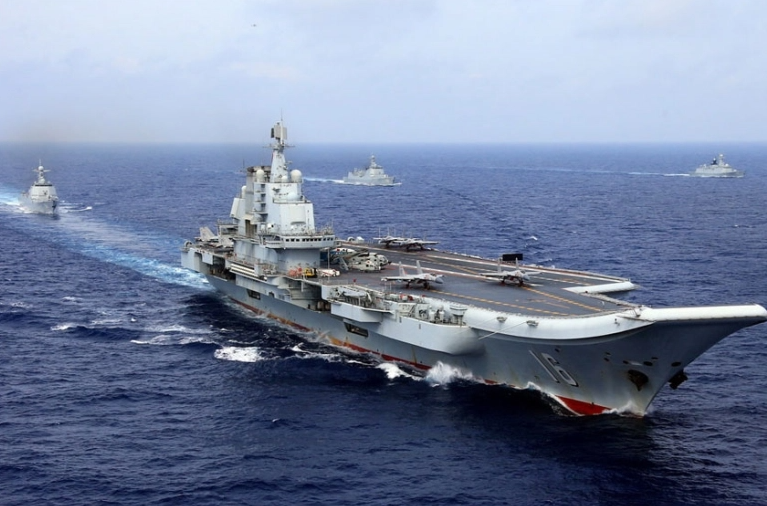 On Monday, China's aircraft carrier Liaoning led a naval exercise near Taiwan, an ally of the US. (Photo: Al Jazeera)
U.S. Secretary of State Antony Blinken and Philippine Foreign Affairs Secretary Teodoro Locsin, in a phone call on Thursday, expressed their shared concerns about Chinese militia vessels in the South China Sea, according to Reuters.
Both expressed their shared concerns with the massing of PRC maritime militia vessels in the South China Sea, including at Whitsun Reef, and reiterated their calls on the PRC to abide by the 2016 arbitration ruling issued pursuant to the Law of the Sea Convention. Blinken reaffirmed that a U.S.-Philippine Mutual Defense Treaty applied to the South China Sea.
Philippine President Rodrigo Duterte, who has pivoted foreign policy away from Washington and opened friendlier relations with China than any of his predecessors since taking power in 2016, vowed to protect the country's maritime territory during a meeting with China's ambassador last month. Duterte reaffirmed to China's ambassador, Huang Xilian, that the Philippines had won a landmark arbitration case in 2016, which made clear its sovereign entitlements amid competing claims by China.
This week Delfin Lorenzana, the Philippines defense secretary, said that China was showing an "utter disregard " for international law that he described as "appalling". He added: "Its Nine-Dash Line claim is without any factual or legal basis." China's embassy responded by saying the area was a traditional fishing ground for Chinese vessels and accused Lorenzana of making "unprofessional remarks which may further fan irrational emotions".
Analysts said the dispute had echoes of China's 1994 occupation of Mischief Reef. China originally built what it said were fishermen's shelters, which it later developed into a base. "This is the continuation of China's now years-long strategy of employing the militia in large numbers to establish de facto control of waters and reefs around the South China Sea," said Greg Poling, a senior fellow at the Center for Strategic and International Studies. "The fact that the Philippine government is not just talking about it but actually documenting and publicizing it is a big deal."