PM calls for denouncement of illegal border entries to Vietnam
Prime Minister Nguyen Xuan Phuc on December 28 called all citizens to report on illegal immigrants, stay vigilant about such entries as they may pose the risks of Covid-19 infection.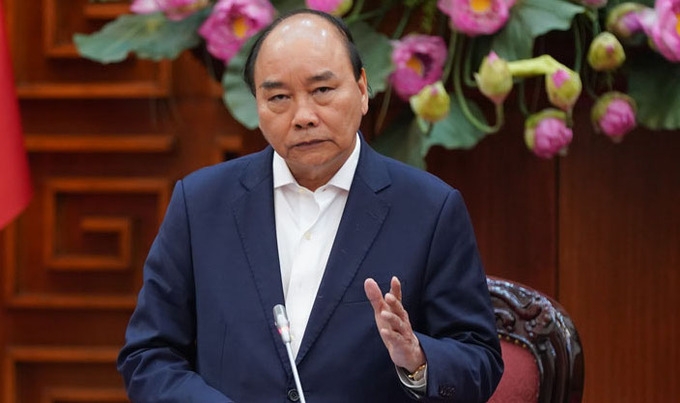 PM Nguyen Xuan Phuc (Photo: VNE)
Accordingly, cases entering Vietnam illegally must be strongly denounced. PM also tasked the Health Ministry to take maximum precautions, quickly detect and localize possible outbreaks, especially during the Lunar New Year.
The PM stressed that the order is the urgent request of the Government to all localities; provinces in the southwest and northern border "must definitely not let their guard down with Covid-19".
Phuc was quoted by VNE as saying that the current COVID-19 situation in regional countries such as Thailand, Myanmar, Singapore, etc is very complicated. Meanwhile, Patient 1440 who entered Vietnam illegally from the Cambodian border was reported by his mother upon reaching home.
"Thus, residents must be mobilized to stay vigilant, immediately report strangers to local authorities to promptly localize and shun transmission", Phuc said, adding that leaders of the Ministry of National Defence must crackdown on border entrance.
To date, two men and one woman are among the group of six people illegally entered Vietnam last Thursday through Tay Ninh border gate, who have tested positive for the novel coronavirus, the Health Ministry said Monday. While test results came out negative for the one other illegal immigrant, the remaining one has been isolated while waiting for the test results.
They are still searching for the last one, a man named Kha in District 9. Nguyen Tan Binh, director of HCMC's Health Department, said Kha is "the most worrying case".
In order to avoid the spread of Covid-19 to the community, Tay Ninh province has activated its epidemic control system at its highest level, review and tighten virus-control measures.
The province will also reward those discovering and reporting illegal immigrants.
Illegal border entries have been rising recently in Vietnam. On December 27-28, a total of 106 undocumented immigrants from China to Vietnam were detected at the Tra Linh border gate. All the offenders have been put into quarantine, according to PLO.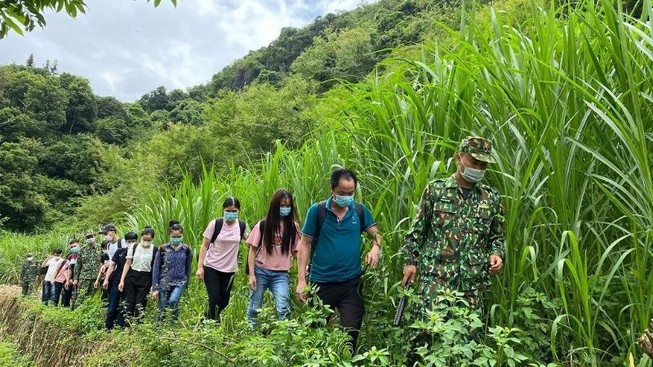 The illegal immigrants at Tra Vinh border gate were detected (Photo: Phap Luat online)
The country's current Covid-19 tally stands at 1,451 cases, with 35 deaths.
Fifteen recoveries were confirmed Tuesday morning. No community transmission has been recorded nationally in nearly a month.
As part of existing Covid-19 prevention measures, anyone who wishes to enter through the Vietnamese border must report their entry to border guards, and be quarantined immediately.
Earlier in July, Prime Minister Nguyen Xuan Phuc had also tasked the Ministries of National Defense, Public Security and Foreign Affairs to continue collaboration in strictly controlling all entrants in a bid to prevent transmission of Covid-19. The move was made following confirmation of Covid-19 patient 416 in the central city of Da Nang on July 25, which ended a 99-day streak of no community transmission of the virus in Viet Nam.
A medical staff in Soc Trang Province disinfects a car carrying six illegal entrants into Vietnam, December 27 2020 (Photo: VNE)
Meanwhile, on global scale, there are over 81.67 million cases reported, at least 1.78 million have succumbed to the disease. While the US and India are the two hardest-hit countries by the pandemic, Russia on Monday admitted its coronavirus death toll was more than three times higher than it had previously reported, making it the country with the third-largest number of fatalities.
For months, the Russian president, Vladimir Putin, has boasted about Russia's low fatality rate from the virus. But since early in the pandemic, some Russian experts have said the government was playing down the country's outbreak. Russia has been criticized for only listing Covid deaths where an autopsy confirms the virus was the main cause.