Restrictive measures in place as US beaches reopen for Memorial Day amid COVID-19 pandemic 
Memorial Day is the unofficial start of summer, and for many, that means heading to the beach. This year, however, under the stay-at-home orders, the occasion will be celebrated a lot different. Yet, some beaches up and down the East Coast, including Jersey Shore, are still opening up to tourists for the holiday weekend under certain restrictions.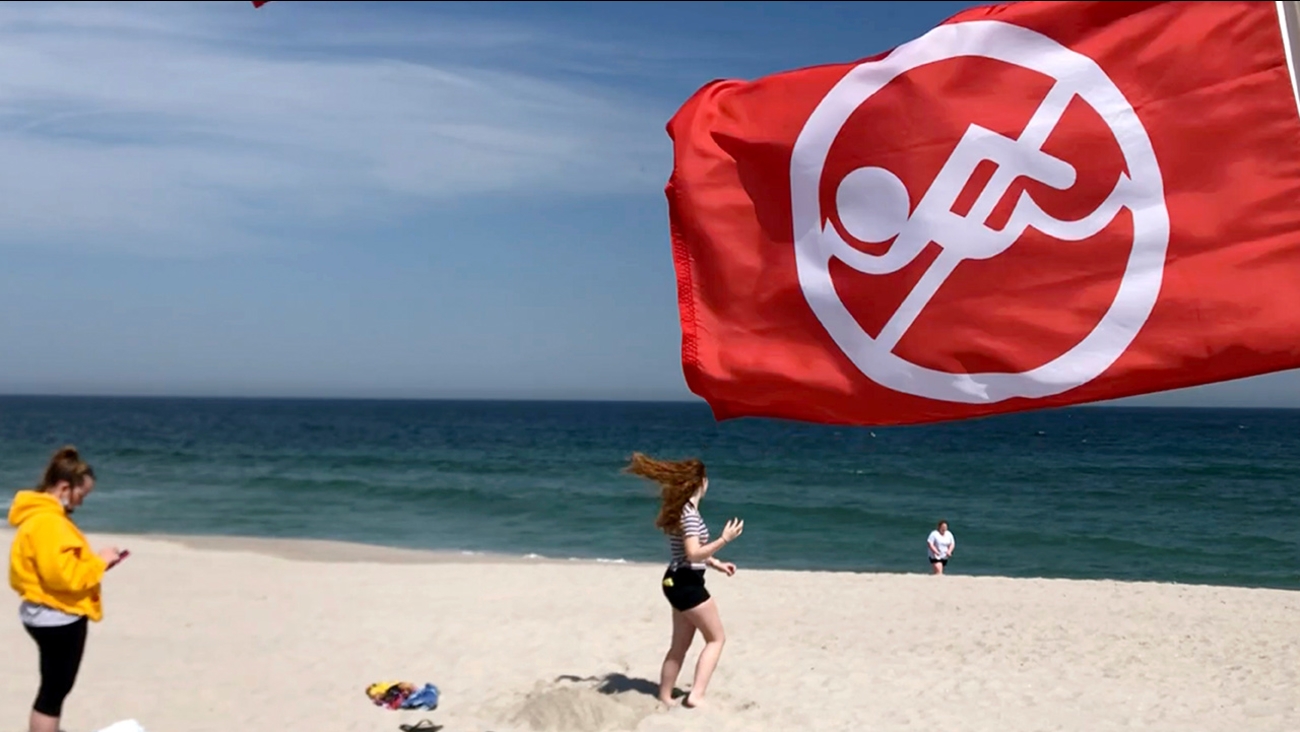 A long list of US beaches will be reopened for Memorial Day amid the COVID-19 pandemic
(Photo: Abc7network)
Long list of beaches across the US reopens for Memorial Day
As reported by NBC New York, it was announced last week that state lakes and beaches along the Jersey Shore, New York, Connecticut -- and even Delaware -- will be open with some restrictions in time for Memorial Day weekend in a planned regional effort as the tri-state continues to grapple with the COVID-19 outbreak.
The state beaches and lakeshores will reopen on May 22. The reopening is a multi-state coordinated effort because, New York Gov. Andrew Cuomo said Friday, "we are one multi-state region. What one state does, will affect other states. That is apparently, no more clear, than when it comes to opening beaches."
New York City beaches, however, remain closed. And many Long Island towns are limiting beach access to locals.
But the farther south you go, the fewer the restrictions in states like Georgia, South Carolina and Mississippi, which reopened their beaches earlier. Other states like Florida largely left it up to local counties to decide whether to reopen and how. Most will be open Memorial Day.
On the West Coast, many beaches in Washington state and Oregon remain closed for Memorial Day, while some farther south in California will be open but with restrictions.
Along the Great Lakes, most beaches in Michigan will be open. But the famed Oak Street Beach in Chicago, where swimmers can bathe with the city skyline as backdrop, is closed through May 31.
In New Jersey, Gov. Phil Murphy gave the shore towns the green light this week to reopen, but he made it clear he wanted them to adhere to the state's social distancing guidelines. He also conceded that with New York City beaches closed, there could be increased competition for scarce sand space in Jersey.
Experts are giving out constant warnings
Medical experts warn that the virus won't take a holiday for the unofficial start of summer. The Centers for Disease Control and Prevention recommends that people stay home, avoid crowds and connect with family and friends by phone or video chat.
Dr. Seth Cohen, an infectious disease expert at the University of Washington Medical Center-Northwest in Seattle, advised that people keep their distance, wear masks and avoid sharing food and drinks.
"Punch bowls. Nachos. These things are a no-no," Cohen said.
Dr. Deborah Birx, coordinator of the White House coronavirus task force, said Friday that people can enjoy the outdoors if they stay at least 6 feet (2 meters) apart. Birx suggested playing tennis with marked balls, one for each player to handle, or not touching flags on the golf course, as reported by AP.
Restrictions will be in place to prevent the spread of the coronavirus.
"SOCIAL DISTANCE TODAY — START SPREADING THE NEWS" is the message Jersey Shore-bound masses will see on flashing billboards as they ford freeways that are expected to be packed. Once they reach their desired destinations, there will be more reminders that life on the shore is still a long way from normal, NBC News said.
No arcades. No rides. No concerts or special events. Closed playgrounds. Capacity limits on beaches. Long lines to use the few public bathrooms that will be open. Just takeout at most bars and restaurants. And drones flying overhead to help authorities monitor it all.
Police and other security will be out on the sand making sure people keep 6 feet apart, and lifeguards will blow the whistle on anyone who does not follow the new rules.
"We want everybody to fun, but we want everybody to be safe," New Jersey Gov. Phil Murphy said Thursday when announcing the reopening. "The Shore is central to our Jersey identity and we want to ensure that families can safely enjoy it this summer."
To that end, there are a series of restrictions that will come when the states' beaches reopen later this month.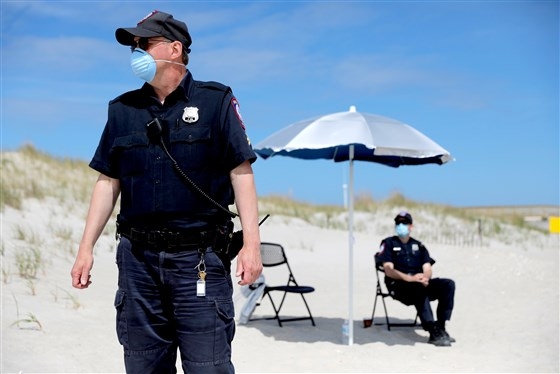 Town of Hempstead Public Safety Officers monitor beachgoers on the first day that beaches were opened ahead of the Memorial Day weekend at Town Park at Point Lookout beach on Long Island, N.Y., on Friday (Photo: Reuters)
Among the restrictions are:
Every beach must be required to establish capacity limitations. However, Murphy said the state will leave it to local leaders to decide the method that would be best for their community, including limiting the numbers of available beach tags for any given day or through utilizing technology such as through a geographic special analysis. Additionally, Cuomo said that capacity will not exceed more than 50 percent.
Social distancing measures requiring at least six foot distances between beach goers will be enforced except for family groups household members, caretakers or couples. This is the same approach taken with state parks. Local leaders will also decide how to best enforce social distancing.
Organized games and contact sports will be prohibited as well as beach recreational summer camps and special events that draw people to the beach such as concerts, festivals, or fireworks. "Each of our shore communities have unique characteristics and we know there is no one size fits all approach. However, some restrictions do fit across the board," Murphy said.
Regularly and properly clean shower pavilions, changing areas and restrooms. "Sanitation will also be of great importance especially since this order will allow for shower pavilions, changing areas and restrooms to remain open for visitors but they must regularly and properly cleaned," Murphy said, adding that restroom facilities in state and county parks will also reopen, provided they undergo frequent and proper cleaning.
Boardwalk businesses will also face restrictions. Boardwalk restaurants must continue to operate as take-out and delivery only, but the rides, arcades and other draws must remain closed. Other features that are meant to draw a crowd like a playground or visitor center must similarly remain closed for the time being.
Ensuring staffing levels are adequate. This is necessary in order to achieve the above measures and the for crowd control, NCBC New York reported.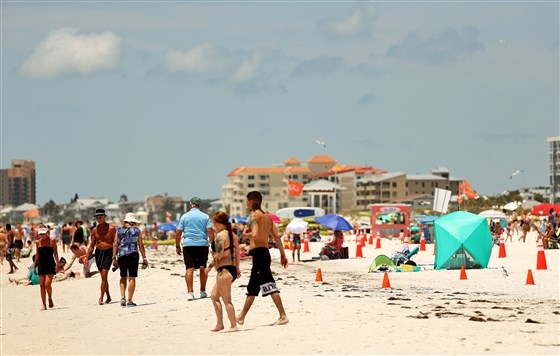 People visit Clearwater Beach on Wednesday in Clearwater, Florida (Photo: Getty Images)
Even there, things will be different.
Clearwater Beach, for example, got unwanted headlines in March when images of revelers frolicking during the pandemic were broadcast nationally — and after Gov. Ron DeSantis initially balked at banishing the throng from the beach.
This is also where the beach ambassador program — similar to the one Belmar, New Jersey, is using — was pioneered, Clearwater city spokeswoman Joelle Wiley was quoted by NBC News as saying.
"We are supposed to keep it on for weekends through Labor Day," Wiley said. "It is civilian employees helping visitors with non-police matters and giving updates on how to pay for parking remote, how to use the countywide dashboard to monitor beach and parking lot capacity and to direct them to the temporary hand washing stations we have installed."
The Memorial Day 2020, which honors fallen service members, arrives amid the bleakest economy in decades. Tens of millions have been laid off since the in March and forced shutdowns. Unemployment has reached its highest level since the Great Depression. Federal Reserve Chair Jerome Powell warned Thursday that prospects for a recovery will remain unclear until the health crisis is resolved.
Many Memorial Day commemorations have been canceled or downsized, including concerts and fireworks shows. Parks, beaches, campgrounds and swimming pools remain closed in much of the country, AP said.