Russian President Vladimir Putin: US and UK are involved in Black Sea "provocation"
On Wednesday, Russian President Vladimir Putin said that an incident involving a British destroyer in the Black Sea couldn't have triggered a global conflict, indicating that "the West knows it can't win such a war".
The tough statement appeared to indicate his resolve to raise the stakes should a similar incident happen again.
Speaking in a marathon call-in show, Putin also revealed that he received the domestically produced Sputnik V coronavirus vaccine and urged Russians to get vaccinated as the country battles a devastating surge of cases and deaths amid widespread hesitancy to get the shot, AP reported.
Russian President Vladimir Putin attends his annual live call-in show in Moscow, Russia, Wednesday, June 30, 2021. Photo: AP
Putin was asked about the June 23 incident in the Black Sea, in which Russia said one of its warships fired warning shots and a warplane dropped bombs in the path of Britain's HMS Defender to force it from an area near Crimea that Moscow claims as its territorial waters. He said a U.S. reconnaissance aircraft had joined what he described as a "provocation" to test Russia's response.
Britain, which like most other nations didn't recognize Russia's 2014 annexation of Crimea, insisted the Defender wasn't fired upon and said it was sailing in Ukrainian waters. "HMS Defender was conducting innocent passage through Ukrainian territorial waters in accordance with international law," Britain's Defense Ministry said Wednesday.
Putin charged that the U.S. reconnaissance aircraft that took off from the Greek island of Crete was operating in concert with the British ship on an apparent mission to monitor the Russian military's response to the British destroyer.
A bartender watches his smartphone showing a live stream of Russian President Vladimir Putin's annual televised call-in show, in a bar in Moscow, Russia, Wednesday, June 30, 2021. Photo: AP
"It was clearly a provocation, a complex one involving not only the British but also the Americans," he said, adding that Moscow was aware of the U.S. intentions and responded accordingly to avoid revealing sensitive data.
Asked about Putin's claim, Navy Capt. Wendy Snyder, the chief of public affairs for the U.S. European Command, said that "yes, we did have aircraft in operations," but reaffirmed the Pentagon's earlier dismissal of the Russian description of the incident as false.
"We are operating in and watching everything in the Black Sea region, as we always do," Snyder said.
The Russian leader specifically lamented that the incident closely followed his summit with U.S. President Joe Biden in Geneva this month.
"The world is undergoing a radical change," he said. "Our U.S. partners realize that, and that's why the Geneva meeting took place. But on the other hand, they are trying to secure their monopolist stance, resulting in threats and destructive action such as drills, provocations and sanctions."
Putin insisted Russia would firmly defend its interests.
"We are fighting for ourselves and our future on our own territory," he said. "It's not us who traveled thousands of kilometers (miles) to come to them; it's them who have come to our borders and violated our territorial waters."
Dmitri Trenin, the director of the Carnegie Moscow Center, warned that last week's Black Sea incident presages a new, riskier level of confrontation.
"Fresh attempts to expose Russian 'red line' deterrence as hollow -- whether on the ground, in the air, or at sea -- would push Moscow to defend what it cannot give up without losing its self-respect," Trenin said in a commentary. "This would almost inevitably lead to clashes and casualties, which would carry the risk of further escalation. Should this happen, Russia-NATO confrontation would deteriorate literally to the point of brinkmanship, a truly bleak scenario."
Ukraine, US launch Black Sea drills despite Russian protest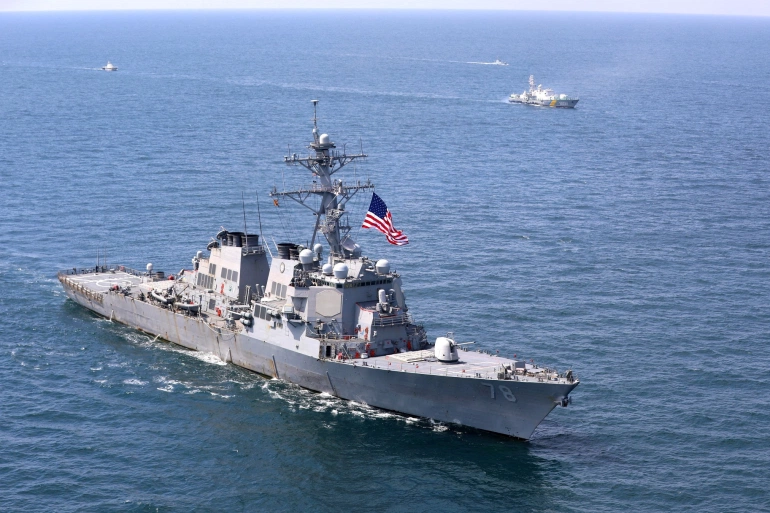 Sea Breeze 2021 will last two weeks and involve about 5,000 military personnel from NATO and other allies, and approximately 30 ships and 40 aircraft [File: Ukrainian Defence Ministry/Handout via Reuters]
Ukraine and the United States have launched a military exercise involving more than 30 countries in the Black Sea and southern Ukraine, despite Russian calls to cancel the drills.
The Sea Breeze 2021 manoeuvres that began on Monday and will last for two weeks are set to involve about 30 warships and 40 aircraft from US and its NATO allies and Ukraine. US destroyer Ross has arrived in the Ukrainian port of Odessa for the drills, according to Al Jazeera.
US Navy Capt. Kyle Gantt said that the large number of participants in the exercise reflects a shared commitment to ensuring free access to international waters.
The drills follow a rise in tensions between NATO and Moscow, which said last week it had fired warning shots and dropped bombs in the path of a British warship to chase it out of Black Sea waters off the coast of Crimea. The United Kingdom rejected Russia's account of the incident.
Russia annexed Crimea in 2014 and says it is Russian territory, but the peninsula is internationally recognised as part of Ukraine.
Britain insisted its HMS Defender had been making a routine journey through an internationally recognised travel lane and remained in Ukrainian waters near Crimea.
Russia's embassy in Washington called last week for the latest exercises to be cancelled, and the Russian defence ministry said it would react if necessary to protect its own national security.
Ukraine says the main goal is to gain experience in joint actions during multinational peacekeeping and security operations.
Relations between Kyiv and Moscow plummeted after Russia seized Crimea and over Russia's support for a separatist rebellion in eastern Ukraine.
Discord rose again this year when Russia massed troops on the border with Ukraine, where some of them remain along with their equipment.