Stock price today: Stock caps best weeks since 1974, Disney and Dtarbucks's stocks win
The stock market just completed a 50% retracement of its coronavirus plummet. Perched atop a 3-week peak to which it was driven by reduced negativity is hardly cause for a bull market rallying cry. Instead, the stock market needs to prove its mettle either by pausing to build a foundation or by testing (i.e., not breaking below) its recent lows, Forbes reported. 
Stocks rallied on Thursday to close out their best week since 1974, as Wall Street grew increasingly confident that the coronavirus crisis is starting to improve and the Federal Reserve took extraordinary additional measures to support the embattled U.S. economy.
- The Dow Jones industrial average was up 1.2%, almost 300 points, on Thursday, while the S&P 500 rose 1.4% and the Nasdaq Composite 0.8%.

- The market moved higher this week, thanks to increasing optimism that coronavirus containment measures are paying off, with a recent decline in new cases both in the U.S. and globally.

- All three major indexes posted strong weekly gains: The S&P 500 was up more than 11% for its best week since 1974, while the Dow rallied more than 12% and the Nasdaq almost 10%.

- Stocks price jumped on Thursday after the Federal Reserve announced that it would pump another $2.3 trillion into the economy, in a bid to provide relief to households and businesses as well as state and local governments.

- The Fed's timely stimulus helped offset another dismal weekly jobless claims report, in which 6.6 million people filed for first-time unemployment last week.
Treasury Secretary Steven Mnuchin told CNBC on Thursday that he believes the U.S. economy could get back up and running next month.
Key background: "Markets have undergone a powerful rally these last few weeks on back of three critical catalysts," describes Adam Crisafulli, founder of Vital Knowledge. Those include the "unprecedently aggressive" support measures from the Fed, the $2 trillion fiscal stimulus from Congress and a "plateauing" of coronavirus infections in several European and U.S. hot spots.
Big number: Over 16 million. That's how many Americans have filed for unemployment benefits in the last three weeks, the latest indicator of how badly the coronavirus is impacting the economy.
Crucial statistics: Investors have become increasingly optimistic that the coronavirus outbreak will soon turn a corner. Thursday's rally built on gains from the previous session, where both the Dow and S&P 500 gained more than 3% after Senator Bernie Sanders dropped out of the presidential race. The market gave up nearly 4% of gains and closed in the red on Tuesday, following a massive rally on Monday, in which the Dow posted its third-biggest point gain ever, rising nearly 8%.
American Airlines, Starbucks among stocks making biggest moves midday

Source: CNBC
According to CNBC, major stocks in several battered sectors including travel and retail were among the biggest winners in midday trading. American Airlines and several department stores saw their stock prices rise by more than 10% on Thursday. A few energy stocks also saw big jumps as the market awaits final word on cuts from OPEC.
Tech giants' stock price of the day
It's time investors get in-tune with buying a bear market low that has fast become a meaningful bottom, according to Nasdaq.
One way to align your portfolio towards that end is with three of the following stocks to buy. These stocks have little to do with market capitalization and everything to do with future growth and technical leadership in today's and tomorrow's stock market. Let me explain.
Not to take the wind out of the sails of Apple (NASDAQ:AAPL), Microsoft (NASDAQ:MSFT) or Amazon (NASDAQ:AMZN). The tech giants are the market's three largest capitalization companies with valuations, even after 2020's bearish cycle, on either side of $1 trillion. That's significant to say the least.
Apple, Microsoft, and Amazon shares are also important because they happen to influence broader averages like the S&P 500, NASDAQ Composite and Dow Jones Industrial Average almost on a daily basis. The thing is, each of these mega-cap stocks are blue-chips that make a habit of moving. Still, there's more to successfully tracking and investing in the market.
Apple (AAPL) Gains But Lags Market
According to Yahoo, Apple (AAPL) closed the most recent trading day at $267.99, moving +0.72% from the previous trading session. The stock lagged the S&P 500's daily gain of 1.45%. Meanwhile, the Dow gained 1.22%, and the Nasdaq, a tech-heavy index, added 0.78%.
Heading into today, shares of the maker of iPhones, iPads and other products had lost 3.4% over the past month, outpacing the Computer and Technology sector's loss of 5.61% and the S&P 500's loss of 7.42% in that time.
AAPL will be looking to display strength as it nears its next earnings release. The company is expected to report EPS of $2.21, down 10.16% from the prior-year quarter. Meanwhile, the Zacks Consensus Estimate for revenue is projecting net sales of $55.20 billion, down 4.86% from the year-ago period.
AAPL's full-year Zacks Consensus Estimates are calling for earnings of $12.50 per share and revenue of $261.79 billion. These results would represent year-over-year changes of +5.13% and +0.62%, respectively.
Amazon (NASDAQ:AMZN) stock wins as the tech giant is making another big change to its supply chain services
Amazon (AMZN) stock price today traded 8.44% higher today than four months ago. The company has seen a surge in its operation amid the coronavirus crisis, pushing the executives to implement more measures to protect employees from the coronavirus, Coinspeaker reported.
Amazon.com Inc (NASDAQ: AMZN) stock has been one of the winning stocks, defying the gravitational pull by the COVID-19 crisis. At the time of writing, the stock price is 0.49 % down. But it is still over 8% higher than four months ago. Trading at $2,032.99, and showing a lot of strength to push even higher, which will be retesting the all-time high and beyond.
It's suspending its third-party shipping program, Amazon Shipping, starting in June. The move follows a mid-March announcement that it will only receive essential items in its warehouses from third-party merchants, WJS told.
Amazon Shipping is a service the company offers businesses to deliver non-Amazon packages. It uses excess capacity in its fulfillment network to offer prices that are often lower than UPS (NYSE:UPS) or FedEx (NYSE:FDX). The program is only available in a few cities.
Amazon's decision to suspend the Amazon Shipping service indicates that it's seeing a significant increase in demand, and it's stretching the capacity of its fulfillment network.
Economy
Vietnam is the biggest economic partner of Poland in Southeast Asia, and the potential for stronger cooperation remains huge.
June 09, 2023 | 18:45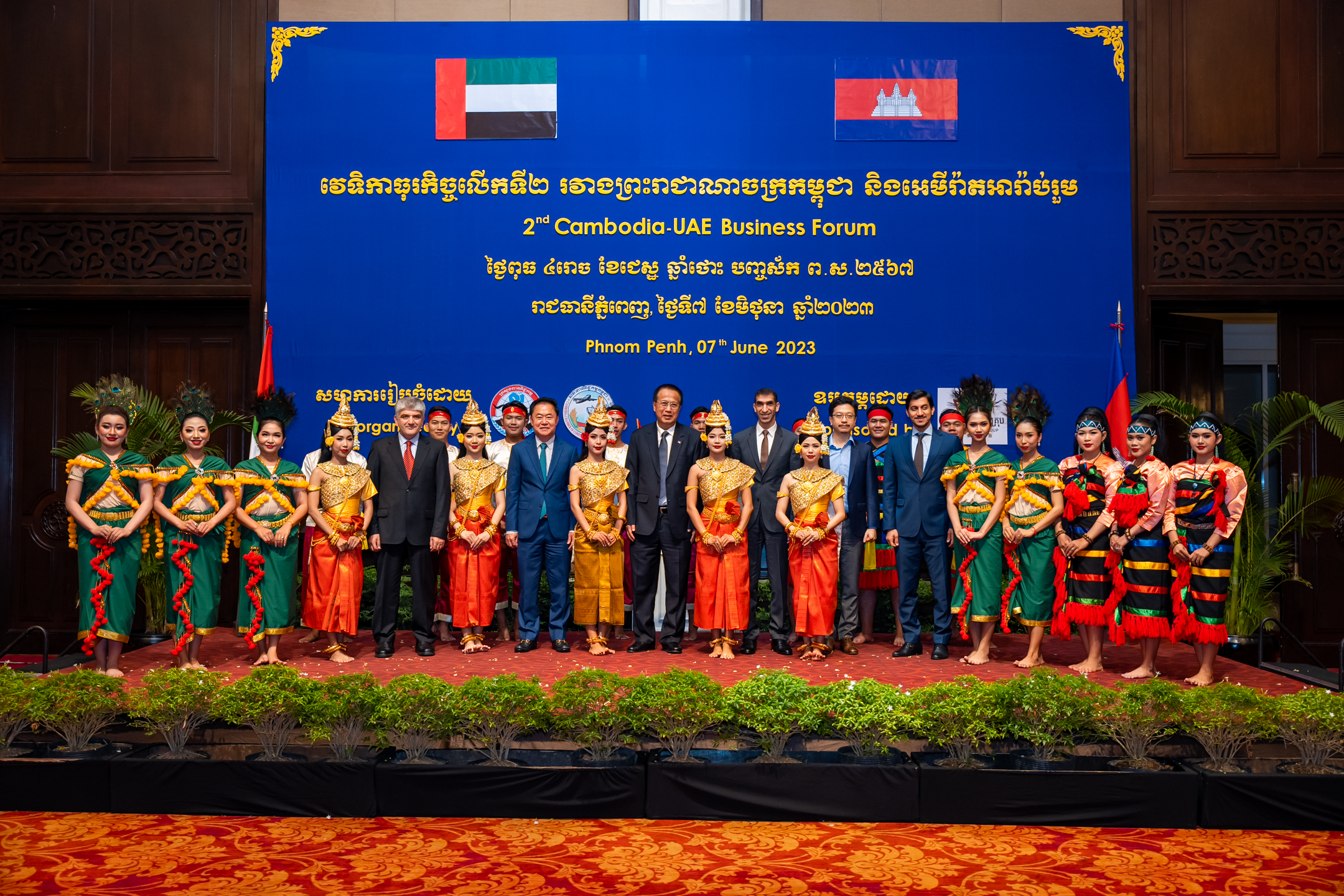 Economy
Prince Holding Group (PHG) recently participated in the 2nd Cambodia-UAE Business Forum, co-organized by the Ministry of Commerce Cambodia and the Cambodia Chamber of Commerce (CCC) at Sofitel Phnom Penh.
June 09, 2023 | 18:10
Economy
Born and raised in the HMT area of Srinagar in Jammu and Kashmir, Taha Mughal, a Cambridge alumnus and winner of the prestigious Fulbright scholarship for 2022-23, stands at the intersection of art, writing, and architecture.
June 09, 2023 | 07:00