The financial struggles of Phuong Uyen Tran's parents in early age
"Given where THP stands today, it is hard to imagine how difficult it must have been for my parents, Tran Qui Thanh and Pham Thi Nu, in the beginning", Phuong Uyen Tran wrote in her book, saying their financial circumstances was particular for Vietnamese younger generations.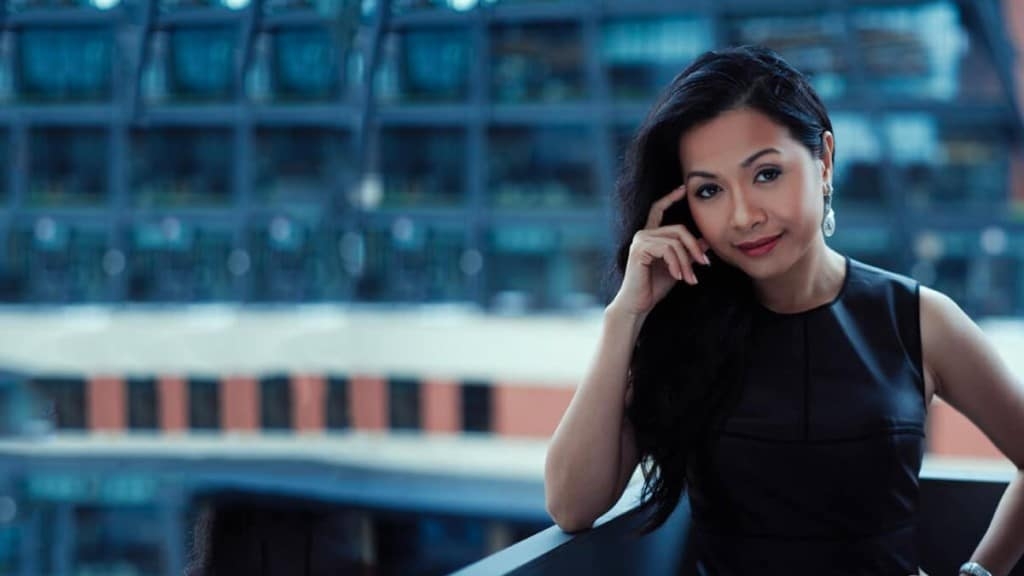 Phuong Uyen Tran
Many fled abroad or were sent away to developing areas for "re-education".Some were not released from internment camps until the late 1980s. My parents' families did not escape unscathed. On my father's his hall-brothers lost all their land. Their mother's legacy, which do, had been so desperate to make sure my father did not get, was expropriated.
My mother's family had not been rich to start with and suffered even more than my father's because many of them lost their lives, not just their money. One of my uncles was killed in the war. Another one decided to flee in a boat. So did his sister, in another boat.
Many Vietnamese "Boat People" died at sea trying to reach neighboring Asian countries in the two decades after the war ended. According to UNHCR figures, about eight hundred thousand people made it to refugee camps.
They were not good odds, but many felt it was their only option to forge any kind of life for themselves. A similar tragedy has been unfolding in parts of the Middle East and Africa where millions of people have been leaving their countries in the hope of a better life. One thing I have always admired about my father and his childhood friend Uncle Tu, who heads R&D at THP, is that they both stayed and eventually prospered.
It was a different matter for my uncle and aunt. For most people, it took several attempts to save enough money to build a boat or pay for passage on one. It cost up to $20,000 in 2018 money. A huge amount at the time Payable in gold, the only currency that had any value.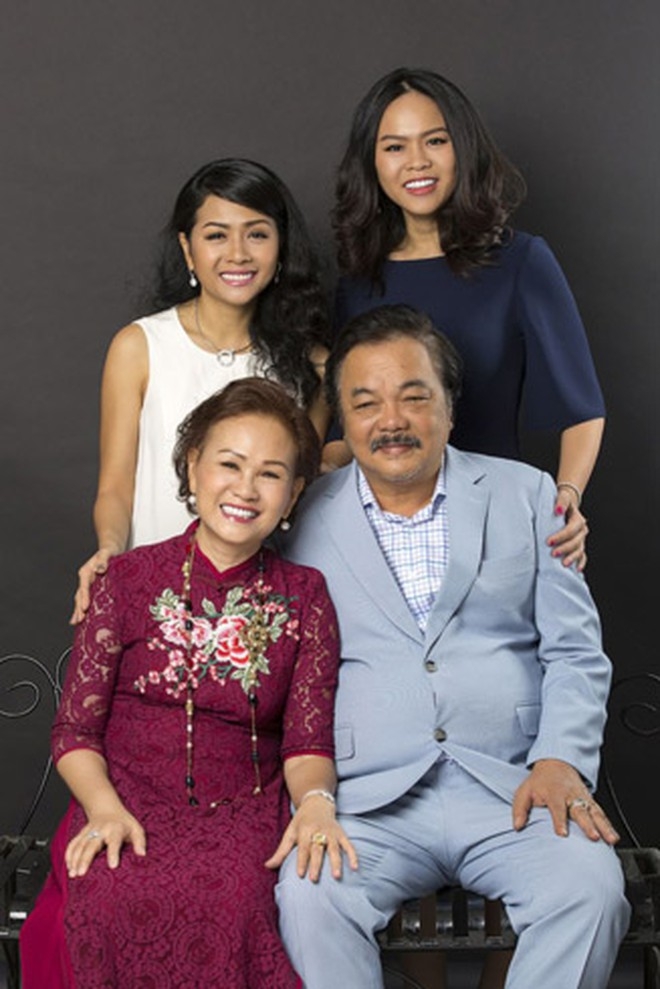 Phuong Uyen Tran and her family
Given where THP stands today, it is hard to imagine how difficult it must have been for my parents, Tran Qui Thanh and Pham Thi Nu, in the beginning. This is particularly the case for Vietnamese younger generation. They have grown up in a much richer and foward-looking country, which has embraced the market economy is literally buzzing thanks to their dynamic attitude.
I come from the middle generation, sandwiched between them and my parents. In many ways, I think that makes me the lucky on, I was fortunate that I did not experience the horrors of the war or its immediate aftermath, firsthand. But I did grow up during a time of scarcity, and because of that, I understand just how much hard work it takes to achieve success in life. I take nothing for granted, just like my parents.
I was thirteen years old when my father converted the Ben Thanh Brewery Beverage Factory into Tan Hip Phat, later re-named the THP group. I grew up in the shadow of that transition. My family initially lived in the factory, and today we have an apartment on the top floor.
The company is an inseparable part of our family's DNA, and the second generation remains as committed to it today as the first generation was in the 1990s when my parents started building it up. They worked 'round the clock then. We all still do now.
It was not long before I began my own journey to support them followed by my younger sister, Bich. During those formative years, met thousands of THP workers and learned something of value from many of them. Nothing beats learning on the job, and I owe a lot °f my ideas to that firsthand experience working on the factory floor.
From humble roots making yeast and then sugar, THP has rapidly evolved into a company focused on creating healthy and preservative-free beverages using the most advanced bottling equipment in the world. The business continues to be owned and managed by our family. We are committed to building an increasingly international business with roots and values grounded firmly in Vietnamese culture.
There is a fine line, however, between family and business. Not all familial tendencies should cross over into business, just as business dynamics should not rule how a family's relationships are nurtured and maintained. Ultimately, successful family businesses understand the roles of family members in and out of the business and respect those roles and boundaries.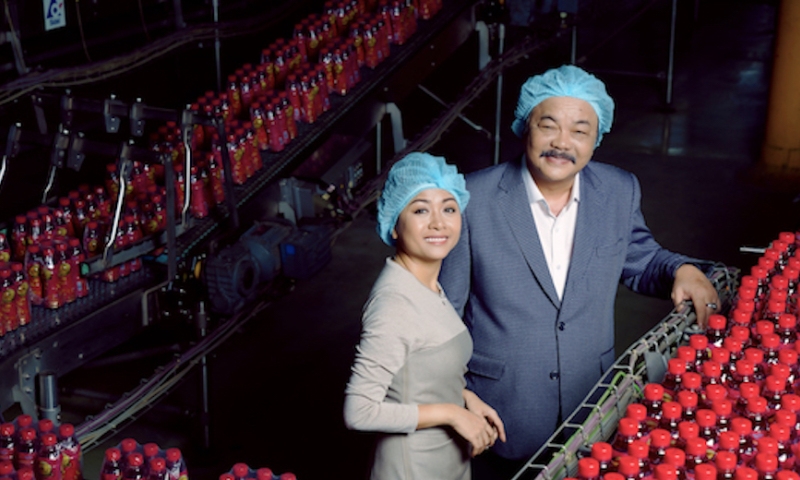 Phuong and her father, Mr Thanh Quy Tran
Phuong Uyen Tran also shares the key to successfully mix family with business.
According to Phuong, holding strong to our family values as a guide and acknowledging the strengths and weaknesses of family members within the business, has resulted in extraordinary growth for our company. THP now employs over 5,000 people across its four production facilities and dozens of branch offices. We make ongoing investments in researching new ways to better serve our consumers. Our factories are home to state-of-the-art technologies including ten aseptic lines, PET manufacturing systems, and both hot and cold filling lines for Tetra Pak, cans and glass bottles. We also produce our own packaging include PET and cartons.
I wrote Competing with Giants to help instruct, inspire, and empower other entrepreneurs with family businesses to pursue their dreams – to reach even greater levels of success. There is no limit to what families can accomplish when they are willing to work hard, respect one another, and adhere to their own guiding family principles.
Competing with Giants highlights the power of one man's vision and how he incorporated his family to achieve unimagined results. The fact that millions of consumers around the world are loyally drinking THP beverages every day is also a testament to the execution of that vision by a team of highly motivated individuals. The key to our success is found in these pages.
In the past few years, especially in 2018, Tan Hiep Phat and Tran Uyen Phuong are among Vietnamese names in the field of business that appear the most on international media because of their stories inspiring co-startups as well as millions of consumers around the world.
That Forbes first published the book "Competing with Giants" by a Vietnamese businesswoman has help promote the name of "rich man" Tan Hiep Phat.
Afterwards, in the minds of many consumers, each water bottle is not only a drink but a crystallization of the desire to overcome difficulties and the spirit of entrepreneurship, an organic trend and Vietnam of miraculous stories.
And also from this book uncovered the aspirations of Tan Hiep Phat, as Mr. Hiroshi Otsuka, President and CEO of Musashi Seimitsu said: "An unmissable insight into how and why Vietnamese businesses are quietly growing into global players."
About author Phuong Uyen Tran

Working as a powerful businesswoman, Forbes published author, Phuong Uyen Tran is a model of success in Vietnam. Phuong Uyen Tran is also a special contributor for Vietnam Times. Her writing, including "Competing with Giants" book, and her latest articles are to advise and inspire young people to start-up, overcome challenges and reach out to the world. It is the story of a little girl taking the great responsibilities for a corporation and devoting herself to society.

Read More: a prominent female millionaire and an emotional author