The Most Delicious Tropical Fruits You Should Try in Vietnam
Aside from beautiful sceneries and tasty traditional dishes, Vietnam is also a paradise for tourists to find the best kind of tropical fruits that they should definitely try in hot summer days.
Being geographically located in the tropical zone, Vietnam is truly a heaven when it comes to fruits. One who first comes to the country will be amazed at the countless number of colorful fruits sold at a very reasonable price in every street and market all year round. Trying & tasting different exotic fruits are one of the factors that attract travelers time and time again.
It's worth tasting all of them, as the exotic flavours and textures are something you simply won't find back at home. In order to guide you through the wonders of Vietnamese fruits, we've put together this top five ranking of the most delicious fruits any Vietnam traveller seriously must try, along with helpful information about health facts, prices and seasons.
1. Durians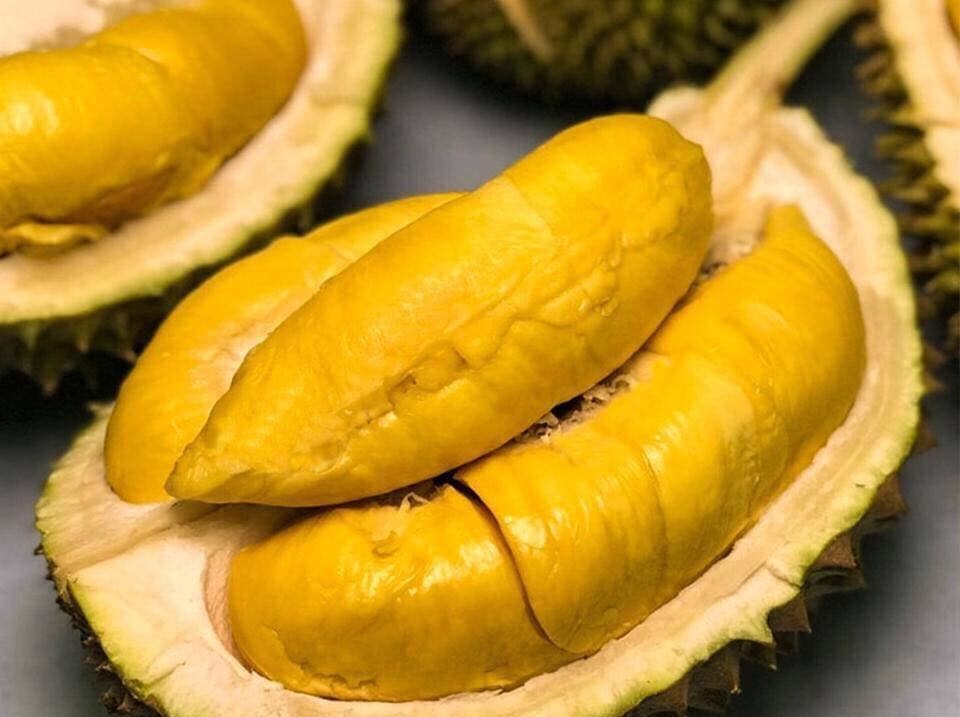 Photo: baochinhphu.vn
Five or six times larger than the mango, durian is unique fruit with the thick and rough skin, covered with sharp thorns. At first, one may find durian's smell extremely unpleasant (to the extent that most airlines have to ban passengers from carrying this fruit on board). Yet if you can eat it, you will love it.
Just after cutting the edge of the outer sell gently, one will be fascinated by layers of bright yellow segments of meat shining like butter. It has the special flavor of well-kept honey and rich in nutrition. "Smell like hell, taste like heaven", that is what they talk about durians.
In many countries in Asia, Durian is compared as King of Fruits because of its humongous size, interesting odor, an outer husk covered in spikes that are able to draw blood and its highly value. Durian highly contains sugar, vitamin C, tryptophan, potassium, carbohydrates, fats as well as proteins. It's frequently recommended an effective source for taking raw fat. Especially if you have any chances to visit Vinh Long province, remembering to try Durian Ri6 which is praised to be the best durian variety in Vietnam.
2. Mango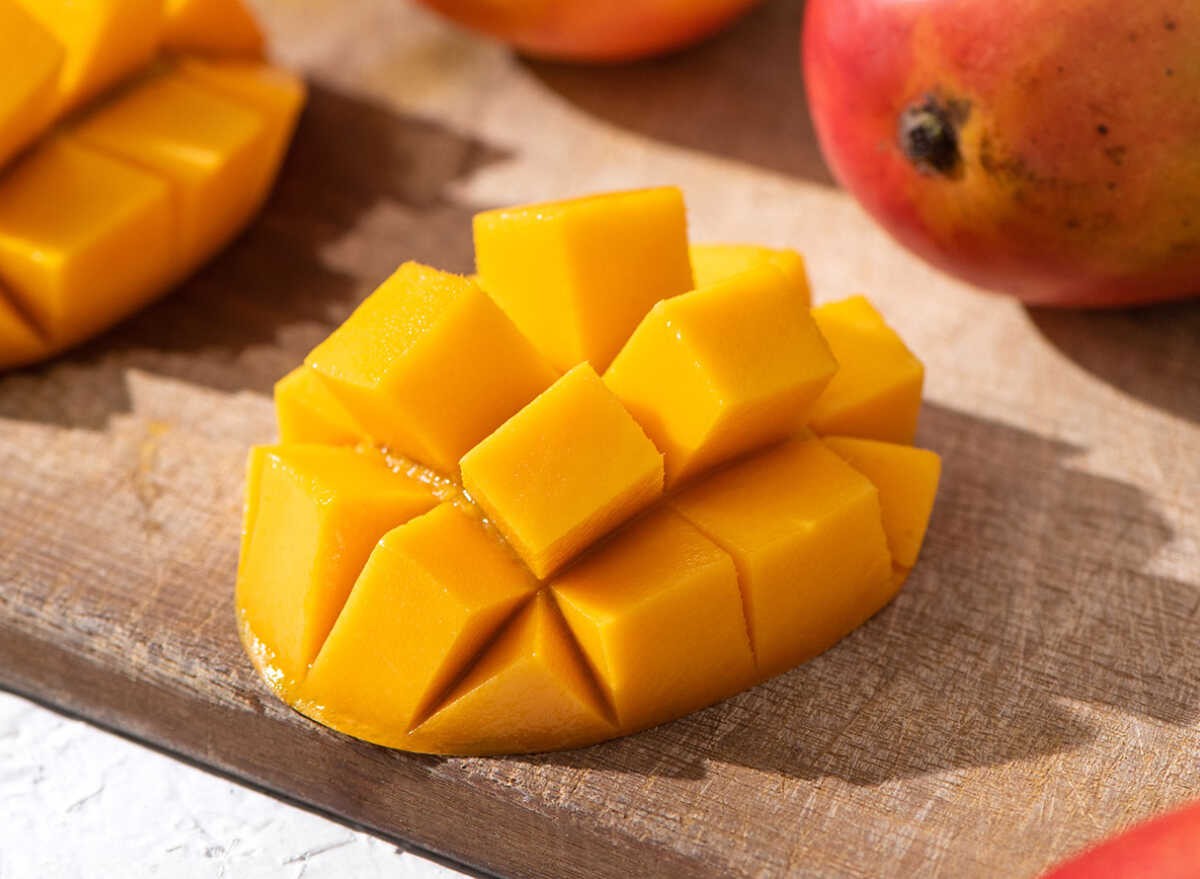 Photo: Eat This, Not That
Xoai is the Vietnamese term for mango. Vietnam is ranked 14th in world production of mangoes, and the fruit is one of the majorly produced in the country. There are a lot of native varieties and different localities where mango is produced.
Mangoes in Vietnam are traditionally grown in the southern part. There are very dew locations growing mangoes in northern Vietnam. The most valuables mangoes come from Dong Thap region province alone, which is a significant mango producing area in Vietnam.
Popular provinces of the South known for producing mangoes are Can Tho, Tien Giang, Dong Thap. Other regions in northern Vietnam producing mangoes are Son La, Ha Giang, Lai Chau.
You don't need to be an expert in cooking to try this recipe at home. You need some raw mangoes, peel them and cut them into thin slices. Pour some fish sauce in a bowl and add a little sugar to it. Mix the ingredients in the bowl well and dip your slices in the sauce. Viola! Enjoy this traditional Vietnamese delicacy at home!
Mangoes in Vietnam are a part of their culture, and you'll find Goi Xoai (Green Mango Salad) at almost every corner of the street. Apart from the nutritional value, it keeps the Vietnamese people fresh and away from the heat. Visit this beautiful country and learn more about 'The King of Fruits'!
3. Star Apple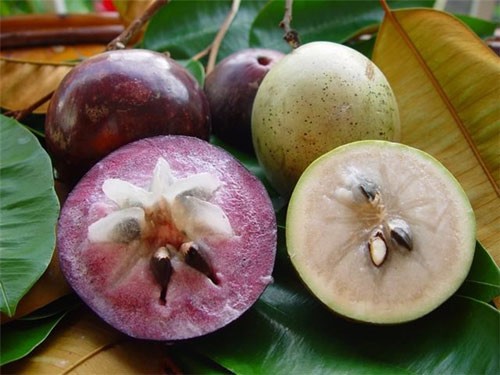 Photo: eva.vn
Special as its name ("Vu sua" means "milk from the breast" in Vietnamese), star apple is one of the fruits that have the most marvelous taste: its juice is fragrantly sweet and milky white like breast milk. The way people enjoy this fruit is also very strange. After cutting the fruit into two equal parts, we will use a spoon to scoop out the pulp, bit after bit, until nothing is left. Star apple is grown most in Can Tho, where tourists can visit star apple orchard and try the fruit there.
Don't worry, you can halve it and use a spoon, or cut the fruit in wedges and enjoy it like a tiny watermelon. The fun lies in both the taste and texture. There's a sticky sweetness to it which, combined with the thick, milky juices that you simply must taste in order to appreciate.
Vietnamese legend has it that at the witching hour, you can see the ghost of a mother feeding her baby roaming around its trees. Spooky, huh? So better let somebody else do the harvesting! You can buy a bagful from a street market when it's in season in the late autumn and early winter months.
It's easy to spot with its round, mostly purple skin. Some are green though, but this doesn't mean they're not ripe yet. Do softly squeeze it before enjoying the star apple to set free all the juicy goodness, and bring a wet tissue as your fingers are sure to be sticky after eating it!
4. Mangosteen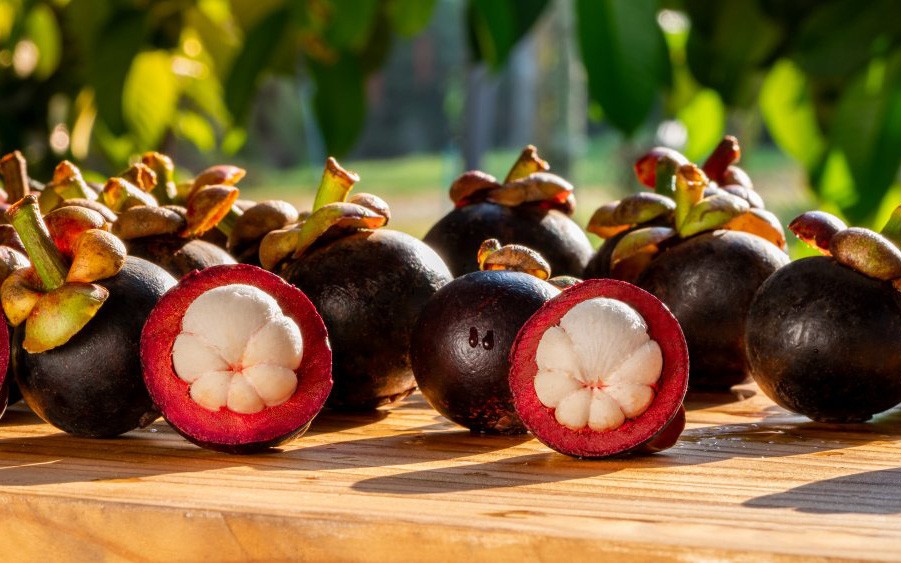 Photo: baodansinh.vn
Mangosteen is a familiar tropical fruit in Southeast Asia countries. It is also popular in Vietnam with the delicious taste and packed vitamins.
When ripen, the thick outer shell has a dark purple color with ivory-white juicy pulp inside. The pulp is divided into a couple of segments, while some have inedible seeds of their sizes, some are not. The fruit has both sweet and sour flavors, but the sweetness always wins over the sourness.
Mangosteen can be eaten raw as a fruit dessert. The thick skin is inedible, so you have to remove it before eating. Take out a sharp knife and cut the fruit horizontally. Just cut till the skull part and left the pulp in its position. Hold the fruit in your hand and make a light twist in the upper part to get rid of half the skin. With one more light pop in the bottom half, you will have the fruit flesh in full.
Speaking of mangosteen, Vietnamese people always call for three famous regions: Bao Loc - Lam Dong, Cai Mon - Ben Tre, and Lai Thieu - Binh Duong.
Bao Loc: Thanks to the cool climate, Bao Loc mangosteen has a beautiful round form with a relatively thin and glossy skull. The flesh inside is thick and has a high sweetness.
Cai Mon: The mangosteen of Ben Tre province is small and turns dark red when ripe. It has a mild flavor but turns out to be people's favorite because the tiny seeds make it easy to eat.
Lai Thieu: This type of mangosteen is harvested from May to August with a super sweet taste and a light scent. For tourists who want to buy retail, you can go to the local markets or specialized fruit shops to buy mangosteen with prices ranging from 35.000 to 70.000VND /kg, depending on the fruit's origin.
5. Pomelo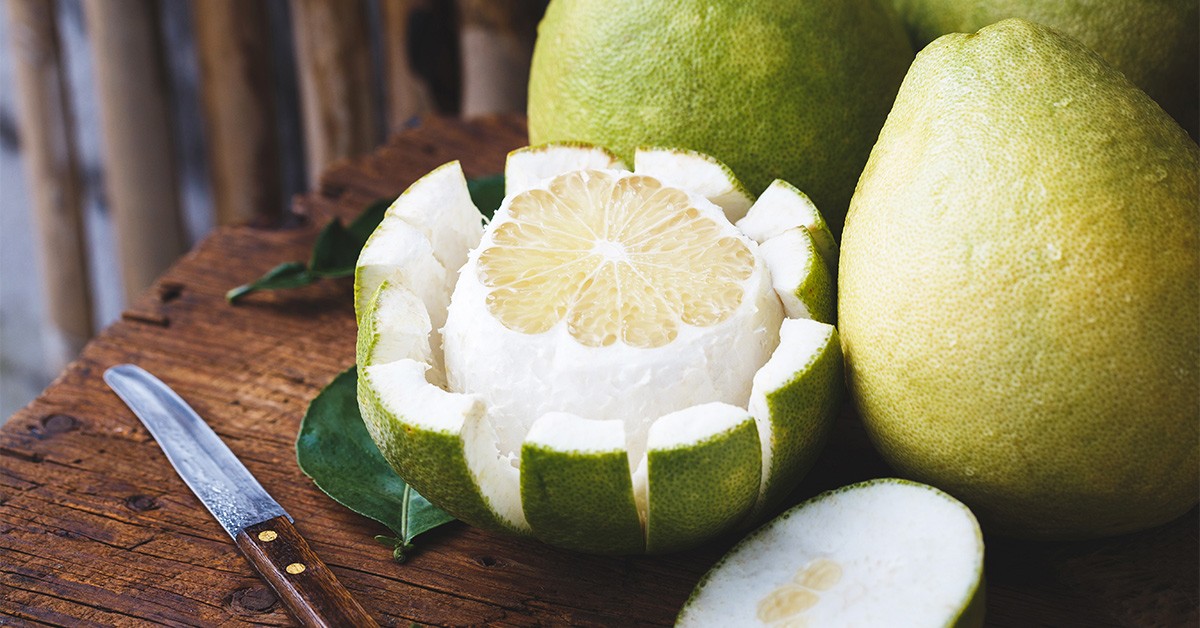 Photo: Healthline
In Vietnamese culture, there is a type of fruit that is always present on the five-fruit tray of the altar every Tet holiday, which is the pomelo - a kind of citrus fruit. Pomelo is both delicious and nutritious, depicted as a symbol of perfection and completeness. Vietnamese locals have long been attached to this special fruit not only when eating, but also through childhood verses and songs.
This fruit is usually named after the province where it is found or planted.
A variety of pomelo types in Vietnam can be listed as:
Nam roi: specialties of Vinh Long province. It has a form similar to a pear. When ripe, the center is hollow and the skin is yellow with a rough surface.
Green skin (Da xanh): discovered in Thanh Tan commune, Mo Cay district, Ben Tre province. The name "Green skin" comes from the characteristics of the fruit that when ripe, the fruit remains green. The skin is usually thin and the center of the fruit is pink.
Doan Hung: grown in Doan Hung - Phu Tho. The skin is thin, yellow when ripe. The flesh of the fruit is yellowish, and has a sweet taste.
Dien: Derived from the sweet pummelo Doan Hung, grown in Phu Dien commune - Tu Liem – Hanoi. When ripe, the fruit is more eye-catching compared to the Doan Hung ones, the citrus is thick and sweet, and deserves to be a local specialty.
Phuc Trach: Planted in Huong Khe - Ha Tinh. The fruit is slightly flat, the skin is thin when ripe, yellow in color; its flesh is dry, yet stimulates a delicate taste.
Pomelo is an extremely nutritious, refreshing and healthy fruit of Vietnam. However, the stitching and peeling of this fruit takes time, making foreigners, and even locals afraid to do it. First, use a knife to cut off the bottom and top of the grapefruit, close to the center until the inside layer comes out. Then, separate the citrus into each piece, and peel the silk skin of the citrus to enjoy the sweet and sour taste of this summer fruit.
6. Lychee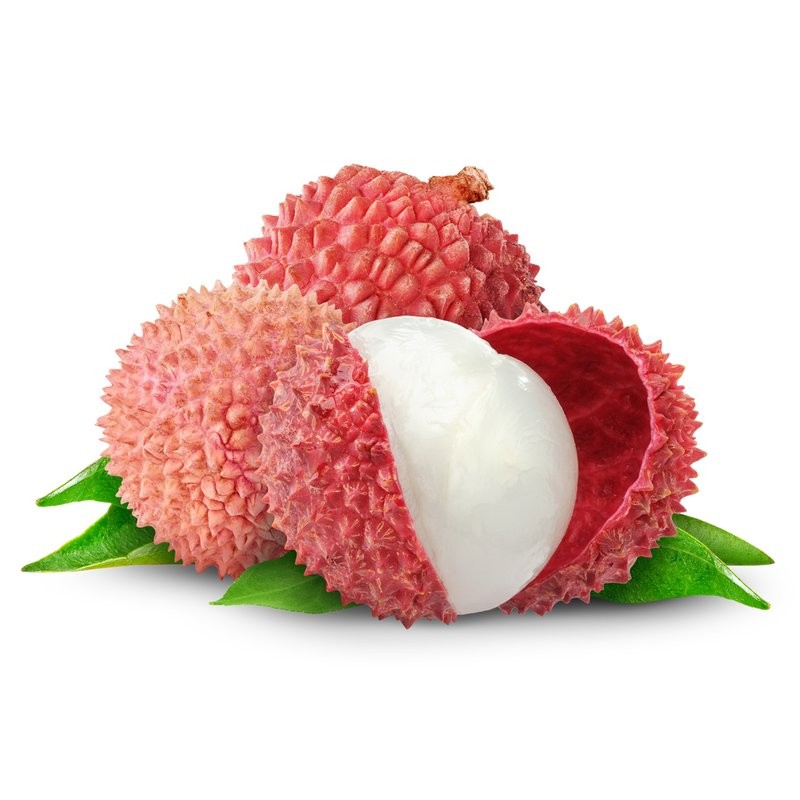 Photo: Getty Images
Lychee is a nice fruit with a sweet smell and taste, available in the summer and also a small fruit full of healthy nutrients. Lychee has a rough skin outside and contains juicy flesh inside. It is used as medicine in Asia.
Lychee is a great delicacy of Northern Vietnam thanks to its bunches of red-ripened litchis with fine skins, very small seeds, much sweet meat, a purely fragrant taste. Luc Ngan litchi products have been gaining popularity not only across the country but also have been exported to many foreign markets.
7. Rambutan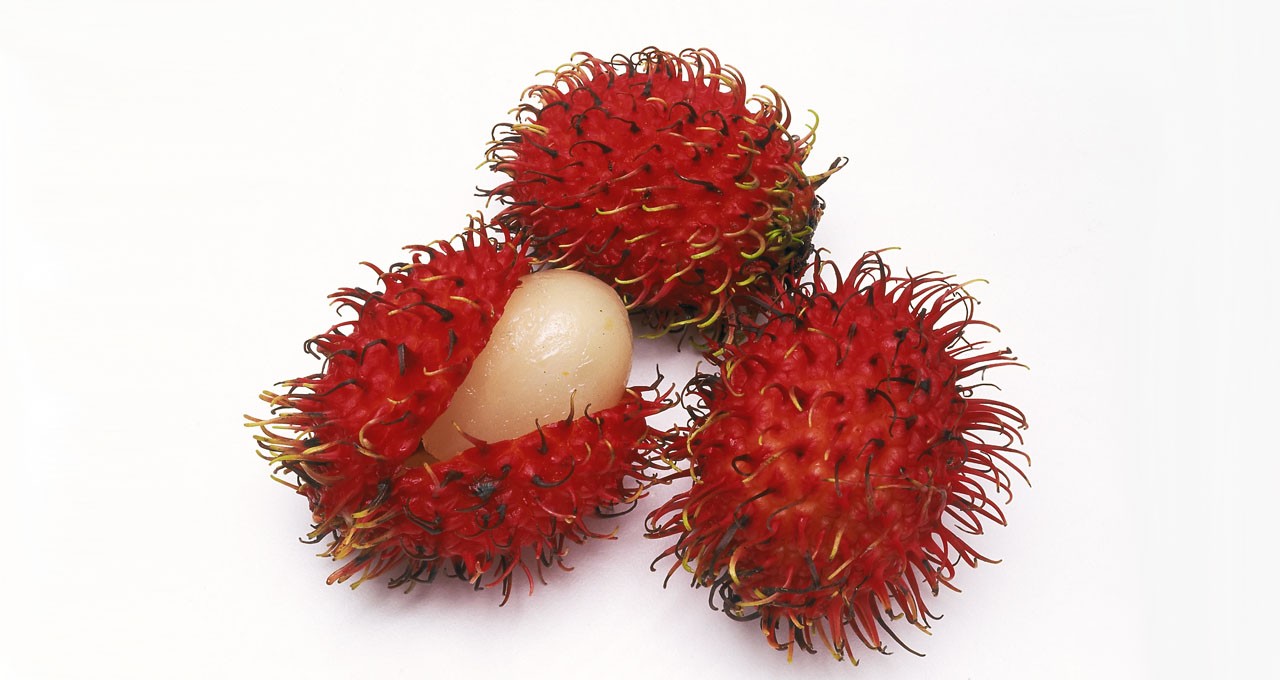 Photo: Shutterstock
Rambutan fruit has long been recognized as the "golden" fruit of Vietnamese agriculture, not only brings high nutritional value, but also provides good economic efficiency for growers. This fruit, with a hairy outer shell, appears in two colors - red and yellow, and has a quite sweet and slightly sour flavor. Rambutan is also considered one of the signature summertime fruits that tourists must try when they come to Vietnam.
This fruit today has many varieties with different properties and flavors.
Some of the popular types of rambutans in Vietnam and their characteristics are listed as follow:
The longan rambutan: has an oval shape with short hairs, the pods when ripe gradually change from green to yellow, pink and finally red. Since the weight of the fruit is quite small (20-30g), it is called Longan rambutan by farmers. This fruit is also known as the sugar rambutan because when eaten, the flesh of the rambutan is crispy and has a sweetness like sugar. Additionally, the price of the longan rambutan is quite cheap and easy to buy.
Java: This is a rambutan variety imported mainly from Indonesia and Thailand. The characteristics of this type of rambutan is that the flesh does not stick to the seeds, presenting in large size, long hair with a delicate taste. The Java rambutan and the longan rambutan are the two popular varieties supplying most of the Vietnamese domestic market.
Thai rambutan: also known as Rong-rieng rambutan and is a relatively popular type of rambutan recently. This rambutan has a quite large shape, weight from 50-70 g / fruit with thick flesh and very small, flat seeds. When ripe, the skin is red, very attractive to consumers. When eating Thai rambutan, the meat is slightly sweet, so it is very suitable for people who like to eat fruits that are not too sweet. The price of Thai rambutan is relatively high, however, because of its deliciousness, many people are still willing to buy it for their families to enjoy.