Trump discharged from hospital after three days, leaving stock market on the rise
President Donald Trump was discharged from Walter Reed medical center on Monday evening, three nights after he was admitted Friday to the military hospital for coronavirus treatment.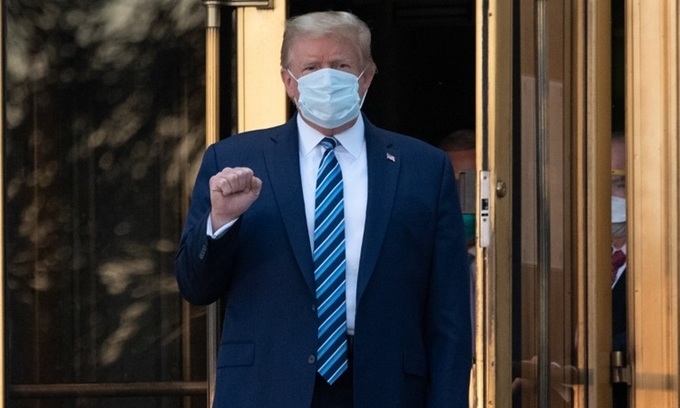 Trump at the front of Walter Reed National Military Medical Center on October 5 afternoon (Photo: AFP)
Trump discharged from Walter Reed National Military Medical Center
Trump, dressed in a dark suit and blue tie and wearing what appeared to be a surgical face mask, tapped a handrail as he descended the steps on his own outside the hospital. He took no questions from the gaggle of reporters waiting for him, but said "thank you very much" as he walked by. He then stepped into a black SUV, which drove him to his helicopter, Marine One.
As he entered the White House through the south portico, Trump turned to watch Marine One fly off. As he did, he appeared to remove his mask and put in the outer pocket of his suit jacket. He saluted the chopper and eventually entered the residence, without putting his mask back on, as reported by CNBC.
In a video posted to Twitter Monday evening, Trump said of his experience, "One thing's for certain: Don't let it dominate you."
"We have the best medical equipment, we have the best medicines, all developed recently," said Trump, who had stayed in Walter Reed's private presidential wing and received special access to experimental drug therapies.
"I know there's a risk, there's a danger, but that's OK," Trump added. "And now I'm better, and maybe I'm immune, I don't know."
The president, now back in the White House, will continue to be closely monitored by a team of doctors.
Shortly before his departure, Trump said he planned to promptly return to the campaign trail, where he has less than a month left to fight for a second term in office.
"Will be back on the Campaign Trail soon!!! The Fake News only shows the Fake Polls," Trump tweeted.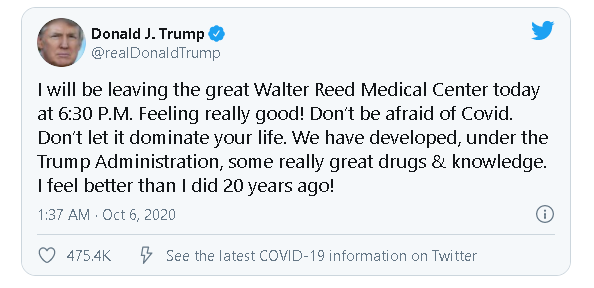 Trump's post on Twitter (Photo: Captured)
Trump's post on Twitter (Photo: Captured)
Trump had entered the hospital just three days earlier on Friday evening, the same day he announced in a tweet that he and first lady Melania Trump had tested positive for Covid-19.
But earlier Monday, Trump said he would come back to the White House by that evening, saying he is "feeling really good," and telling his nearly 87 million followers, "Don't be afraid of Covid."
In a press briefing following that tweet, Trump's doctors said that the president's condition has "continued to improve" over the past 24 hours.
But "he may not entirely be out of the woods yet," Dr. Sean Conley, the White House physician, cautioned.
Conley also confirmed that Trump had twice received supplemental oxygen while hospitalized with Covid-19.
The president remains infected with the virus. His treatment will continue at the White House, his doctors said.
How the length of his hospitalization compares to other coronavirus patients?
Trump's stay at Walter Reed National Military Medical Center is a relatively quicker trip in and out of the hospital compared to other coronavirus patients, research and medical experts say, according to Market Watch.
"If his doctors say he's safe to go, it's hard for me to argue," Dr. Daniel McQuillen, senior staff physician at Lahey Hospital & Medical Center in Burlington, Mass., told MarketWatch. "But who knows which way that relationship tilts."
McQuillen, who is also vice president of the Infectious Diseases Society of America, a professional association of infectious disease doctors, said many of his own hospitalized COVID-19 patients stay for a range around six to eight days. It skews closer to the eight-day mark or longer for an overweight, older man, McQuillen added.
When Trump announced early Friday that he and his wife, Melania, had tested positive, observers noted Trump, a 74-year-old man weighing 243 pounds at his last physical, was at a higher risk for a severe case.
If McQuillen had a COVID-19 patient with that same profile, he would at least keep the person hospitalized for another day or two to keep close tabs before they went home, he said. That way, McQuillen said, if there were any concerning developments, they would happen inside a hospital instead of at home
Trump to return to White House (Video: CBS News)
What's next for the president?
The Centers for Disease Control and Prevention recommends that people with a mild or moderate case of COVID-19 isolate and take other precautions for 10 days after the onset of symptoms. People with a more acute case should self-isolate for up to 20 days, the CDC added.
The question is whether Trump will follow the guidelines, McQuillen said.
"We [were] really trying to maximize everything that we could do for him," Conley said. "We debated whether we even started the dexamethasone. And we decided, in this case, the potential benefits early on [in] the course probably outweighed any risks at this time."
Stock markets higher as Trump returns to White House
As reported by Reuters, Asia's stock markets edged higher on Tuesday, cautiously adding to gains made with an improvement in both U.S. President Donald Trump's health and prospects for a U.S. stimulus package, while bonds and the dollar nursed losses.
Trump returned to the White House on Monday after a three-night hospital stay for treatment for COVID-19 and said he felt "real good".
Meanwhile U.S. House Speaker Nancy Pelosi and Treasury Secretary Steven Mnuchin spoke by phone for about an hour and were preparing to talk again Tuesday, continuing their work towards a deal on coronavirus relief spending.
S&P 500 futures ESc1 traded steady early in the Asian session, after the best daily gain on the S&P 500 index .SPX in a month overnight. Oil held sharp overnight gains.
MSCI's broadest index of Asia-Pacific shares outside Japan rose 0.2% to a two-week high. Japan's Nikkei .N225 rose 0.4%. South Korea's Kospi .KS11 rose 0.6% and futures point to a positive open in Hong Kong HSIc1.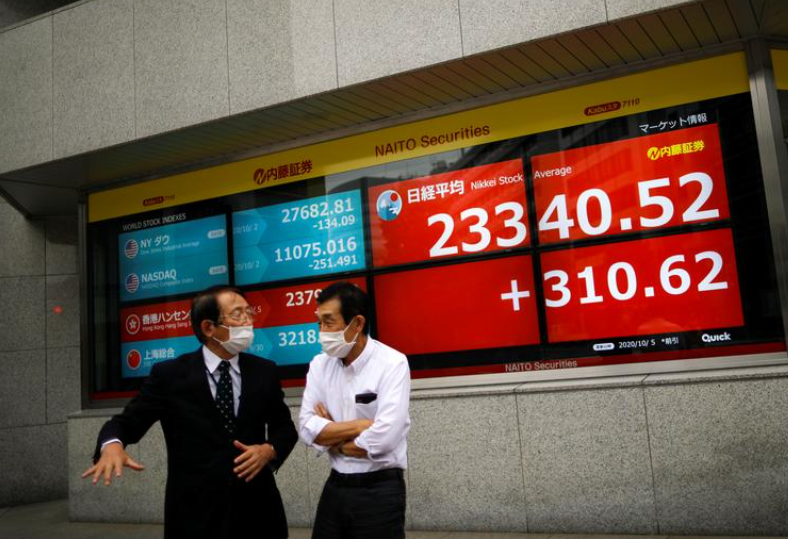 Men wearing protective face masks chat in front of a screen displaying Nikkei share average and world stock indexes outside a brokerage, amid the coronavirus disease (COVID-19) outbreak, in Tokyo, Japan October 5, 2020 (Photo: Reuters)
Australia's ASX 200 .AXJO dipped 0.2% in early trade. China's markets remain closed for a holiday.
Asian markets on Monday unwound most of a Friday selloff in the wake of Trump's COVID-19 diagnosis. With his improvement, Wall Street rallied sharply overnight with, energy, tech and healthcare stocks leading. The Dow .DJI rose 1.7%, the S&P 500 1.8% and the Nasdaq .IXIC 2.3%.
Bond markets also joined in, with the safe-haven asset being sold - especially at the long end - in line with the optimistic mood. The yield on U.S. 30-year government bonds US30YT=RR rose 10 basis points to a four month high of 1.5930%.
Benchmark 10-year yields US10YT=RR hit a more than five-week high, and held there in early Asian trade at 0.7784%.