Trump sued by Chinese-American group for calling Covid "Chinese virus"
Former U.S President Donald Trump has been sued by American-Chinese civil rights group for his racist terms "Chinese virus", "Wuhan virus" and "Kung Flu virus" sparking outrage during the coronavirus pandemic.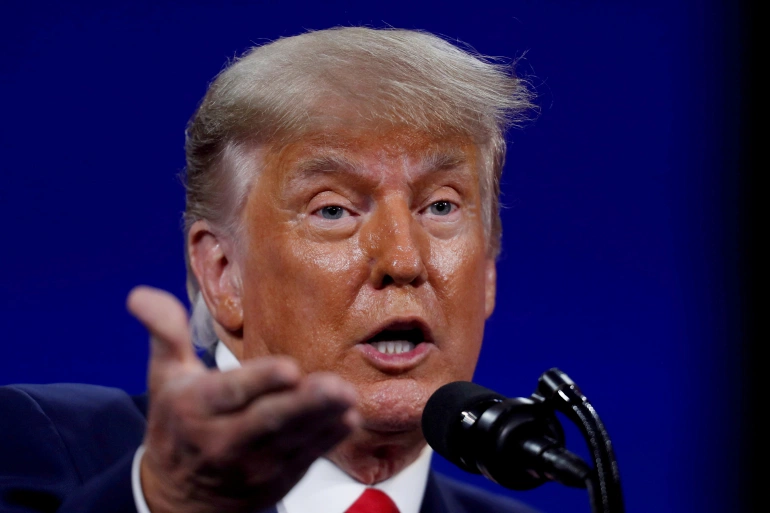 The Chinese Americans Civil Rights Coalition, a nonprofit organisation based in New York, filed a lawsuit against former President Donald Trump [File: Octavio Jones/Reuters]
The complaint, filed in a federal court in New York on Thursday by the Chinese Americans Civil Rights Coalition (CACRC), alleged that Trump's use of that phrase and other similar racist slurs is baseless, since the origin of the coronavirus is not yet determined, and that the former President's conduct harmed the community, reports Xinhua news agency.
According to the suit, Trump's statements during speeches and his postings on social media during the pandemic caused Chinese and Asian Americans "emotional distress" and led to an uptick in racially motivated violence against these communities across the country.
"Defendant's extreme and outrageous conduct indeed has caused members of the Plaintiff organization and to a large extent Asian Americans emotional distress and resulted in an unmistakable rising up trend of racial violence against Chinese Americans and Asian Americans from New York to California."
One of the highest-profile incidents of violence against Asian Americans happened on March 17 when a gunman shot eight people, six of them women of Asian descent, in three attacks on massage parlours in and around Atlanta, Al Jazeera reported.
The suit by the New York nonprofit focuses on Trump's relentless, and inaccurate, descriptions of COVID-19 as the "Chinese virus," the "Wuhan virus" and the particularly racist "Kung Flu." (Even Trump's aide Kellyanne Conway called the "Kung Flu" term "highly offensive.") Though the first known outbreak of COVID-19 was in China, the origin of the coronavirus has not been determined.
Trump's pointed demonizing of China and the Chinese is widely regarded as fueling a disturbing surge in violent attacks on Asian Americans.
A study from the University of California, San Francisco, published last month, found that Trump calling COVID-19 the "Chinese virus" in a tweet in March 2020 led to a marked increase in the use of anti-Asian hashtags on the platform.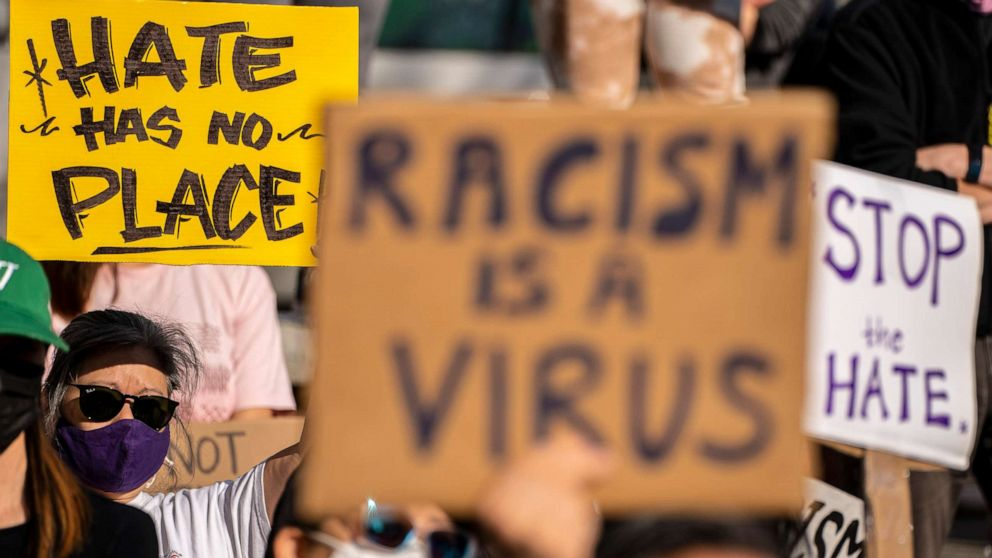 Demonstrators gather in the Chinatown-International District for a "We Are Not Silent" rally and march against anti-Asian hate and bias in Seattle, March 13, 2021. (Photo: Getty Images)
In New York City on March 29, a 65-year-old Filipino woman was assaulted while walking to church. The assailant kicked her in the stomach, knocked her to the ground and stomped on her.
In a statement to The Hill newspaper, Jason Miller, a senior adviser to Trump, said: "This is an insane and idiotic lawsuit that is specious at best, and it will be dismissed if it ever sees a courtroom."
"It's a complete joke, and if I was the lawyer that brought it I'd be worried about getting sanctioned."
According to a Pew Research poll published in April, 81 percent of Asian American adults said violence against them has been on the rise. Some 20 percent of respondents cited Trump's rhetoric about China as one of the reasons for the rise in violence against Asian Americans.
On Thursday President Joe Biden signed a bill that addressed the rise in hate crimes against Asian Americans and Pacific Islanders.
Biden and Vice President Kamala Harris, who is Black and Indian, discussed reports of stabbings, shootings and other attacks against Asian American and Pacific Islander individuals and their businesses since the start of the pandemic a little more than a year ago.
Harris said such incidents had increased sixfold in recent months.
After largely maintaining a low profile since losing re-election in November, Trump reportedly intends on resuming his signature rallies in June.
"We'll be doing one in Florida, we're going to do one in Ohio, we're going to do one in North Carolina," Trump told the conservative news outlet OAN on Thursday.
"We'll be announcing them very soon over the next week or two," Trump said.
These rallies will be his first public political events since speaking at the Conservative Political Action Conference in February.
Trump has been indefinitely banned from several social media platforms, including Facebook and Twitter, after his supporters stormed the US Capitol on January 6.
Trump's 'Chinese Virus' tweet helped lead to rise in racist anti-Asian Twitter content
A new study suggests that former President Donald Trump's inflammatory rhetoric around the coronavirus, which is believed to have originated in China, helped spark anti-Asian Twitter content and "likely perpetuated racist attitudes."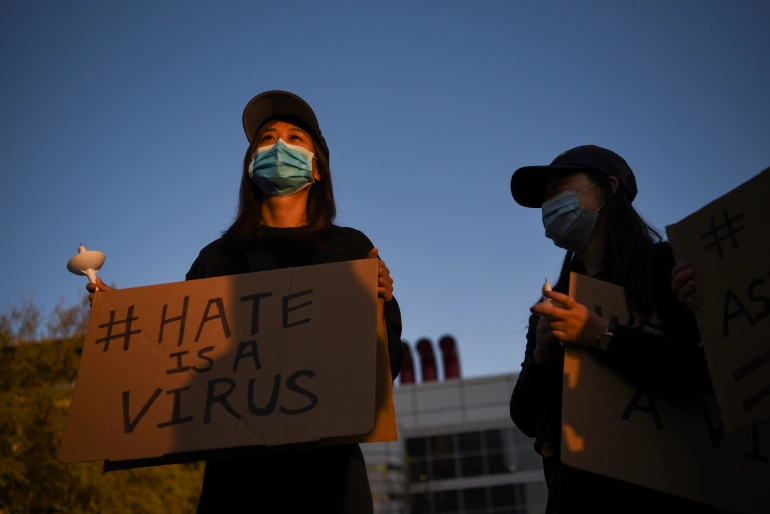 People protesting after the deadly shootings in Georgia and against violence targeting Asian Americans, in Houston, Texas, US [File: Callaghan O'Hare/Reuters]
The Asian American community has experienced a striking rise in incidents of hate since the onset of COVID-19, according to officials and advocates, and critics say the former president's repeated use of "China Virus" and other terms helped fuel an environment of hatred.
"Anti-Asian sentiment depicted in the tweets containing the term 'Chinese Virus' likely perpetuated racist attitudes and parallels the anti-Asian hate crimes that have occurred since," said Dr. Yulin Hswen, an assistant professor of epidemiology at UC, San Francisco and the study's lead author.
The results, published in the American Journal of Public Health, come in the wake of a string of attacks on Asian communities in the U.S., including a series of shootings in Georgia that left six women of Asian descent dead.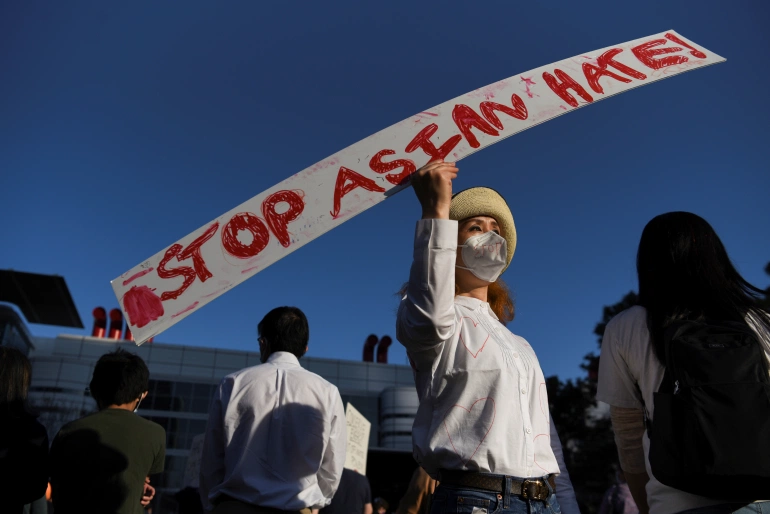 Some 20 percent of respondents, according to a Pew Research poll, said former President DonaldTrump's rhetoric about China is to blame for the rise in violence against Asian Americans [File: Callaghan O'Hare/Reuters]
The study indicated a difference in anti-Asian sentiment when using neutral hashtags such as #COVID-19 versus racist hashtags like #Chinesevirus -- 20% of the hashtags associated with #COVID-19 demonstrated anti-Asian sentiment, compared to 50% of hashtags with #Chinesevirus.
Not only did more people use the #chinesevirus hashtag days after Trump's tweet, but those who did were more likely to include other anti-Asian hashtags in their tweets, according to the peer-reviewed study published by the American Journal of Public Health.
Despite public health experts' request that people refrain from attaching locations or ethnicity to the disease, Trump argued that the term "Chinese virus" was not discriminatory or racist because the virus "comes from China."
Researchers, though, suspected they could demonstrate how his rhetoric inspired racist backlash against Asians.
"We wanted to provide evidence to show that the term 'Chinese virus' is associated with racist undertones," Hswen said.
To test their theory, Hswen and other researchers analyzed nearly 700,000 tweets containing the hashtags #covid-19 and #chinesevirus published between March 9 and 23, 2020, corresponding to the week before and the week after Trump's tweet. (All of the tweets analyzed were in English, and although most were published by U.S. users, the team did not set any geographic limitations when collecting the tweets.)
The group's analysis found that the week after Trump first tweeted the phrase "Chinese virus," the number of users tweeting the hashtag increased more than 10 times compared with before his post. Most who tweeted the phrase used it with a negative connotation and were more likely to display anti-Asian hate, the study found. Half the users who tweeted the #chinesevirus hashtag used other anti-Asian hashtags, while only 20 percent who used the #covid-19 hashtag did, according to the study.
The findings did not surprise Russell Jeung, a professor of Asian American studies at San Francisco State University and co-founder of Stop AAPI Hate, which tracks incidents of hate and discrimination against Asian Americans and Pacific Islanders in the United States. Jeung argued that Trump's repeated use of the phrase "Chinese virus" has a direct correlation with the rise in hate crimes.