Vietnam Index: Huge losses shown up in the first quarter of 2021
Despite the growth of 81% in total net profit of companies compared to the same period last year, many businesses still suffered huge losses in the first quarter.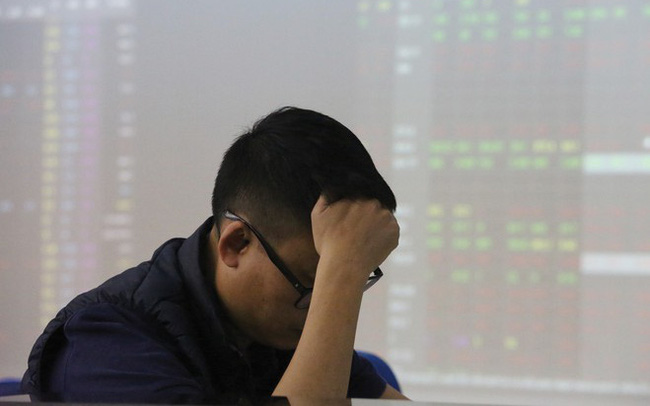 Businesses suffered losses in the first quarter
Vietnam Airlines (HVN) has the highest losses. In the first quarter, the airline giant continued to have an after-tax loss of 4,975 billion VND, an increase of more than 90% over the same period, due to the increasingly evolving Covid-19 pandemic which seriously affected the business.
With this result, as of March 31st, HVN has accumulated losses up to VND 14,219 billion. This loss exceeded its charter capital and pulled the company's equity from more than VND 6,000 billion to VND 1,031 billion.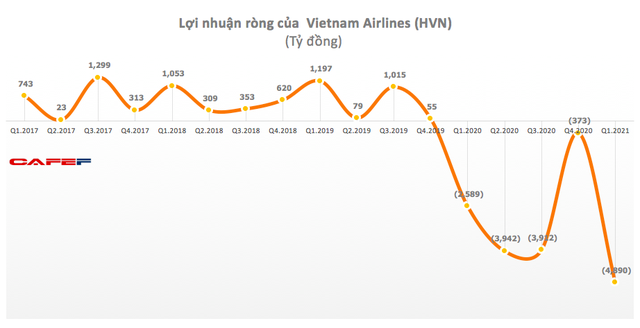 Net profit of Vietnam Airlines (HPV) (billion VND). Photo: CafeF
The next position was the loss of Vietttel Global (VGI), despite net sales of VND 4,628 billion, which was an 8% increase over the same period. Gross profit increased to 16%, from VND 1,635 billion to VND 1,900 billion, bringing gross profit margin increased by more than 3 percentage points to 41.1%.
The main growth driver in the last quarter came from the African market when revenue increased by nearly 18.5% to VND 1,750 billion and reached nearly VND 300 billion in profit - the highest among the three main markets. Currently, Viettel Global's Africa region records business results from Tanzania, Mozambique and Burundi.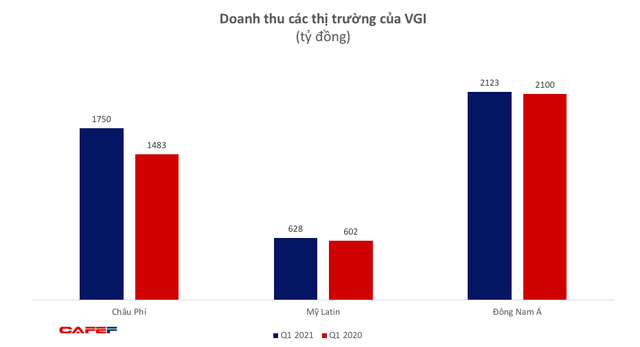 Revenue from markets of VGI (billion VND). Photo: CafeF
However, while the main business grew smoothly, Viettel Global encountered a force majeure event related to political upheavals in Myanmar. Although offset by the growth of other markets, this force majeure event resulted in pre-tax profit falling to VND -106 billion.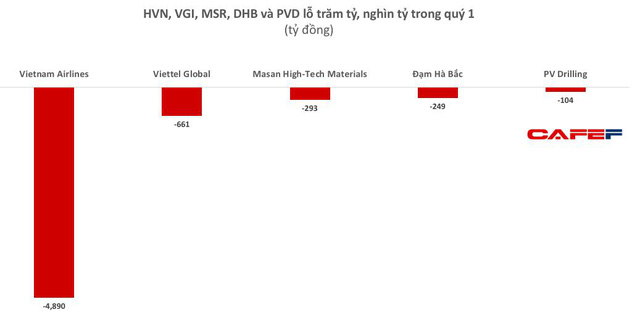 HVN, VGI, MSR, DHB and PVD lost hundred billion, trillion VND in Q1 (billion VND). Photo: CafeF
Then there was the loss of hundred billion VND of MSR, DHB and PVD in which Masan High-Tech Materials (MSR), despite having 2.8 times of net sales compared to the same period of VND 2,963 billion, mostly from sales of tungsten with a proportion of nearly 89%. However, the sharp increase in cost of goods sold and higher cost simultaneously caused the company to suffer an after-tax loss of VND 281 billion and a net loss of VND 293 billion, increasing the loss compared to the same period in 2020.
Ha Bac Nitrogenous Fertilizer and Chemicals (DHB) is still in a spiral of loss as it continues to lose another VND 249 billion in the first quarter of 2021 and its accumulated loss exceeds VND 5,000 billion. Before that, at the end of 2020, DHB had a loss of VND 1,462 billion, recording for the 6th year in a row. Ha Bac Fertilizer's business was at a loss. Recently, the General Meeting of Shareholders has approved the expected loss this year as more than VND 981 billion.
DHB said that in the first quarter, the fertilizer market had many positive changes, helping to increase revenue in the period, but the financial situation has not been improved, the mechanism to remove difficulties has not been resolved, interest expense still accounts for a large proportion so the company is still at a loss.
Petrovietnam drilling and Well Service Corporation (PVD), after having impressive business results in 2020 with profit after tax of VND 186 billion, exceeding 173% of the plan, has reported a loss of VND 110 billion in the first quarter of 2021 due to under-cost business.
The oil and gas industry still has many potential risks and challenges, and 2021 is supposed to continue to be a difficult year for oil industry. Accordingly, PVD has only set a revenue target of VND 4,400 billion and will strive to make a profit in 2021.
In addition to the aforementioned large losses, the market also recorded about 100 businesses with negative after-tax profits in the first quarter, of which more than 30 enterprises reported double-digit losses.
In which, the lead was the loss of VND 77 billion of Khanh Hoa Power JSC. (KHP), after having a record profit in the fourth quarter of 2020.
In this group, there continues to be the presence of familiar names such as Vietnam Sea Transport and Chartering JSC. (VST) and Nosco (NOS), which have suffered losses since 2012 until now. Fortex (FTM) also saw the 9th consecutive quarter loss.
In addition, due to the impact of the Covid-19, the market continued to experience difficulties for businesses in the fields of tourism and transportation, of which Vinasun (VNS) also suffered for the fifth consecutive quarter. It is estimated that in the second quarter, the company will continue to lose VND 21 billion. In 2021, VNS has an after-tax loss of VND 79 billion (improved compared to the previous year's loss of nearly VND 211 billion).
Vietnam Travel and Marketing Transport JSC. (Vietravel) reported a net loss of VND 71.5 billion. Before that, despite the heavy pressure from the epidemic, at the end of 2020, Vietravel (VTR) officially launched Vietravel Airlines.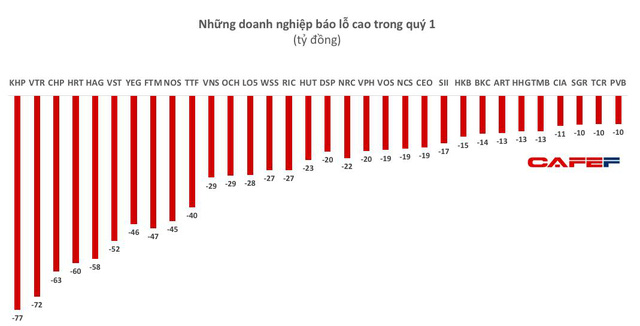 Businesses reported high losses in the first quarter (billion VND). Photo: CafeF
In general, the loss of businesses in the first quarter of this year has decreased significantly compared to the same period last year.
As for the traditional segment, the company adjusted its trade policy to attract some airlines that are doing double loading such as CI and KE, actively following the market and information from customers to have suitable solutions.
Vinasun is saving nearly VND 250 billion of cash to prepare to invest in a new car when the epidemic is under control and business conditions return to normal.
Yeah1 announced the "Breakthrough Alliance" ecosystem with the mission to elevate the available resources of manufacturing businesses with the expectation of dominating the go-to-market with Vietnamese products. In 2021 alone, Yeah1 sets a revenue target of VND 3,000 billion, based mainly on Giga1 growth.
Economy
Vietnam is the biggest economic partner of Poland in Southeast Asia, and the potential for stronger cooperation remains huge.
June 09, 2023 | 18:45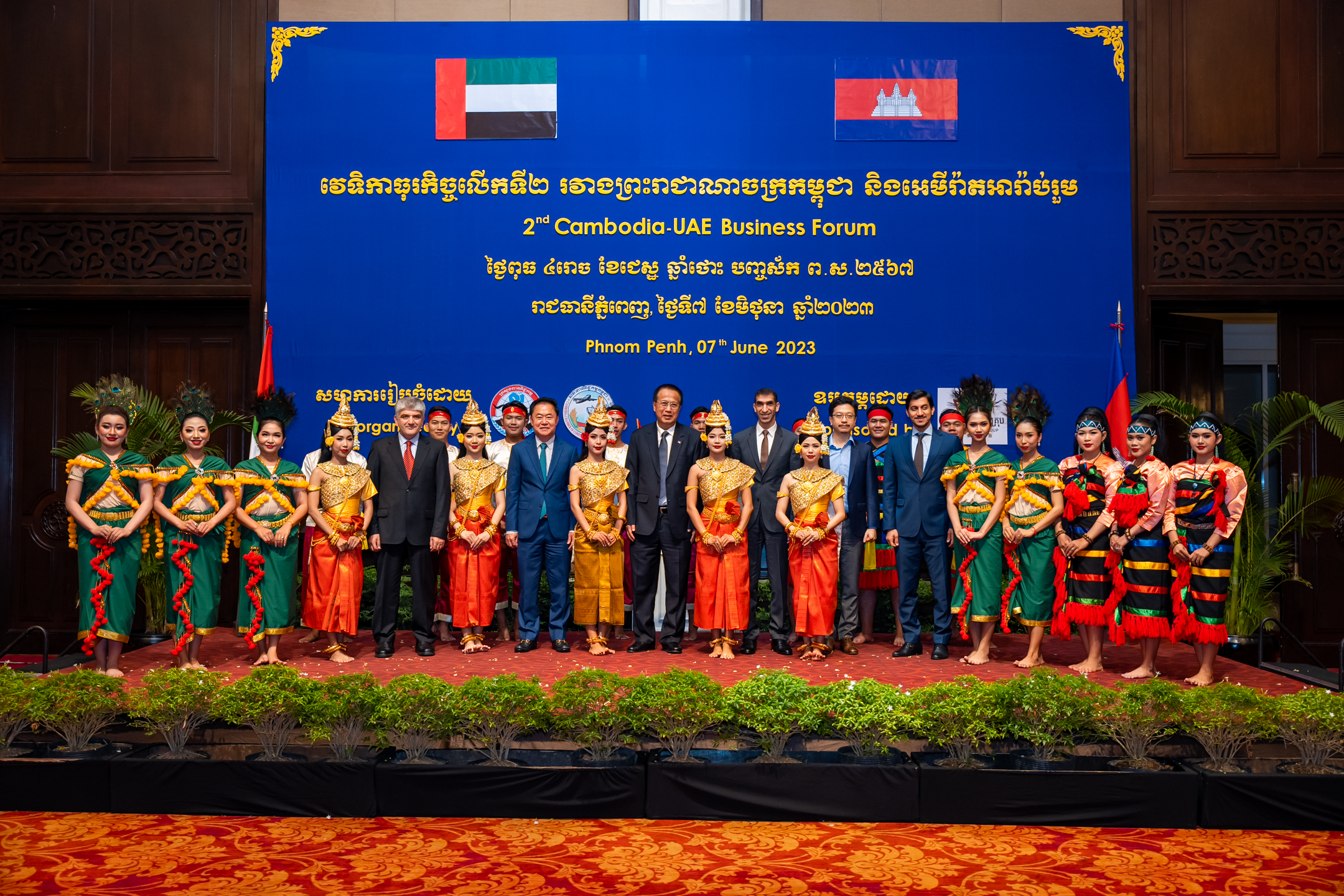 Economy
Prince Holding Group (PHG) recently participated in the 2nd Cambodia-UAE Business Forum, co-organized by the Ministry of Commerce Cambodia and the Cambodia Chamber of Commerce (CCC) at Sofitel Phnom Penh.
June 09, 2023 | 18:10
Economy
Born and raised in the HMT area of Srinagar in Jammu and Kashmir, Taha Mughal, a Cambridge alumnus and winner of the prestigious Fulbright scholarship for 2022-23, stands at the intersection of art, writing, and architecture.
June 09, 2023 | 07:00