Vietnam Suggests The Philippines to Continue Facilitate Rice Imports
Foreign Minister Bui Thanh Son expected the Philippines to continue giving priority to Vietnam's rice imports
Foreign Minister Bui Thanh Son on May 9 proposed that the Philippines create favourable conditions for Vietnamese businesses to boost rice exports to its market, VOV reported.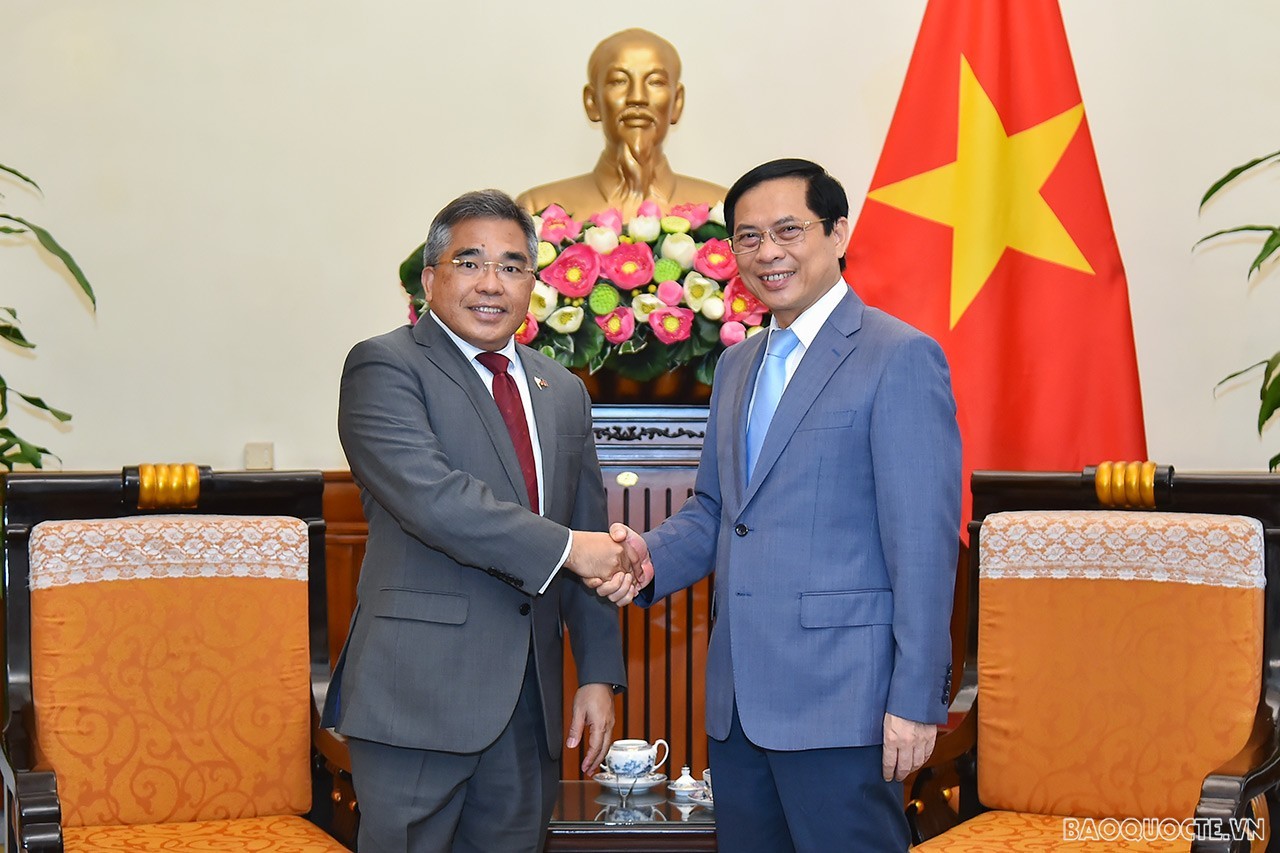 Foreign Minister Bui Thanh Son (R) receives Philippine ambassador Meynardo Montealegre in Hanoi on May 9. Photo: baoquocte.vn
While receiving Meynardo Montealegre, Ambassador of the Philippines to Vietnam, in Hanoi, Son expressed his delight at the positive development of the Vietnam-Philippines Strategic Partnership over the years.
As both countries have reopened their economies to the world, Son suggested the two sides work together to increase the exchange of visits and contacts at all levels, and to maintain bilateral cooperation mechanisms, so as to boost trade, tourism ties as well as cooperation between their localities.
He pointed to the fact that the Philippines is Vietnam's largest rice consumption market, and affirmed that Vietnam is always ready to supply rice to the Philippines in a stable manner.
He expressed his wish that the Philippine Government would continue to give priority to importing Vietnamese rice and create favourable conditions for Vietnamese enterprises to export rice to the Philippines.
The Minister asked the Ambassador to discuss with the relevant agencies of the Philippines a number of measures to support rice import and export activities of the two countries in the coming time, including enhancing the exchange of market information and policies related to rice import and export, as well as limiting trade barriers.
Ambassador Montealegre emphasized that he would continue to make efforts to contribute to promoting the Vietnam-Philippines relations. The ambassador assured that he would transfer Minister Son's proposals to relevant Philippine agencies for consideration to facilitate rice trade between the two countries.
Ambassador Montealegre then wished Vietnam successful hosting of the 31st Southeast Asian Games (SEA Games) from May 12 to 23.
Minister Son also wished the Philippines successful organization of the general election on May 9.
Last year, the Philippines was Vietnam's biggest rice buyer, importing 2.45 million tonnes worth over USD 1.25 billion, according to VNA.
In the first quarter of this year, the Philippines maintained its top position, making up 44.7% and 42.6% of Vietnam's total rice export volume and value, respectively.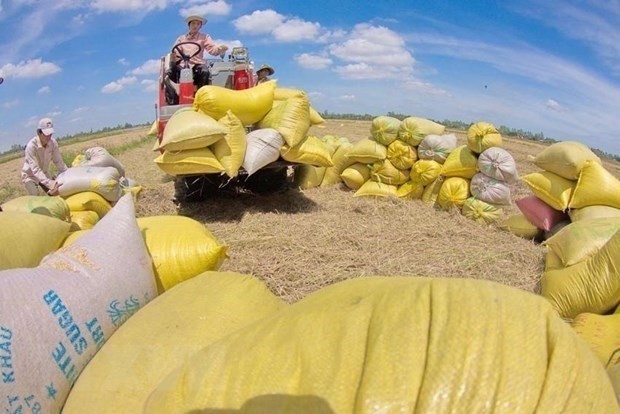 Farmers during rice harvest season in the Mekong Delta. There is still much room for growth for Vietnamese rice exporters in ASEAN markets. Photo: VNA
Apart from the Philippines, Vietnamese rice has also been exported to other major markets in the region like Malaysia, Singapore, Indonesia and Brunei.
Vietnam's rice exports to Malaysia in January rose 163.4% and 156% in volume and value compared with the previous month, and 104% and 67.5% year-on-year, respectively.
ASEAN's 700-million market has a lot in common with Vietnam in terms of culture, habits and preferences, according to the Ministry of Industry and Trade (MoIT), and there is still room to grow for Vietnamese exports in ASEAN markets, including Vietnamese rice, a major export of the country.
Vietnamese rice exported to ASEAN countries mainly was made up of lower-quality rice. As Vietnam has steadily moved to produce higher-quality rice, which currently accounts for up to 80% of the country's entire production, it will be difficult to compete with affordable brands from India, Myanmar and Pakistan in the future, according to the ministry.
As a result, Vietnamese rice prices have been on the rise since 2020. As the country continues to focus on producing high-quality rice, prices have been predicted to continue with an upward trend, especially after setting an export goal of just under 4 million tonnes annually by 2030.
To improve export efficiency, the Vietnam Trade Promotion Agency (Vietrade) under the MoIT held that the sector should review rice demand in each ASEAN market, saying Vietnam should pay more attention to trade policies with regional countries, maximise advantages brought about free trade agreements between ASEAN and partners worldwide, and further improve its technological capacity to raise the competitiveness of goods.