Vietnam to buy 31 million Pfizer doses in second half of 2021
The country has reached a purchase deal of 31 million Covid-19 vaccine doses with US-based Pfizer biopharmaceutical company.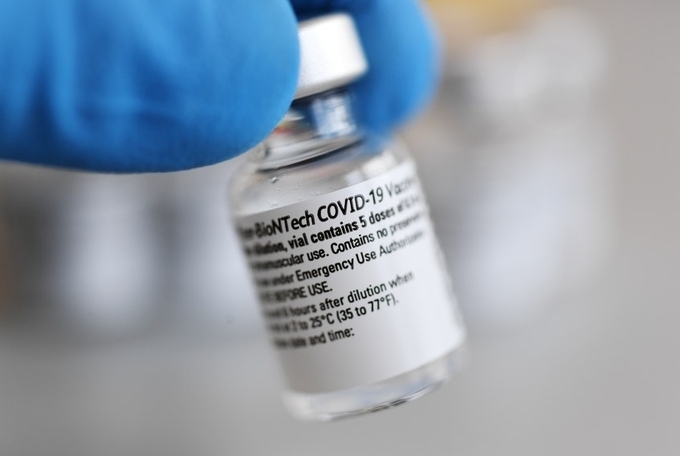 One vial of Pfizer vaccine (Photo: Reuters)
Vietnam is scheduled to get the batch in Quarters 3 and 4 at a reasonable price through the recent contract signed by the Ministry of Health.
"Pfizer pledges to sell the vaccine at the lowest price, which is dedicated for lower-income countries only," Truong Quoc Cuong, deputy minister of health said at the meeting on May 18.
The price of the deal, however, has not been disclosed by now.
The health ministry has been continuously negotiating with Pfizer on the price and other conditions of the contract. It is also in talks with other manufacturers for additional Covid-19 vaccine supply, including AstraZeneca, Moderna, Gamelaya while expediting vaccine production technologies transfer.
Earlier at the Government regular meeting on purchasing Pfizer vaccine on Monday, Prime Minister Pham Minh Chinh affirmed that buying the vaccine is an urgent task, which should be done in accordance with guidelines set by the Political Bureau and Secretariat of the Communist Party of Vietnam, as well as the Government's resolution.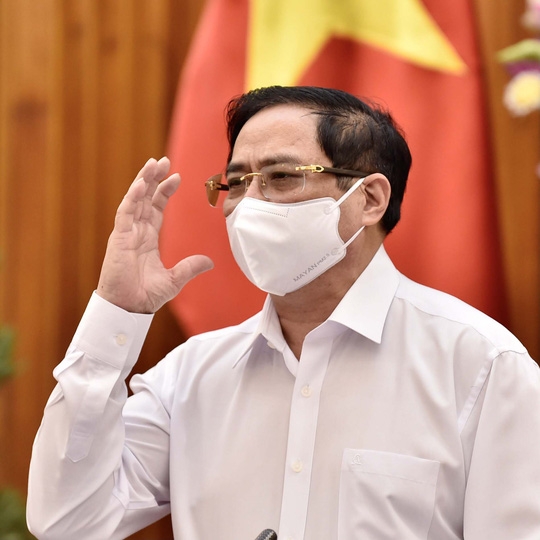 PM Pham Minh Chinh (Photo: VOV)
The PM assigned the Ministry of Planning and Investment to appraise the health ministry's vaccine purchase plan and also to select contractors under the Bidding Law before submitting the proposal to the PM for further consideration and approval.
Pfizer Covid-19 vaccine is co-developed by Pfizer pharmaceutical company (US) and BioNTech company (German) from the messenger RNA or mRNA, which contains the instructions for human cells to construct a harmless piece of the coronavirus called the spike protein.
In late 2020, the manufacturer announced to price the vaccine at 39 U.S. dollars per dose. Albert Bourla, CEO of Pfizer in April said the company will lower the price for lower-income countries. It also pledged to supply 40 million doses for the global Covax program which is co-led by WHO and Gavi to accelerate the manufacture of Covid-19 vaccine and ensure equitable access for all countries.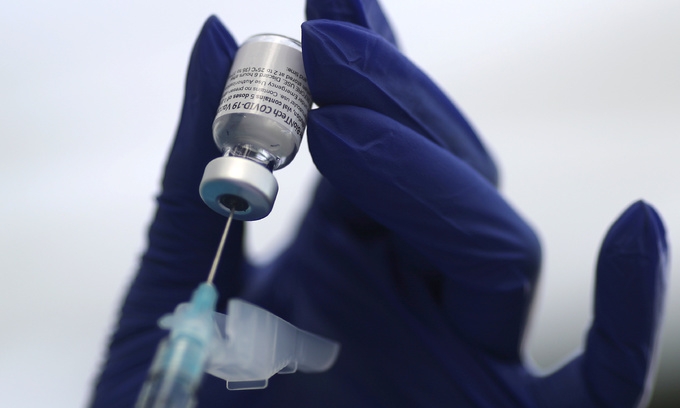 A healthcare worker prepares a Pfizer coronavirus disease vaccination shot in California, US. (Photo: Reuters)
The health ministry said last Friday that it has reached agreements to have 110 million doses of Covid-19 vaccine provided for Vietnam in 2021.
38.9 million of AstraZeneca vaccine, produced by British-Swedish firm AstraZeneca and Oxford University, will be provided to Vietnam via the global vaccine access mechanism Covax, which is backed by the World Health Organization to distribute vaccines to low- and middle-income countries. Around 2.5 million doses under this program have arrived in Vietnam.
Aside from the vaccine provided by Covax, Vietnam had already secured a deal to have Vietnam Vaccine JSC (VNVC) buy 30 million doses from AstraZeneca. Of these, 117,600 doses have been delivered.
Besides, the ministry has also registered to buy about 10 million additional doses through Covax under the cost-sharing scheme to enjoy the lower prices.
Vietnam began its own Covid-19 inoculation program on March 8 after using the AstraZeneca vaccine that arrived either through contracts or Covax.
So far, over 977,032 people have been inoculated, mainly frontline workers of the Covid-19 fight and medics at local hospitals.
Vietnam is grappling with the 4th outbreak which is evaluated as the biggest one since early last year. Within 22 days since its onset, a total of 1,503 cases have been reported. Bac Giang, Bac Ninh and Hanoi are having the highest tally, which stands at 517 cases, 322 and 246 respectively.