Vietnamese Businesses Seeking Opportunities in Seoul Food 2022
20 Vietnamese food companies joined Seoul Food 2022
Vietnamese fruits promoted at Seoul Food 2022.
20 Vietnamese enterprises are participating in Seoul Food 2022 held at the Korea International Exhibition Centre (KINTEX) starting from June 7, reported VNA.
The event provides an ideal venue for Vietnamese food and beverage businesses to strengthen trade promotion activities, and effectively gain entry into the Republic of Korea (RoK)'s market, as well as other countries around the world.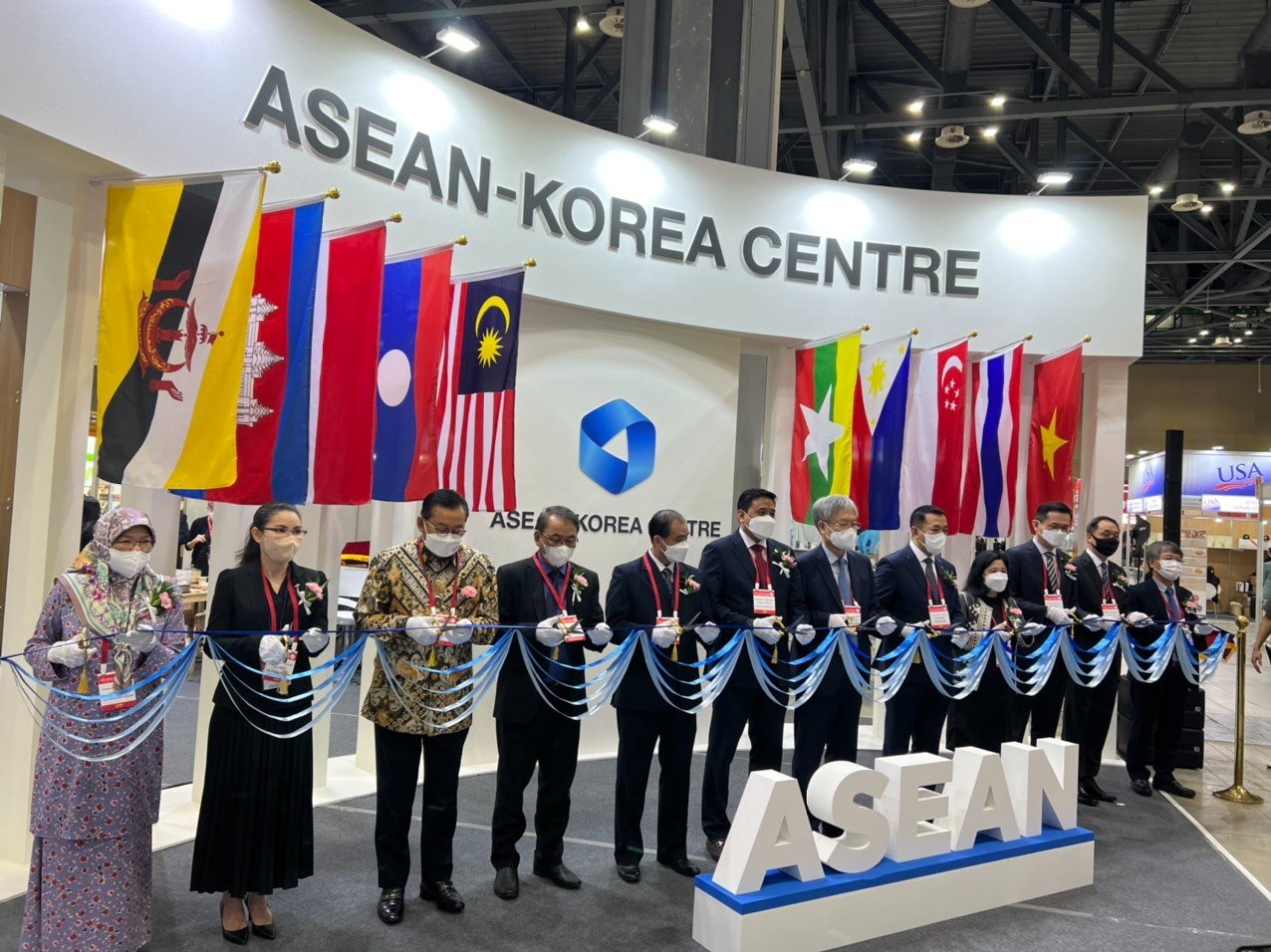 Vietnamese Ambassador to the RoK Nguyen Vu Tung attended the opening ceremony of the expo. Source: GC Food
Hoang Thi Quynh Tram from the TS Food Company said her company has been exporting their products to the RoK for six years, adding that the company wishes to seek new customers who are interested in Vietnamese fruit and vegetables in the post pandemic.
Lam Dong Province's TS Food Company has participated in the Seoul Food for the first time, said Tram.
"Vietnam's agriculture has great potential for export and the participation in events like this one would further promote Vietnamese farm produce worldwide," she said.
Tran Thi Kim Giang from the Bao Hung International Joint Stock Company said the company's key products are confectionery, cookies, chocolate-covered soft cakes, chocolate candies, and Omeli-branded jellies, adding that the RoK is one of the firm's major markets moving forward.
According to Giang, the company has cooperated with two South Korean distributors for three years and the East Asian country has become one of its main markets. "We want to further boost export to the South Korean market in the near future," she added.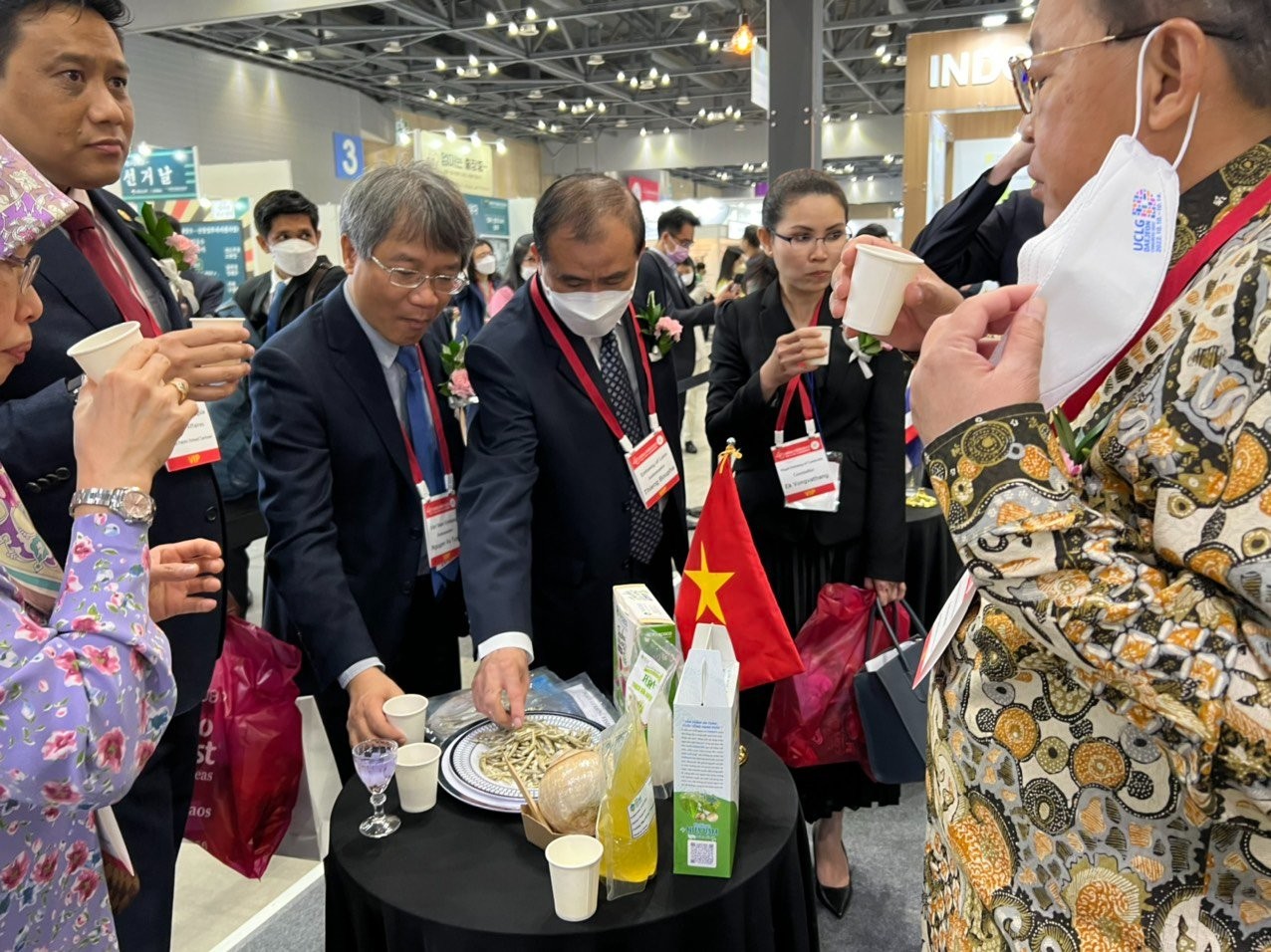 Delegates visit one of Vietnam's booth. Source: GC Food
Vietnam's participation at the event aims to seek opportunities for exporting a number of high quality products that are on harvesting season. Photo: VNA
Within the framework of Seoul Food 2022, the ASEAN - Korea Centre has coordinated with relevant agencies to organise the ASEAN Trade Show 2022 in support of micro, small, and medium-sized enterprises (SMEs) to gain entry into markets and improve their overall competitiveness.
The ASEAN Trade Show 2022 will also focus on promoting the food service industry, which has been hardest hit by the Covid-19 pandemic, supporting the growth of SMEs in ASEAN, while simultaneously promoting economic cooperation between the bloc and the RoK.
As one of the leading famous food industry exhibitions in Asia, Seoul Food 2022 attracted more than 800 companies with 1,600 booths from 30 countries and territories.
It is a good opportunity for Vietnamese food and beverage businesses to strengthen trade promotion activities and effectively access potential markets in the RoK and other countries.
It will last until June 10 and is expected to attract 30,000 visitors.
Established in 2014, the ASEAN trade show has supported ASEAN small and medium-sized enterprises in many fields that wish to target the South Korean market.
The RoK and ASEAN implemented their free trade agreement (FTA) in 2007.
Currently, the RoK is the biggest investor in Vietnam with 9,223 underway projects worth USD 74.7 billion. It is Vietnam's second-largest labor export market and the third-largest trade partner, with two-way trade reaching USD 78 billion in 2021.
Localities of the two countries have signed about 80 memoranda of understanding across various areas including trade, investment, people-to-people exchange, agriculture, education-training, and labour.