Vietnam's COVID-19 vaccine proves effective on new variants
The locally-made Covivac vaccine is said to have triggered high immunity response against new Covid-19 variants emerging in the world, but further studies are still needed Pro. Dang Duc Anh, Research director of the National Institute of Hygiene and Epidemiology (NIHE) claims.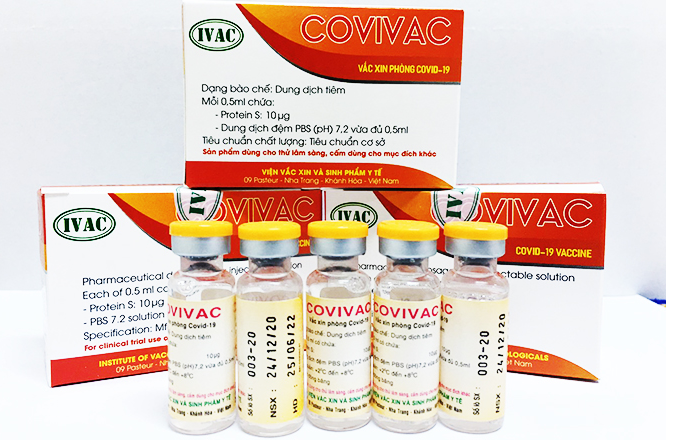 Covivac vaccine (Photo: Bao Khanh Hoa)
NIHE is currently cooperating with the Institute of Vaccines and Medical Biologicals (IVAC) to human trial Covivac. 120 healthy volunteers with no underlying diseases, aged between 18 and 59, participate in the trial.
Covivac is scheduled to enter the first phase of human trial in late February, expected to finish in April. The team is finalizing all related documents to deploy the trial in the shortest time.
"For now, Covivac vaccine is still effective against novel variants. However, the response is lower in the variant from South Africa", Anh was quoted by VNE as saying. "We'll further monitor the data to get the exact evaluation as the variants are new, and the coronavirus is constantly mutating".
The Covivac vaccine is the research work of the Institute of Vaccines and Medical Biologicals (IVAC) under the Ministry of Health (MOH). It had earlier yielded safe results and a strong immunity responses on mice, rabbits, etc. Given promising results on animals, the vaccine is granted to enter human trials starting January, two months earlier than expected.
"If all three trial phases yield good results, Vietnam might have the vaccine in late 2021", Thai said. "IVAC has an edge in the production process thanks to its available infrastructure, technology, and decade-long experience in producing flu vaccines", Dr. Duong Huu Thai, Director of IVAC said.
Speaking at the meeting on February 9, Minister of Health Nguyen Thanh Long highly appreciated the contribution of NIHE to Vietnam's COVID-19 vaccine development. In 2020, the Institute successfully isolated nCoV, naming Vietnam as one of the four countries worldwide to isolate nCoV.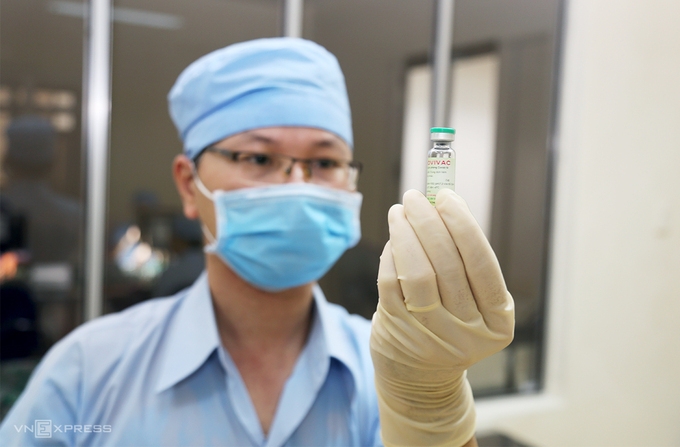 (Photo: VNE)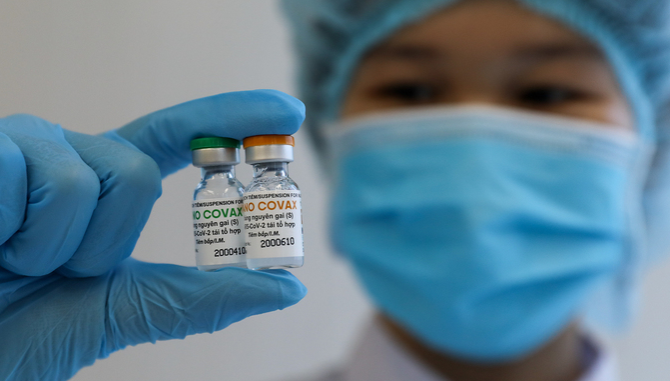 A medical worker holds up two vials of Nanocovax, a Vietnamese Covid-19 vaccine, on December 17, 2020. (Photo: VNE)
Meanwhile, Nanogen's Nanocovax is another made-in-Vietnam candidate that yields positive results. Its first phase of human trial has completed, with a high immunity response on volunteers.
The second phase is planned to start right after the first one and last for 6 months. 400-600 volunteers aged 12-75 will be recruited for the trial, which evaluates the immunogenicity and preventive potency of the vaccine.
The third phase (August 2021 - February 2022) is planned to take place in an epidemiological area in India, Indonesia, or Bangladesh to gather enough 1,500 – 3,000 volunteers aged 12-75.
Nanocovax is priced at VND120,000 ($5.17) per dose. Along with injections, Vietnam's COVID-19 Nanocovax vaccine will also be developed in the form of eye-drop and nasal spray for special subjects.
Two other vaccine candidate developed by Vietnam's manufacturers, namely Vabiotech, Polyvac are currently evaluating their vaccines on animals, having completed the laboratory-scale production process.
As 2020 drew to a close, scientists warned of the danger of the variants from the UK and South Africa. Since the emergence, they quickly prevailed in many parts of the world. Both variants were more contagious, deadly and could worsen the already disastrous pandemic. Several COVID-19 vaccine manufacturers, including Moderna and Pfizer have recently announced their candidates are effective against these variants.
On global scale, there are currently 11 COVID-19 vaccine candidates under the third phase of human trials. Pfizer/BioNTech's vaccine (the US) is the first vaccine to complete the trials with 95 percent effectiveness and granted emergency use authorization from the UK and Bahrain.
Meanwhile, Moderna's vaccine is on its final clinical trial phase, with effective rate reaches 94.5 percent. Oxford/ AstraZeneca is 70-90 percent effective, depending on the injection dose. Russia's Sputnik V (95 percent effective) is scheduled to begin mass vaccination next week.
Moderna's vaccine is priced at 37 USD per dose, meanwhile, Pfizer's vaccine and Oxford's vaccine are more reasonably priced at 19 USD and 3 UDD per dose, respectively.