Vinfast denounces and reports a customer over 'misleading' YouTube complaints
Vinfast has responded to an incident on Youtube, in which Tran Van Hoang of the GogoTV channel produced and uploaded a video talking about Vinfast's Lux A2.0 fault.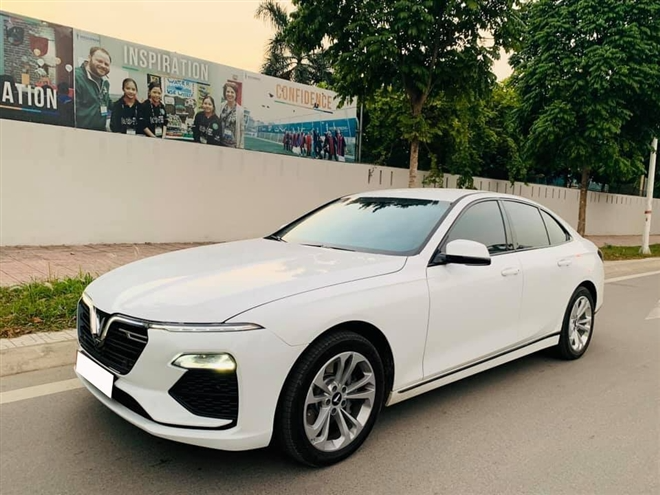 Vinfast Lux A2.0.
The response posted on Vinfast's official Facebook fan page on Monday evening.
According to Vinfast, the automobile arm of Vietnam's largest conglomerate, Vingroup, between April 20-28, Youtuber Tran Van Hoang, who owns the GogoTv channel with over 400,000 subscribers produced and uploaded videos with misleading content around Vinfast Lux A2.0 which was believed to make its users confused and affected Vinfast reputation.
"The act of producing and delivering false information of Mr. Tran Van Hoang has caused damage to Vinfast brand's reputation and matter, as well as insecurity for other customers of the company. Although Hoang himself had removed the above videos, we saved all the evidence and sent them with a denunciation to the police ", emphasized VinFast.
Vinfast also affirmed to listen and willing to check and handle all issues relating to cars and services for their clients. However, it will resolutely clarify the same wrongdoings, affecting the brand, and especially causing anxiety and confusion for the users. This is a way for VinFast to show respect and desire to protect the ultimate interests of true customers.
Previously, in a 30-minute-video posted on Gogo TV, Hoang took a Vinfast LuxA2.0 with a detailed license plate as a piece of evidence, saying the car needed repairing over 10 times in just 4 months in use with 10 serious failures including an inaccurate tire pressure sensor, wireless charging flicker, the function key on the steering wheel is disabled among others.
"I have just bought a Vinfast Lux A2.0 in January 2021 and got a pretty big car handover party at Landmark 81, but by April it was so boring that I wanted to put it away", Hoang said in a video.
Vinfast betting big on the U.S. market
A recent arrival on the automotive scene and the No. 5 car brand in Vietnam, VinFast is not short on ambition, with its sights set on a U.S. listing and a valuation of as much as $60 billion, according to two sources familiar with its plans, Reuters reported.
It will launch in North America and Europe in 2022, CEO Nguyen Thi Van Anh told Reuters, joining a crowded field of players seeking to compete with Elon Musk's Tesla, including a slew of loss-making upstarts fuelled by a Wall Street fundraising craze.
"We are going to North America - U.S., Canada - and Europe at the same time. In Europe, we're going to Germany, France and the Netherlands," Van Anh said in an interview at the company's sprawling factory complex near the northern port of Haiphong.
Standing behind VinFast is Vingroup, Vietnam's answer to a South Korean chaebol or catch-all conglomerate. Founded as an instant noodle business in post-Soviet Ukraine, the company's trajectory has mirrored that of Vietnam, one of Asia's fastest-growing economies, with interests spanning real estate, resorts, schools, hospitals and smartphones.
Even with such formidable local backing, VinFast has its work cut out as industry giants such as General Motors, Toyota (7203.T) and Volkswagen (VOWG_p.DE) spend tens of billions of dollars to develop electric and driverless vehicles.
Founded in 2017 with a team led by former General Motors Co executives, the company is aiming to compete on vehicle size and price – pitching an electric SUV that Van Anh described as "more luxurious" than those currently on offer.
VinFast cars will also come with a battery leasing scheme that means the cost of the battery, one of the most expensive components of an electric car, will not be included in the final price.
Economy
(ANI): The Union Public Service Commission (UPSC) witnessed a three percent rise in the number of Muslims candidates who cracked the most competitive exam in the country this year.
June 03, 2023 | 06:00