Who Is Arief Harsono – Founder of Indonesia's Largest Oxygen Company Dies Of Covid?
Arief Harsono, a famous business man in Indonesia, died of Covid-19 on July 2. He was CEO of Indonesia's biggest oxygen company and worked hard to help Indonesia become independent in the oxygen field.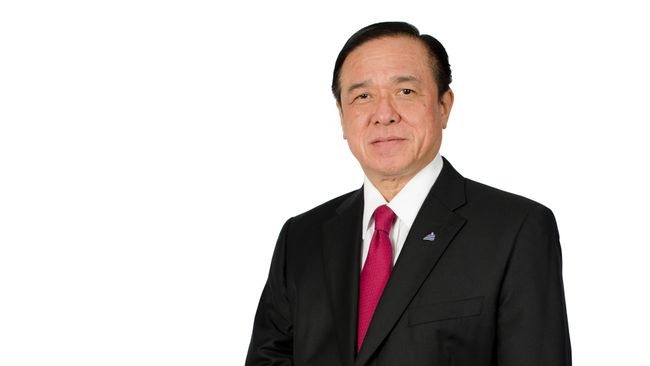 Arief Harsono, CEO of Samartor, has died of Covid-19. Photo CNN Indonesia
Arief Harsono's Biography And Details About His Death
Arief Harsono, a businessman from Surabaya, was born in Toli-Toli on July 18, 1954.
Manager of Legal Samator Group Surabaya Headquarters Valentino Januar Krismanto revealed that Arief Harsono died on Friday, July 2, 2021 at around 21.30 WIB at Adi Husada Hospital – Undaan Surabaya.
"Information from Mrs. Imelda Mulyani Harsono, her daughter, our direct supervisor, father was exposed to Covid-19," said Valentino as quoted from Detik on Saturday, July 3.
Prominent politician Rachmawati Soekarnoputri, daughter of Indonesia's founding father and first president Sukarno, also died on Friday after being treated for Covid-19, cited Insider.
When Did He Found The Oxygen Company?
Arief Harsono (second from left) and his colleagues. Photo CNBC Indonesia
He founded Samator in 1975, which produces industrial gases and chemicals. Quoting from the Aneka Gas website, he earned a Masters degree in Teaching and Education in Buddhism from the Maha Prajna High School of Buddhism (STAB) in Jakarta in 2012.
"He is the founder of Samator Group. He has served as Commissioner of the Company since 2006. He is currently also serving as President Director of PT Samator (1975-present)," quoted Aneka Gas.
Subsequently he was the President Commissioner at PT Samator Gas Industri (1992-present), the President Commissioner at PT Samabayu Mandala (1966-present) and the Deputy President Commissioner at PT Krakatau Samator (2013-present).
The positions in the organization that are currently being carried out are as Chair of the Indonesian Industrial Gas Association, Chair of the DPP Pandita Buddha Maitreya Indonesia Council, and General Chair of PBVSI IV.
Launching Instagram Hermanto Tanoko @htanoko quoted on July 3 said Samator Group has grown into a Multi Trillion Rupiah company with more than 3,000 employees.
In 2004, Samator aggressively expanded its industrial gas business by acquiring PT Aneka Gas Industri.
Arief also holds positions in a number of organizations. Among them are the General Chairperson of the Indonesian Buddhist Association, the General Chairperson of the Indonesian Industrial Gas Association, the Chairperson of the East Java DPP Apindo, the General Chairperson of the Walubi DPP, the Chairperson of STAB Maitreyawira, the Chairperson of the PBMI Assembly DPP, the General Chairperson of the LPTGN Central Management, and the Deputy Chairperson of the IV PBVSI.
What Did Others Say About Arief Harsono's Death?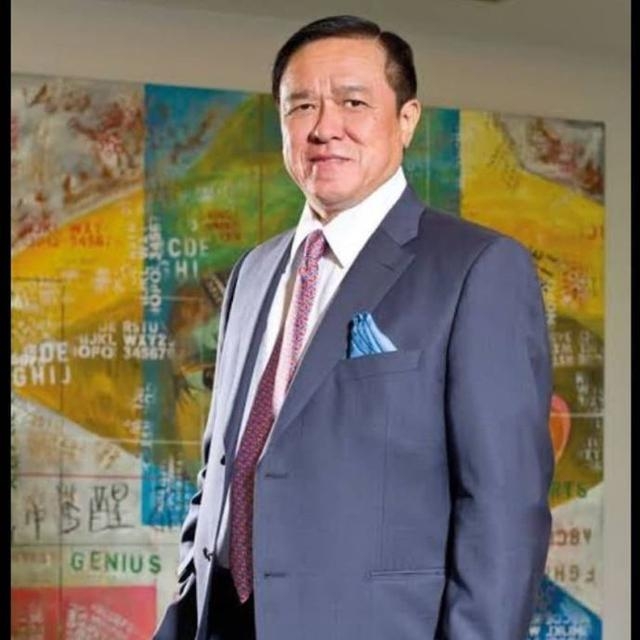 Photo Liputan6
Manager of Legal Samator Group Surabaya Headquarters Valentino Januar Krismanto recalled that on June 25, 2021, he had a chance to talk with Arief about the condition of Covid-19 and the adequacy of oxygen. Arief also answered and estimated that it would continue to rise until mid-July.
"Thank you and goodbye friends, partners, extraordinary role models Mr. Arief Harsono, he has helped thousands of people in the vaccination program and is busy every day coordinating the allocation of oxygen by traveling to all hospitals in Indonesia," he said.
"Indonesia has lost one of the largest gas entrepreneurs in Indonesia. Ir. Arief Harsono, MM., M.Pd.B., the boss of the Samator Group who breathed his last at 21.30 WIB, Friday 2 July 2021, @RS Adi Husada, Surabaya," wrote Hermanto, quoted on July 3.
"Indeed, all Oxygen Producers are overwhelmed with gas cylinders and transport. So these past few weeks I have been busy coordinating the lack of Oxygen at the West Java, Central Java & East Java Hospitals, so I kind of forgot to take a break," he said conveying what Arief had conveyed.
He said that at this time we all lost a Hero who has struggled to meet the needs of Oxygen in Indonesia.
He also felt that he lost Arief. For him, the late is a hero who has struggled to meet the oxygen needs in Indonesia. Even last month some entrepreneurs have donated five containers of oxygen to India.
"Thanks to his persistence, Indonesia has become independent in the field of oxygen," he said.
Arief Harsono had a chance to meet Indonesian President Joko Widodo. Photo Instagram
Oxygen shortages
Indonesia is struggling with one of Asia's worst coronavirus outbreaks as new cases more than quadrupled in a month, prompting a critical shortage of oxygen in several areas.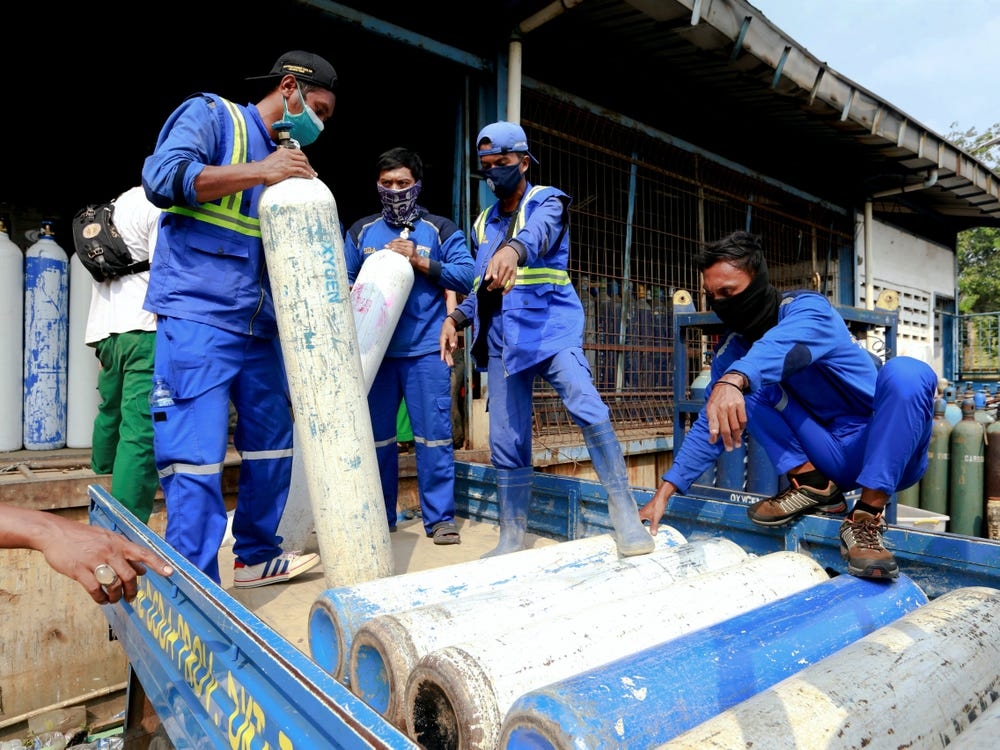 Indonesia is suffering from an oxygen shortage as Covid-19 and the Delta variant rip through the country. Photo Reuters
At least 33 people died at a hospital in Yogyakarta when its supply ran out over the weekend and the government last week asked oxygen producers to send all their supplies to hospitals and clinics.
Bambang Harymurti, a public affairs analyst in Jakarta, told Al Jazeera the situation on the ground is getting worse.
"If you look around, many hospitals are either closed because they are so full they don't admit any more patients and they are asking people to donate oxygens. The government is asking people not to buy oxygen because hospitals need them," he said.
"And in fact, the authorities said the police might have to raid many places by Thursday if this situation where people are lining up to buy oxygens and essential medicine [continues]. Medicine prices are sky high now."
Indonesia's overwhelmed healthcare system has been teetering on the brink of collapse as jammed hospitals turned away patients, forcing desperate families to hunt for oxygen tanks to treat the sick and dying at home.
Daily COVID burials in Jakarta are up 10-fold since May, and patients are increasingly dying in isolation at home.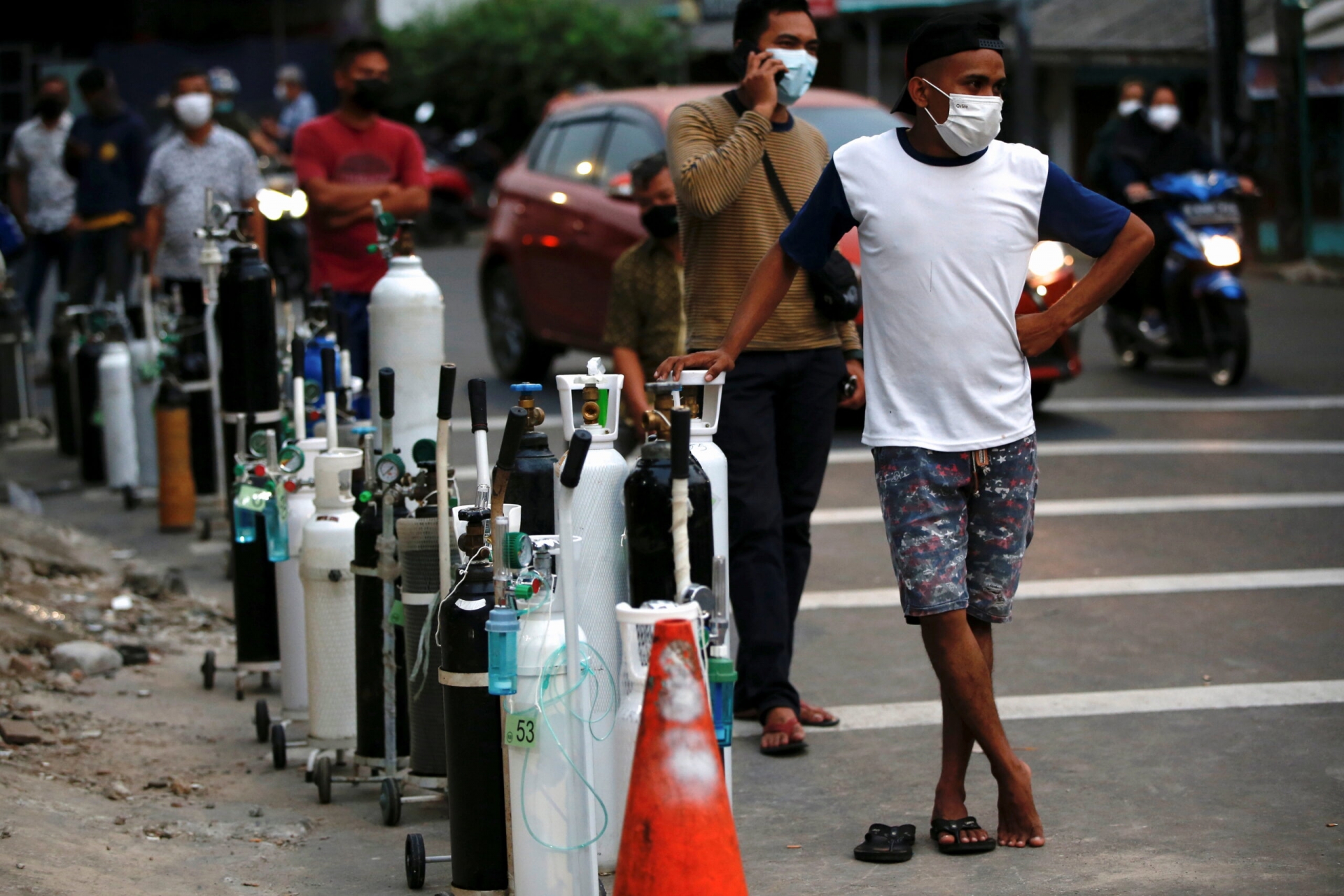 People queue to refill oxygen tanks as Indonesia experiences an oxygen supply shortage. Photo Reuters
Indonesia is preparing to import liquid oxygen from neighboring countries.
"Producers Linde Group, Air Products and Chemicals Inc., Air Liquide SA and Iwatani Corp are ready to supply the country through facilities in Singapore and Malaysia, which would take one week to arrive," Fridy Juwono, director for upstream chemicals at the Industry Ministry was quoted by Bloomberg as saying.
On Java island, demand has spiked to as much as five times the normal amount of about 300 tons a day, while the country's oxygen plants are already operating at full capacity to produce 1,700 tons a day, Juwono said.
In Depok city, 13 miles south of Jakarta, road congestion has hindered medical staff from giving urgent COVID-19 treatment to the point that bikers have volunteered to escort ambulances and clear traffic, reported Reuters.
Health authorities say Indonesia's spike is mostly fueled by the Delta variant. The mutated virus strain has contributed at least 90% of infections in the capital of Jakarta, Coordinating Minister for Maritime Affairs and Investment Luhut Binsar Pandjaitan said last week.