Wonderful Homuz Island Attracts Tourists With Mesmerizing "Blood Red" Beach
Hormuz Island, also known as "The Rainbow Island", is one of Iran's most beautiful destinations, has recently gone viral on social media for its mesmerizing "blood red" beach that attracts many tourists.
Hormuz, located near the southern shores of Iran, is an island facing the entrance to the Persian Gulf. It is a place of incredible beauty with characteristics unique throughout the world — most of all the gorgeous ruby-red beach. The Island of Hormuz is nicknamed "Rainbow Island" thanks to the many island colors and surrounding waters. It has become famous thanks to a video that went viral which focused on the inexplicable reddish hue of its sea. Countless people believed that an apocalyptic event was coming, believing that the beach was bathed in blood, but this was clearly based on fantasy.
Hormuz Island has an area of 42 km2 (16 sq mi). It is covered by sedimentary rock and layers of volcanic material on its surface. The highest point of the island is about 186 metres (610 ft) above sea level. Due to a lack of precipitation, the soil and water are salty. Specialists have helped cultivar white mangrove or Hara trees to grow in the climate. Due to the lack of fresh water, Iranian engineers have constructed a water pipeline from the mainland. There are many virgin beaches that go all around the island.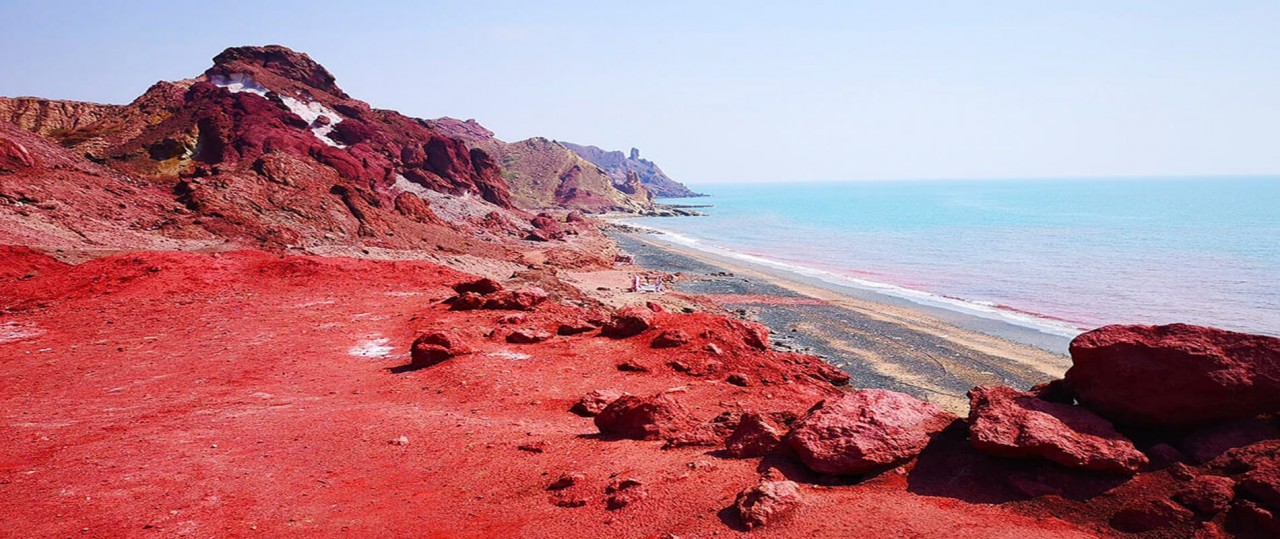 Photo: MyBestPlace
Why is the water of the beach "Blood red"?
The cause of the characteristic color is actually due to the presence of a high concentration of iron oxides and in fact, the darker sand causes the sea waves to take on a more intense and reddish color. Once you bathe in these waters, the color remains on your skin for days to come. The red oxide is called "gelack", a substance used for making cosmetics, fabrics and ceramics and most especially — food coloring. It is used to bake local bread called "tomshi".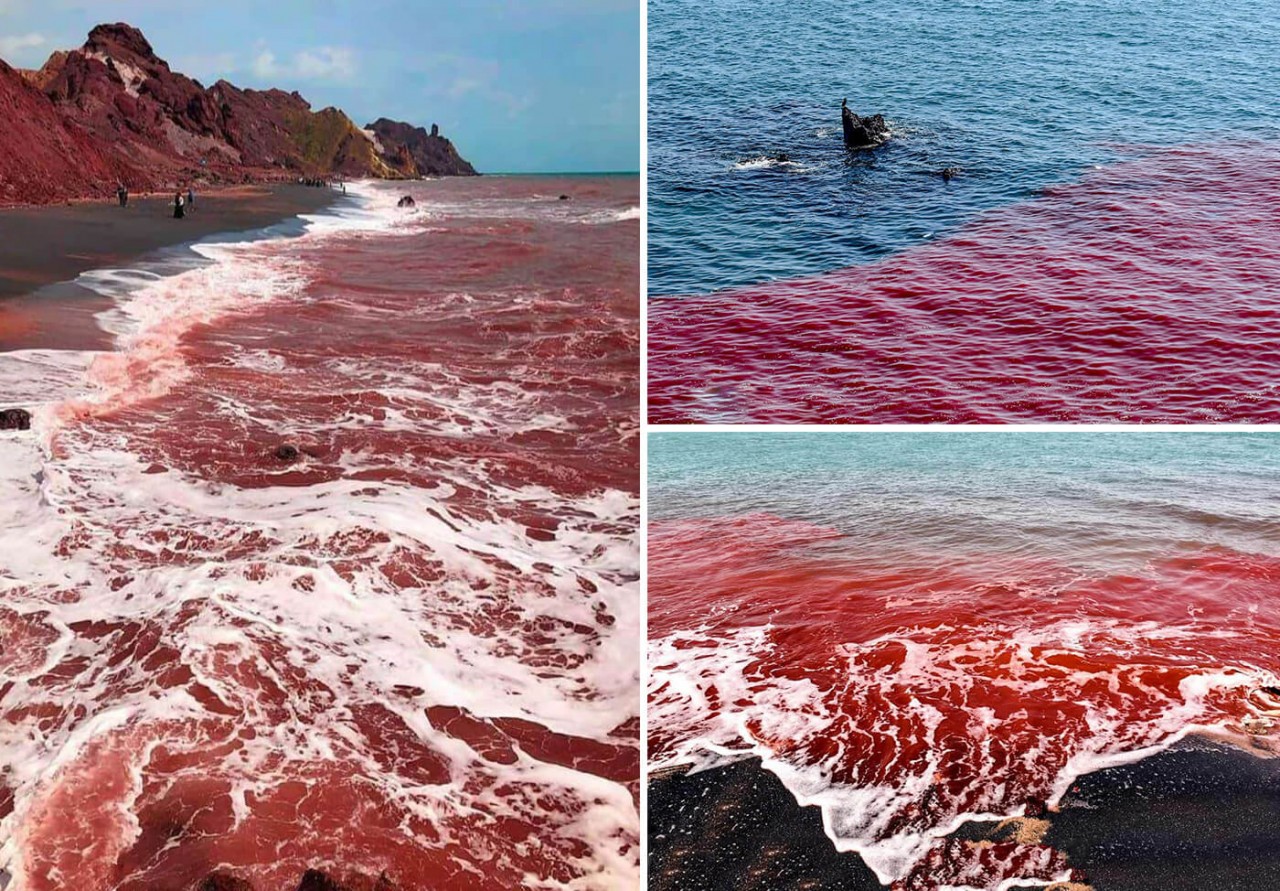 Photo: MyBestPlace
Hormuz Island is part of the Iranian territory of Hormozgan and has a mere three thousand inhabitants. Potable water comes from the continent through an aqueduct and despite being devoid of native vegetation, it remains one of the most attractive islands in the Middle East. The island is surrounded by a beautiful coastal road that opens up to a view to an extraordinary landscape composed of sedimentary rocks and volcanic materials of a thousand colors. This precious and evocative island remains very much untouched. Its temperatures can reach up to 113 °F and 95% humidity during the summer, while in autumn and winter it maintains a mild and pleasant temperature.
Tweeted by IRS officer Naveed Trumboo, it's a video which shows blood-red water flowing over crimson-coloured sand. And, it's an incredible sight to witness.
Though old and originally shared by an Instagram user Elham Gholami, the video again piqued people's attention after being shared on Twitter.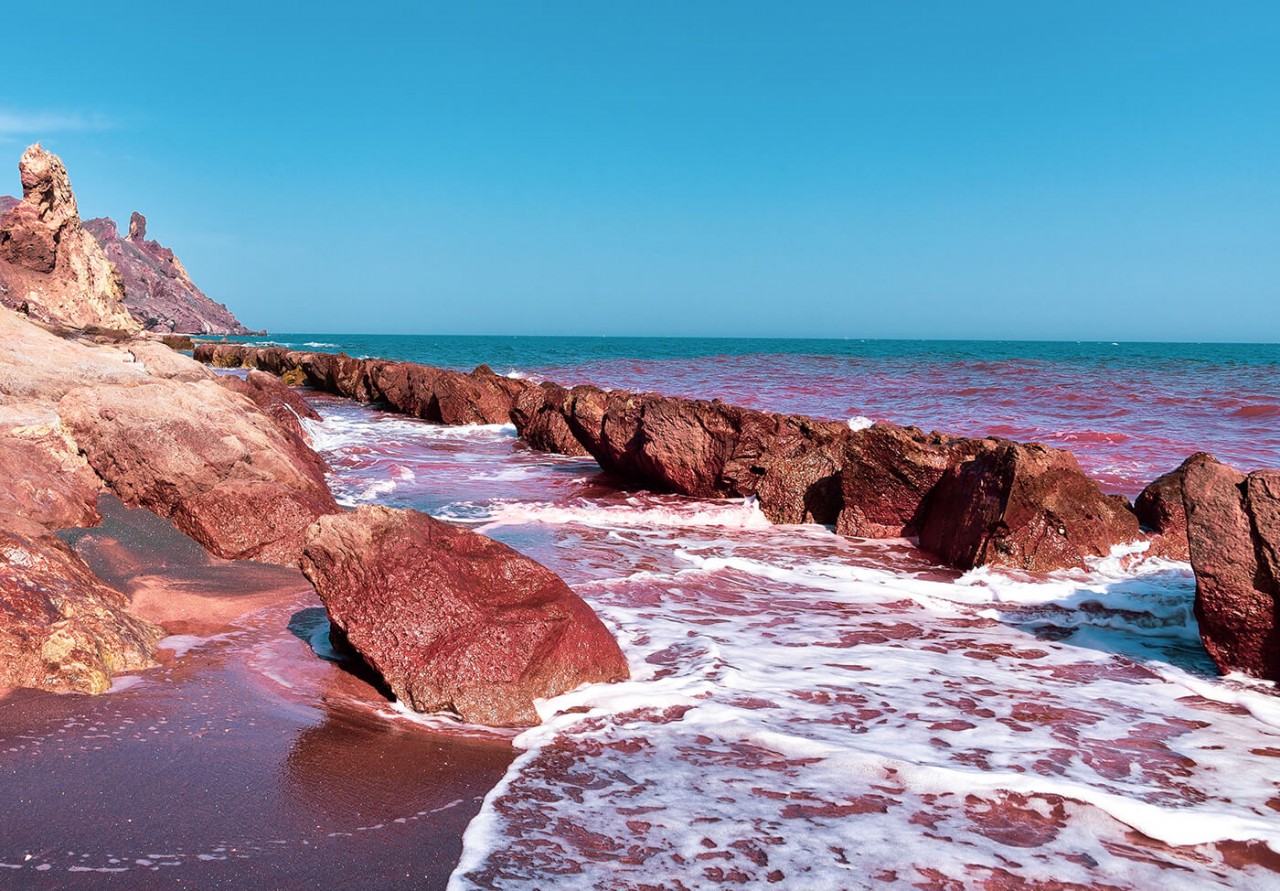 Photo: MyBestPlace
Take a look at the video and prepare to be amazed:
Highlights of Hormuz Island
Rainbow Valley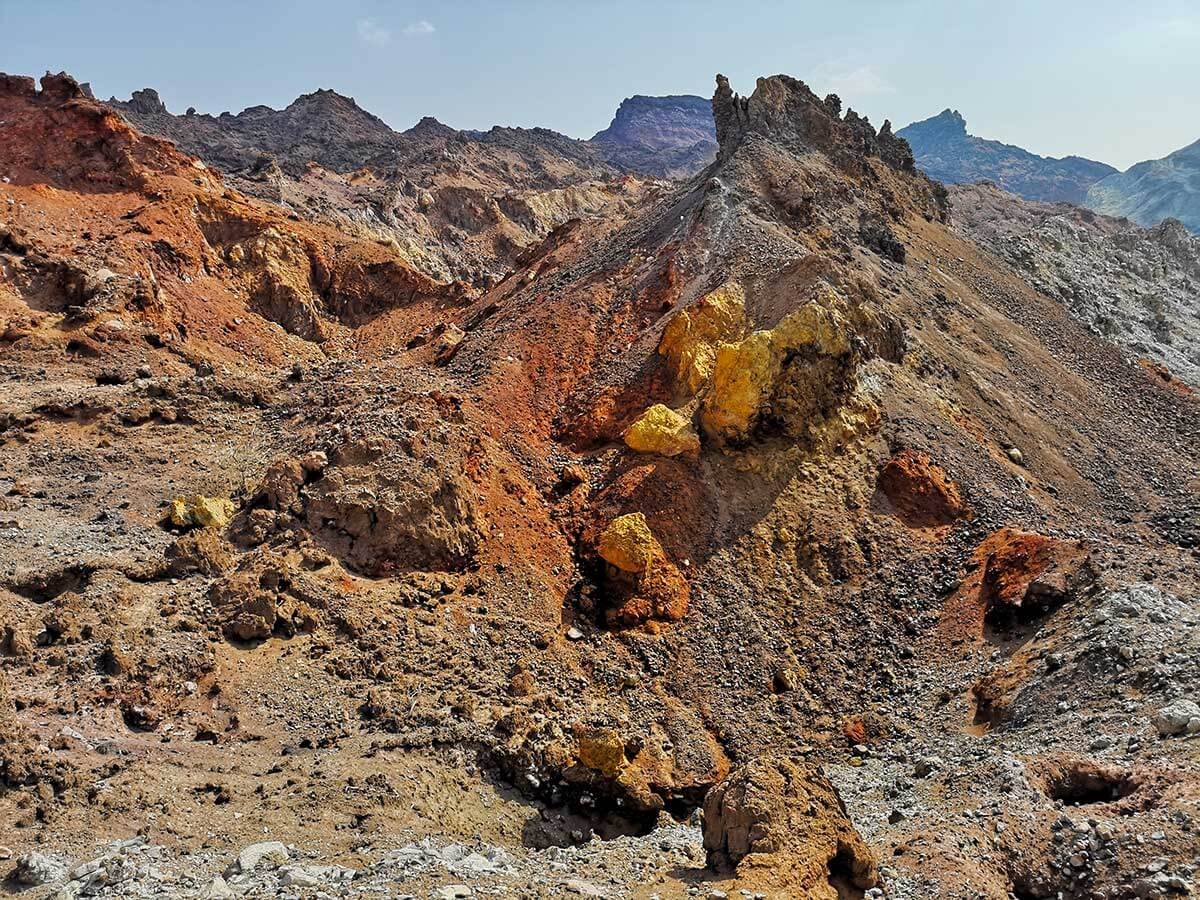 Photo: The Globe Trotting Detective
Located at the southwest of the Island, Rainbow valley is a narrow valley with multi-colored soil surrounded by colorful mountains. It is painted with more than 70 colors and a variety of stones and minerals which make this place an interesting destination for geologists. The minerals include black, white, and grey dolomites, pyrite, gypsum, anhydrite, apatite and iron oxides. The color of the soil ranges from white, yellow, red, green, orange, beige, to brown, light turquoise and even gold. The yellow, red, silver and black colors are mainly of clay and iron oxide compounds, while the white, blue, pink and grey are made of volcanic compounds. The red soil of the valley, called Gelak, is used for painting, cooking, medical and art works.
Statues Valley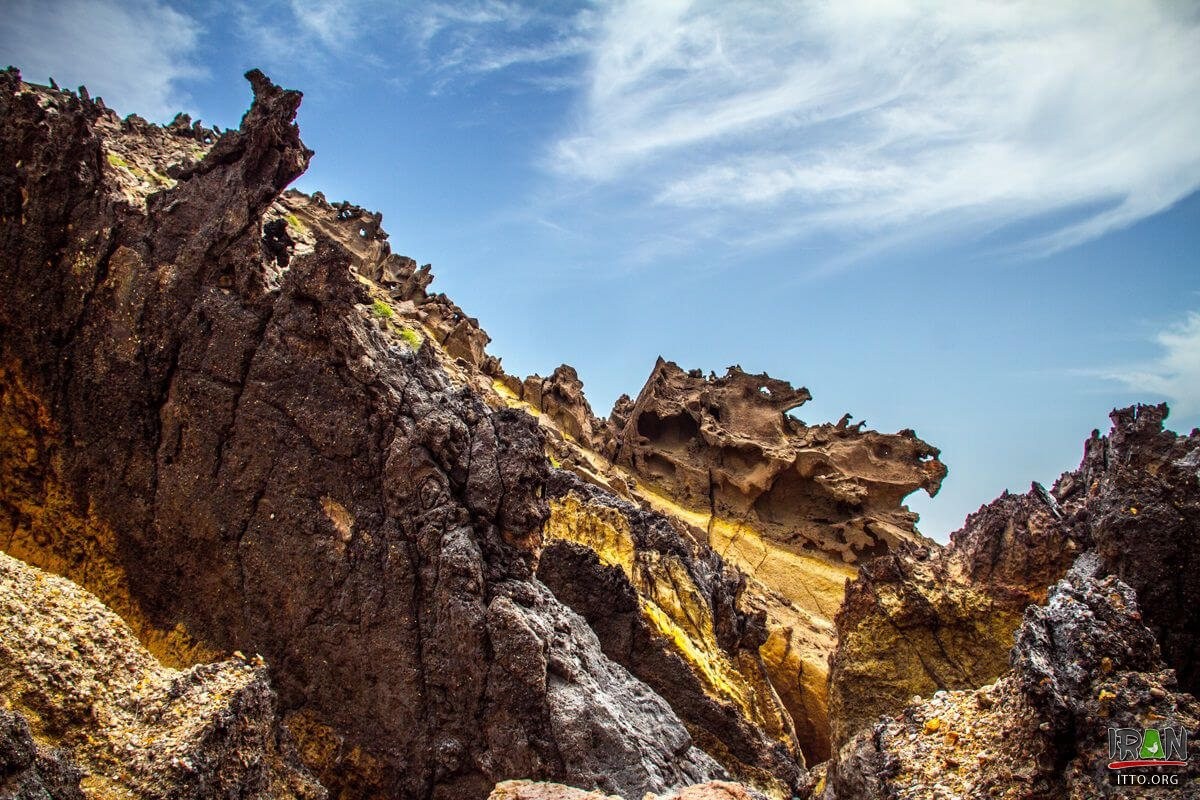 Photo: Iran
With a few hundred meters walk to the beach, in a way that silver sands attracts attention, rocks can be seen in many forms, each is likened to an animal, a sheep's head, poultry and many Dragons.
The rocks show that, over thousands of years that the island of Hormuz gradually comes out of the water, the wear and tear on it makes different shapes. According to researches, geological age of the Hormuz island is about 600 million years ago and its life when coming out of the water is about 50 thousand years.
Dr. Nadalian Museum and Gallery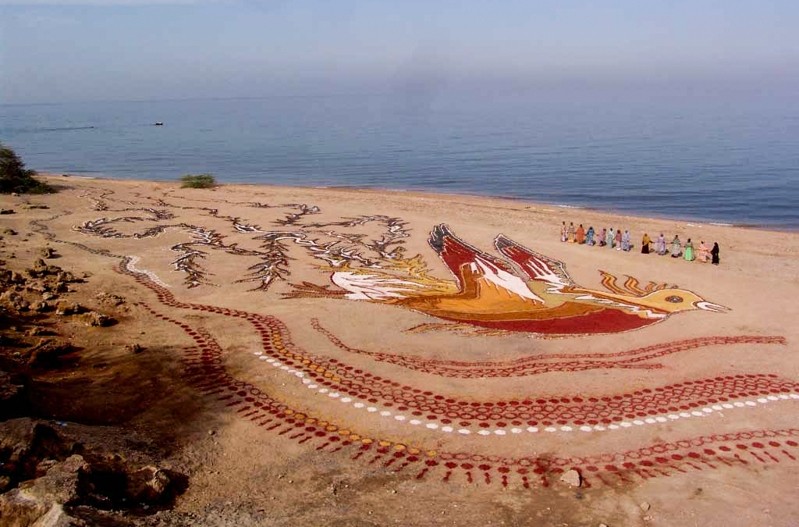 Photo: Atlasofwonders
The Museum and Gallery of Dr. Ahmad Nadalian in Hormuz Island shows the works of the artist who is internationally known as one of the most active environmental artists. His environmental art projects, include the carving of rocks that can be found in more than seventy countries. In March 2009, the Paradise Art Centre on Hormuz Island in the Persian Gulf was established here. Four years later in 2012 it has become the museum of Dr.Nadalian. And its entrance was redesigned with inspiration from local architecture.