World news today: Three White House COVID-19 taskforce members self-quarantine, Little Richard died at 87
World news today May 10:  Top infectious diseases expert Anthony Fauci, Robert Redfield, and two other COVID-19 taskforce members of the White House will self-quarantine for two weeks over coronavirus concern. Meanwhile, Little Richard, the self-proclaimed "architect of rock 'n' roll" found dead at 87. 
Anthony Fauci and two other White House Covid-19 taskforce members to self-quarantine
Top infectious diseases expert Anthony Fauci is among three members of the White House's coronavirus task force who will self-isolate after potential exposure to the pathogen, US media reported Saturday. Fauci told the network he would undergo a "modified quarantine" because he had not been in close proximity to the contagious White House staffer.
The head of infectious diseases at the National Institutes of Health will remain at home teleworking and will wear a mask for two weeks. He is also undergoing daily coronavirus tests, and has so far been negative for the disease, NDTV said.
Meanwhile, Robert Redfield, the director of the Centers for Disease Control and Prevention, and Stephen Hahn, the commissioner of the Food and Drug Administration, will quarantine for two weeks after exposure to a person who tested positive, FDA and CDC statements to US media said.
Officials have not revealed the identity of the COVID-19 positive individual in contact with the task force.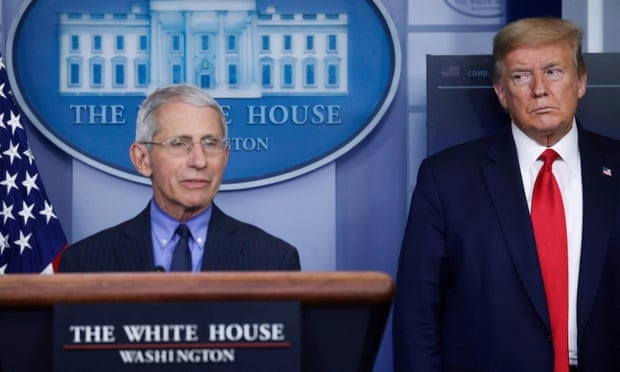 (Photo: Reuters)
Earlier in the week US President Donald Trump announced plans to shut down the highly visible task force, only to backtrack one day later.
Members of the group -- which coordinates between medical institutes, political staff and state governors -- gave daily press conferences meant to inform the nation on the latest status of the pandemic.
But they were often overtaken by Trump's own freewheeling question-and-answer sessions, and the press conferences ended roughly two weeks ago.
All three men will still testify at Tuesday's Senate coronavirus hearing, with Redfield and Hahn dialing in via videoconferencing software, according to Senator Lamar Alexander, chairman of the chamber's health committee.
It is believed Fauci will attend wearing a mask, CNN reported.
Rock legend Little Richard died at age 87
Little Richard, the self-proclaimed "architect of rock 'n' roll" who built his groundbreaking sound with a boiling blend of boogie-woogie, rhythm and blues and gospel, died on Saturday at the age of 87, Rolling Stone magazine reported.
Richard influenced legions of performers whose fame would eventually outstrip his own. His son, Danny Penniman, confirmed his death to Rolling Stone, but said the cause of death was unknown, SMH reported.
Richard's bass guitarist, Charles Glenn, told celebrity website TMZ the musician had been sick for two months and that he died at his Tennessee home, surrounded by his brother, sister and son.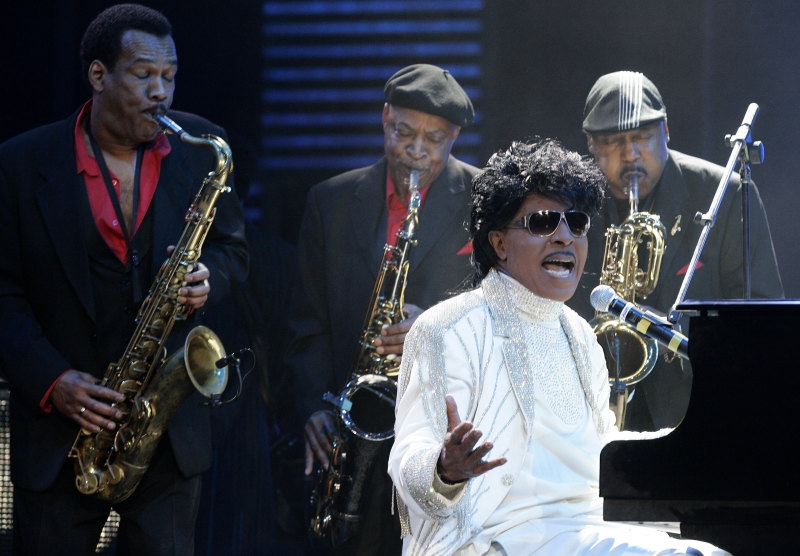 (Photo: The Morning Herald)
Glenn told TMZ he spoke with Richard on March 27 and the singer asked him to visit, but he could not because of the pandemic. He said Richard was like a father to him, and would sometimes tell him, "Not to take anything away from your dad, but you're my son."
At his peak in the 1950s and early '60s, Richard shouted, moaned, screamed and trilled hits like "Tutti Frutti," "Long Tall Sally," "Good Golly, Miss Molly" and "Lucille," all the while pounding the piano like a mad man and punctuating lyrics with an occasional shrill "whoooo!"
The music drew in both young black and white fans at a time when parts of the United States still were strictly segregated. Many white artists, such as Pat Boone, had their own hit versions of Richard's songs, albeit considerably toned down and "safer" for the pop audience.
Mick Jagger, Paul McCartney, James Brown, Otis Redding, David Bowie and Rod Stewart all cited Little Richard as an influence. Jimi Hendrix, who played in Richard's band in the mid-1960s, said he wanted to use his guitar the way Richard used his voice, Reuters reported.
Russia's Coronavirus Cases Surge Past 200 thousand
Russia confirmed 11,012 new coronavirus infections Sunday, bringing the country's official number of cases to 209,688.
Russia now has the world's second-fastest rate of new infections behind the United States. It is the fifth most-affected country in terms of infections, surpassing Germany and France on Thursday.
88 people died over the past 24 hours, bringing the total toll to 1,915, the Moscow Times reported.
The number of infections in Russia has been rising by more than 10,000 a day since Sunday, in contrast to countries in western Europe that are taking steps to ease lockdown measures.
Officials attribute the increase to mass testing and detecting asymptomatic cases not always counted in other countries.
The country's reported mortality rate remains much lower than in many countries. Officials credit a widespread testing and tracking effort, though critics have cast doubt on the numbers, as Russia uses a different classification method to count the diseased.iuIn a solemn televised speech, President Vladimir Putin made no mention of the virus, despite the growing infection numbers in Russia.
Worldwide, the virus has infected almost 4 million people.
South Korea records 34 new Covid-19 cases, the highest in a month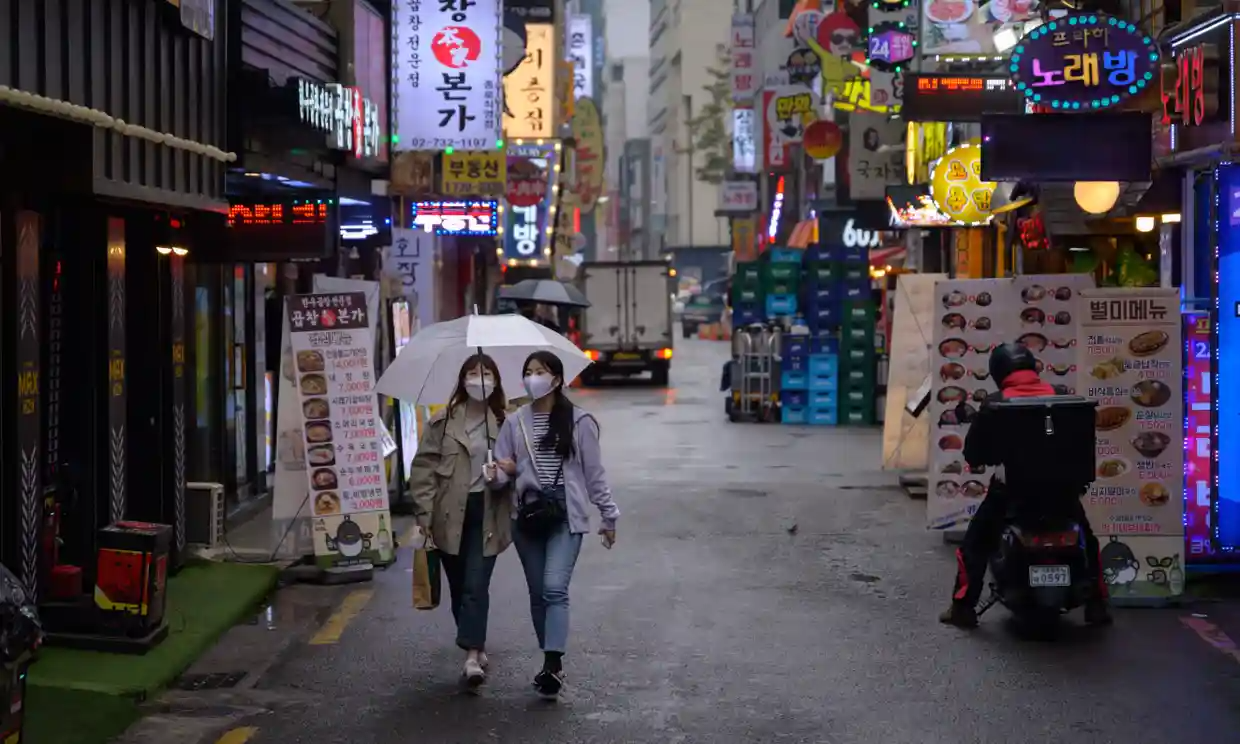 Two women wearing face masks walk beneath an umbrella along an alleyway in Seoul. South Korea reported 34 new cases of coronavirus on Sunday. Photograph: Ed Jones/AFP via Getty Images
Twenty-six of the new coronavirus cases were domestically transmitted, including 14 in Seoul
South Korea has reported 34 new coronavirus cases, the highest daily number in a month, after a small outbreak emerged around a slew of nightclubs that a confirmed patient had visited, the Guardian reported.
Of the new cases announced on Sunday, 26 were domestically transmitted infections and eight were imported cases, the Korea Centers for Disease Control and Prevention (KCDC) said.
The total was the highest since 9 April. After battling the first major epidemic outside China, South Korea posted zero or very few domestic cases over the past 10 days, with the daily tally hovering around 10 or less in recent weeks.
The resurgence followed a small but growing coronavirus outbreak centred around a handful of Seoul nightclubs, which a man in his late 20s had visited before testing positive for the virus.
At least 15 people were traced to that man as of Friday, and 14 of the 26 cases were reported from Seoul on Sunday, although the KCDC did not specify how many were linked.
The outbreak prompted Seoul city to impose an immediate temporary shutdown of all nightly entertainment facilities on Saturday. The city said it is tracking down about 1,500 people who have gone to the clubs, and has asked anyone who was there last weekend to self-isolate for 14 days and be tested.
The outbreak came just as South Korea has eased some social distancing restrictions and is seeking to fully reopen schools and businesses in line with a transition from an intensive social distancing campaign to what it calls "distancing in daily life".
President Moon Jae-in warned of a second wave of the epidemic later this year, saying the recent cluster underscored the risks that the virus which causes Covid-19 can spread widely again at any time.
"It's not over until it's over. While keeping enhanced alertness until the end, we must never lower our guard regarding epidemic prevention," he said in a televised speech marking the third anniversary of his inauguration.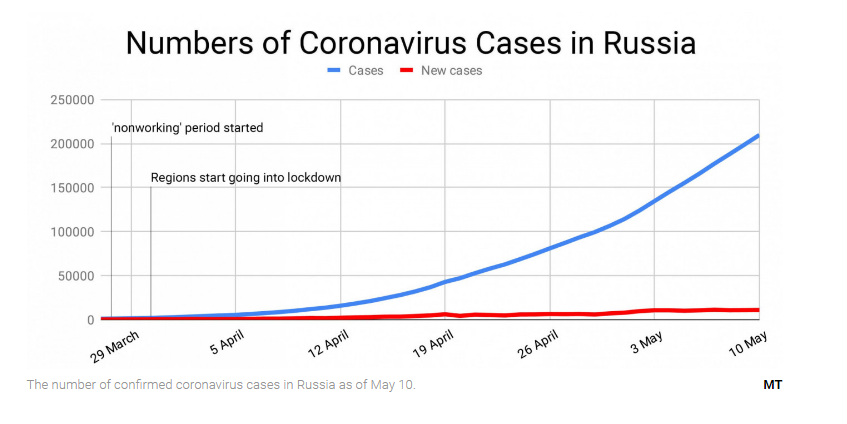 The number of confirmed coronavirus cases in Russia as of May 10 (Photo: Captured)
UFC 249 Results: Henry Cejudo KO's Dominick Cruz, And Then Retires
Henry Cejudo has done it all in the combat sports world, and now he says he is retiring.
On Saturday in the UFC 249 co-main event, Cejudo scored a second-round TKO over the legendary Dominick Cruz. After controlling the first round with hard, well-placed leg kicks, Cejudo closed the deal with a knee to Cruz's temple that sent him to the canvas.
Cejudo pounced on Cruz and hit him with 12 unanswered shots that forced referee Keith Peterson to stop the bout. Cruz protested the decision, but it's hard to argue with the referee considering the former never covered up and almost all of Cejudo's shots were landing flush on the face.
Cejudo immediately erupted into a celebration while Cruz complained about the stoppage. During his post-fight interview, Cruz insisted he'd asked the referee to allow him to go out on his back, but that's not the way finishes are handled in combat sports.
The referee is there to protect the fighters–even from themselves. His job is to stop the fight when a fighter is no longer intelligently defending themselves. While Cruz wasn't unconscious, he was eating punches to the face without covering up. Cruz said he was trying to stand up while the barrage of punches were landing.
However, simply trying to get to a standing position isn't enough of a signal to a referee that a fighter has the wherewithal to continue. Peterson made the right call.
Cejudo didn't address the stoppage during his interview, but he did call himself the greatest combat sports athlete of all time just before announcing his retirement.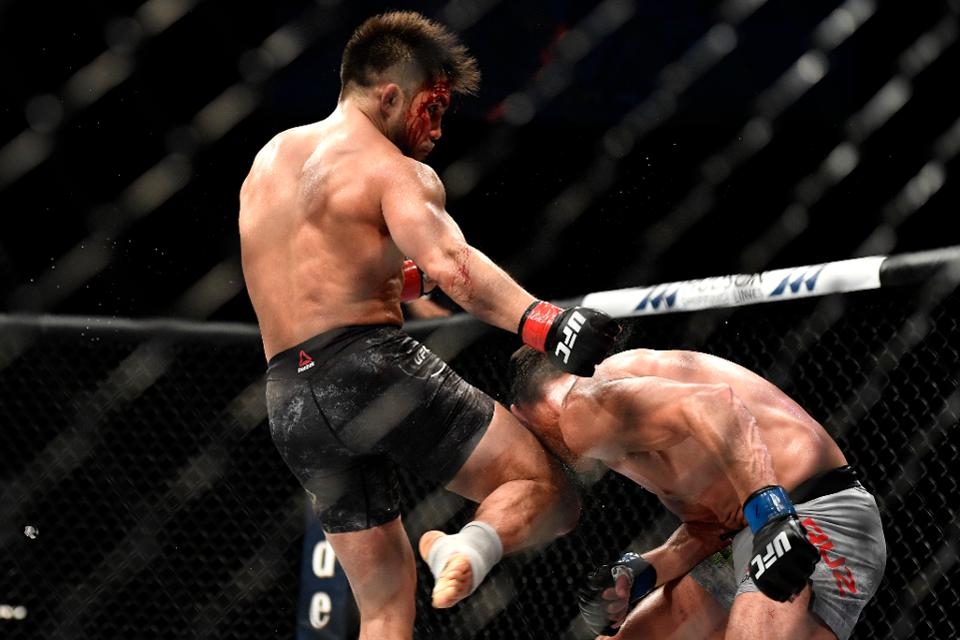 (Photo: Forbes)
It was strange seeing such a big announcement made with no fans in attendance, due to the COVID-19 restrictions, but Cejudo felt Saturday night was the right time.
Cejudo's resume is impressive. He's an Olympic Gold Medalist, former UFC Men's Flyweight Championship and the current Men's Bantamweight Champion.
If he never fights again, he is already a Hall-of-Famer. That said, it's easy to imagine him coming back at another time. He's still only 34 and clearly capable of competing on the highest level.
If this is it for Cejudo, he's left an excellent legacy. Per UFC President Dana White, the promotion will be filling the now vacant 135-pound title with a fight between Petr Yan and an as yet unnamed fighter, according to Forbes.