18-year-old restaurant serves "cheapest rice porridge in Saigon"
Customers can have a bowl full of rice porridge (congee) for only VND 1,000 at a restaurant voted by many Saigonese as one of the cheapest restaurants in the southern city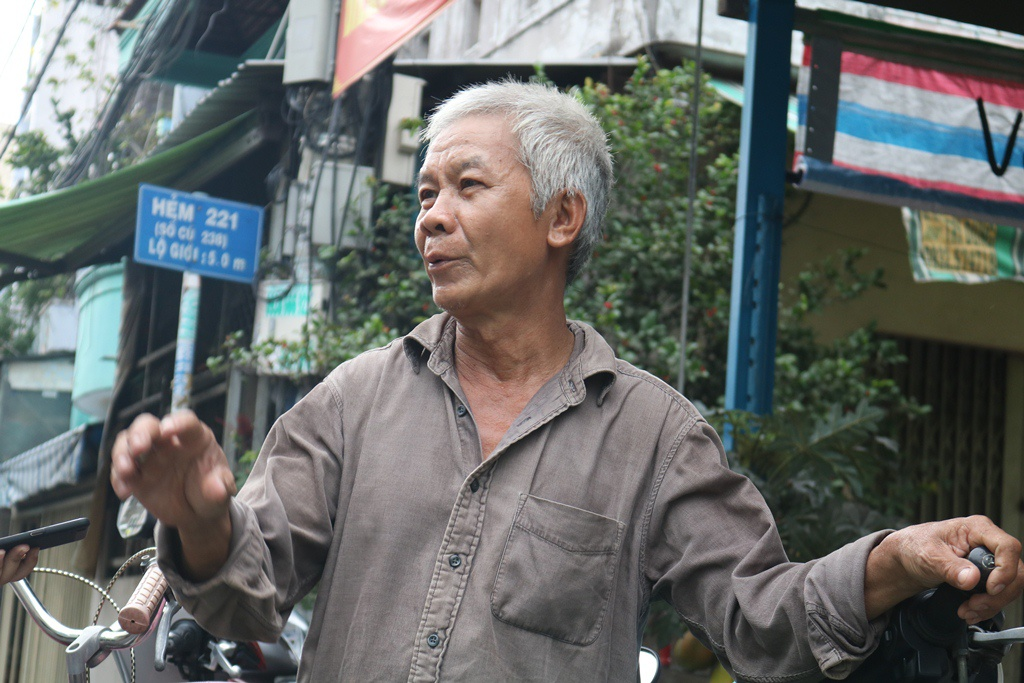 Le Cong Minh started the business back in 2003. (Photo: Thanh Nien)
Cheapest congee restaurant in Saigon
"Ve day em" restaurant is located inside an alley at on Phan Van Khoe Street of District 6, Ho Chi Minh City. Le Cong Minh, 65, opened the restaurant 18 years ago.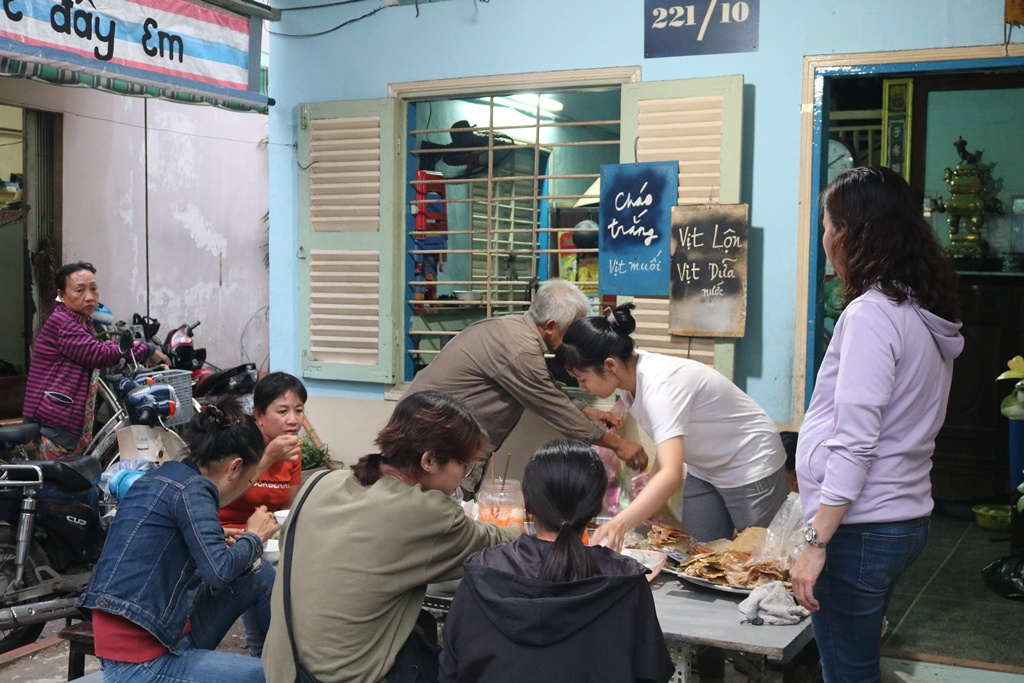 The small acongee restaurant is hidden in an alley in District 6. Photo: Anh Le
The previous owner of the restaurant was Minh's mother, but she had to close the business due to her old age and poor health. Years later, Minh's wife, Nguyen Thi Kim Phuong, 52, reopened it and continued carrying on the family business.
Explaining the reason why the restaurant sells congee at such cheap price, Minh said it because he did not have to rent space, and cooks using a charcoal stove to save the money.
"In the old days, you could have a bowl of congee with 500 dong. It was first made for working people, serving cheap and affordable meals. We kept that price for a long time, and did not want to change it suddenly. Later when the VND 500 was no longer used, we changed the price to 1,000," Minh said.
Everyday, Minh and his wife serve the customers about four small pots of congee (about 4kg of rice). Minh said even though they sell each bowls with a cheap price, his restaurant is always crowded with guests. "Even though we do not make a huge profit, we save up everyday, and receive a lot of positive reviews," he said.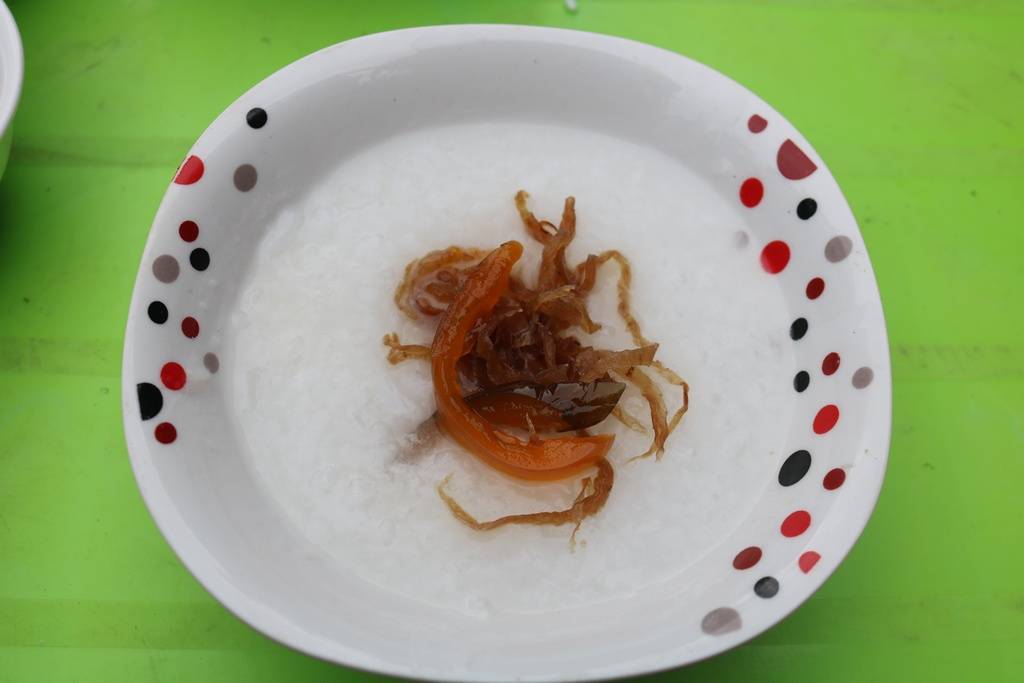 A bow of congee only costs VND 1,000 (Photo: Thanh Nien)
A bowl with only congee will cost VND 1,000. If you request side dishes, the price will range roughly from VND 3,000 to10,000 . Even though the menu is not as diverse as other restaurants, you will not be able to find anywhere cheaper.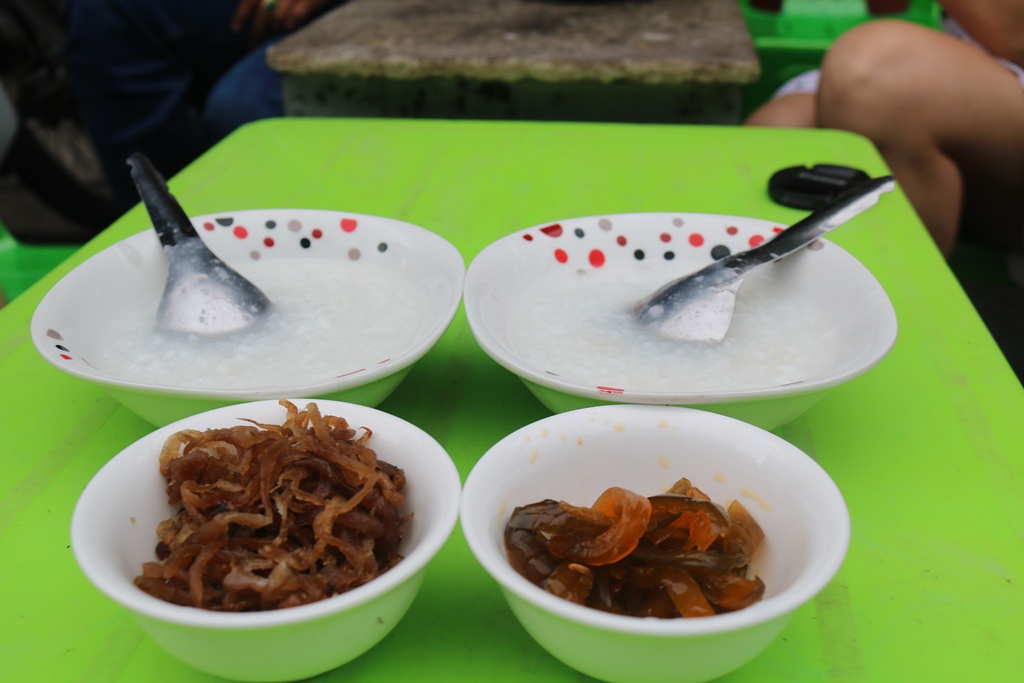 Photo: Thanh Nien
When asked about the name of the restaurant, Minh shook his head with a laugh and said he took that name because it sounded good. "I chose the name, and my wife just accepted it," he said.
Minh said his congee is nothing special in terms of taste or how it was cooked. The side dishes for diners to eat with the congee include radish, caramelised shrimp and pork dip, salted duck egg, pork meat and stewed goby fish.
The congee must be cooked for one hour to be pureed. There is no flour added because it will make the congee lose it sweet, delicious taste.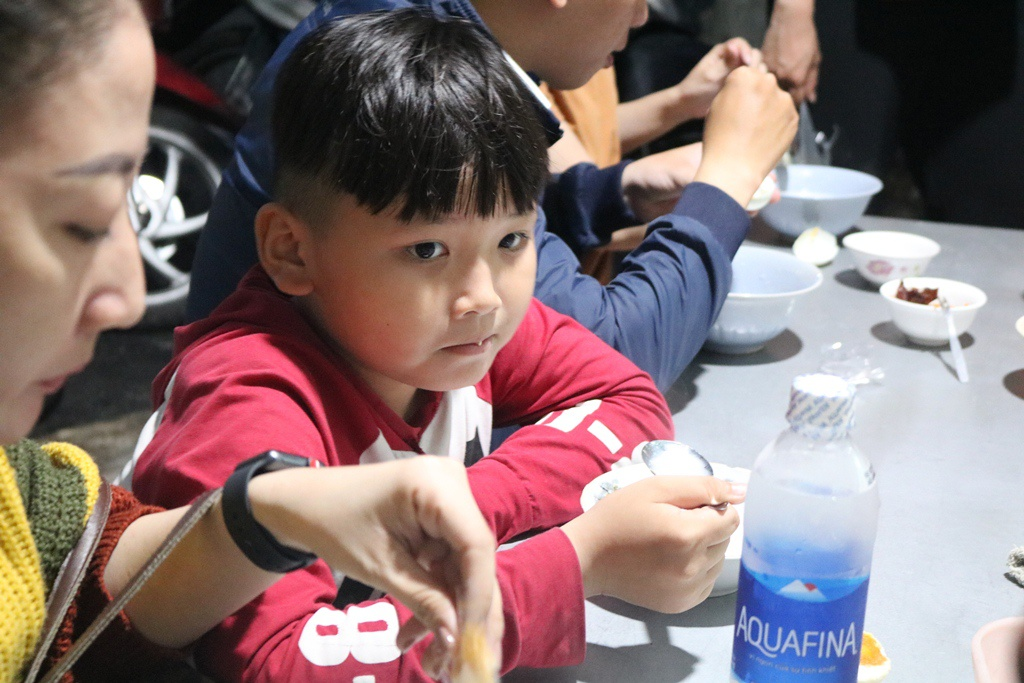 A little boy with his mother, who are regulars at the restaurant. (Photo: Thanh Nien)
The restaurant is crowded every afternoon. Pham Thi My Van, 43, from District 6, highly recommendeds it. "The food is delicious, and I have been eating here for more than 10 years," she said.
Phung Ai Linh, 32, another regular from District 6, said she eats here every day. "The congee is easy to eat, and my favourite dishes to come with the congee is salted duck and salted shredded pork. I also love the dried squid and grilled fish, and all the dishes only cost about VND 20,000 to 30,000," she said.