5 Captivating Tourist Spots in Binh Dinh
From picturesque mountains, mighty rivers, and stunning beaches to centuries-old temples and tourist sites, the south-central province of Binh Dinh has everything.
Binh Dinh Province has a long coastline of 134km and many bays with pristine sandy beaches, majestic mountains and plenty of scenic landscapes for tourists to discover.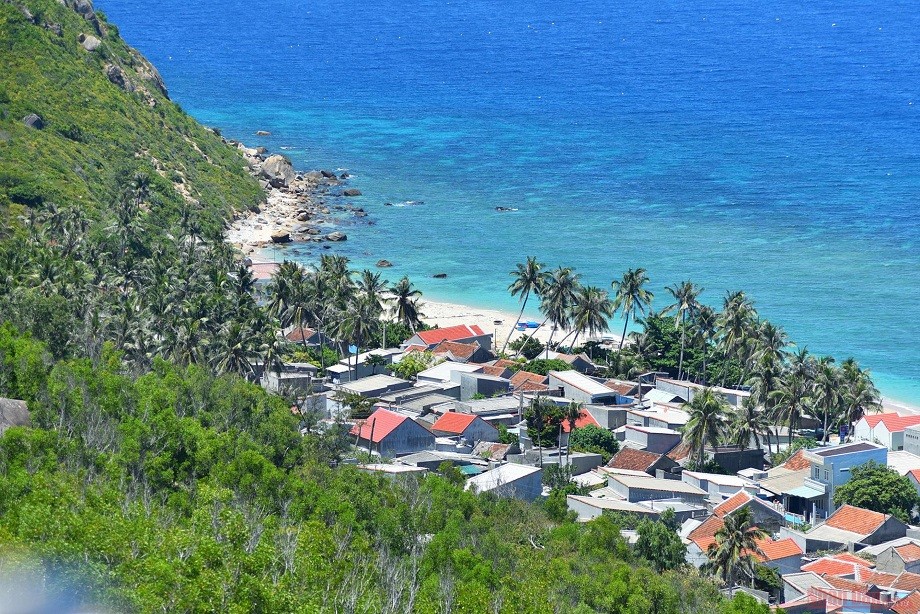 Beautiful and peaceful Cu Lao Xanh island.
Cu Lao Xanh
Located 13 nautical miles from Quy Nhon city, Cu Lao Xanh is a beautiful and peaceful small island, a new paradise waiting for tourists to explore.
Cu Lao Xanh, which is also known as Van Phi island, is a small island near Xuan Dai Bay in Phu Yen province. However, its administrative boundary belongs to Nhon Chau commune, Quy Nhon City.
There are many ways to access Cu Lao Xanh, including hiring fishermen's boats in Vinh Hoa village, Song Cau town, Phu Yen province, and in Bai Xep in Ghenh Rang ward, Quy Nhon city. The most popular way is to start from Ham Tu port which is about 1km from Quy Nhon city's centre. Visitors can take a high-speed canoe with the one-way price of VND 200,000 or a wooden boat with a price of VND 30,000 per day.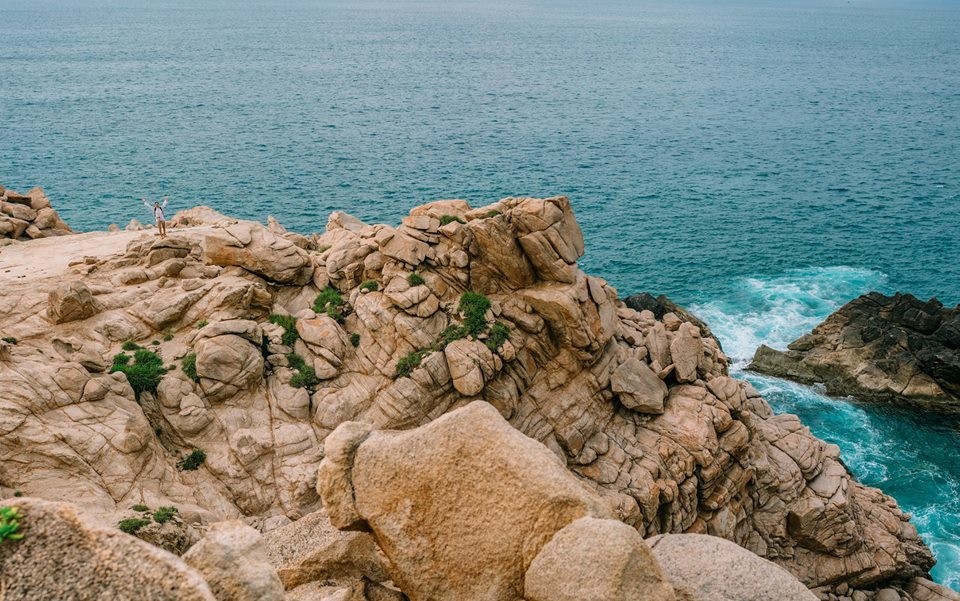 Nice beaches and hamonious and attractive see-sights.
Cu Lao Xanh island impresses visitors thanks to its beauty with the "greens" of both sky, water and vegetation. Visitors should travel to the island between March and August, which also coincides with the whole Middle coast travel season. Tourists should avoid going to Cu Lao Xanh in the rainy season, the rough sea, especially from October to January next year.
Although the beaches on the island are small, the sea water is pure and blue like sapphire; meanwhile, the sand is smooth and soft. The island's rescue teams and tour guides are every professional and enthusiastic.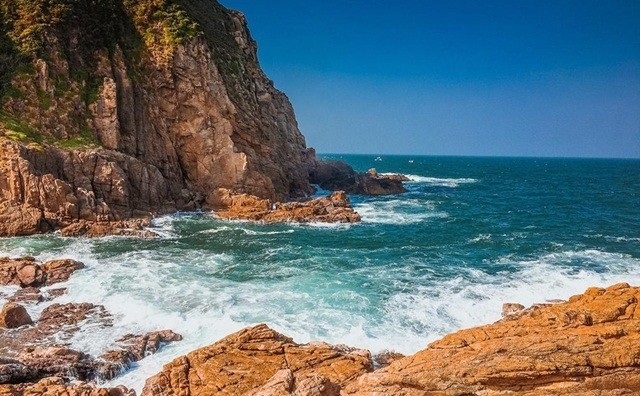 Charming Hon Kho has a pristine natural landscape with rocky mountains.
Hon Kho Islet
Situated in front of Nhon Hai Commune, Quy Nhon city, Hon Kho is a small rocky islet that features beautiful sandy beaches, blue water, and mountain cliffs, attracting the visitors and tourists who want to discover the pristine and peaceful beauty and conquer the imposing mountain of this island.
Hon Kho is about over 1,000km far from Hanoi and about 500km from Ho Chi Minh City. From these big cities, Hon Kho Island can be reached by any transport. For instance, you can travel by plane. At the airport, you can take a taxi with the price of 400,000 VND – 500,000 VND to leave for the center town of Quy Nhon city. Alternatively, going by bus will cost you 50,000 VND/person.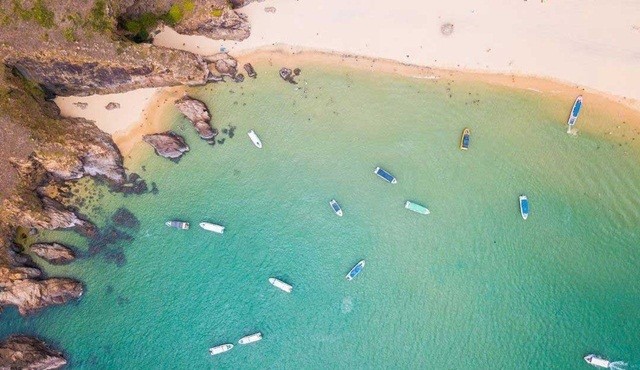 Like other places in Quy Nhon, Hon Kho is blessed with a beautiful soft white sandy beach and clear blue waters.
In Hon Kho – Dry Islet, tourists will take part in a variety of interesting and funny water activities and admire the beautiful scenes of blue water, white sandy beaches and imposing mountain cliffs. Therefore, the best time to visit Hon Kho Island in Quy Nhon is from March to September as, during this time, the sea is calm and peaceful. It is also the time Hon Kho Island welcomes thousands of visitors and tourists coming here for Hon Kho Island adventure.
As its name suggested, Hon Kho is dry with no tree. No one lives here. This islet is so small and wild that any kind of tourism service cannot be developed here but this island attracts a large number of adventurers and tourists because of its pristine, untouched and peaceful beauty that allures visitors to conquer. Immersing in white sand, cool wind and blue sea gives you fascinating experiences. Coming here, you will have a chance to enjoy sunbathing on the beach and taste delicious seafood dishes cooked by the local people.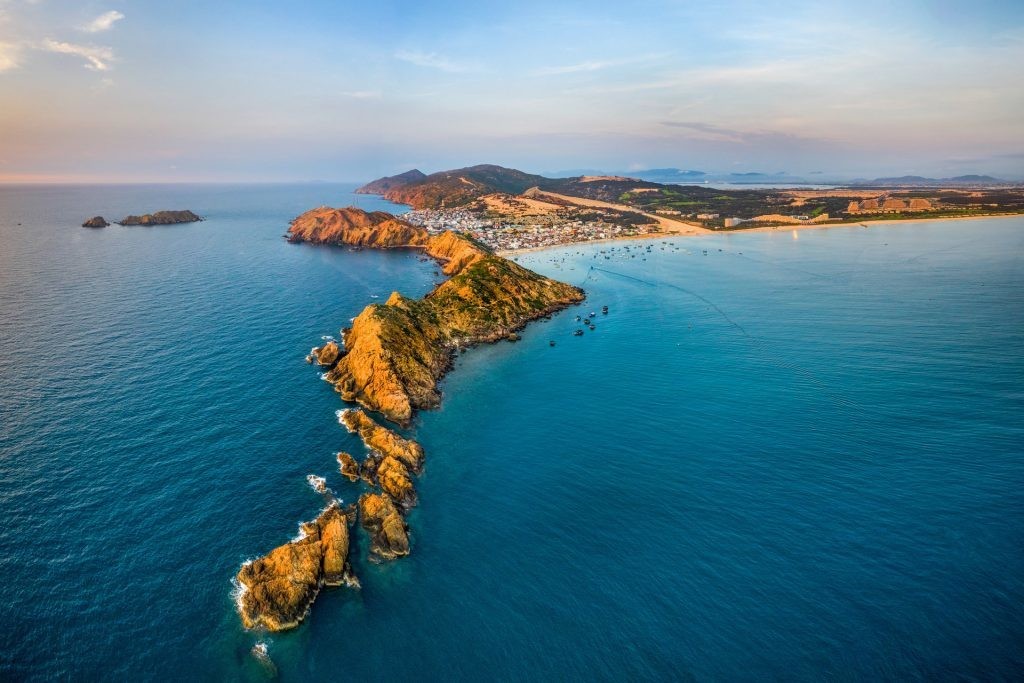 Eo Gio is known as a spectacular arc shaped strait, surrounded by cliffy mountain ranges with amazing shapes.
Eo Gio
Coming to Quy Nhon, visiting Eo Gio (Wind Strait) - the most spectacular strait with a bow-shaped range of mountain - to hear the wind whispering through mountain walls, caves and then harmonize with waves crashing onto the shore is a must.
Eo Gio is an arc-shaped strait in Hung Luong Hamlet, Nhon Ly peninsula commune, Quy Nhon City, Binh Dinh Province. People call it Eo Gio as seen from above, Eo Gio looks like a funnel with two rock ranges holding a sea corner.
Located about more than 20 kilometers far from Quy Nhon City to the Northeast, Eo Gio is 20 kilometers away from the center of Quy Nhon city and 70 meters above sea level. View from far away, it looks like a cradle between two high rock-tops. It appears so beautifully like a funnel when looking at from above. All of which create the neglected and magnificent beauty for the whole painting of this strait.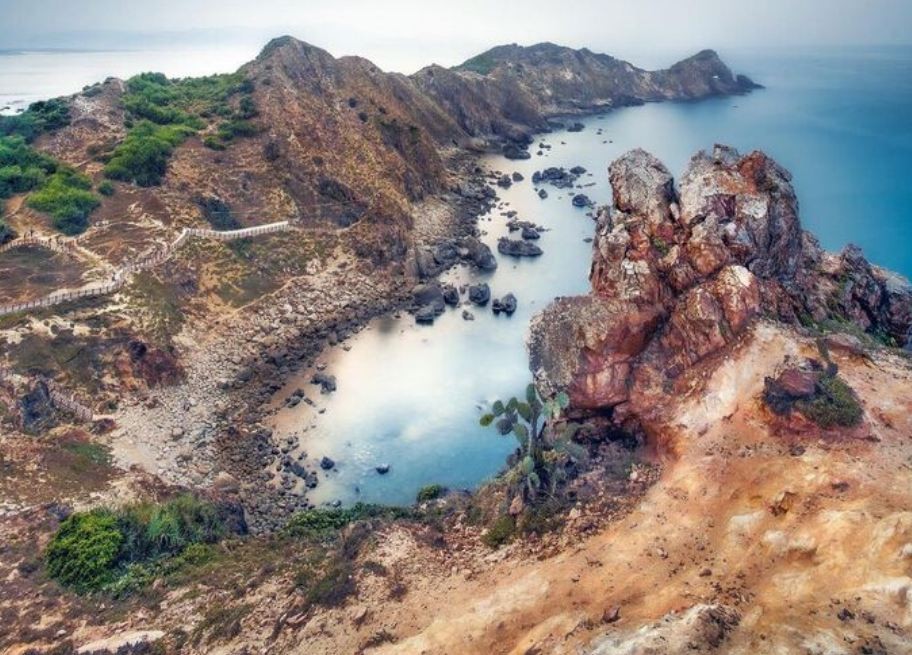 In recent years, Eo Gio becomes an indispensable check-in destination for those who come to Quy Nhon, especially the young. The most loved photographing site here is the mountainside walking path.
The route to Eo Gio is also stunning and primitive. On the bridge, tourists can take a panoramic view of Thi Nai Lagoon and the peaceful Quy Nhon City. Along the street are deserted white sand dunes which are littered with polar tree lines.
Eo Gio is beautiful in its own way with its rock cliffs in varied shapes running to the sea. The mountain holds the sea, the sea plays around the mountain, waves crash onto the shore with the sound of love songs, and in the distance the sea is studded with boats and birds twittering in the sky. Seen from above, Eo Gio looks wild and primitive.
There are plenty of bird nest caves on the Eo Gio's cliffs called fun names such as Ky Co, Ba Nghe, Doi. At the mountain foot, Da De Beach stretches out with multi-size, colorful, smooth and round stones looking like eggs. Eo Gio is endowed with rippled mounds shaping as terrace fields in Northwestern provinces. It also has a well with clear water and a meadow which is an ideal place for camping.
The best time to visit Eo Gio should be from March to September because the pure water and windless beach is very suitable some summer frolicking.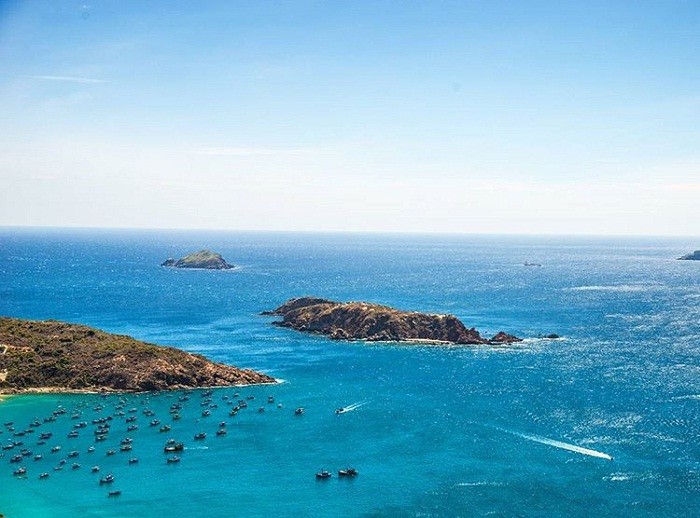 From a distance, Hon Seo looks like a giant boat. Photo @ nguyen.daido
Hon Seo Islet
Referring to Quy Nhon, people often think of Ky Co or Eo Gio, but few people know that this coastal city also has a "jewel", which is not only beautiful but also extremely clean and peaceful.
Hon Seo is located near Ly Chanh village, Phuong Mai peninsula, Nhon Ly commune, more than 3km from the Cam mountain range, about 6km from the shore, and about 15km from the center of Quy Nhon city.
From far away, Hon Seo is like a giant boat that is heading to shore. Until now, the island is still a wild oasis, only wild plants, rocks with many species of seafood and many birds, there is no house, however this place is gifted a fairly large and flat rock with countless colored stones piled on top of each other, over time the waves turn the rocks to handy size and look beautiful and fancy. This beautiful and seductive rock field is called locally by the locals as laying rocks because the rocks are more and more over the years.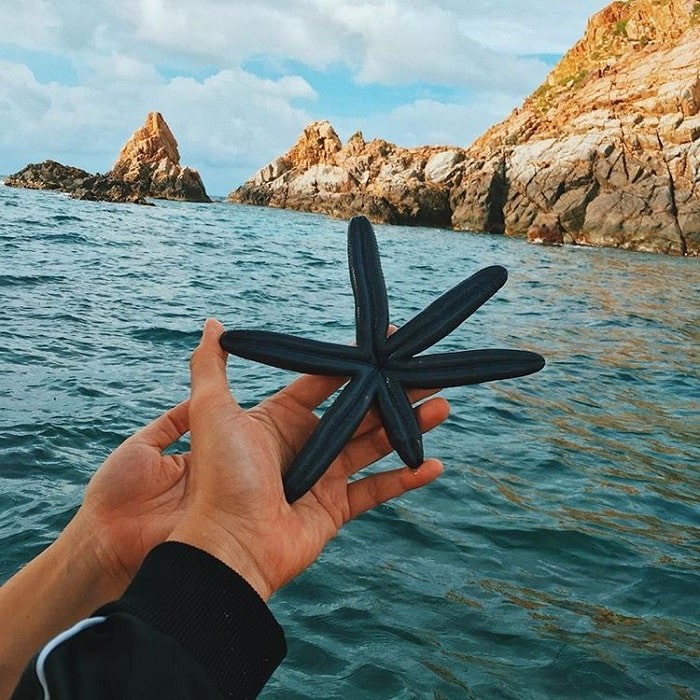 You should only come here in the dry season, especially in the summer from March to July because the sky is not only blue, fresh, airy, suitable for sightseeing, but the air is still cool for you to avoid. hot from the urban "fire pan". Photo @beepstagram
The rocky beach about 10 meters deep in the foot of the mountain also gives the place a large cave, and cool at the same time can accommodate about a hundred people. All make a stop, bathing, relaxing, cool and lunch is very attractive to visitors.
The interesting point of this rocky beach is that it appears more and more like never before, so people gave it a unique name, Da De beach.
Forget the noise, heat and pollution of the lavish and bustling town, because coming to Hon Seo in Binh Dinh, you will be free to travel along the cool breeze, breathe fresh, pure air. the purity of the vast nature, hearing the waves crashing on the shore and watching the clouds drifting in the high blue sky.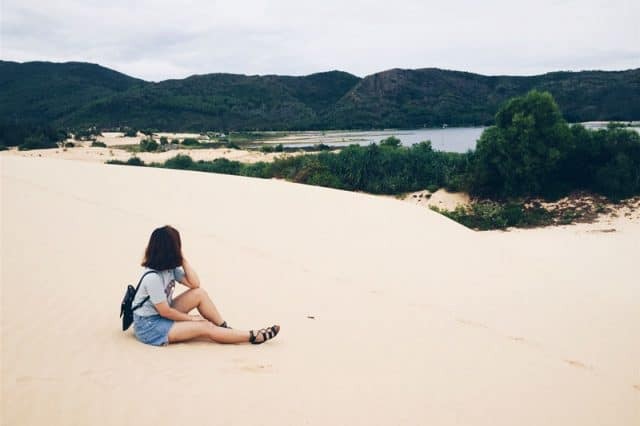 The sand dunes in the peninsula are considered to be a perfect place for sand sliding games.
Phuong Mai Sand Dunes
The golden sand dunes of Phuong Mai peninsula in Quy Nhon city are the ideal place for travelers to enjoy activities such as sand sliding.
Sand dunes on Phuong Mai peninsula are widely considered to be the most beautiful in the entire central region and are on par with other popular destinations such as Mui Ne in Binh Thuan province, Quang Phu in Quang Binh province, and Nam Cuong in Ninh Thuan province.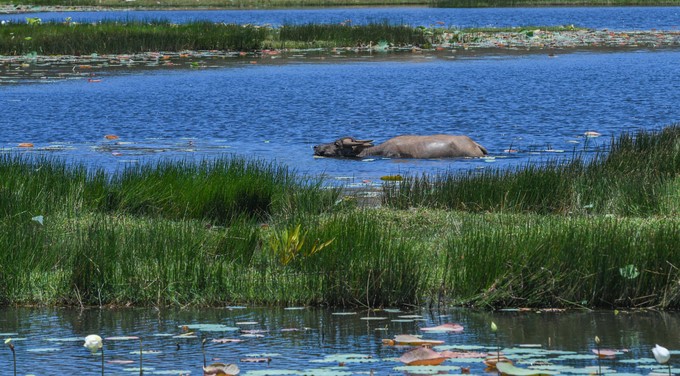 A fresh water lagoon can be found at the foot of the sand dunes in Phuong Mai sand dunes. Source: VOV/VNE
A lake formed in a sand pit is 100 metres deep and runs close to Thi Nai lagoon. Cactus trees can be seen in Phuong Mai peninsula as well as in the Eo Gio strait. The area is considered Quy Nhon's own 'mini Sahara'.
The region is also home to hundreds of bird species, most of whom live in the Con Chim mangrove forest.
The majestic sand dunes are largely situated along national highway 19B in Phuong Mai peninsula. Entrance tickets to the area are free. Visitors are advised to bring protective clothing and other items to combat the extreme heat along with their own wood boards to take part in the sand sliding game.
Built in the late 11th and early 12th centuries on top of a hill, the Banh It towers has four towers that resemble "banh it", a triangular glutinous rice cake from Binh Dinh. Each tower has its own architecture and high artistic value, with statues of God Shiva on top.
Bonus
In Binh Dinh, besides the famous attraction, visitor will also have the chance to explore and enjoy the great historical and cultural treasure of popular historical and cultural sites which itself are the milestones closely attached to the formation and development of this martial-art land.
Moreover, Binh Dinh is the keeper of invaluable cultural heritage of Champa culture. Binh Dinh was the capital of the Champa Kingdom from the 10th to 16th centuries, and proof of this golden age is in the towers still standing firm with domes covered by moss.
The Cham ruins in here is very diverse but the most unique and attractive one to tourists are ancient monuments, especially Do Ban Citadel and the Cham towers (including 8 clusters and 14 towers) with unique architecture.