7 must-try cuisines in Vietnam's coastal cities
No matter where you set foot on the S-shaped land, you can easily satisfy your taste buds with famous dishes of each region and locality. Here are the famous flavors you must try in coastal cities in Vietnam.
Lau ca duoi - Stingray/ray hotpot in Vung Tau
Stingray hot pot is an outstandingly delicious folk food in Vung Tau. Once you try it, you will never forget it because of it's distinctive taste and of course, ingredient. The secret of a good stingray hotpot is to have the freshest ingredients possible, guide.cmego.com reported.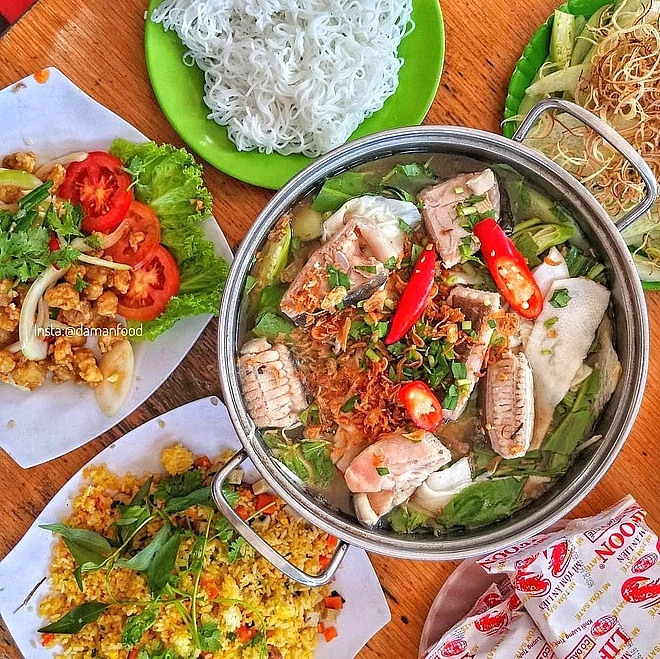 Photo: Zingnews
That is why eating this dish while at a seaside city always bring out the best of this dish. Apart from the stingray, this dish is a hot pot (literally) of sour baby bamboo soup. Fun fact – the stingray has a cartilage skeleton, so instead of having to worry about getting your throat impaled with bones, you can just chew away.
This dish is also carries a great balance of nutrition. When you order lau ca duoi in the restaurant, the server will place on your table the hot pot with stingray, some pickled bamboo, slices of chillies, vermicelli, rice cracker and a plate of herbs. Each of these elements play an important role in terms of making the flavor of the dish subtle yet delicious.
"Bun ca cam" in Da Nang
Coming to Da Nang in the spring, tourists definitely must eat "bun ca cam". This is one of the famous specialties in Da Nang. The dish is rich and slightly sweet. Soft noodles combined with delicious tomatoes and fish tastes quite delicious. Diners can enjoy it with sauce to fully feel the typical flavor of Central cuisine.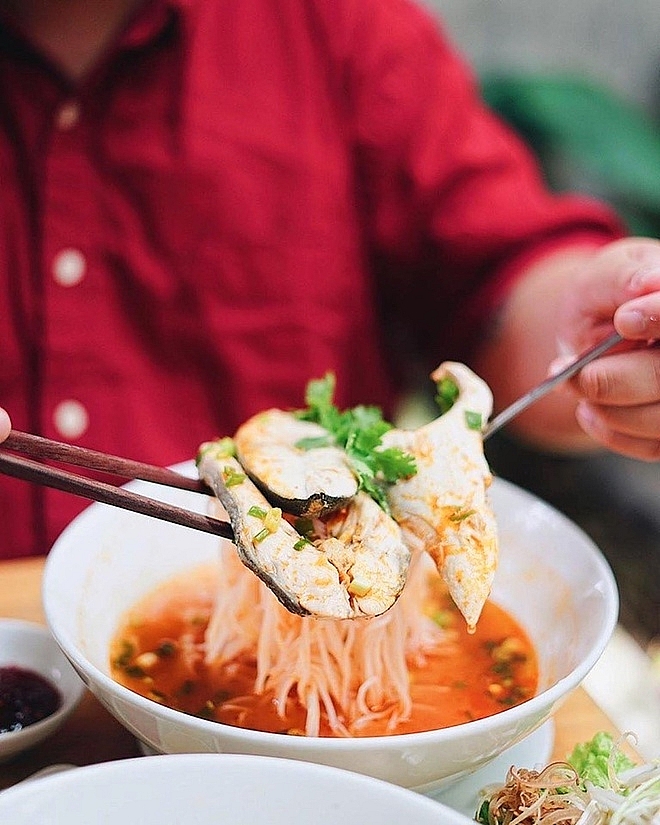 Photo: Foodholicvn.
This in Da Nang looks like a sour soup cooked in the North at first, because the sauce with shinbone and pumpkin, mixed with chopped tomatoes and scallions, squeezed a bit more. The slice of fish is thick, not as thin as Hanoi fish noodles. It isn't fried but simply sliced with spice soaked.
"Banh beo" and "Banh hoi" in Nha Trang
Banh beo is made from a combination of rice flour and tapioca flour. It is popular street food in Vietnam. The ingredients include rice cake, dried shrimps, crispy pork skin, scallion oil, and dipping sauce.
Banh beo is usually accompanied by "nuoc mam" (a clear sauce made from sugar, fish sauce, garlic, and Thai chili) and crunchy pork belly strips that enhance the taste of the dish.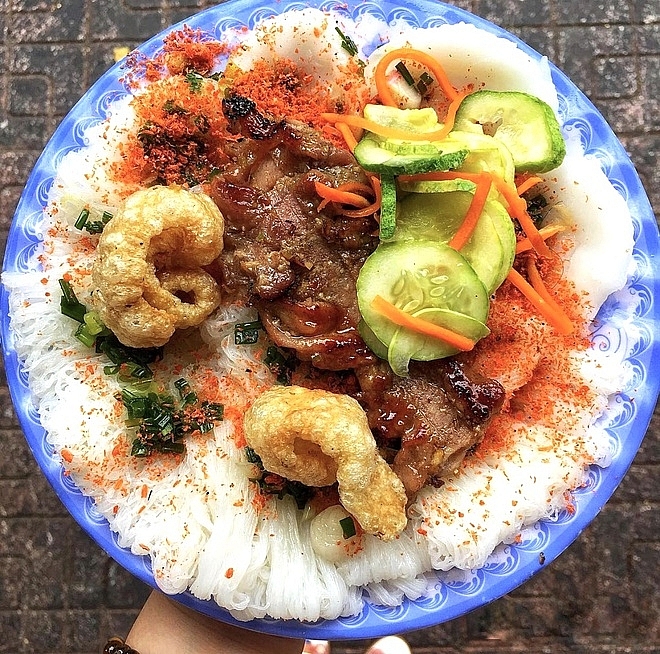 Photo: Citastyfood.
Most often, banh beo are served in individual small dishes and eaten whole after scraping out of the dish with a spoon. Another way to eat this dish is to use a chopstick to nudge the banh beo off the circular dish.
Bánh hỏi is also a must-try Vietnamese dish consisting of rice vermicelli woven into intricate bundles and often topped with chopped scallions or garlic chives sauteed in oil, served with a complementary meat dish.
The strings of noodles are usually only as thin as a toothpick; the texture is firm enough so the noodles do not fall apart, but is not at all sticky to keep the dish light and suitable for a breakfast treat. Also known as question cake or pie.
In brief, banh beo and banh hoi are listed in indispensable dishes of young people when coming to the coastal city of Nha Trang. The soft dough mixes with fish sauce, the crunchy taste of pork skin, the aroma of silk rolls and barbecue makes these two rustic cakes even more attractive.
"Banh duc tau" in Hai Phong
A bowl of "banh duc tau" consists of chopped casters, well-cooked meat and shrimp, papaya diced, julienne wood ear mushrooms, and then chili pepper sauce. Depending on the taste, guests can give more, less or not for chili, so this dish is divided into three categories including not spicy, less spicy and more spicy.
Photo: Eatwpeach
The cakes here are very smooth, firm, cut into bite-sized pieces. Fish sauce is a type of vinegar sauce prepared with all flavors sour, spicy, salty and sweet. When eaten, the sauce absorbed into the cake, eat some more meat and crispy shrimp is extremely great.
The meat chosen to make this dish is a bacon, which is a bit lean and fat, then fried with shrimp. The pieces of meat and shrimp are crispy but never dry, not sick and very easy to eat.
"Banh da cua" in Hai Phong
Banh da cua, or crab noodle soup is a simple but very famous dish of the port city of Hai Phong. With its eye-catching arrangement and intriguing taste, the speciality has made its way to all regions in the country, vna reported.
The crab used in the dish should be fat crabs caught from rivers or paddys, preferably female with broad abdomens. First they are thoroughly cleaned and the carapaces and crab aprons are removed. The innards (crab butter) is separated.
The crab body and legs are mixed with salt and rinsed before being pounded, traditionally with a stone mortar and wooden pestle. The substance is then filtered to remove big particles of shell. The remaining solution is cooked until it boils and the crab meat forms blocks floating on the water's surface. The sautéed crab butter is then added to form an appetising colour. Afterwards, the broth is seasoned. Some people even add bone broth to enhance the flavour of the soup.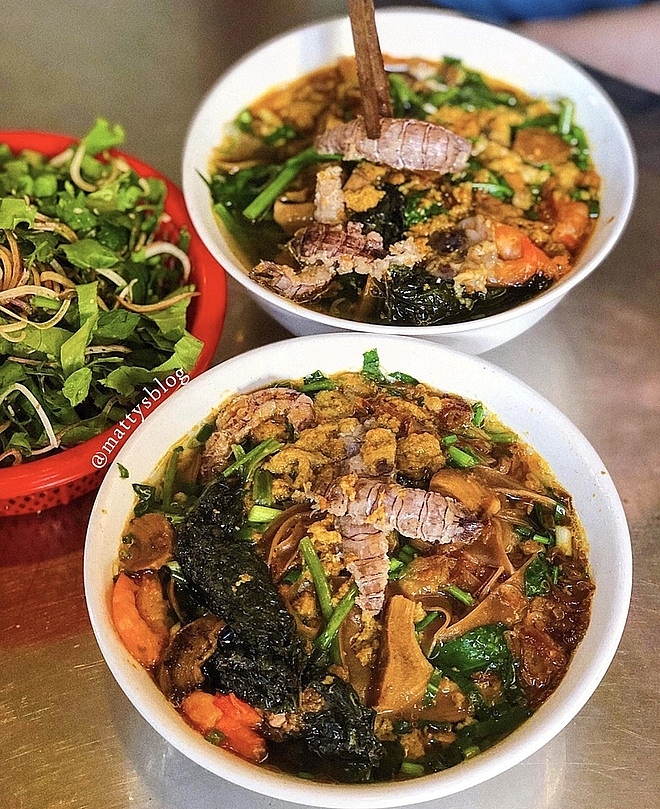 Photo: Mattysblog.
Banh da, the noodles used in the dish, are made of rice and have a reddish brown colour. They are blanched in boiling water and put into a bowl with peeled prawns, mackerel cakes, and some morning glory on top. Other toppings like pork and egg can also be added. Finally, boiling hot broth is poured into the bowl.
A bowl of Banh da cua with an eye-catching appearance and fresh delicious sea flavours is truly an unforgettable dish of Hai Phong.
Jellyfish noodles in Nha Trang
Jellyfish noodle is a popular dish in many places in Vietnam, but the original jellyfish noodles of Nha Trang is still the best one of all. Whenever Vietnamese come back to Nha Trang after a long time of separation, jellyfish noodles will always be their first meal to ease all the homesickness, journeyonair.com reported.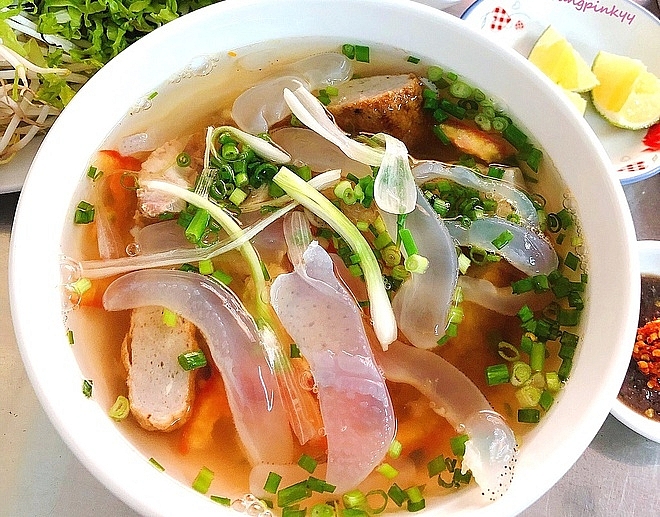 Photo: Trangpinkyy.
Nha Trang jellyfish noodles is a signature dish of this sea city. It is universally favored by both locals and tourists. Especially when summer comes and the heat goes up, jellyfish gets more delicious as it helps to cool down inner body heat.
Selected jellyfish to cook this dish are small ones - only at the size of a thumbnail. Their bodies are thick with an opaque white that is quite similar to the color of coconut meat. Fishermen have to sail to the faraway sea in order to catch this type of jellyfish.
The broth will be cooked from ponyfishes which is a very small fish. It is only about three-finger long. To make the broth nutritious, locals also use other fish such as mackerels and barracuda. These fish will have their bones removed and then be grinded until all becomes smooth mince.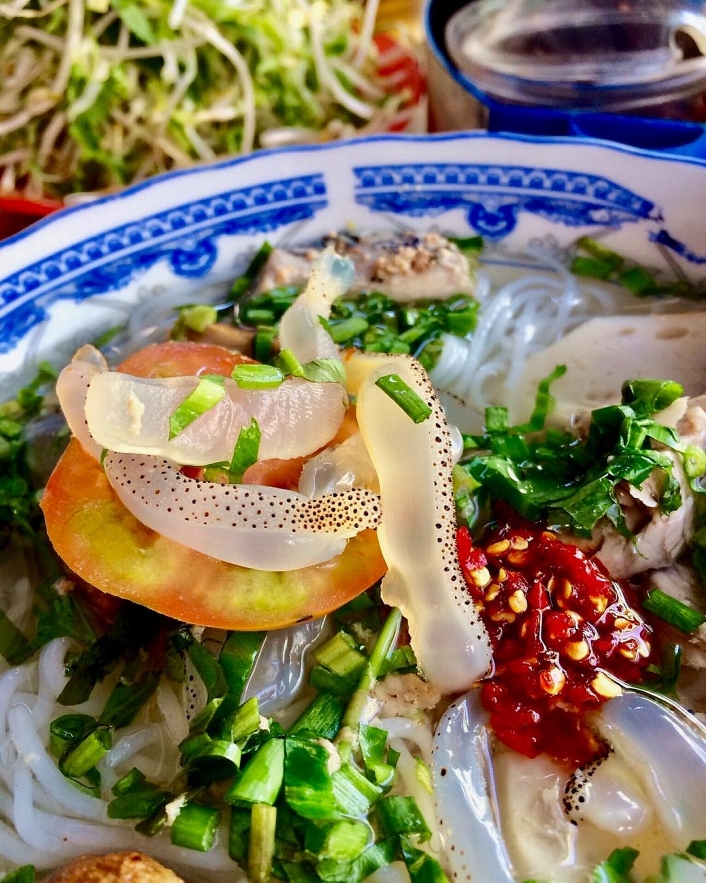 Photo: Journeyonair.com
Later, mince will be shaped into little fish balls and steamed. When eating, you only need to put some bun, salad, clean jellyfish and some fish balls together with the broth. There comes the dedicated and tasty jellyfish noodle.
"Banh hoi chao long" in Quy Nhon, Binh Dinh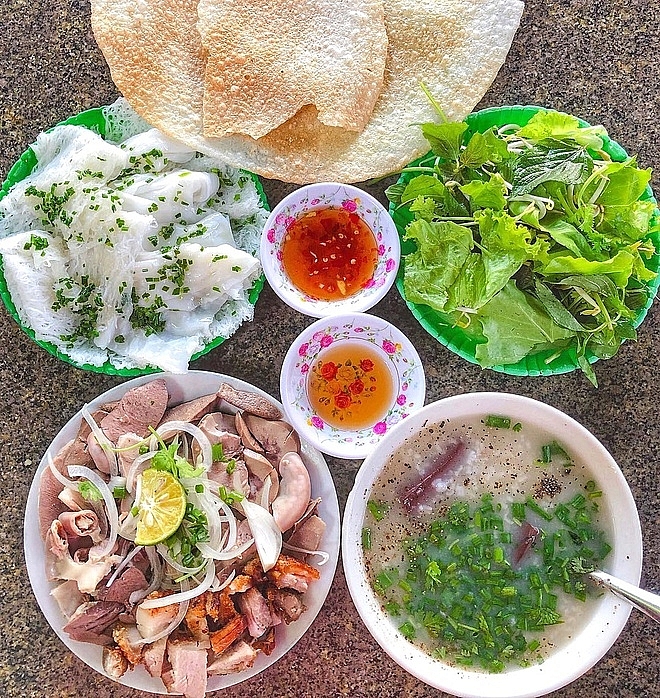 Photo: Hahinmakeup86.
When it comes to "bânh hoi chao long", most people think of two different dishes. However, this is just a dish in Quy Nhon, Binh Dinh. "Banh hoi" is not served with barbecue or shrimp, but served with a hot porridge bowl that feels both familiar and strange.
This dish is a famous specialty in Quy Nhon (Binh Dinh), which can serve at any time of the day. When eating, you will enjoy "banh hoi", boiled pork heart, raw vegetables with thin rice paper or baked rice paper and fish sauce to feel the delicious taste.