'A Journey In a Woman's Dreams', an Impressive Collaboration between Art and Psychology
Impressions from the world-famous Spanish architect and creative director Salvador Pérez Arroyo, MUA Khadija Bouguedra, and designer Younes Airnar about the art exhibition "Lily, a journey into a woman's dreams" displayed at the Vietnam Women's Museum, Hanoi.
The collection of sensitive artists, including Salvador Perez Arroyo as the art director, Khadija Bouguedra as the photographer and retoucher, Lily (Huong Thi Cao) as the model and performer, Phuong Nguyen, and Younes Ainar as the designer, binds their perspectives and methods of expression to produce a set of 24 pictures that propose "a journey through a woman's dreams".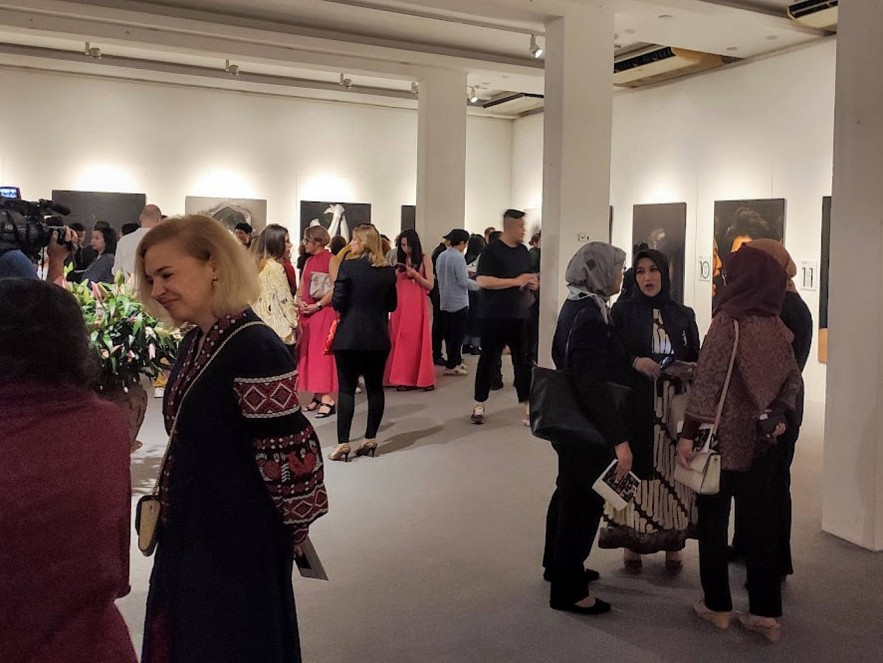 The audience at the scene on the opening night of "A Journey to a Woman's Dreams". Photo: Ollie Le Nguyen
Graphic designer Younes Ainar shares, "the exhibition started without a title! Lily was initially a status of a mythical character representing the metaphor of a dreaming lady. It starts as a free-diving adventure exploring the human mind, and psychological concepts, and definitions in art and photography of consciousness."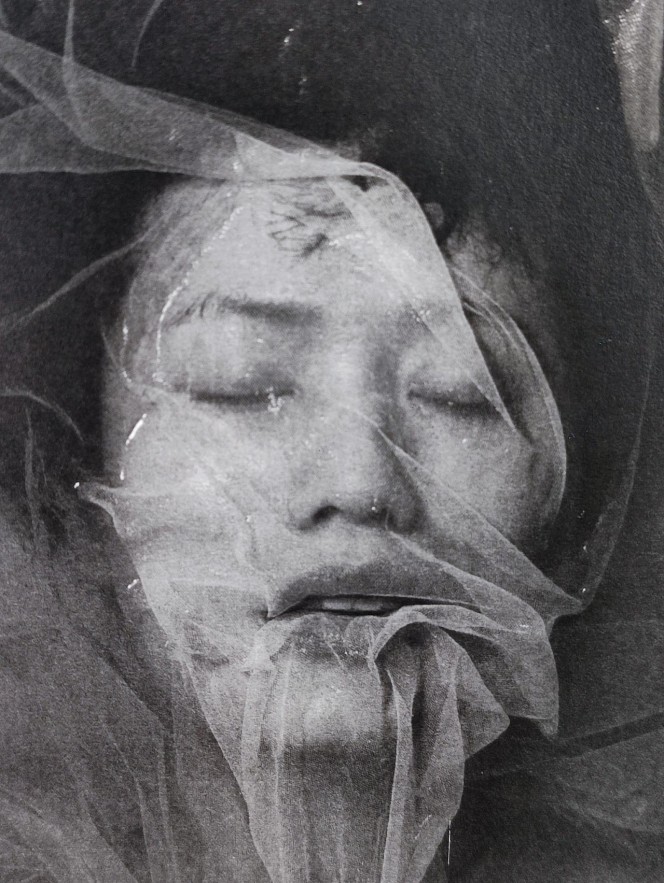 Dreams. Photo: Khadija Bouguedra
With a sizable panel of influences, where each participant contributed significantly based on their personal histories in terms of art and culture, the team spent nearly six months exchanging ideas, working on concepts that combined conscious and unconscious states of mind, editing, and creating more than fifty photoshoots, drawing inspiration from a variety of sources, including cinematic influences (The Wizard of Oz by Victor Fleming 1938, Pierrot le fou by Jean-Luc Godard 1965), paintings (tenebrism and baroque paintings from the 17th century), sculptures (wax sculptures), and Carl Jung (Jungian Archetype).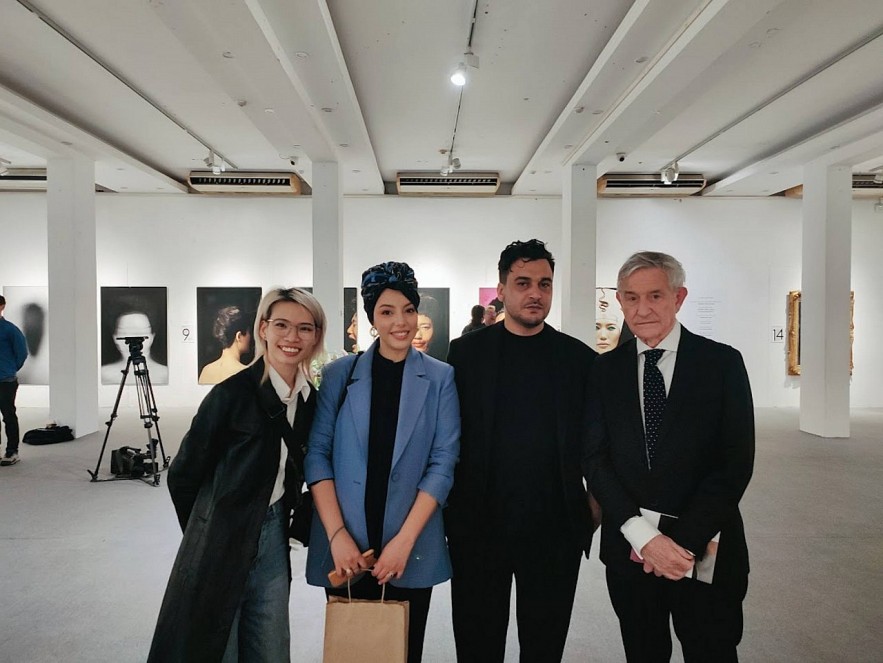 The magnificent team successfully delivered the complex concept along with the Vietnam Times journalist Ollie Le Nguyen.
Salvador Perez Arroyo believes that " In the beginning, I think this is the difficult concept to deliver to the audience." But from the positive reactions at the opening, he knows that they understood it and that they enjoyed the expressions on the face. "I am happy with the story, the idea, and because I worked for almost one year doing thousands of pictures so this is like an achievement," Salvador laughed.
"I choose a Vietnamese model because I'm living in Vietnam and I like the face of Lily," the creative director added. In his point of view, Lyli's face is very special. "I found two things, one is the face structure, which is very important. And her flexibility because she can expressions such as suffering, happy, and so that is very flexible."
Salvador told the Vietnam Times that MUA Khadija Bouguedra was "the key" to the success of this display. She acknowledged that she had "learned so much" from Salvador in return.
With her delicate touch, Khadija created a photography protocol and worked on decorations, special effects, and makeup to help Lily express her emotions more deeply and precisely over time, creating a work that was remarkably realistic.
"Salvador would ask me to produce pictures from the headline that was the conscious and unconscious of a woman of course but it was too general so I got to use my knowledge in psychology, neurology, and hypnotherapy to come up with ideas and even guide Lily into the like into getting some emotions," Khadija further explained.
"He would ask me to do a photoshoot … Let's say it is about Lily with her mouth open with the letter A. I would imagine the makeup and the hair and I can come up with the concepts after about 15 minutes or so," she added.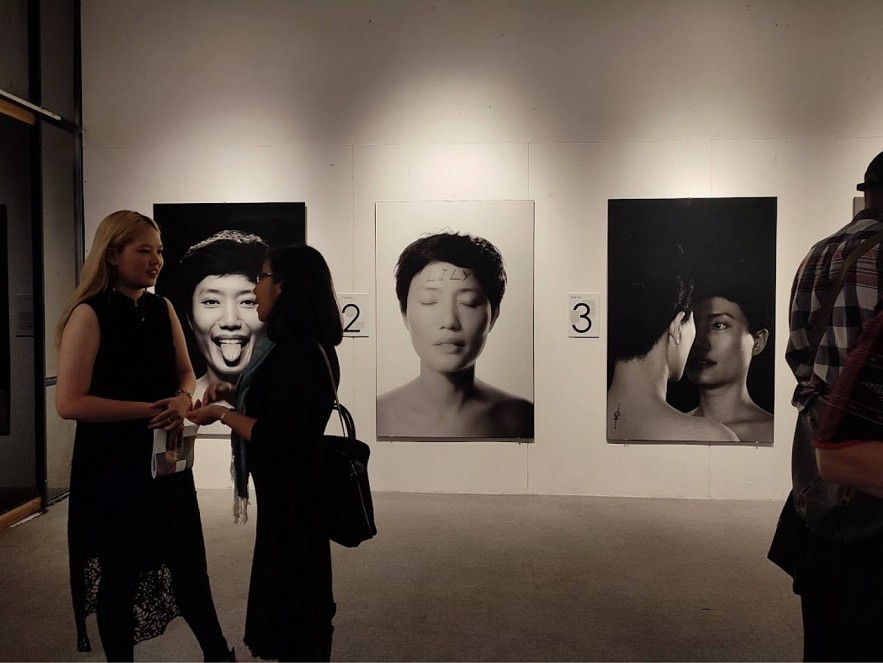 Pictures at the exhibition. Photo: Ollie Le Nguyen
According to Khadija, it is "hard work" since it would take up to 4 hours 5 hours just to get one picture."In some pictures, we kind of struggled a lot to get the emotion so I would put her in a kind of hypnosis state, ask Lily to close her eyes and I would like the kind of guide her into a guided meditation. But she is perfect at delivering a happy emotion."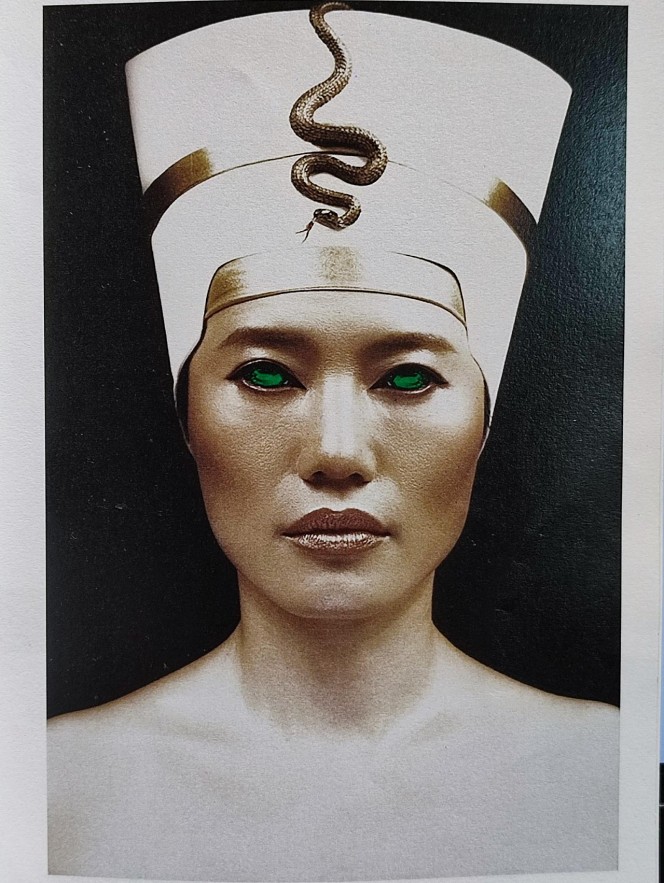 Nefertti. Photo: Khadija Bouguedra
Some concept was heavily invested in both time and effort by the women on the team. Khadija recalled the time when she worked on the Nefertiti shoot, "I had to accompany Lily to the fabric market so I could purchase the leather for the costume. Lily purchased the snake and additional accouterments. I had to investigate on Nefertiti and Egyptian makeup, as well as create a couple of versions of the headwear. Salvator didn't like the initial iteration of the photos, so we had to reshoot them before the public could see them with makeup akin to Nefertiti's, complete with crimson lipstick and emerald eyes."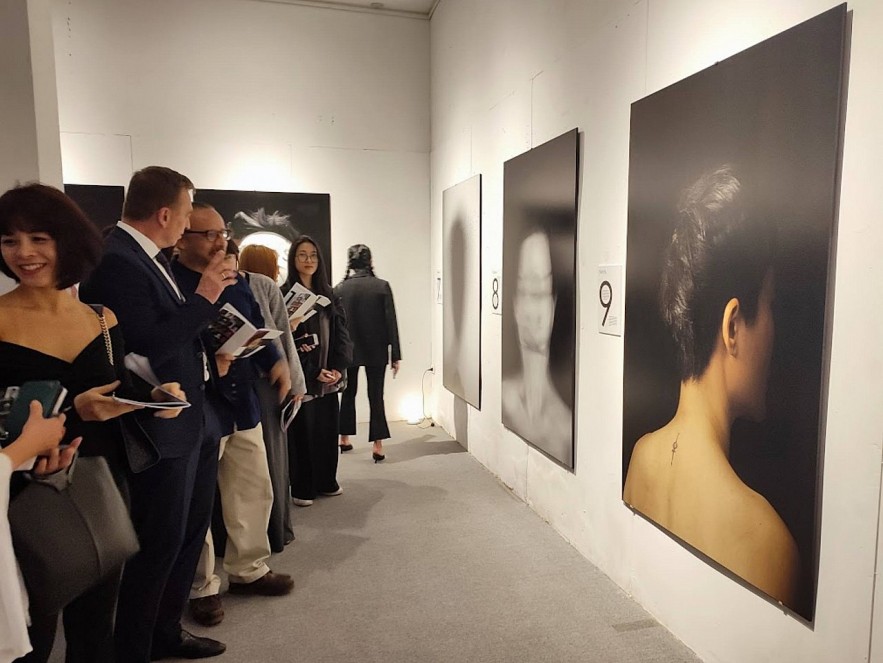 The male audiences were enthusiastic with the audience. Photo: Ollie Le Nguyen.
Phuong Nguyen and Younes Ainar, both international architects and graphic designers, collaborated to give the exhibition a physical body and to complement the initial astounding photography work.
Younes Ainar stated, "Being a part of this adventure gave me the opportunity to explore new forms of expression outside of my line of work as an architect and artist. This was also an opportunity for me to share a piece of my wife's universe and professional activity, which grew our enthusiasm and affection for each other's work and inspired us to collaborate on a future project."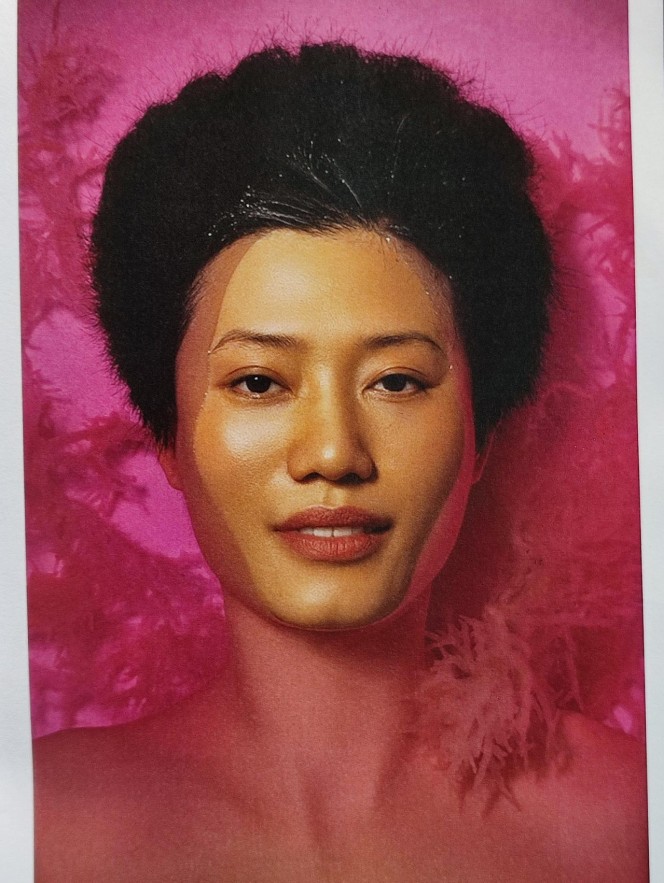 New life. Photo: Khadija Bouguedra
Speaking with the audience, Cesar Guedes-Ferreyroes shares, "'Dreams' and 'Mother' are the ones I enjoy the most. I like 'Dreams' because you can see both the lovely dreams and the nightmares on Lily's face. I like 'Sugar', because who doesn't love sugar, and how effectively he captures the mood in the scene."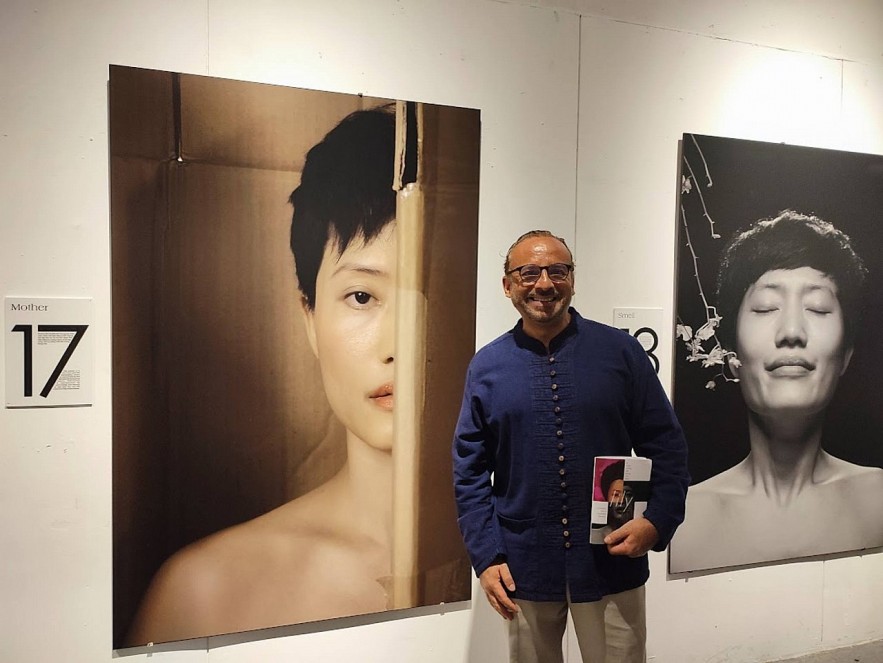 Cesar Guedes-Ferreyroes, Internation Consultant (Peru) standing next to his favorite picture, 'Mother'. Photo: Ollie Le Nguyen.
The international consultant from Peru added, "The exhibition reminds me of my grandmother, my mother, my wife, and my daughters at home. I can better understand what woman thinks and cherish that hardship they have to experience."
Cristina González Martín from Spain, "I adore the show, not just the image but also the idea. Like in the 'Tear', it's impossible to tell if the woman is smiling or crying." She continued by stating that she is fascinated by the subject because she works as a psychologist.
Cristina González Martín from Spain standing next to her favorite picture from the exhibition. Photo: Ollie Le Nguyen
"The idea really captures what Salvador says, which is to let the women to dream, letting the women express their feelings." Which notion she believes defies the prevalent social expectations for women. "The exhibition celebrates the emotion of women while educating the public to let women feel."
"A journey to a woman's dream" is being displayed at Women's Museum till the end of March 2023.
A JOURNEY IN A WOMAN'S DREAM exhibition (7/3 - 31/3/2023)
Vietnamese Women's Museum
Add: 36 Ly 'Thuong Kiet, Hoan Kiem, Hanoi
Opening: 8:00 AM - 5:00 PM every day
Free entrance