Armless man rides motor over 200km every month to 'catch his wife'
Ly Minh Khang, the 32-year-old man who lost both hands in an electrical accident, rides his motorbike over 200km from Hanoi to Tuyen Quang to meet his wife-to-be in person every month.  
Khang and his fiancee prepare for the wedding photo shoot (Photo courtesy of Huu Khang/ via Thanh Nien)
"Catch wife" (bắt vợ in Vietnamese) is a traditional custom of H'Mong and Thai ethnic people, in which the man has to ask his friends to go "catch" his girlfriend - his wife-to-be and bring her home in his stead. The custom has remained part of the cultural identity of these two peoples.
From online dating to real life couple
Khang was born and raised in the northernmost province of Lao Cai and currently lives in a rented house in Hanoi. He had his two arms amputated after an electrical accident. Challenging all the shortcomings, Khang rides his motorbike to every nooks and crannies in Hanoi to deliver fresh produces every day.
Finding happiness in the daily hassle though, the 32-year-old man sometimes feel a sense of self-pity. With such amputated arms, meeting a special someone and tying the knot for Khanh is like a luxury he could never afford.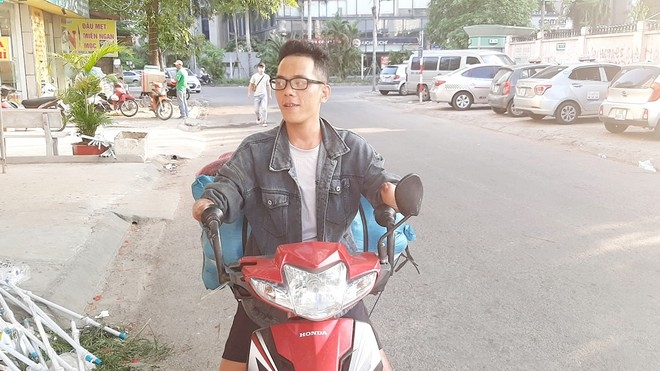 Khang works as a shipper in Hanoi. With special hands, he gets the speical riding steers
(Photo courtesy of Huu Khang/ via Thanh Nien)
Until the day he met Duong Thi Kia, a 22-year-old Mong ethnic young woman. Kia lives in a small village in Tuyen Quang. The two lonely souls first got to know each other through social media and could innitially barely communicate due to language difference. Days gone by, Khanh and Kia found they shared a lot of things in commons. Their love gradually grew without their knowing.
One day, the amputated man decided to travele 200km all the way from Hanoi to Tuyen Quang on his motorbike to meet Kia in person, putting an end to the virtual relationship. Khanh then pays a visit to his girlfriend on a monthly basis in spite of the long ride.
"I feel over the moon everytime I meet her. We often go to the field together. I can't do much without my hands though, I can always put a smile on her face instead", Khang told Thanh Nien, adding that he feels all happy on the long motorbike ride everytime he visits his girlfriend.
"For us, distance and all the ironies in life are nothing when it comes to love", he happily said.
To the dream-like wedding
Love, for a disadvantaged man like Khang, is like a miraculous gift endowed from heaven to compensate for his physical loss. Their 4-year-long love story is not gimmicky, "it's a very simple one, with the normal jealousy and sweet moments", Khanh said.
At the moment, Khanh and Kia are preparing for their "dream wedding" on September 9. Khang said they have done printing the wedding invitation cards and are about to distribute them to friends and relatives.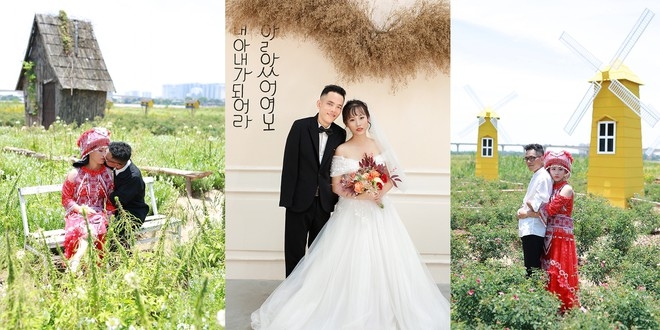 Khang and Kia wedding photos (Photo courtesy of Huu Khang/ via Thanh Nien)
Earlier at the beginning of June, Khang and his fiancee have taken a meaningful wedding photo shoot, which is considered the "most generously invested" photo shoots they've ever made.
Khang and Kia's wedding will be held in Kia's house first, then another wedding will take place in Hanoi in mid September.
"Until now, she's been living within her mountainous villlage and only does the farming on the fields year after year. Once we tie the knot and live together in Hanoi, my wife will have to get used to the vibrant life in such a big metropolis step by step. I think she can start with helping me to ship produces around Hanoi", Khang smiled.