As global manufacturers relocate to Vietnam, Chinese netizens fear job losses
Many Chinese people are concerned about job losses as Apple supplier Foxconn relocates from China to Vietnam.
The news that Foxconn received a license in January to build a plant to manufacture laptops and tablets in Vietnam's northern province of Bac Giang starting in the first half of this year has got hundreds of millions of views and thousands of comments on China's largest social media site Weibo, according to VNE.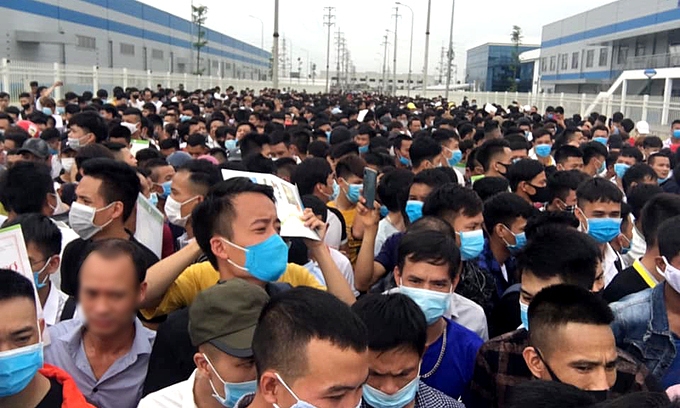 Vietnamese workers apply for jobs at Luxshare, an Apple partner, in the northern province of Bac Giang in June 2020. Photo courtesy of Luxshare Precision Industry.
Foxconn's relocation has concerned many Chinese netizens
There had been 502 threads with 5.6 million views under the hashtag 'Apple moving part of its production to Vietnam' on Weibo as of January 30.
"Apple, the world's biggest tablet maker, could start manufacturing iPads in Vietnam by the middle of this year, marking the first time it produces a significant number of tablets outside of China," Chinese technology company Sina said.
Many Chinese said initially Vietnam lacks the capability to make Apple's high-quality products, but reports that Apple has started iPhone, MacBook and HomePod mini manufacturing in Vietnam have apparently got many Chinese worried.
A user with the name Zhang Qin Qin wrote: "We were wrong [about Vietnam not being able to produce Apple products]. Now even the earphones are produced in Vietnam. Soon enough millions of Chinese workers will lose their jobs."
Others feared that other foreign technology companies would also pull out of China.
"Samsung has left [Samsung shut down its last factory in China's Huizhou city in 2019], and also Apple."
Another user, Xing Wang, said: "Production shifting to countries outside of China is a threat to not only the technology industry but also the whole economy. What will the future of unemployed Chinese workers be?"
However, some believe there are still limitations to Vietnamese production compared to China. According to the Chinese newspaper Global Times, China has developed the most complete industrial and supply chains in the world, with thousands or even tens of thousands of suppliers available for manufacturing sophisticated products, and Vietnam is still far from having such a foundation of suppliers.
Foxconn to shift some Apple production to Vietnam to minimize China risk
Foxconn is building assembly lines for Apple's iPad tablet and MacBook laptop at its plant in Vietnam's northeastern Bac Giang province, to come online in the first half of 2021, the person said, declining to be identified as the plan was private, reported by Reuters.
The lines will also take some production from China, the person said, without elaborating how much production would shift.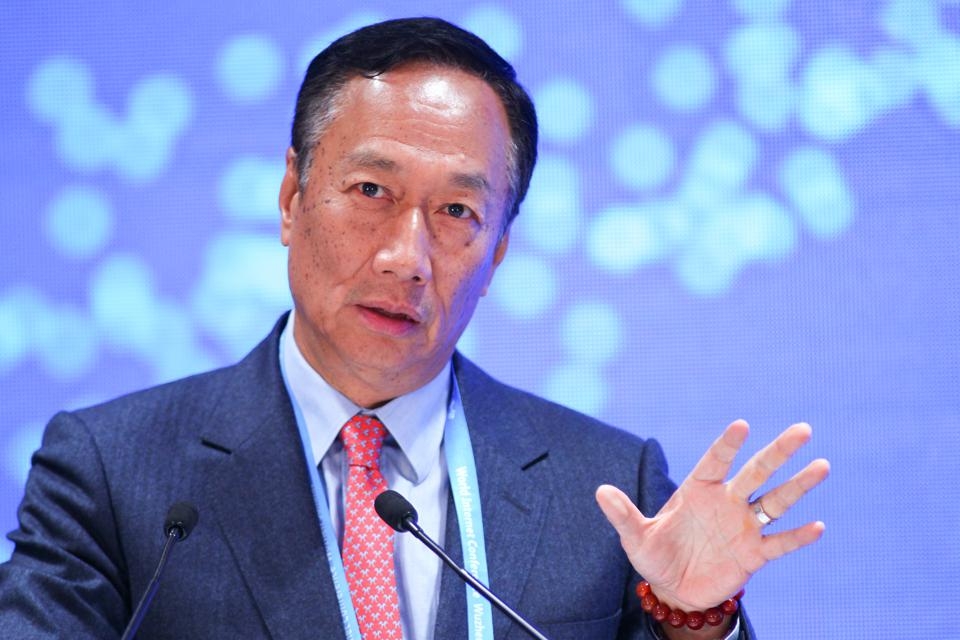 Terry Gou, founder of Foxconn. Photo: Forbes
"The move was requested by Apple," the person said. "It wants to diversify production following the trade war."
Foxconn said in a statement: "As a matter of company policy, and for reasons of commercial sensitivity, we do not comment on any aspect of our work for any customer or their products".
Apple did not immediately respond to a request for comment.
Taiwan's Foxconn, formally Hon Hai Precision Industry Co Ltd, on Tuesday announced a $270 million investment to set up a new subsidiary called FuKang Technology Co Ltd - a move the person said was aimed at supporting the Vietnam expansion.
The contract manufacturer also plans to make television sets at the Vietnam plant for clients including Japan's Sony Corp, with the beginning of such production slated for late 2020 to early 2021, the person said. Sony declined to comment.
The factory will also make other electronic products such as computer keyboards, the person said.
Manufacturing has been growing steadily in Vietnam since 2012 due to its low labor costs and proximity to raw materials in China, as well as government support for foreign investment. Foxconn is looking to Vietnam largely to save on labor costs, which is lower than China's, says Biswas. Less reliance on China would buffer Foxconn against any repeat of last year's disruption when factories in China were closed to contain the spread of the coronavirus, he adds.
Foxconn is separately seeking approval to build a $1.3 billion industrial park in Thanh Hoa in northern Vietnam for more factories, said Forbes.
Besides, China's infrastructure, including roads, ports and other logistical support, also outperforms Vietnam's infrastructure. "There is no need to panic about the current manufacturing shift to Vietnam, which is totally normal, and inevitable, in the market economy," said the Global Times.