Australia to support Vietnam US $10,4 mil to facilitate Covid-19 vaccination
Australia and UNICEF promise to send an aid package worth over US $10,4 million to Vietnam, hoping to facilitate the country's Covid-19 vaccination.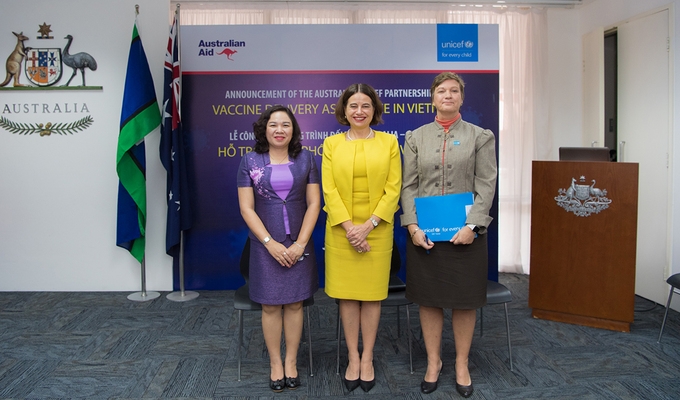 From left to right: Ms. Duong Thi Hong, Deputy Head of Hygiene and Epidemiology Central; Ms. Robyn Mudie, Australian Ambassador to Vietnam; Ms. Rana Flowers, Chief Representative of United Nations Children's Fund (UNICEF) in Viet Nam. (Photo: UNICEF)
"This is a comprehensive and special aid package which will support Vietnam in various essential fields, and in the end, facilitate its nationwide Covid-19 vaccination program," Ms. Robyn Mudie, Australian Ambassador to Vietnam, said in a statement April 19 morning.
Accordingly, the financial support would help Vietnam to buy cold chain equipment for vaccine preservation and transport, organize training courses dedicating to Covid-19 vaccination for medical staff, build inoculation plans in remote areas. The aid package also includes technical support in inoculation, vaccine safety and quality evaluation.
"In the near future, we will work with the Ministry of Health and devise plans so that Australia could support Vietnam in the most optimal manner," Muide said.
She added that Australia was also considering allocating Vietnam with the batch it bought via global market. Australia pledges to support Vietnam US $40 million for Covid-19 vaccine purchase and distribution in the next three years.
Associate Professor Duong Thi Hong, from the National Institute of Hygiene and Epidemiology, affirmed that Australia's support had tremendous and long-term meaning to Vietnam. She said, "The National Institute of Hygiene and Epidemiology was tasked to receive Australia and UNICEF's support. We would use it as seriously as we could to have a successful vaccination program."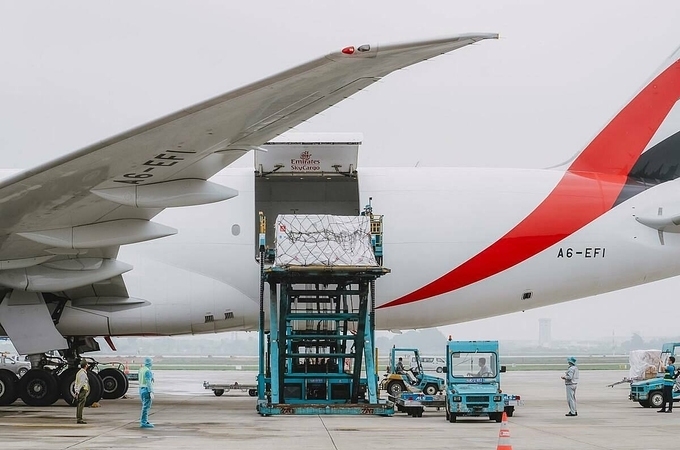 First batch of AstraZeneca via Covax program arrived in Vietnam on April 1 (Photo: VNE)
Vietnam is expecting 60 million doses of the UK's AstraZeneca vaccine, with 30 million sourced via Covax and another 30 million by order.
On February 24, the first 117,600 purchased doses arrived in the country and have been administered to nearly 50,000 prioritized recipients in the National Expanded Vaccination program.
On March 23, Vietnam greenlighted Russia's Sputnik V vaccine for emergency use.
On April 1 morning, the first batch of Covid-19 vaccines sourced via the global Covax program, containing 811,200 AstraZeneca doses, has arrived at Noi Bai International Airport.
The batch was then transferred to the National Institute of Hygiene and Epidemiology (NIHE) for preservation.
Previously, global vaccine access mechanism Covax planned to supply Vietnam with 1.37 million Covid-19 vaccine doses produced by British-Swedish firm AstraZeneca on March 25. But due to a lack of supply, only 811,200 doses were made available in the first batch.
On April 18, the Ministry of Health re-distributes the 110,000 AstraZeneca doses originally dedicating to the military forces to provinces across the country.
Accordingly, among the 80,000 doses planned to administer for military personnel, medical authorities divide 34,350 doses to Disease Control Centers in 44 provinces and cities. Northern localities receive a total of 15,450 doses, while the Central region gets 8,200 doses, Central Highlands 3,450 doses and Southern region 7,250 doses.
The Ministry also supplements 10,650 doses for 5 localities, including An Giang Disease Control Center (2,200 doses), Tay Ninh Disease Control Center (2,250 doses), Kien Giang Disease Control Center (2,200 doses), Dong Thap Disease Control Center (2,000 doses) and Long An Disease Control Center (2,00 doses).
The 30,000 doses scheduled to deliver to the police forces are now allocated to the Disease Control Centers in 62 provinces and cities across the country.
To date, 49 out of 63 provinces, cities have received AstraZeneca vaccines granted the second time by the global Covax program, which aims at ensuring Covid-19 vaccines are shared fairly among all nations, rich and poor.
The Health Ministry is expediting all localities to speed up and finish their current vaccination program ahead of May 5, 10 days earlier than scheduled.
A total of 66,366 people in 22 provinces and cities have been given Covid-19 vaccine. Four provinces Bac Ninh, Ha Tinh, Cao Bang, Phu Yen have already launched the second round of the inoculation program.