Before Leaving Vietnam, Expat Takes Out the Trash
Expat Katie McCullagh and her friends initiated a cleanup in the outskirts of Hanoi, days before returning to her homeland. Her selfless, final act in Vietnam may spark some environmental progress.
The worsening pandemic and visa crackdown has caused many expats to unceremoniously leave Vietnam. Prior to the lockdown, goodbye celebrations were a common sight in Tay Ho. Close friends from around all sides of the world would gather in bia hoas and reminisce about their jungle adventures, countryside road trips, and lazy beach days. Bittersweet tears and spilt beer damped the plastic stools. For Irish expat Katie McCullagh, her goodbye celebration was a bit "trashy."
On June 6th, five days before her flight home, McCullagh and her friend Justin McCormack took off on their motorbikes towards Soc Son's Dong Do Lake. Equipped with gloves, masks, and trash bags, the duo set out to tackle the region's trash problem.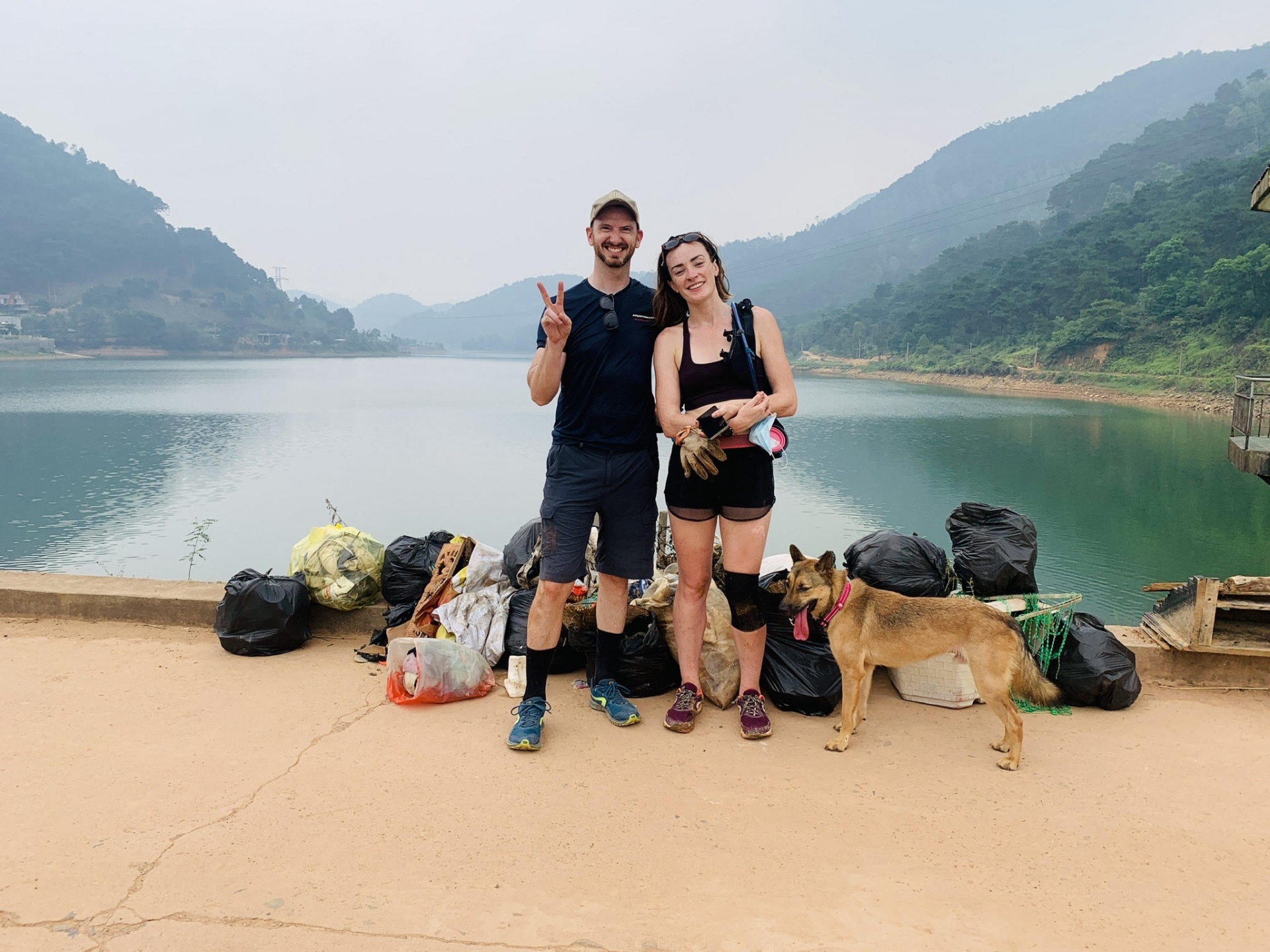 Back in June, months before the current lockdown, McCormack and McCullagh completed a successful cleanup in Soc Son. Photo by Justin McCormack
"Soc Son is close to my heart," said McCullagh. "I first went to Soc Son to swim with some friends when I first arrived in Hanoi. I couldn't believe there was such a beautiful, untouched nature spot so close to the city. Being there just made me so happy!"
McCormack, an American expat, agrees with her high praise of the region. "Soc Son has been a go-to location for me and my friends for years," he said. "It's a great place to go when we want to get out of the city."
Dong Do itself has been an oasis for McCullagh and McCormack. The pair are members of an informal running crew, affectionately called the "West Lake Loopers." When the Loopers wanted more of a challenge, they would head out to Soc Son and ran 14 kilometers around Dong Do Lake. At the end of a long run, the Loopers would cool off in the refreshing water. Sadly, trash heaps continued to get larger, ruining the tranquility and safety of the lake.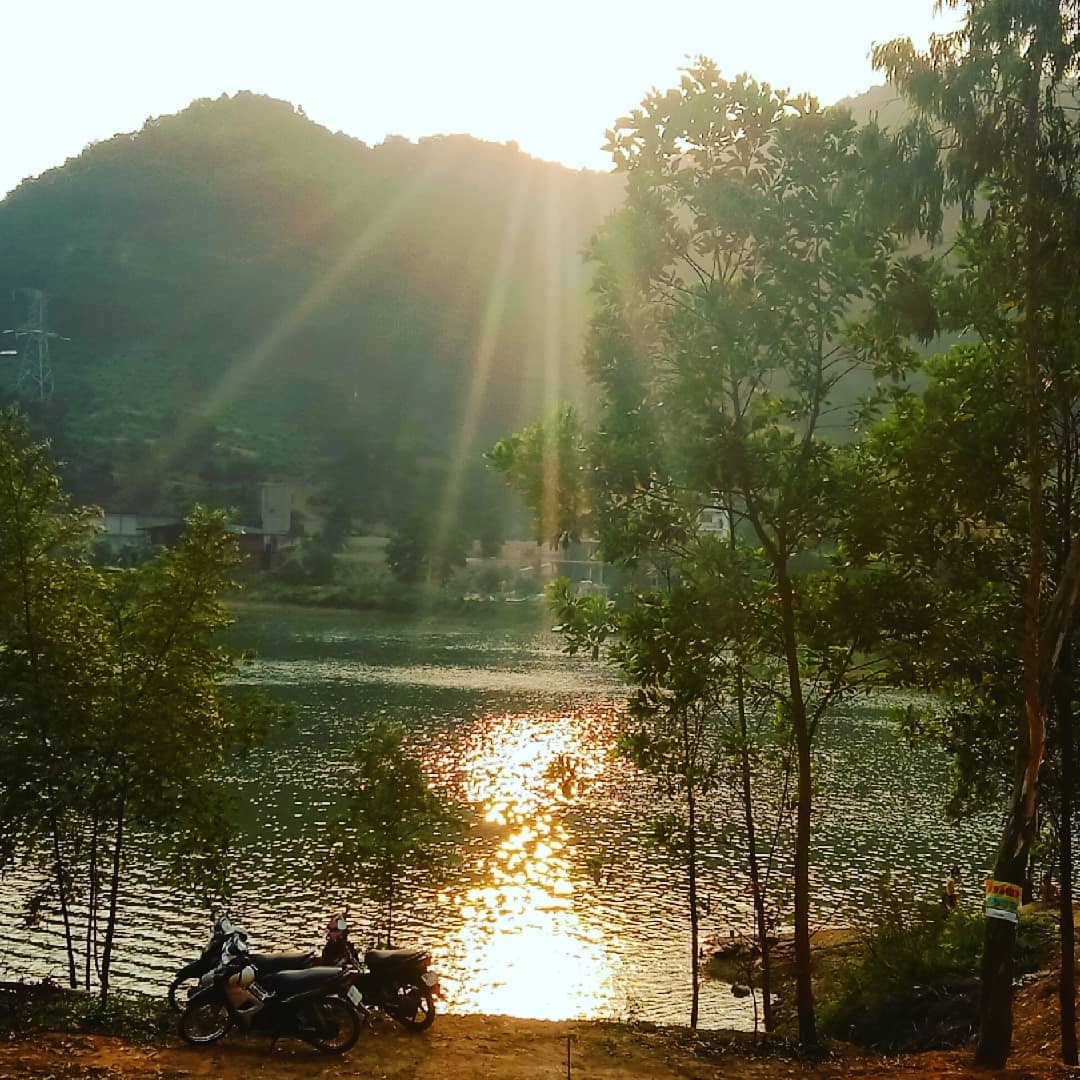 Soc Son's Dong Do Lake is a magical spot yet rubbish may ruin it. Photo by Glen MacDonald
"As I saw it get more popular over the last couple of years, it really upset me to see people coming to enjoy the place without respecting nature," said McCullagh. "The rubbish started to pile up so much that we didn't even want to sit down or swim the last couple of times."
"I said to my running crew that if we don't clean it up, no one will," said McCormack.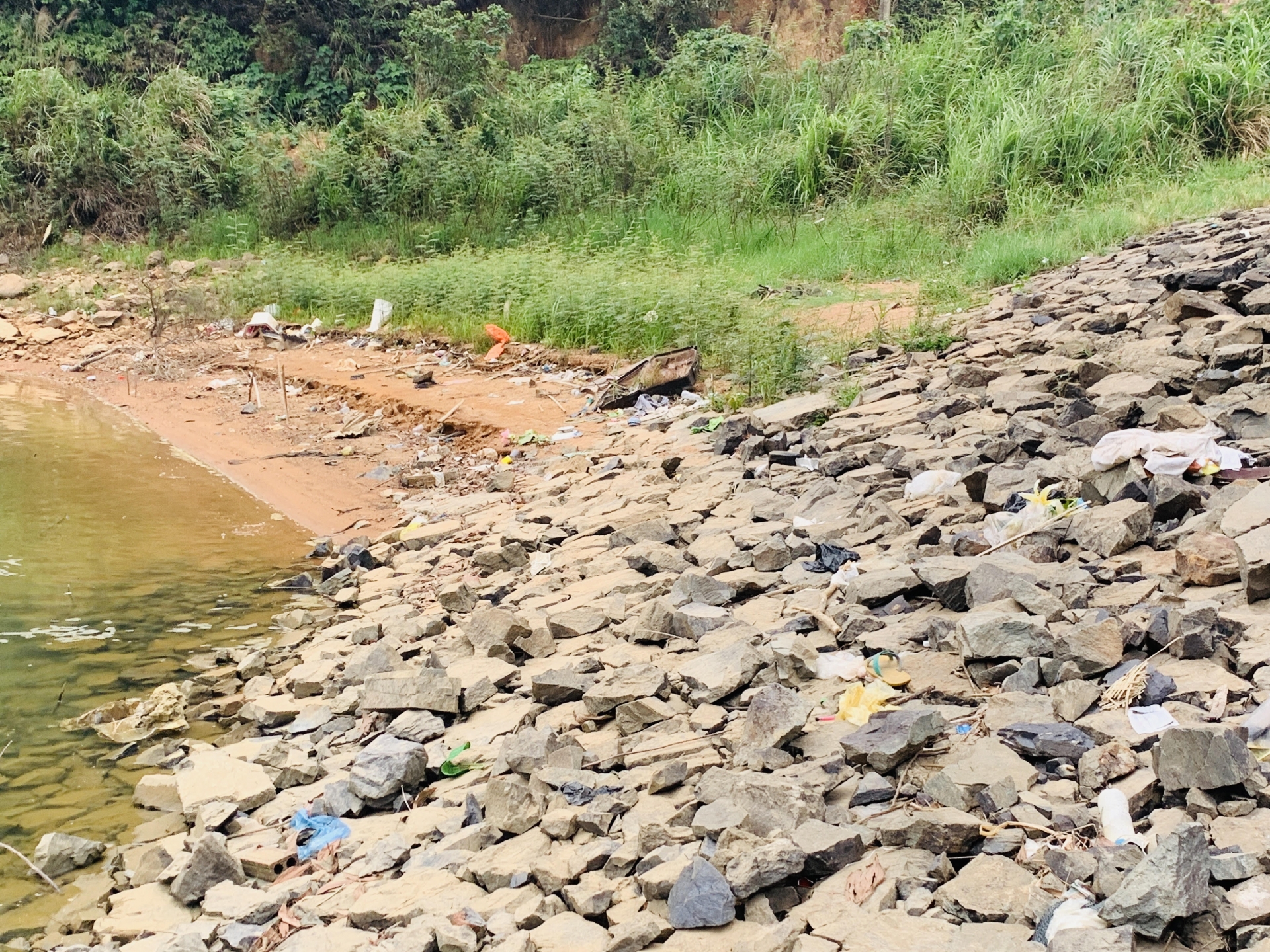 As a popular picnic area, Dong Do's shores sees a lot of trash. Photo by Justin McCormack.
McCormack's statement is mostly correct, as there is very little education in Vietnam on this important matter. Originally, the Vietnamese would use environmentally safe packaging materials such as banana leaves. If discarded, the organic material would not pollute the environment. It is most likely that this cultural habit has continued with modern, non-biodegradable materials. As this habit spans generations, it may take years to end this destructive pattern.
Thankfully, the Loopers's cleanup may have already inspired some positive change. An hour into their mission, McCullagh and McCormack were joined by a friendly Vietnamese couple who were impressed with their efforts. Tấn Sang and his girlfriend, were quite amazed to see expats getting rid of the mountains of trash. The couple was impressed with the expats, especially with McCullagh sacrificing one of her final days in Vietnam to give back to the community.
"I was just driving around and saw Katie and her friend cleaning so I decided to help them," said Sang. "It only took about one hour and there was no trouble cleaning up."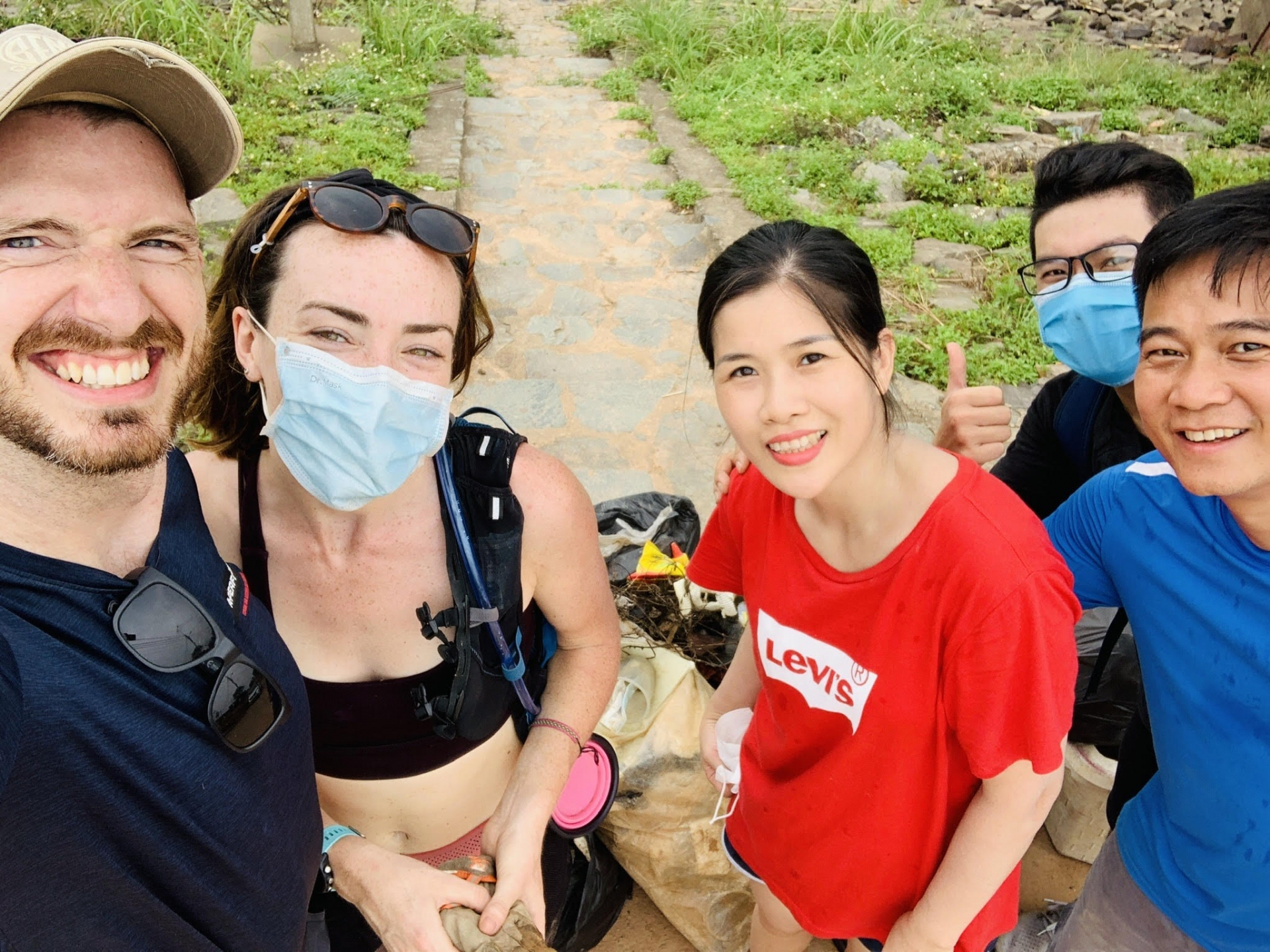 New friendships made during the cleanup. Photo by Justin McCormack.
Later on, a third Vietnamese citizen stopped by to help the volunteer custodians. By the end of the day, the ragtag crew collected 20 bags of garbage. Their haul consisted of wrappers, bottles, styrofoam, clay pots, and even a suitcase.
The amount of garbage collected during their cleanup has left an impact with McCullagh. "I understand that every country goes through [waste management issues] as they are developing, so it's tricky," said McCullagh. "But honestly, not enough is being done at the moment. This needs to change before it's too late. I do think that Vietnamese are rightfully very proud of their beautiful country and it's everyone's responsibility to keep it this way, including expats!"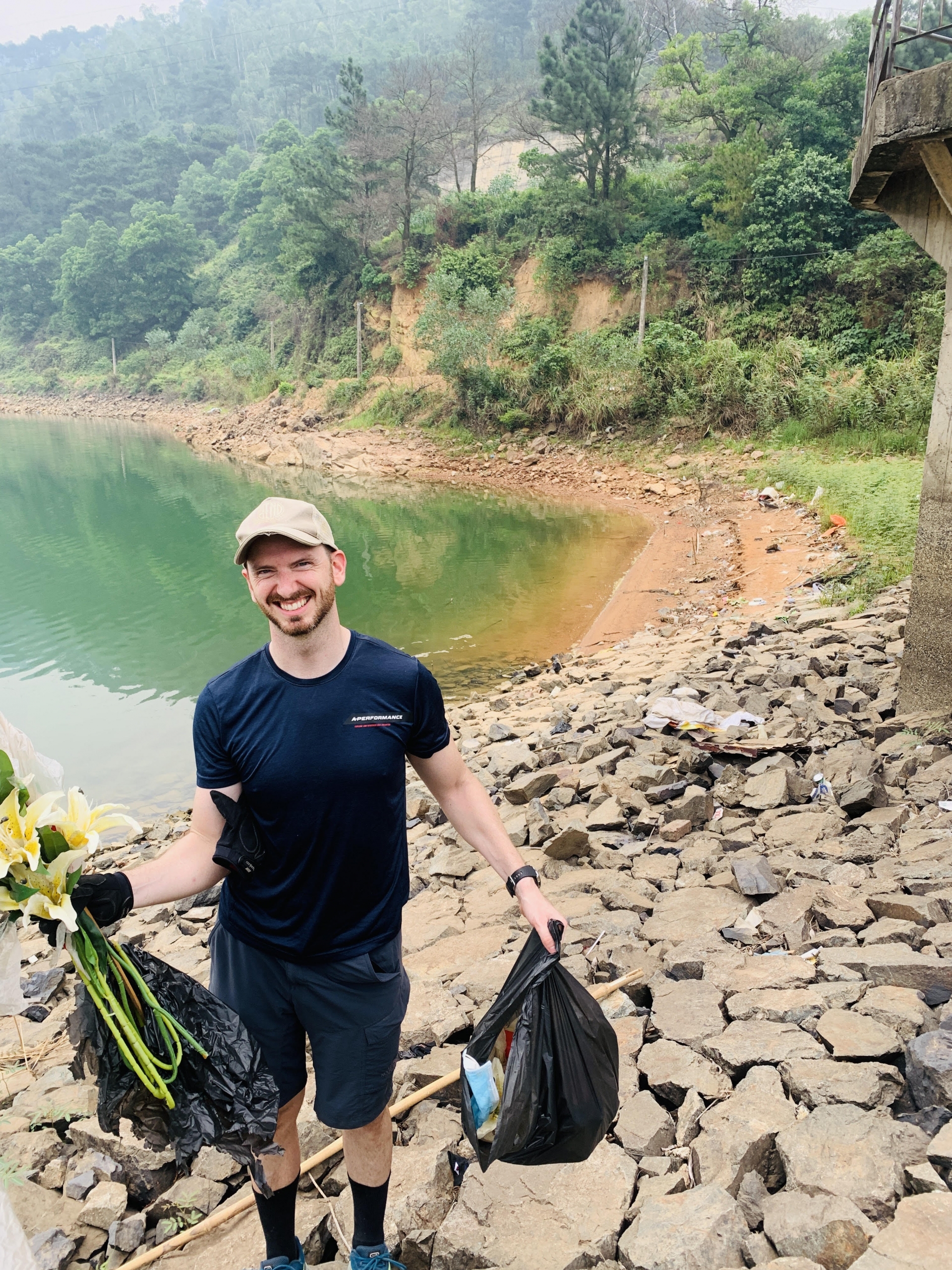 Big smiles and tough work. Photo by Justin McCormack.
Fortunately, there is a group committed to Vietnam's delicate ecosphere. Founded by American expat James Joseph Kendall, Keep Hanoi Clean (KHC) is a social enterprise with a focus on environmental issues. The organization began in 2016, when a Vietnamese friend challenged Kendall and other expats to show their commitment to Vietnam by helping solve the problems facing all people. Accepting his challenge, Kendall and his friends started to clean up a canal. Their efforts encouraged many local Vietnamese to join KHC's future cleanups and created an multicultural community based in proactive environmentalism.
Doug Synder, KHC's General Director, is happy to see other expats help combat pollution. Despite the overwhelming news about the fading global environment, Synder believes even small cleanups can be great catalysts for change.
"I think that promoting and facilitating a love for our natural environment and the shared urban environment is an essential part of encouraging behavior change," explains Synder. He also points out that more effort by the government is needed for environmental policies. However, Synder is also aware of the Vietnamese government's recent advancements on this issue.
"There has been some progress in this area with the government, and I believe some circular economy policies are currently being drawn up by the Institute of Strategy and Policy on Natural Resources and Environment," writes Synder, via email. "The Vietnamese public listens very carefully to what the government says, so leadership from the government can go a long way to influence people to stop littering."
A lot is needed to be done to curb Vietnam's littering problem. Photo by Justin McCormack.
Thanks to the cleanups by KHC, the Westlake Loopers, and concerned residents, Hanoi continues to be beautiful. As for McCullagh, she is safely at home in Ireland. She often thinks of her beloved Soc Son and offers advice for anyone traveling there (post-lockdown).
"I think people setting an example for others is a great way to encourage better habits," said McCullagh. "Start by making a difference yourself, however small. The next time you see some rubbish, even if it's not yours, pick it up! Set an example and people will follow."
Currently, travel to Soc Son is prohibited and Dong Do Lake remains untouched. Hopefully, once the area reopens, visitors will remember the kind actions of McCullagh and her friends and will continue to perserve Vietnam's wild, natural beauty.