Belgian Enterprises Explore Business Cooperation with Binh Dinh Province
Binh Dinh has advantages such as a favorable location and complete infrastructure, including Quy Nhon seaport, as well as tourism development and renewable energy development.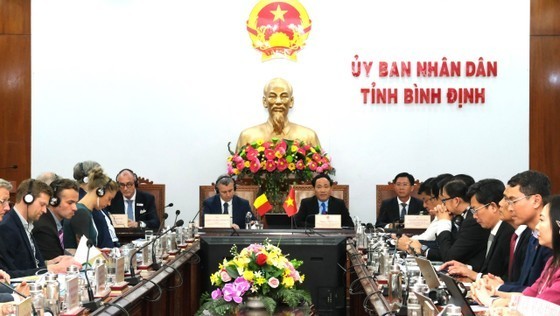 At the hybrid conference in Binh Dinh. Photo: SGGP
The central coastal province of Binh Dinh introduced its economic and investment potential to Belgian businesses at a hybrid conference in Brussels on March 24, VNA reported.
The event, part of activities to celebrate the 50th anniversary of diplomatic relations between Vietnam and Belgium, offered a chance to connect Belgian firms and their Vietnamese peers.
Addressing the event, Vietnamese Ambassador Nguyen Van Thao said that economic and trade cooperation has been one of the bright spots in the Vietnam- Belgium partnership over the past 50 years.
Belgium is an important trade partner of Vietnam in Europe, especially in areas of Belgium's strengths and Vietnam's demand such as agriculture, new energy development, logistics, port infrastructure, chemicals and pharmaceuticals. Meanwhile, Vietnam is a major trading partner of Belgium and Europe in Asia. Moreover, Vietnamese and Belgian products are complementary, he said.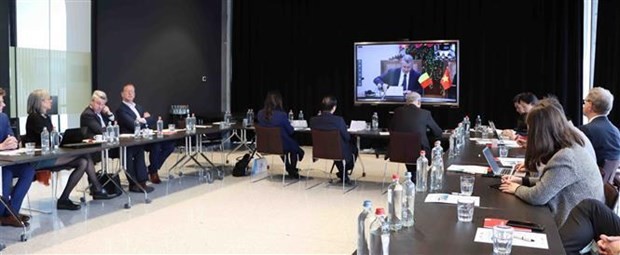 Participants at the hybrid conference in Brussels. Photo: VNA
After the Vietnam-EU Free Trade Agreement (EVFTA) came into effect in August 2020, despite the impacts of the Covid-19 pandemic and geopolitical fluctuations, two-way trade has still expanded, reaching EUR 3.9 billion in 2021 and over EUR 6 billion last year, representing a year-on-year surge of 60%, noted the diplomat.
The ambassador highlighted the advantages of Binh Dinh, including its geographic location, infrastructure system, tourism and renewable energy potential.
He pledged that the Vietnamese Embassy in Belgium is willing to promote cooperation between Vietnamese localities, including Binh Dinh, and those from Belgium as well as the EU, and help Belgian firms to gain greater insights into investment policies in Vietnam.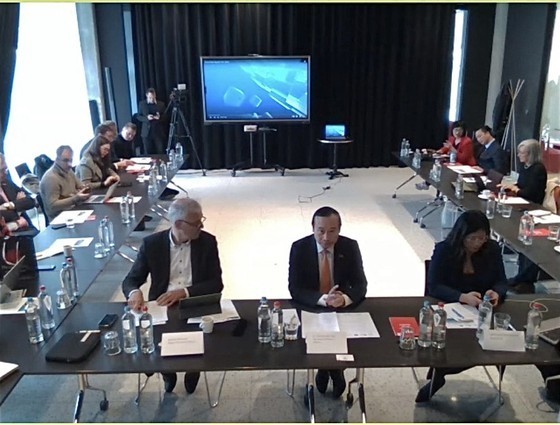 Vietnamese Ambassador to Belgium Nguyen Van Thao speaks at a seminar held on March 24 to boost trade and investment promotion activities in Binh Dinh, a southern central province of Vietnam. Photo: SGGP
First Vice President of the Belgian Senate and President of the Belgian-Vietnamese Alliance (BVA) Andries Gryffroy underlined that Binh Dinh is a "golden gate" to Southeast Asia.
He said that in September, a delegation comprising businesses from the Flanders region will visit Vietnam.
He stressed that the EVFTA has created a wealth of opportunities to boost exports between the two sides, and that the Belgian Vietnamese Alliance will continue to serve as a bridge for the two markets and support companies seeking to develop their businesses.
Speaking to Vietnam News Agency correspondents in Brussels, Emiel Neyrinck from the Union of Independent Entrepreneurs (UNIZO) of Belgium, said that he realises the great potential of Binh Dinh in economy and tourism, and will introduce it to UNIZO members.
Meanwhile, Senior Area Manager for Asia-Pacific of the Wallonia Export and Investment Agency Isabelle Pollet said that Wallonia has many strong firms in the fields of pharmaceuticals, biotechnology and renewable energy that can cooperate with the Vietnamese side.
John Cockerill Company recently signed a co-operation agreement with Vietnam to deploy a renewable energy project in the coming months, she added.
Belgium is now the sixth largest trade partner of Vietnam in the European Union (EU). With 82 projects worth nearly USD 1.1 billion, the European country ranks 23rd out of 139 countries and territories investing in Vietnam.
Belgium has also been a donor of official development assistance for Vietnam since 1977, with a funding of EUR 20-25 million per year. The country continues supporting Vietnam through tertiary cooperation programmes, non-governmental organisations and private sector. Nearly 5,000 Vietnamese students had and are studying in Belgium.
Focus
Brazil is Vietnam's largest trading partner in Latin America and in the top three of Vietnam's largest markets in the Americas.
June 07, 2023 | 14:29
Economy
The deputy chief minister praised the literary contributions of Dai and stressed the importance of promoting literature and education in the state. He also highlighted the achievements of individuals from various sectors, including sports, education, and business, who brought laurels to the state.
June 07, 2023 | 07:00