Bill and Melinda Gates divorce stirs debate on men doing dishwashing in Vietnam
Bill Gates' professed love for dish washing has sparked the debate among Vietnamese netizens after he ended his 27-year marriage. Several Vietnamese male netizens quipped that sharing housework does not seem to save a marriage.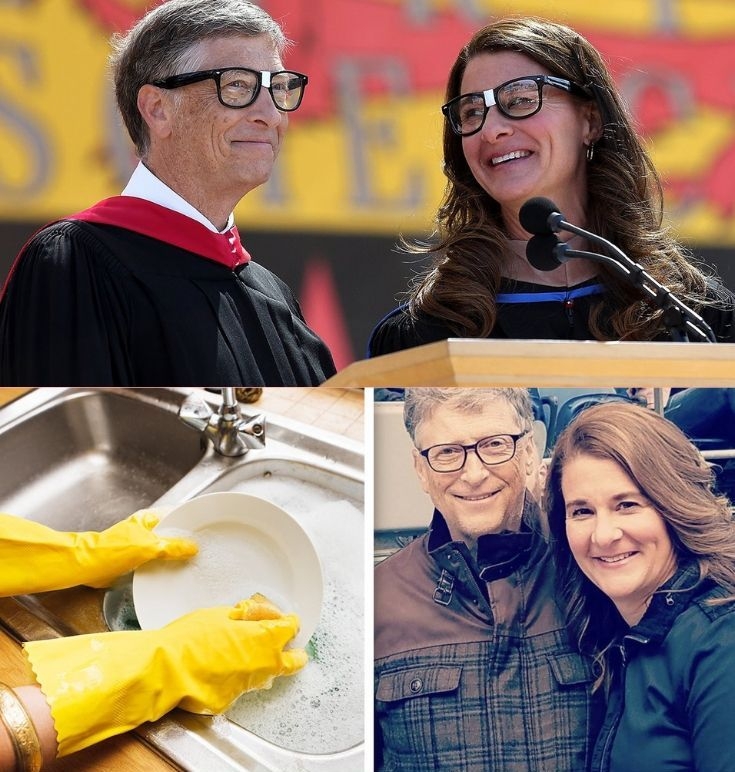 Photo orrisapost
Microsoft founder Bill Gates may be the world's richest man, but that doesn't mean he's above doing the dishes.
In fact, Gates makes time to wash his family's dirty plates and cups almost every night.
In a Reddit Ask Me Anything in 2014, the billionaire said that he finds the chore enjoyable.
When asked, "What is something you enjoy doing that you think no one would expect from you?" Gates replied, "I do the dishes every night — other people volunteer, but I like the way I do it."
The pair announced their divorce in joint statements posted on Twitter on Monday, saying "we no longer believe we can grow together as a couple". "After a great deal of thought and a lot of work on our relationship, we have made the decision to end our marriage," they said.
Not only Gates, billionaire Jeff Bezos – Amazon CEO – also washes dishes every day. He said "I do the dishes every night. I'm pretty convinced it's the sexiest thing I do," Bezos joked in a 2014 interview. Bezos and his wife got divorced in 2019 after 25 years of marriage.
Finding common things between the two billionaires, Vietnamese netizens are debating the merits and demerits of a man doing the dishes after thier divorce.
Nguyen Thanh Dat, a white collar worker in Hanoi, commented on his Facebook page, said: "A man enjoying washing dishes for his wife and still ends up divorcing... it seems doing dishes does not help a marriage last."
Many other men agreed, joking they would not do the dishes hereafter because "even a rich man like Bill Gates cannot save his marriage by washing dishes," VnExpress reported.
Many netizens would not be diverted by the humor.
An Nguyen, a teacher in Hanoi said "People should stop making jokes that men who do chores at home will not have a happy marriage. Such ridiculous assumptions make it harder to fight gender stereotypes."
Some people commented that man doing housework was nothing to talk about, but sociologist Trinh Hoa Binh said that Bill Gates washing dishes had caught public attention because it is uncommon for a man to do house chores in Vietnam.
The notion of "men building the house and women making it a home," is deeply rooted in many Asian cultures including Vietnam.
In 2018, a survey by the Institute of Labor Science and Social Affairs and the United Nations University World Institute for Development Economics Research revealed just three percent of respondent husbands washed dishes at home, and only 0.5 percent offered to do it regularly.

Notably, 20 percent said they'd never washed dishes, which, they consider a woman's job.

A report by the Ministry of Labor, Invalids, and Social Affairs and ActionAid in 2016 showed Vietnamese women spend an average five hours a day on unpaid work like household chores and childcare, compared to three hours for men.

The report said that in some disadvantaged areas, women spend over eight hours a day on unpaid employment.

Even amid the Covid-19 pandemic, 20 percent of Vietnamese men have not done any housework even as the women carry the double burden of work and family responsibilities, according to a March report by the International Labor Organization (ILO).
In this patriarchal paradigm that is reinforced by Confucian traditions in Vietnam, cooking, washing clothes, doing the dishes, and taking care of children are a woman's job.
It is commonly said that if women fail to manage their family affairs and housework, they are nothing, regardless of how successful they may be in their careers and society.
Vietnamese women spend an average five hours a day on unpaid work like household chores and childcare, compared to three hours for men. Photo Pinterest
"Many people think women must strike a balance between her job and house chores, but the truth is they go to work and earn money just like their male counterparts," sociologist Binh said.
It is still a widely prevalent practice that Vietnamese women do most of the housework, while fixing and maintaining equipment in the house are tasks reserved for men, according to a study done by the Institute for Social Development Studies.
"Traditional gender norms are clearly reflected in the way many people think – that a man like Bill Gates can easily free himself from doing house chores," said sociologist Binh.
Binh said: "If a man doing housework becomes a common thing here, people would not talk about Bill Gates's liking for dish washing, but that will not happen in the near future."
The surprising benefits of dishwashing
Studies have found that doing the dishes can reduce stress and boost creativity.
A Florida State University study found that students who were primed to be mindful while washing dishes (i.e. focus on breathing and the touch, smell and feel of the task) saw a decrease in their stress levels and a boost in inspiration. Concentrating on the feeling of the warm water or the smell of the soap stimulated the brain.
Another study by the University of California, Santa Barbara, found that doing mindless tasks allows the brain to wander and engage in creative problem-solving.
For instance, people who first completed a "boring" task, like copying numbers from a phone directory, were able to think more creatively afterward, according to a study by the University of Central Lancashire./.