Café Crawls: Sipping Our Way Through Ancient Hoi An
With a mix of cultures, blended together like a delicious drink, Hoi An's Ancient Town is the perfect place to explore the historic sights with a refreshing glass in hand.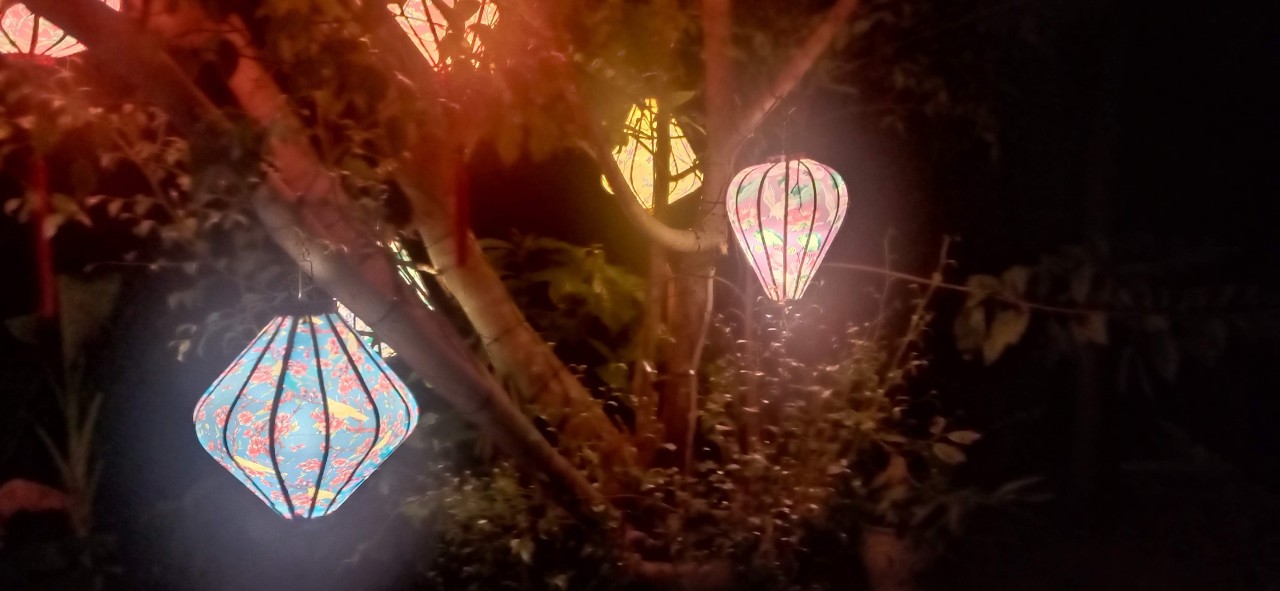 The lanterns of Hoi An are an iconic, nightly sight. Photo by Glen MacDonald.
A Venetian-like canal cuts through the heart of a Vietnamese port city with an ancient Japanese bridge that stretches over the darkening river. French-styled villas rest beside the waterway, ushering in a cool, summer breeze through the open windows. Tailors, reminiscent of ancient Chinese silk traders, loudly boast their multicolored fabrics. Western tourists, dressed in freshly-made shirts and dresses, gasp as a fleet of lantern-lit boats float down the Thu Bon River, a nightly ritual in Hoi An's Ancient Town.
With its multitude of cultural influences and tropical atmosphere, Hoi An is a prime destination for any trip to Central Vietnam. In addition to its colorful history, Hoi An is also known for its delicious cuisine and cafés. As the choices are nearly endless, the Vietnam Times has compiled a list of the best coffee shops and eateries to entertain yourself during your next trip to the centuries-old city.
By following VNT's route, visitors will see all the best Hoi An has to offer!
First Stop: Bazar Café & Restaurant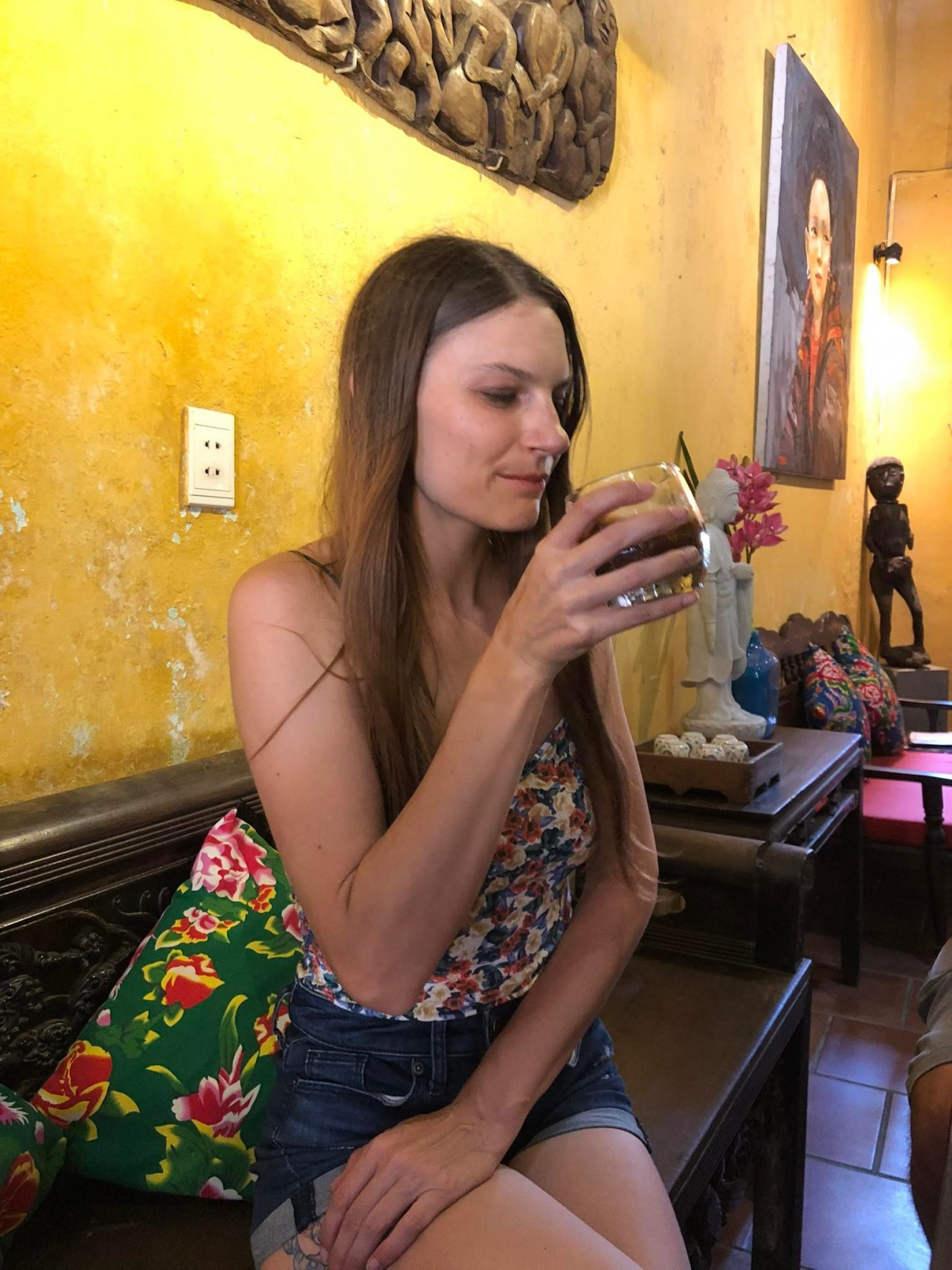 Enjoying coffee and culture. Photo by Glen MacDonald.
Inside the cool corners of Bazar Café & Restaurant is the perfect start for our "Café Crawl." The establishment is owned by an Italian man named Frederico Barocco, who greets his guests with a never-ending smile and a warm handshake, instantly making any patron feel at ease.
While gazing over the menu, certain details of the restaurant catch one's eye. Statues and ancient artworks are festooned around the shady spot. Cheeky wooden faces hang above us. A stone statue smiles at us from the outdoor patio. The pieces are of Champa origin, remnants of an indigenous people to Vietnam that were heavily influenced by Hindu culture. The Champa people once ruled over Central Vietnam and Bazar Café & Restaurant pays homage to the city's Champa roots
Frederico wears many hats as an expat in Hoi An, as his passions are divided into cooking and archeology.
"Growing up, during the day I would study archeology and at night I would work in the kitchen," said Frederico, as his server presents us with a delicious glass of iced coffee. A true Renaissance man, Frederico has successfully launched a charming restaurant that also doubles as a mini-museum for Champa artwork.
Thanks to his work concerning the secrets of the Champa, Frederico helped Hoi An gain its status as a UNESCO Heritage Site, promoting Hoi An as one of Vietnam's top cultural destinations. After enjoying our drinks, we look around Bazar Café & Restaurant, marveling at the Champa relics.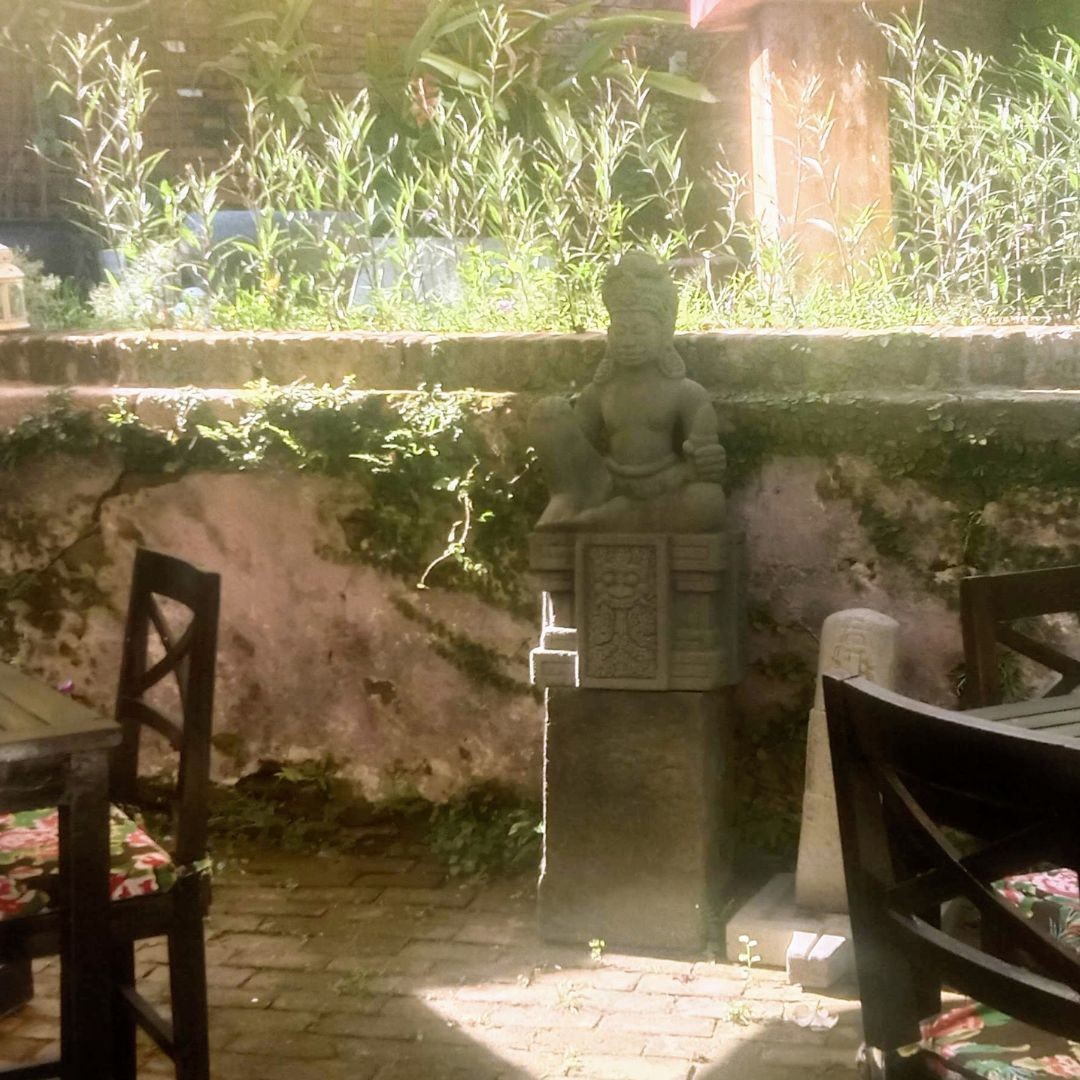 A replica of a Champa statue, meditating in Bazar Café & Restaurant's serene patio. Photo by Glen MacDonald.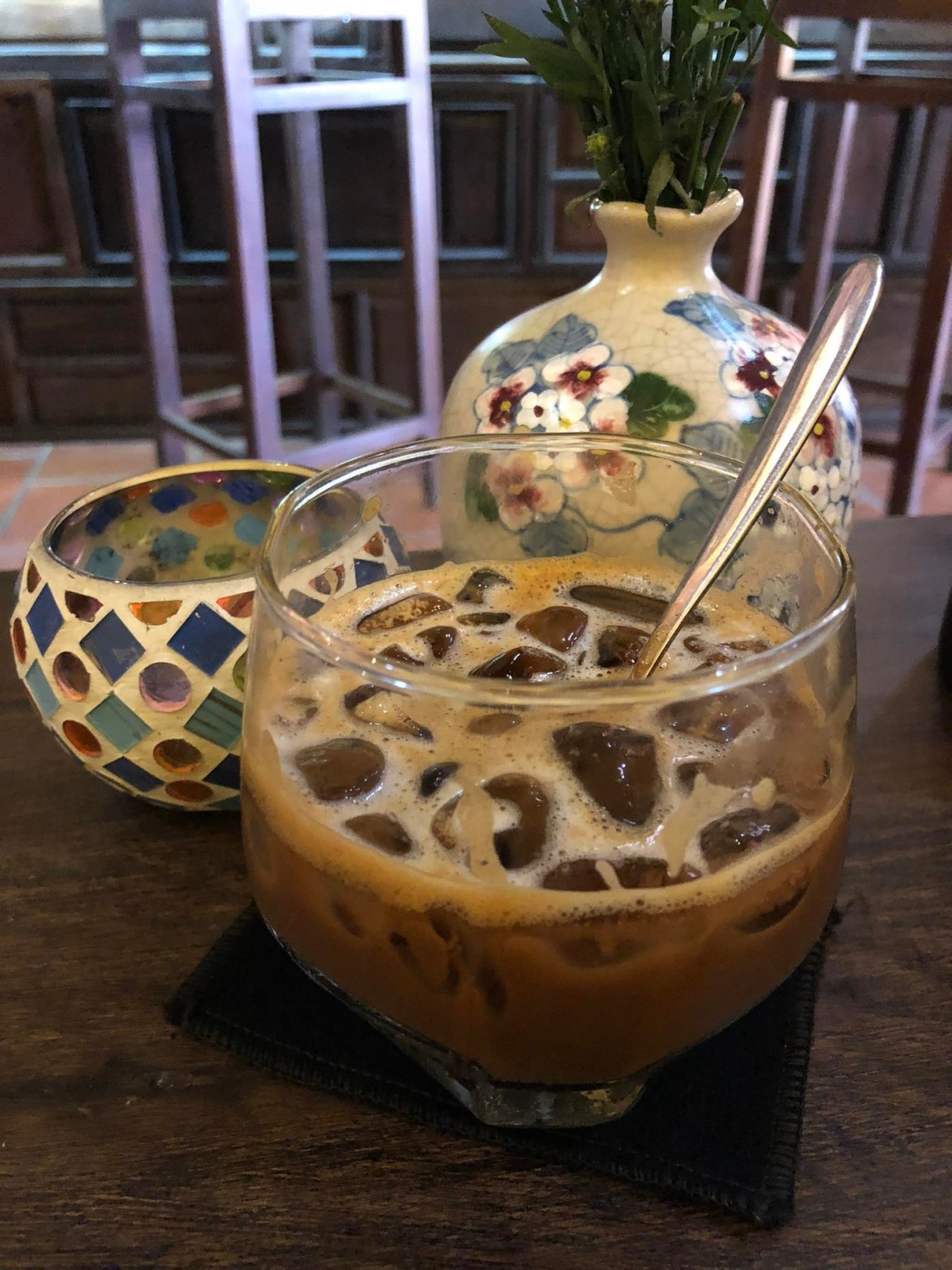 The sweet coffee matches the lovely ceramics. Photo by Krissy Kendrick.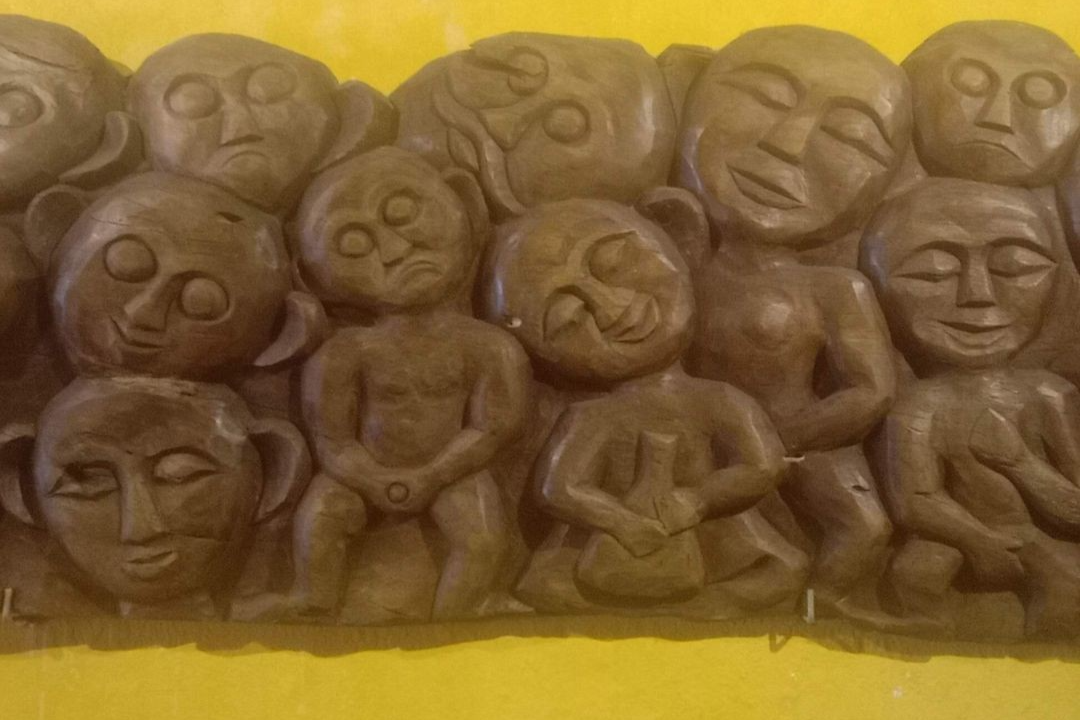 A collection of funny faces made by ancient hands. Photo by Glen MacDonald.
Second Stop: Hoi An's Precious Heritage Art Gallery
With a newfound interest in Vietnamese anthropology, my friends and I travel only a few blocks away to Hoi An's Precious Heritage Art Gallery, a site dedicated to learning more about Vietnam's distinct ethnic cultures. Featuring the photographs of famous French artist Réhahn, this art gallery profiles all 54 ethnic groups of Vietnam.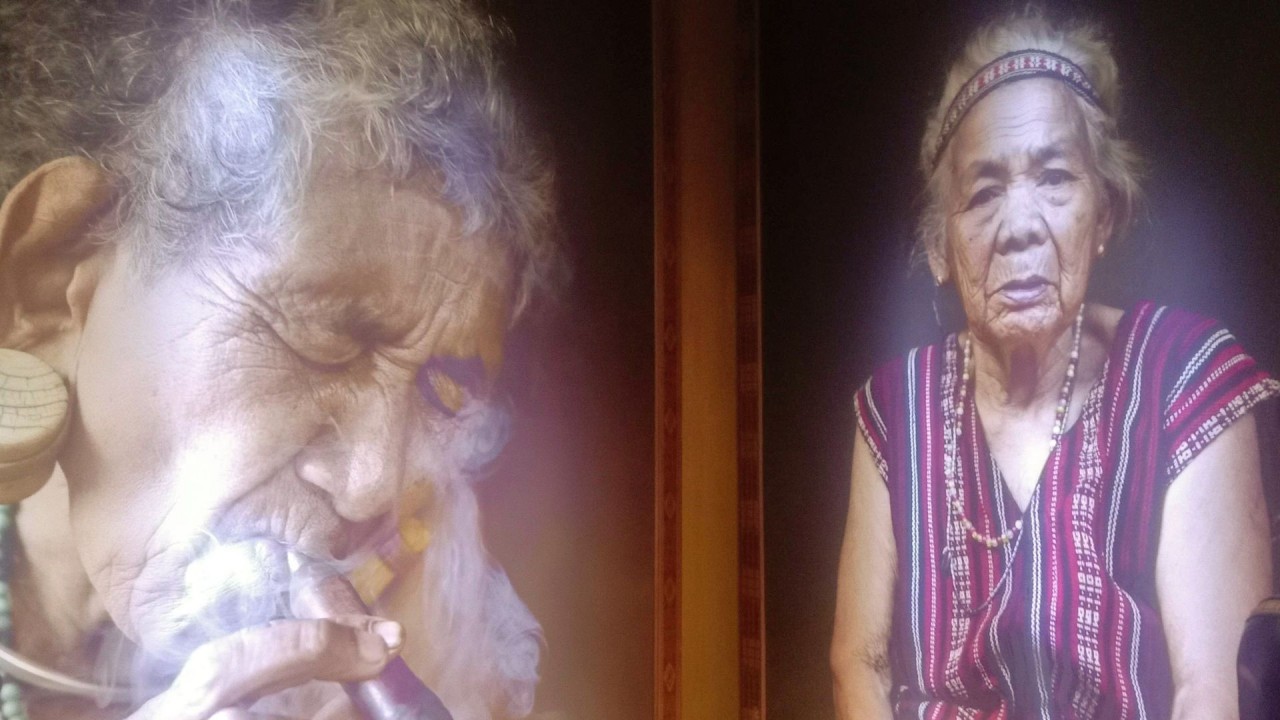 Réhahn's intimate portraits of Vietnam's ethnic people. Photo by Glen MacDonald.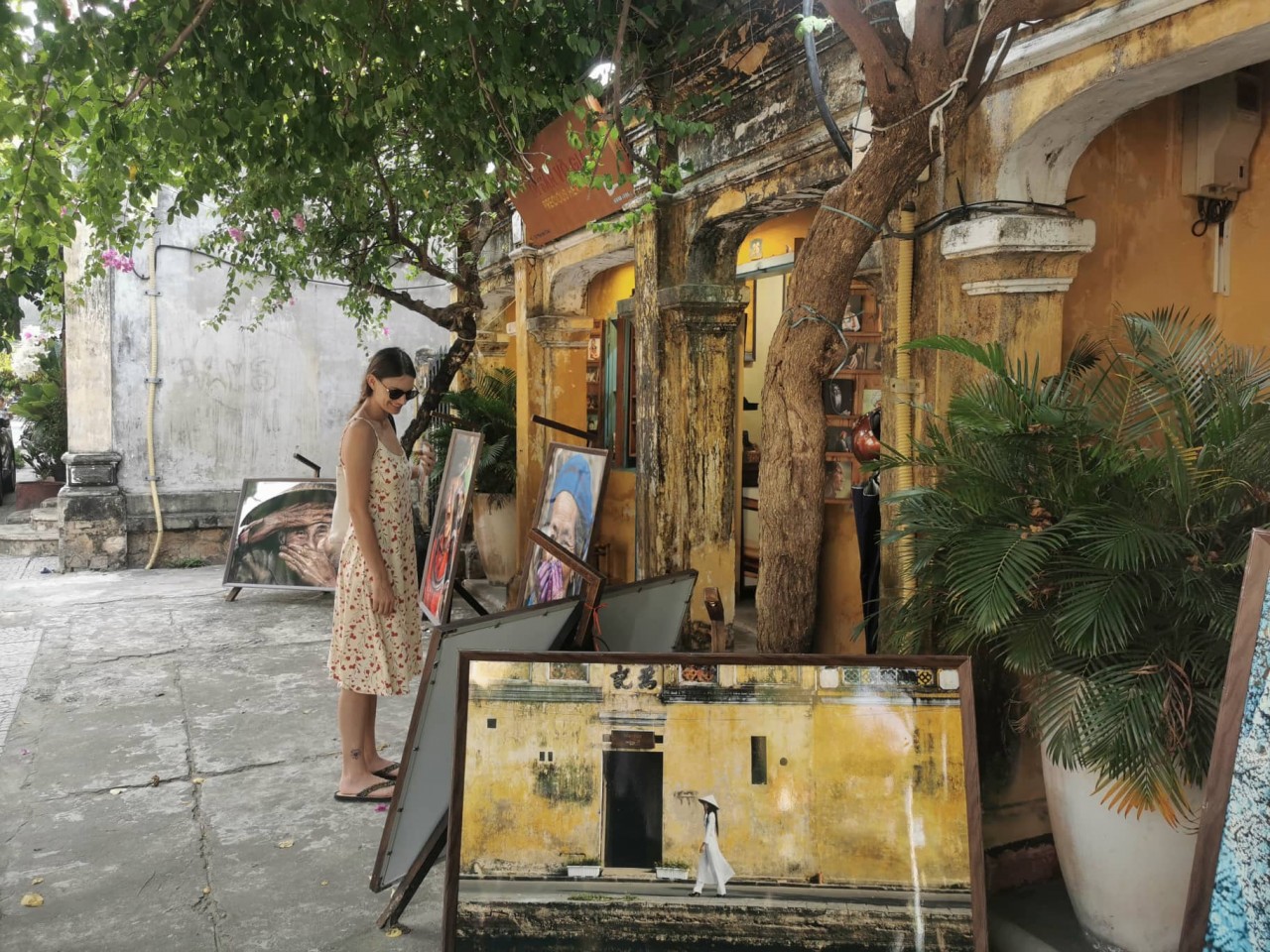 Outside of the Precious Heritage Art Gallery. Photo by Wilfred Mills
Established in 2017, the Precious Heritage Art Gallery is one of Réhahn's most ambitious projects. Inspired by his adventures with Vietnam's northern tribes, the French photographer set off to meet every tribe in Vietnam in order to preserve their culture. Although he completed his mission in 2019, Réhahn is still invested in Vietnam's ethnic communities. As a believer in "conscious photography," Réhahn wishes for the subject to also benefit from the artist's work.
For example, after publishing a famous photograph of an elderly, cheerful Vietnamese woman, Bui Thi Xong, Réhahn earned more international acclaim for his photography. Copies of the joyful photograph have been featured in major publications around the world. Remarkably, even French President Emmanuel Macron has a special copy of the Xong's beaming visage.
Grateful for Xong, who he lovingly dubs Madam Xong, Réhahn asked her what he can do the repay her for his beautiful portrait. Madam Xong, who still retains her strength even in old age asked for a rowboat so that she could show tourists around Hoi An. Happy to help, Réhahn bought her a rowboat, allowing Madam Xong to make an independent living. According to a staff member at the gallery, Madam Xong, now in her 80s, can still be found in Hoi An, paddling through the great rivers, pointing out the sights to amaze tourists.
Réhahn's experience with Madam Xong inspired him to set up the "Giving Back Project," which gives back to the artist's subjects, uplifting them and their communities instead of exploiting them for personal gain.
Exhibits in the gallery are written in English, French, and Vietnamese. Photo by Glen MacDonald.
Third Stop: Hoi An Museum of Folk Culture
After spending some time indoors, a leisurely walk on the sunny streets of Hoi An is needed. As a major tourist town, the citizens of Hoi An are happy to welcome back travelers. However, after two years of lockdown, many vendors, tailors, and street performers are quite eager to score some much-needed tourist dollars. My advice for the best deals is to go to stores in the early morning. According to Vietnamese beliefs, the first sale of the day will reflect the sales for the rest of the day. Wanting to start the day with a successful sale, vendors will be more flexible when haggling.
Now late in the afternoon, friendly vendors repeatedly offer deals on toys, linen shirts, silk dresses, traditional fans, sunset cruises, leather goods, freshly baked treats, and multiple souvenirs. While a bit overwhelming, keep in mind that in the post-Covid world, members of this tourist town are a bit desperate to make up for months of no income.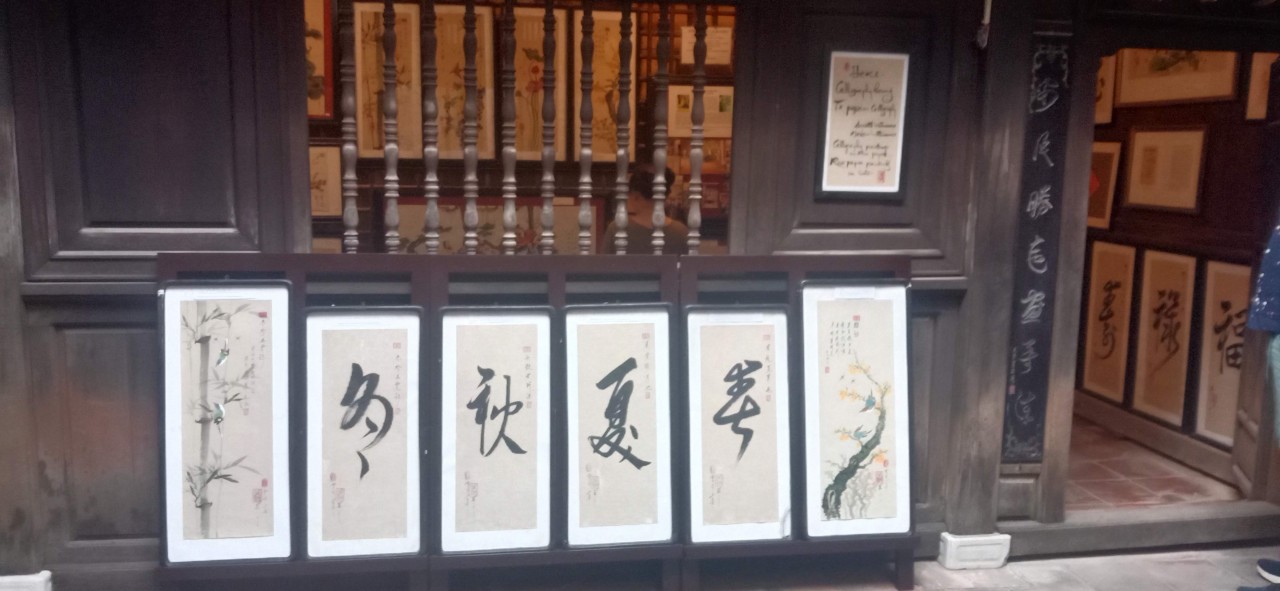 The small studio is part of the Hoi An Museum of Folk Culture. Photo by Glen MacDonald.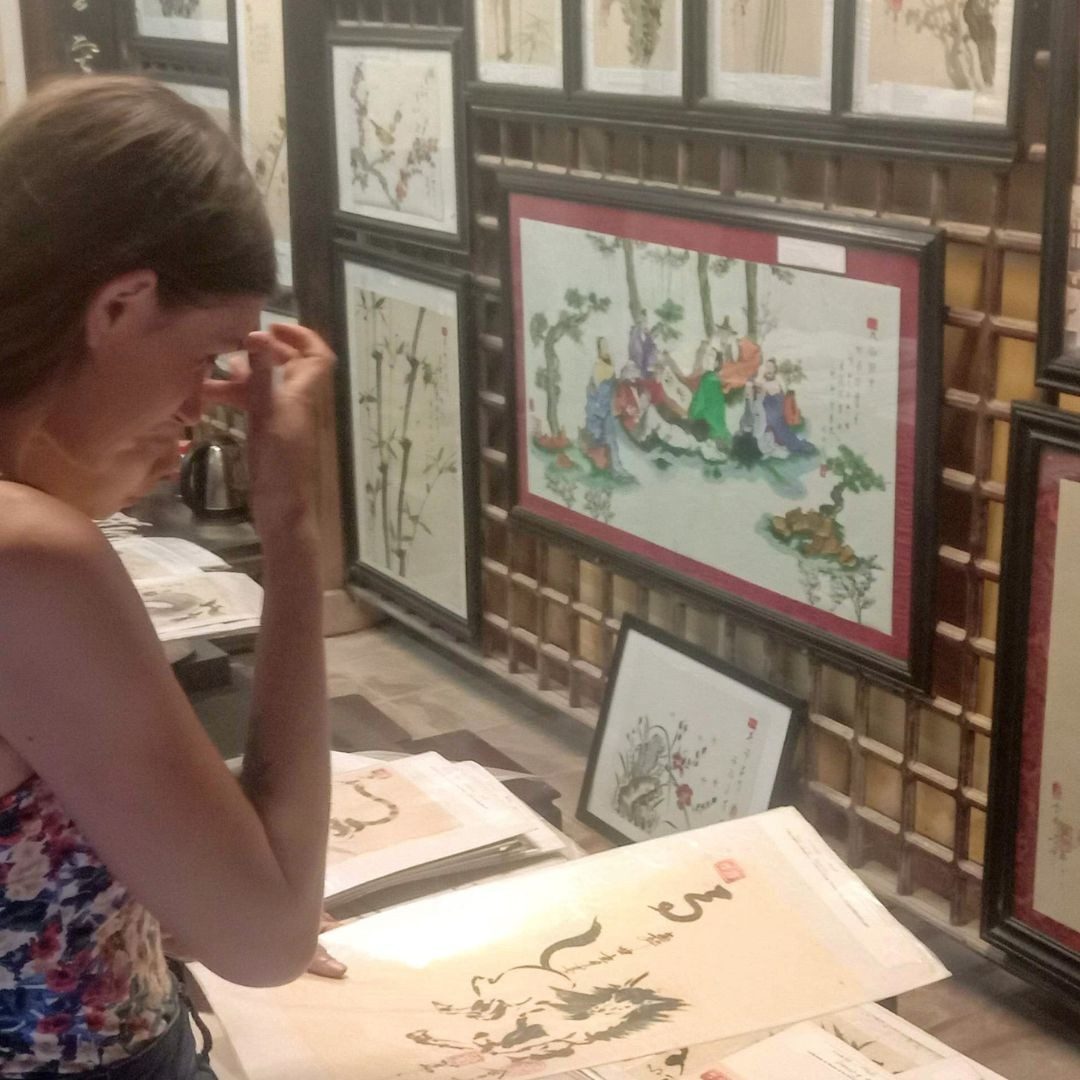 An excellent selection of Vietnamese artwork and calligraphy. Photo by Glen MacDonald.
For a memorable souvenir, check out the Hoi An Museum of Folk Culture. In addition to exhibit on Hoi An's history of craftsmanship, there is a studio dedicated to preserving Vietnamese calligraphy. Tourists can purchase beautifully painted scrolls depicting different animals from the Vietnamese Zodiac. After picking your desired animal, a local calligraphy master can inscribe any name in Ancient Vietnamese lettering, giving your authentic Vietnamese gift a personal connection.
Thinking of my friend in Hanoi, I bought her a scroll depicting a buffalo and had them describe "Obama," the name of her favorite American president. I thought the request would be peculiar but the assistant didn't even raise an eye. Perhaps, she is used to odd requests by foreigners.
In addition to the studio, the museum also hosts exhibitions on other Hoi An's ancient crafts, such as wooden carvings, mosaics, bronze statues, and watercolor paintings. At some times in the evening, the locals put on special performances such as the Thien Cau dance, which is how ancient Hoi An-ians prayed for a good harvest and prosperity. The museum is also a virtual gateway to understanding the cultural value of Hoi An's neighboring craft villages, from pottery in Thanh Ha to carpentry in Kim Bong.
With more than 500 artifacts, the Hoi An Museum of Folk Culture is a great place to learn about the history of Hoi An while escaping the blazing midday heat.
Fourth Stop: The Hoianian - Wine Bar and Restaurant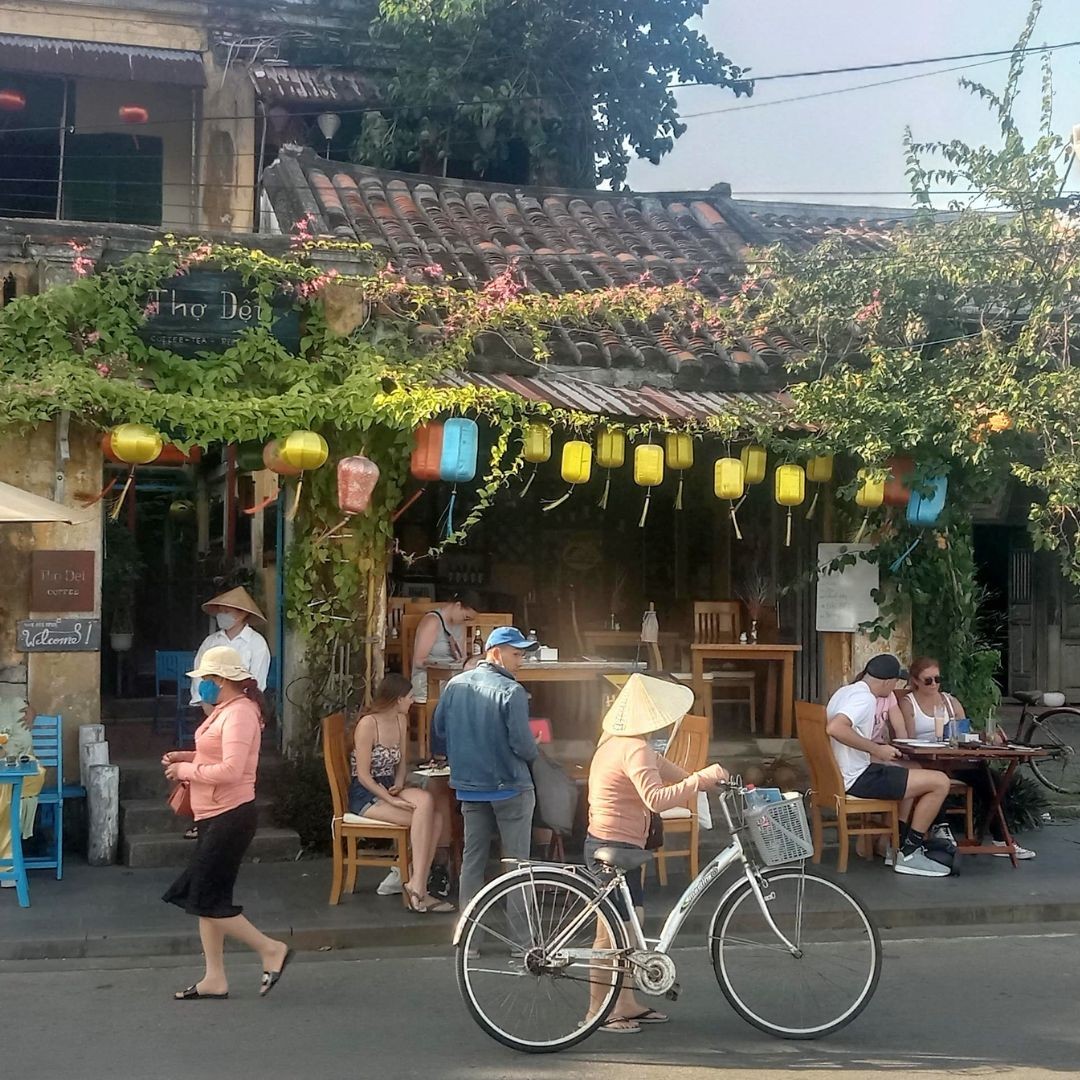 Located on a busy, riverside street, The Hoianian is perfect for people watching. Photo by Glen MacDonald.
As we wait for our calligraphy scrolls to be completed, my friends and I enjoy a few more ice coffees at a nearby wine bar, called The Hoianian. While the exquisite wine menu is out of our meager travel budget, there was no beating the amazing view of the Thu Bon River.
Hundreds of Vietnamese families take photos in front of the romantic scene, unafraid of the cyclos that speed past them. The red-and-yellow Vietnamese flag on every riverboat flutters in the late afternoon breeze. From blocks away, Vietnamese singers perform an ancient ballad, filling the air with song, applause, and laughter.
As this was my second glass of iced coffee of the day, I began to feel quite strange. In my opinion, the sweet coffee of Central Vietnam is stronger than my beloved Hanoian coffee. Thankful for the fan I bought from a streetside vendor, I closed my eyes and fanned myself. When I open them again, the sun began to sink into the western skyline. Even with a mounting headache, I could still appreciate the epic beauty of a Hoi An sunset.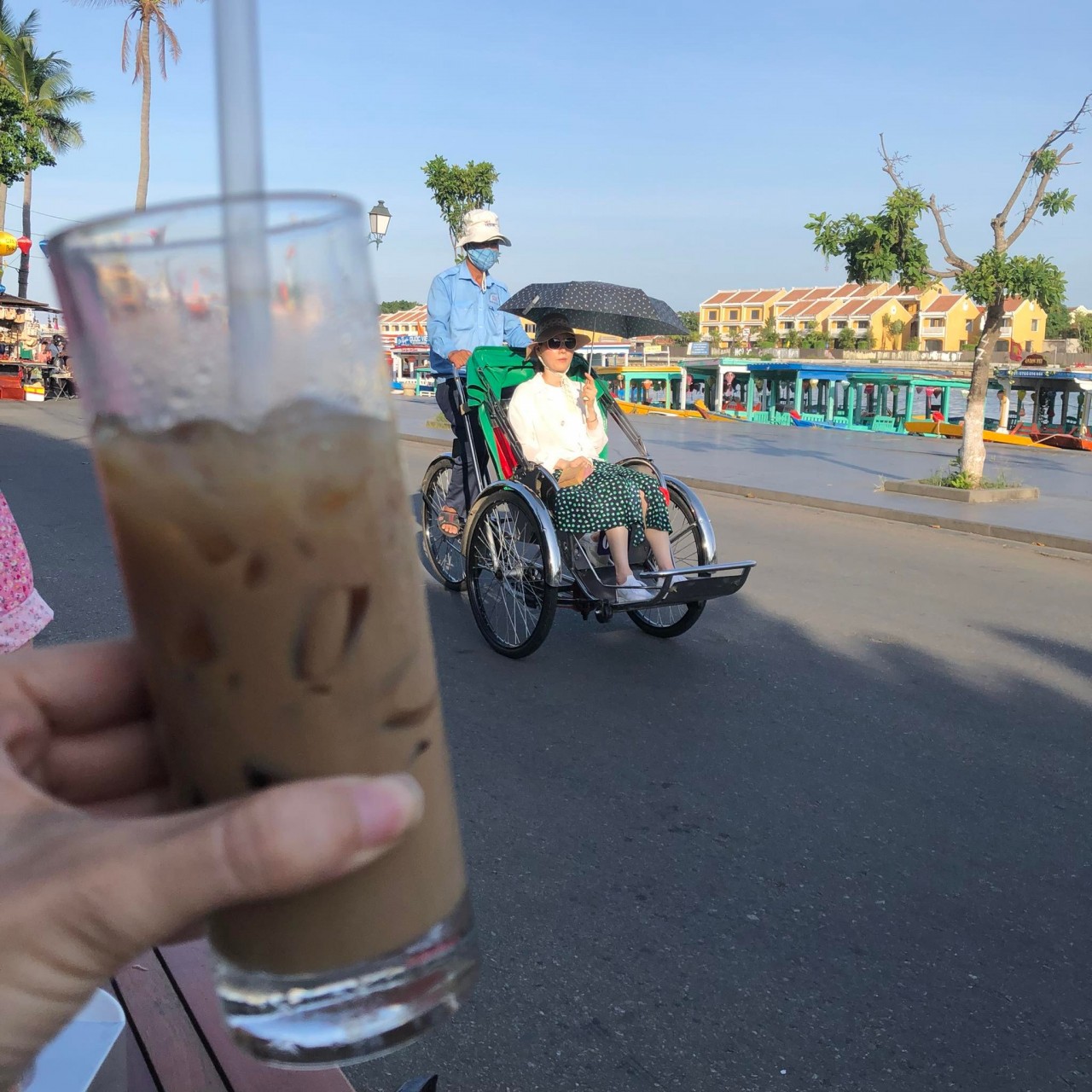 Cyclos and coffee. Photo by Krissy Kendrick.
Fifth Stop: Sunset Cruise on Thu Bon River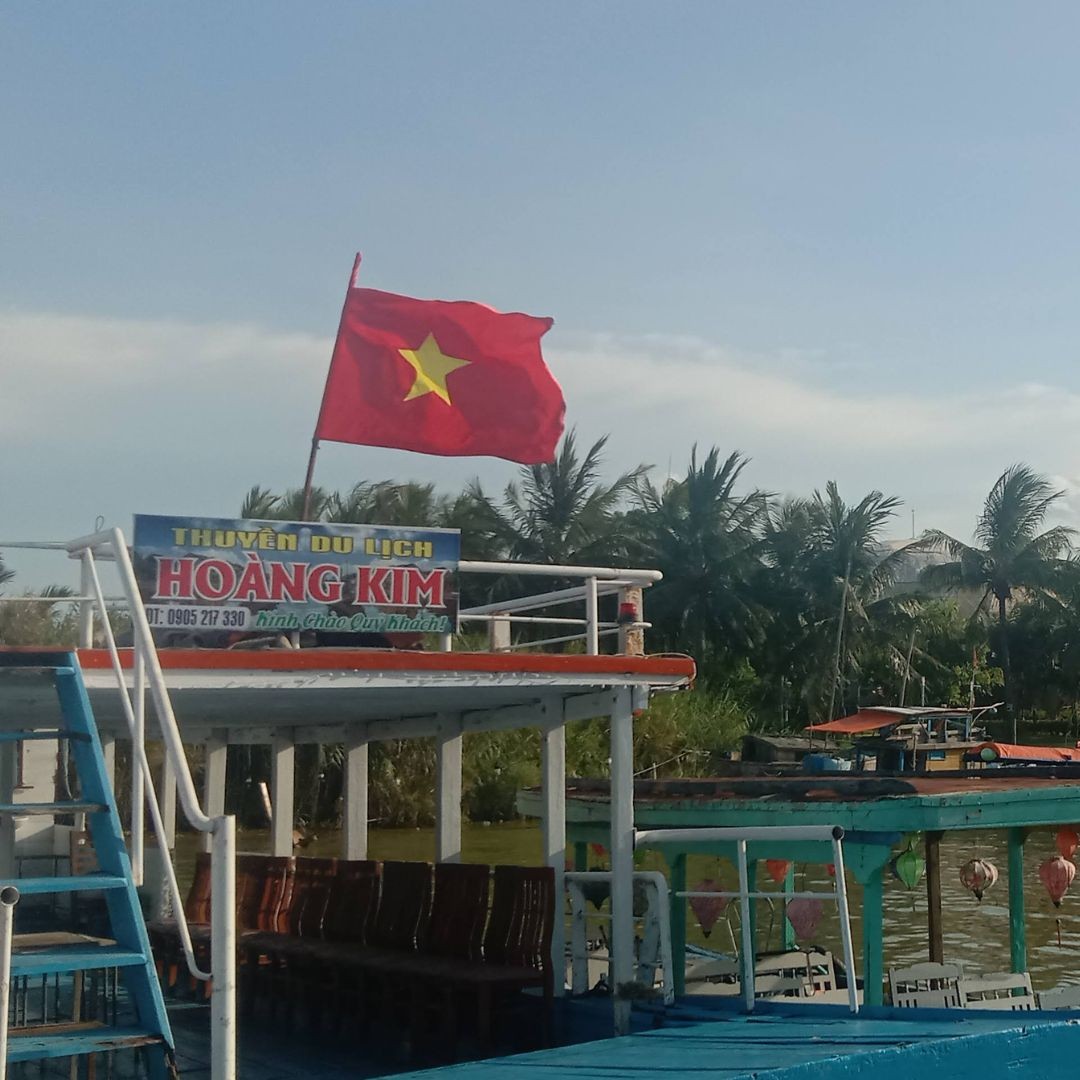 A sunset cruise is the perfect way to end your day in Hoi An. Photo by Glen MacDonald.
Wanting the make the most of the waning daylight, my friends and I decided to hire a river boat. A friendly captain approached us and introduced him as "Captain Phi." As the owner of the Onion Phi Tours fleet of boats, Phi is a charming guide who studied at Hanoi's KOTO Villa, an Australian organization that teaches hospitality and business to Vietnamese students. With a great command of English, Captain Phi was happy to speak about the beauty of Hoi An from the helm. The tour cost 300,000 VND per person, a great deal considering we embark during Thu Bon "golden hour."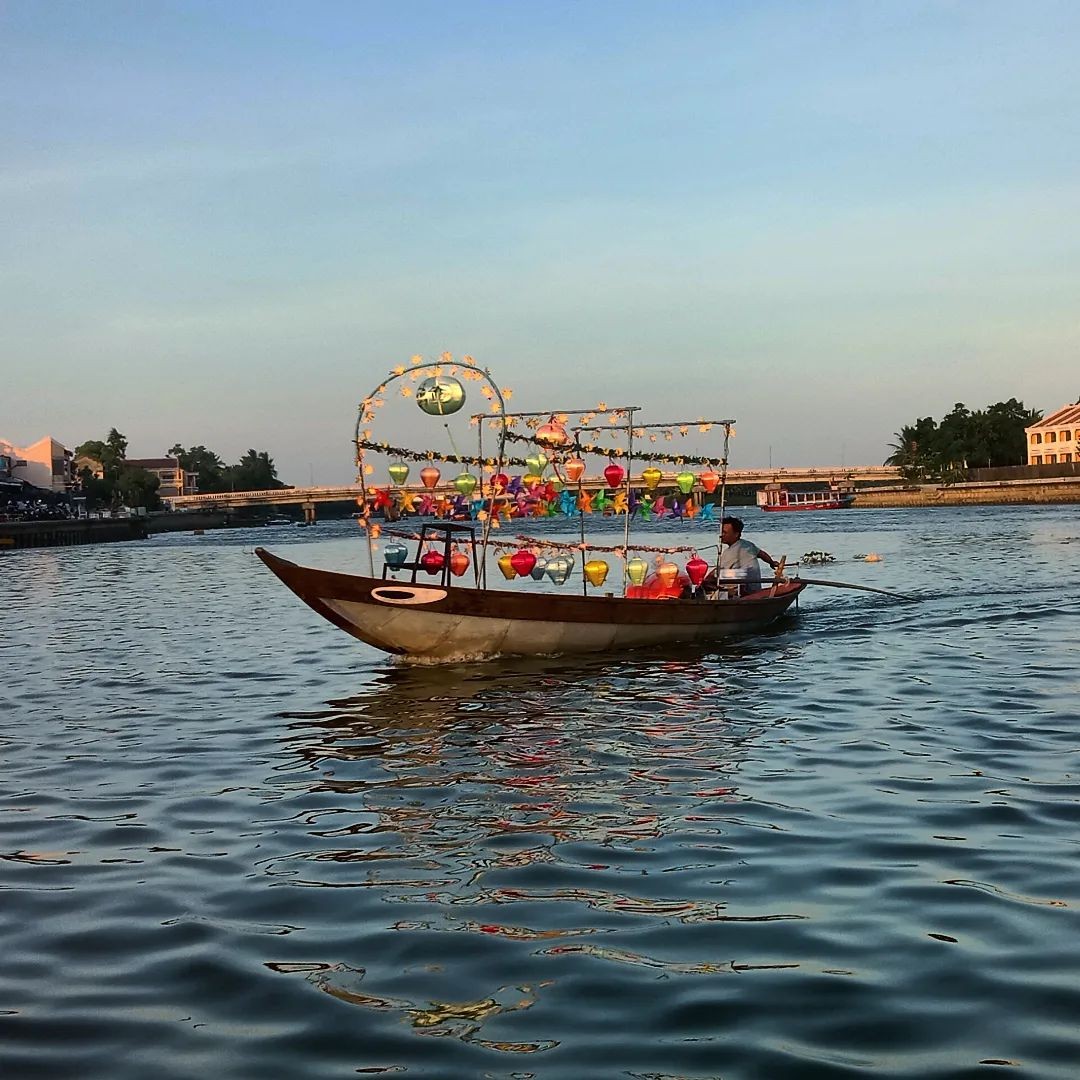 A cheery vessel glows during the sunset. Photo by Glen MacDonald.
"This is the perfect time to be on the water," said Phi. "The sunlight makes the water look like treasure!"
The Vietnamese captain also supplied us with cans of LaRue Beer, making it the perfect final stop on our Café Crawl. Sipping our beers, we wave at passing boats that glow with several lanterns in the setting sun. Despite the heat of the day, everyone on the river seems happy and carefree, possibly due to the generations of blessings on the river. Ancient Vietnamese had a belief that lighting a lantern and floating it down a river would bring love, health, and good fortune. Therefore, in Hoi An, each night the Thu Bon River becomes a watery rainbow, lit with multicolored lanterns by natives and tourists alike.
In the final moments of sunlight, we are surrounded by other boats, filled with happy families of all ages and nationalities. Despite the crowds that seem to intensify in the evening hours, an otherwordly serenity overcomes my friends and me. Blessed by Hoi An's mighty river, we thank our helpful captain and return to our hostel on An Bang Beach. The caffine finally out of my system, I drift off to sleep, envisioning myself once again floating among the blessed lanterns.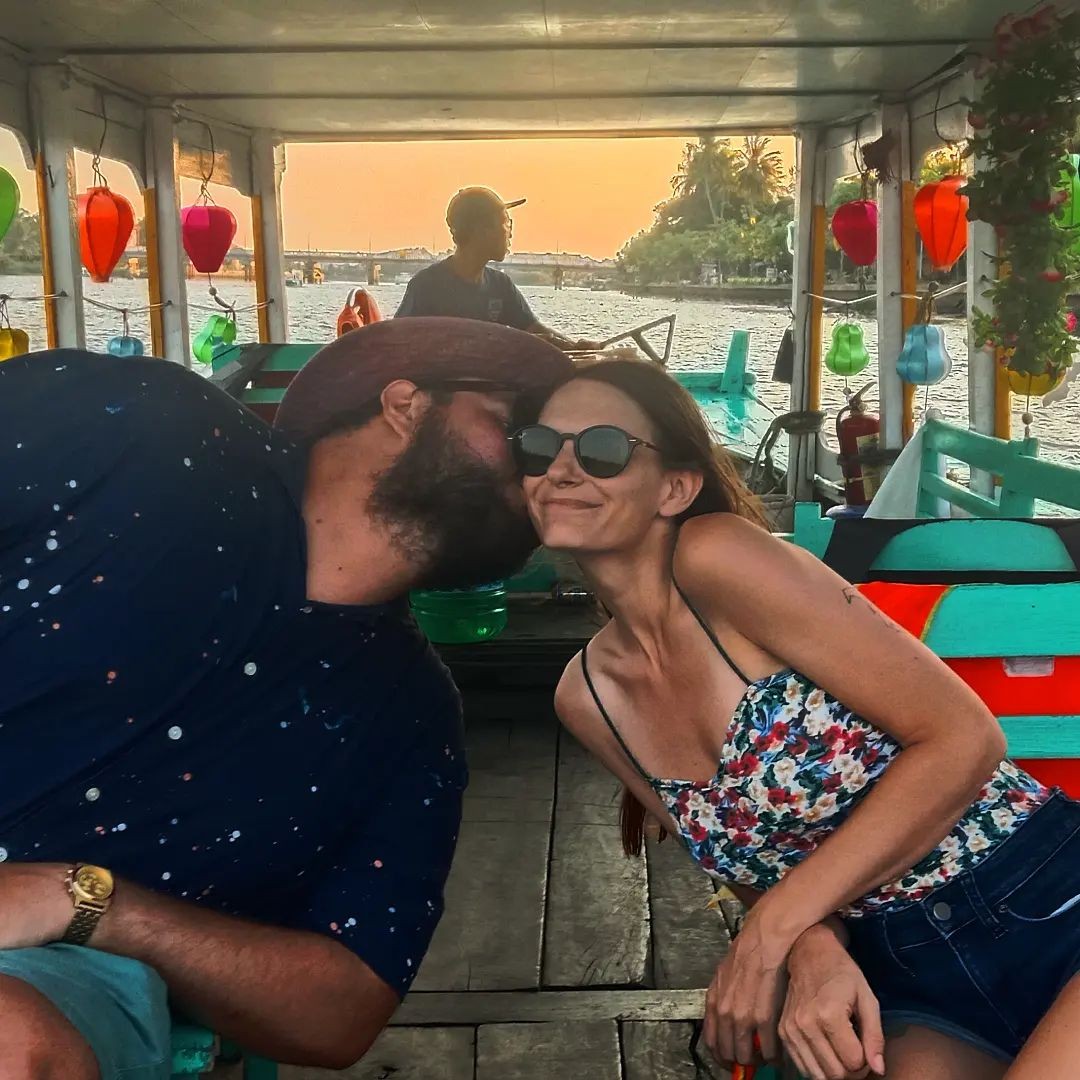 Hoi An is for lovers. Photo by Glen MacDonald.