China flood latest News: Four cities declare top-level warnings, millions people affected
China flood latest News: Four cities along China's Yangtze river have declared "red alerts" over the past two days after continuous heavy floods ravaging local lives and economy. More downpours are expected in southern China in the coming days.   
Four cities declare top-level flood warnings
Hubei province's Xianning and Jingzhou cities, and Jiangxi province's Nanchang and Shangrao cities have declared "red alerts" over the past two days after torrential rain triggered landslides and inundated roads and farmland, with parts of the river threatening to burst its banks.
Experts say the newly-issued top-level warnings in the four cities along China's Yangtze river highlight the country's vulnerability to extreme weather from climate change and the risks of overdevelopment on flood plains.
China has blamed unusual weather conditions, including humidity carried from the South China Sea and the Indian Ocean, as the immediate cause, but it has also said long-term changes in climate patterns have made it more vulnerable, CNA reported.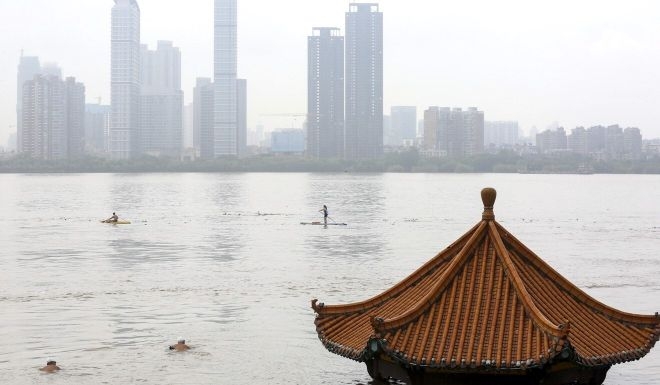 A submerged riverside pavilion in Wuhan (Photo: EPA-EPE)
China's massive floods move east, battering communities along Yangtze River
According to SCMP, torrential rains are causing more floods along the Yangtze River. The seasonal floodwaters first hit the regions of Sichuan and Chongqing in the southwest and Hubei in central China in late June. On Thursday, China's National Meteorological Centre warned of more downpours in southern parts of the country in the coming days.
Lastest damage figures
The damages the massive floods bring along have been tremendous. To date, a total of 140 people have died or are missing and 30.20 million have been affected due to floods in 27 provincial-level regions across the country. The accumulated economic losses have exceeded 60 billion yuan (US$8.6 billion), according to CGTN.
Nearly 300,000 people evacuated in the eastern provinces of Anhui and Jiangxi as homes have been destroyed, roads paralyzed and many left stranded without food or electricity.
More than 2,000 homes were damaged by the latest floodwaters, forcing the evacuation of 147,000 people by Tuesday in Anhui, after a week of heavy rainstorms on the country's eastern coast.
In neighboring Jiangxi, more than 151,000 people were evacuated, with nearly 2,000 houses damaged, between Monday and Wednesday, according to state news agency Xinhua.
The unusually heavy floods have presented an additional challenge to many in areas already struggling with lost income and jobs caused by the COVID-19 pandemic.
Hundreds of rescuers have been deployed in the latest areas to be hit by extreme weather, organizing evacuations and handing out supplies. Many households had no access to fresh food, clean water or electricity,
The floods have also disrupted China's annual national college entrance exam, the gaokao, which had already been delayed by a month because of the coronavirus. Some students were seen trying to travel by kayak to the rescheduled exam on Tuesday. In Anhui province's Shexian county, most students were unable to attend because of the flooding, with authorities holding a make-up session on Thursday with a new set of exam papers.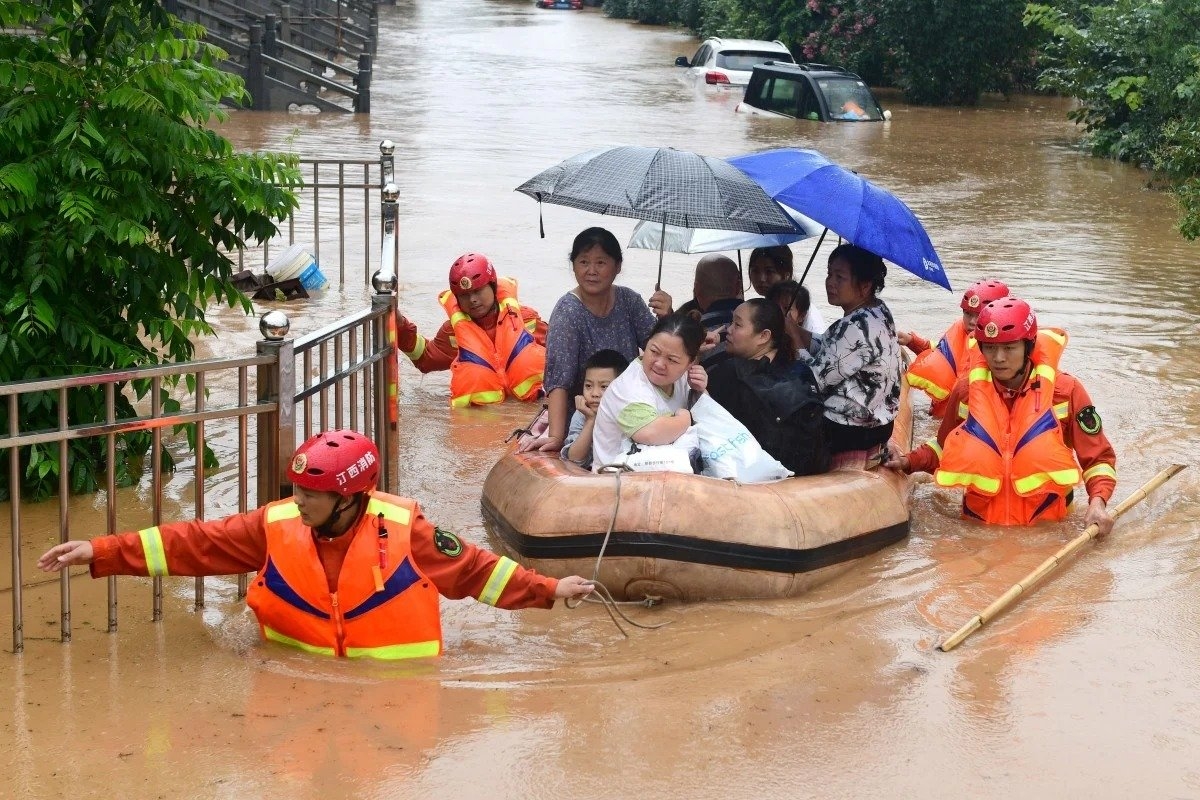 Rescuers tow a raft filled with evacuated residents through floodwaters in China's Jiangxi province (Photo: EPA-EPE)
Premier Li calls for all-out efforts in flood control
Earlier on July 9, Chinese Premier Li Keqiang has called for all-out efforts in the rescue and relief work regarding flood disaster, and ensuring people's lives and safety as top priority.
Premier Li made the remarks in a meeting held on Wednesday on the country's flood control and disaster relief.
Officials at the meeting said people's lives are the priority in the combat against floods, urging local governments and departments to clearly identify responsibilities and combine prevention work with the emergency response.
Efforts should be made to strengthen monitoring over the flood situation to identify potential risks in a timely manner and to well organize rescue and relief work, officials underlined, CGTN reported.