China Off To A Strong Start At Olympics, Causing Nationalist Sentiment To Rise
Team China has got a great start at Tokyo Olympics 2020 with a total of 6 gold medals, showcasing its national strength and challenging its opponent, the United States.
The Olympics has long been an occasion for celebrating national pride. And for an increasingly confident China, the Tokyo Games is seen as the latest opportunity to showcase its national strength, as it looks to challenge the United States for top spot on the medal table.
So far, Team China has got off to a strong start, to the cheers of millions of fans online.
On Saturday, Chinese social media exploded in euphoria when shooter Yang Qian won the first gold of the Tokyo Games in the women's 10-meter air rifle. The 21-year-old also set a new Olympic record with a 251.8 final score, according to CNN.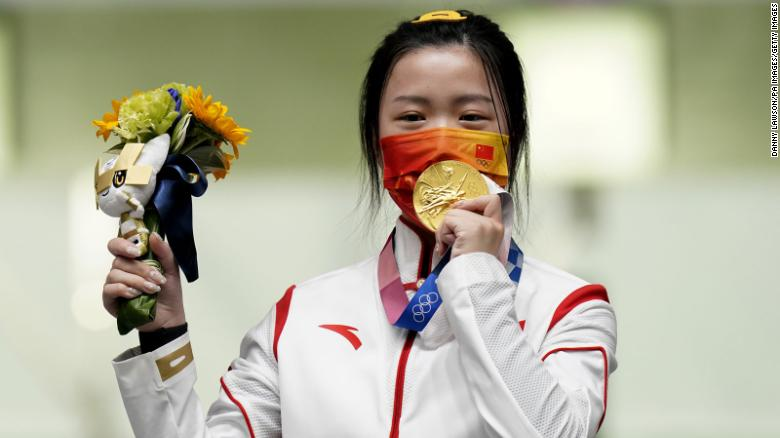 China's Yang Qian celebrates with her gold medal after winning the 10m Air Rifle Women's Final on the first day of the Tokyo 2020 Olympic Games. Photo: CNN
As of Monday morning, China has bagged six gold medals — three in weightlifting, one in fencing and one in diving in addition to Yang's air rifle gold. That's enough to top the medal table, followed by Japan and the United States.
Many of the early sports — such as shooting, diving and weightlifting — are among China's stronger pursuits, and the Chinese team is expected to face a greater degree of competition in the days ahead.
Beijing has long regarded Olympic performance as a symbol of national strength, with Chinese athletes — many of whom are selected at an extremely young age — undergoing physically grueling regimes at state-backed institutes.
China has come a long way in the Olympic arena. When it went to its first Games in 1932 in Los Angeles, its sole athlete, sprinter Liu Changchun, failed to qualify for the men's 100- and 200-meter finals. Half a century later, in 1984, it was also in Los Angeles that China won its first Olympic gold, in the men's 50-meter pistol shooting.
Since the 1990s, China has become one of the most competitive nations in the Olympics. In 2008, it topped the gold medal table at the Beijing Games, surpassing the US for the first time, while America has since reclaimed top spot at London 2012 and Rio 2016.
Team China starts strongly, winning 6 golds in first 2 days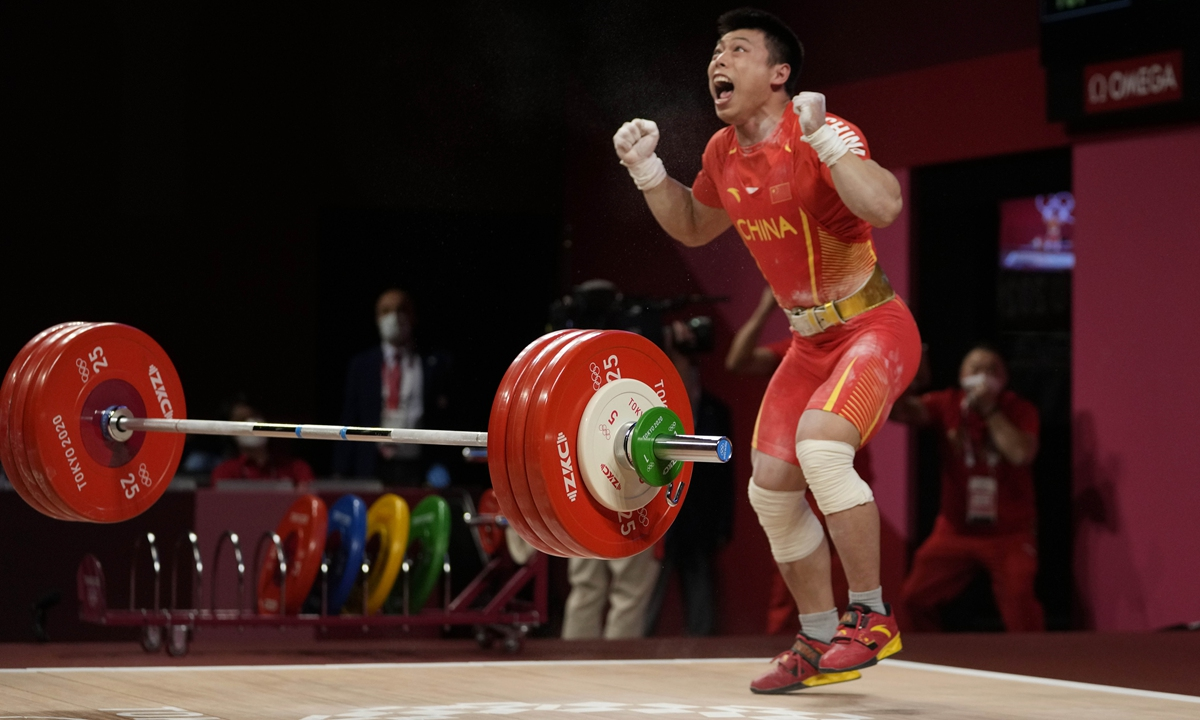 Chen Lijun celebrates after winning gold on Sunday in Tokyo, Japan. Photo: VCG
Team China started powerfully at the Tokyo Olympic Games. Chinese athletes have secured eleven medals in the first two days of the Tokyo Olympics, including six gold medals, putting China at the top of the medal table and the gold count at the end of Day Two. Four of the six gold medals of Chinese team so far were won by female athletes.
Housing the smallest number of spectators for an Olympics, Tokyo 2020 has been dubbed one of the coldest Olympics ever. However, Chinese fans are making it the hottest topic on the Chinese internet, and cheering for China's medal success is just a small part of it as netizens now appreciate more the human touch side of the Olympic Games, Globaltimes reported.
Continuing the good momentum of the first day when team China won three gold medals, on Sunday afternoon, the Chinese diving "dream team" delivered like they always do. Veterans Shi Tingmao and Wang Han claimed a gold medal in the 3 meter spring board, a fifth consecutive Olympic title for China. The duo led the race by a huge margin from the very start.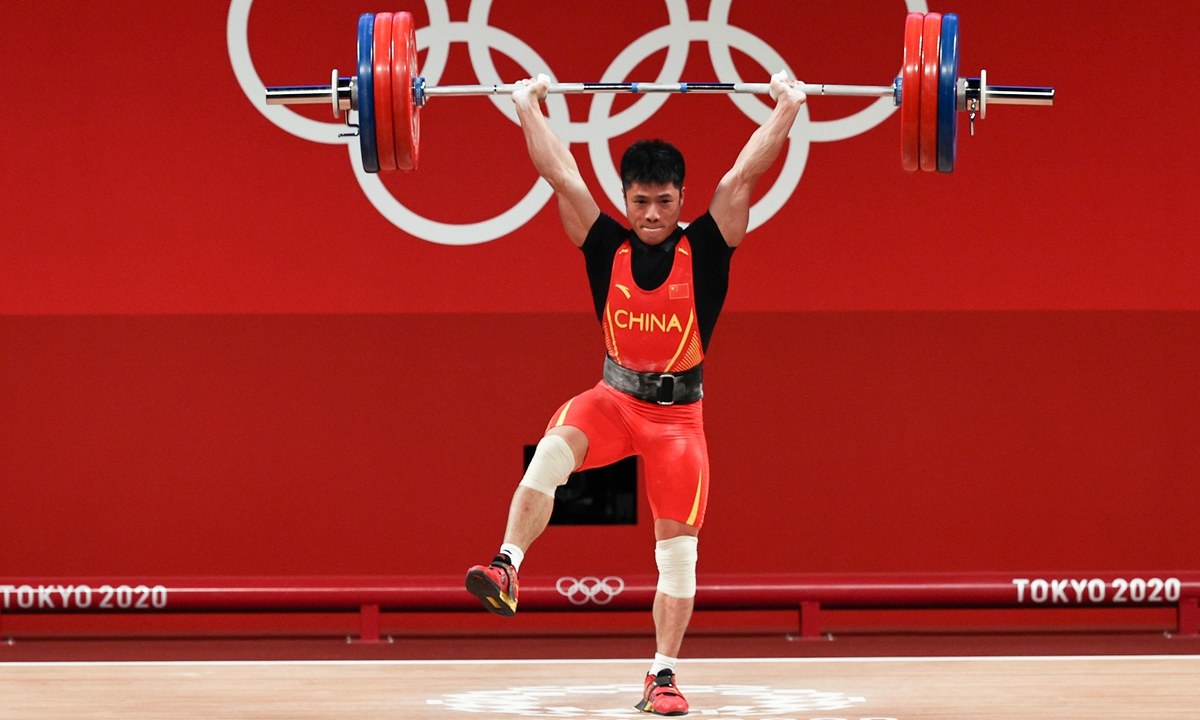 Li Fabin competes on Sunday in Tokyo, Japan. Photo: VCG
The fifth gold soon followed as weightlifter Li Fabin set a new Olympic record on his way to clinching gold in the weightlifting men's 61 kilogram. On his second attempt, his clean and jerk lift of 172kilogram - also an Olympic record - saw the 28-year-old standing with the bar above his head while standing on one leg.
Chen Lijun retained the men's 67 kilogram total gold medal with 332 kilograms, registering the sixth gold for Team China on Sunday evening.
Team China made a good start on the first day of the competition. 21-year-old shooter Yang Qian on Saturday morning claimed the first gold medal of the Tokyo Olympics in the women's 10 meter air rifle with a record-breaking 251.8 points. Yang won over the Chinese public with her cuteness when she showed off her delicate pink finger nails and made a giant heart sign with her arms on the podium.
Later on Saturday afternoon, Hou Zhihui won a gold medal in the women's 49 kilogram-class weightlifting, winning the second gold for the Chinese delegation. Hou broke three Olympic records in the final, making up for missing the Rio Olympics at the last minute five years ago.
Also on the first day, épée fencer Sun Yiwen edged out world No. 1 Ana Maria Popescu of Romania in a nail-biter to win a third gold for Team China.
"Don't put politics and ideologies above sports"
Amid growing political and economic rivalry between China and the US, the Tokyo Games will inevitably be seen by some as another arena in their great power competition.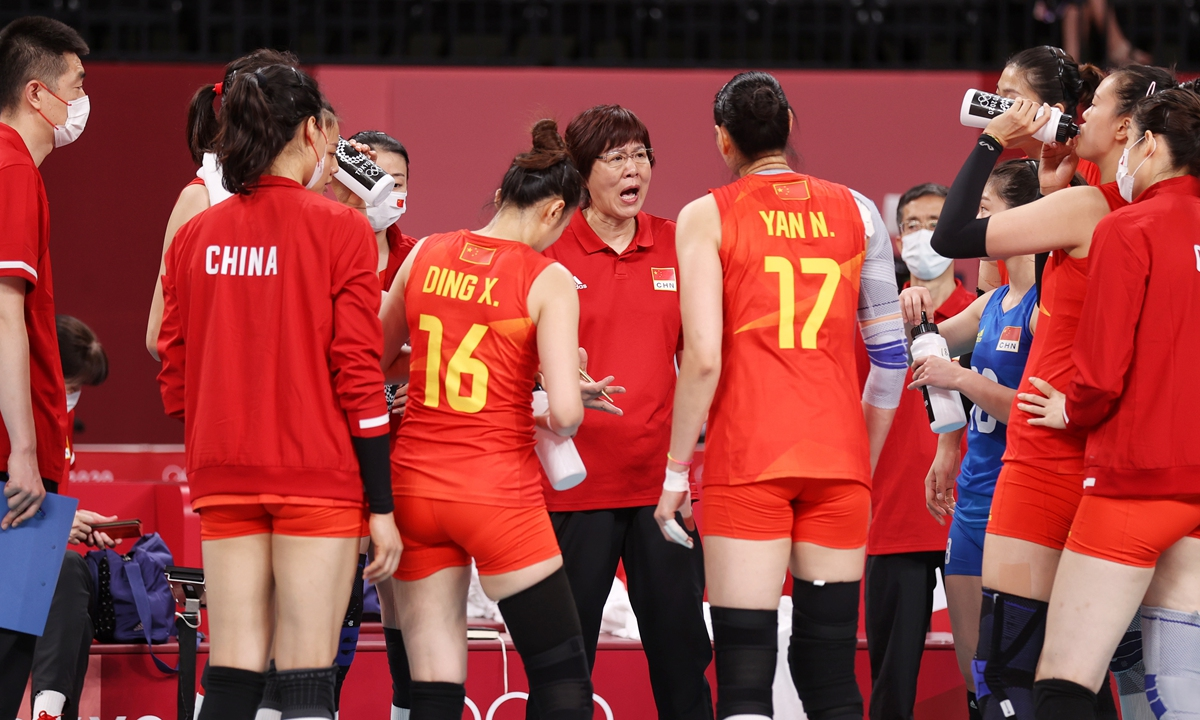 Lang Ping, head coach of China women's volleyball team talks to players courtside during their Sunday game against Turkey. Photo: Cui Meng/GT
On Weibo, China's heavily censored version of Twitter, the Tokyo Games has been among the top trending topics since Friday evening. While many are rightfully proud of the Chinese team's achievements, the nationalist sentiment has at times been more aggressive.
"Let the 'March of the Volunteers' blast forth in little Japan!" read the top comment under a post from Communist Party mouthpiece People's Daily announcing Yang's win, employing a common derogatory term for the Japanese ("March of the Volunteers" is China's national anthem). The comment sections of top state media outlets like the People's Daily are among the most strictly censored corners of Weibo. The fact that the comment was allowed to receive nearly half a million "likes" and occupy top spot suggests at least official tolerance, if not encouragement of such rhetoric.
In other cases, the nationalist sentiment has gone too far even for Chinese censors. On Saturday, Yang was briefly attacked by some online nationalists and told to "get out of China" for having previously shown off her impressive collection of Nike sneakers on Weibo.
Nike, along with H&M and other big Western apparel brands faced calls for boycott in China in March, owing to their stand against the alleged use of forced labor to produce cotton in Xinjiang. But Yang's photos of her Nike collection were posted in December last year, months before the brand landed itself in controversy. Other users quickly came to Yang's defense, but she deleted her Weibo post anyway.
While the attack on Yang in no way represents mainstream public opinion, it is emblematic of the rising tide of aggressive ultra-nationalistic behavior that has taken over Weibo in recent years. Many public intellectuals, scholars, lawyers and feminist activists have been viciously attacked or silenced for comments made past or present that are deemed "unpatriotic."
In Yang's case, her attackers were swiftly reprimanded. On Sunday, Weibo banned 32 accounts from posting for 90 to 180 days for "malicious personal attacks" on Yang, and deleted their comments, it said in a statement. An additional 33 accounts were also silenced for "maliciously slandering, insulting and attacking" Chinese Olympic athletes, according to another statement Sunday.
Meanwhile, the Chinese embassy in Sri Lanka lashed out at Reuters on Twitter Saturday, over what it perceived to be an unflattering photo of Chinese gold medal winning weightlifter Hou Zhihui the agency had used. The photo captured Hou's facial expression as she attempted to lift a barbell twice her weight.
"Among all the photos of the game, @Reuters has chosen this one, which only shows how ugly they are," the embassy said in a tweet. "Don't put politics and ideologies above sports, and call yourself an unbiased media organization. Shameless."